*PSA: All tomatoes are to be served at room temperature (not from the fridge!!!!) for the rest of your life. Forever and always. Promise me!
4x4 tomato salads. That's right. Nothing shouts summer like tomatoes, right? So, how bout we make them front and centre for 4 of the best tomato salads that are gonna grace your summer table. Four salads with 4 ingredients each. You also need some olive oil and some vinegars, but you'll give me those for free right? #Store cupboard staples!
I haven't planted any of my own tomatoes this year, unfortunately. Growing things seems to be a kind of twilight zone that I'm not privy to. I can kill a mint plant, for heaven sake. And if you know anything at all about a mint plant, you'll know that they are prolific to say the least. Instead I opt for some locally grown beauties that come in a mix of colours, sizes and varieties.
Sometimes I think people can't really see the beauty of a tomato. It's like... yeah... so what! They get put on burgers, they get made into ketchup and then they sit at the bottom of the crisper drawer waiting for their chance to bulk out a rather pedestrian lettuce salad... with store bought dressing. Hmmm...
My friend... you don't have to suffer like that any more.
Nope.
We're putting tomatoes front and centre and we're pairing them up with so many of their natural friends. Like herbs (so many herbs), cheese, and peppery rocket lettuce.
First up we're gonna ease in...
Tomato Greek Salad
This little number is a staple of Greek restaurants and take aways the world over. So much of the time, you get these salads and everything in there is ice cold from the fridge. Crunchy under ripe tomatoes and soggy cucumber. Not this one... get everything to room temperature and chop the cucumber and tomatoes chunky. Then slice the red onion finely. Trust me... this makes a difference. Then the olives... it's worth it to invest in some olives a la grec or other herby marinated variety. Just make sure their black olives. Toss it all with some balsamic vinegar and extra virgin olive oil... again, invest wisely. Fresh Greek basil, or oregano... or both. And you're done. Summer bliss.
Next up...
This one has totally and truly stolen my heart.
Tomato Peach Goat's Cheese Salad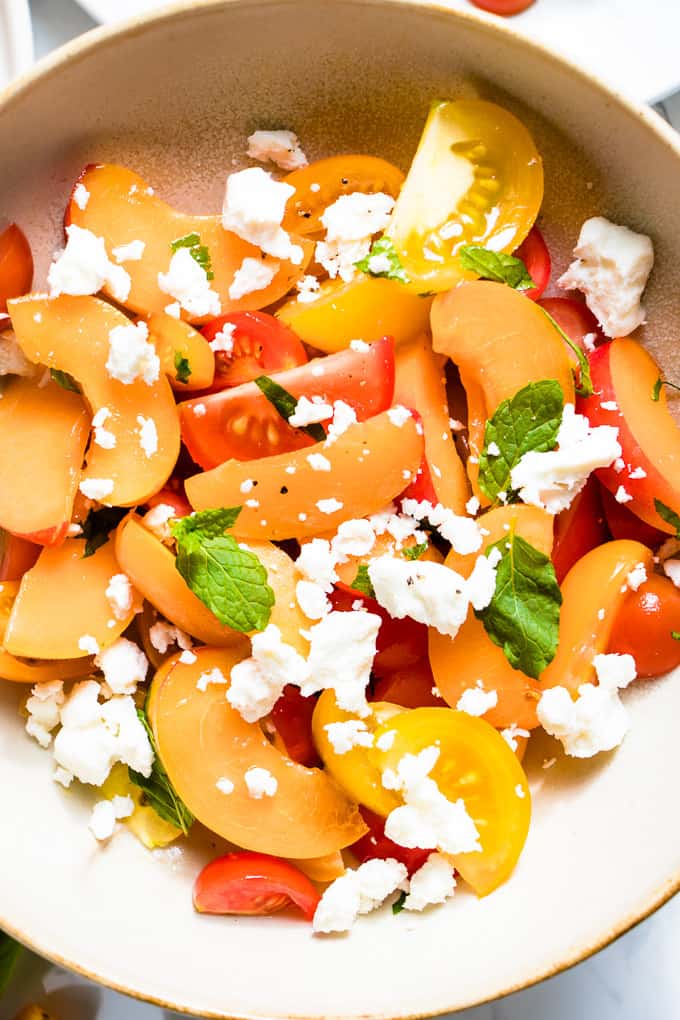 This salad is what goddesses eat. Fact. This salad is a mix of the sweetness of peaches, the juiciness of tomatoes, and the creaminess of goats cheese, all balanced out by the sweet sharpness of champagne vinegar. And that refreshing spike of mint leaves. Just know that when you sit down to dine on this salad you will make angels cheer with delight! Go forth sweet one...
Tomato Prosciutto Rocket Salad.
As much as the last salad was all soft peaches and feminine balance, this tomato proscuitto salad is the opposite. It's gutsy with a don't mess with me attitude. The flavours are bold and punchy and peppery. They demand your attention. The acidity from juicy tomatoes is a perfect counter for the crispy earthiness of proscuitto which is brought to heel by the pepperiness of the rocket (arugula). There is nothing timid or cautious about this salad. It means business. Consume accordingly.
Tomato Mozzarella Salad.
And lastly the classic. Unassuming in it's perfection. This is the place to buy the VERY best ingredients that you can afford. No value brand mozzarella, here. PUH-lease! This salad is perfection and maybe has been done a thousand times before. That only means it's so easy to take it for granted and by pass it as so 1990's. Sometimes we just need a gentle reminder to re-investigate the classics. The very best cheese... burrata if you can find it. Some fresh cracked black pepper. Nothing from your pepper shaker that you filled up 4 years ago. Don't do that! And some fresh basil leaves... actually picked off a plant. It can even be one of those plant you buy at the grocery store that only seem to last about 2 days. Just please, please, please do a fresh picked. This salad needs some respect!
So that's it. Four salads, each with 4 main ingredients. Go forth and summer in style sweet one...
4x4 tomato salad
4 ingredients, 4 tomato salads and all the juicy, sweet tomato perfection you can handle.
Print
Pin
Rate
Ingredients
Basic tomato recipe
4

tomatoes

, cut into wedges

2

tablespoon

olive oil

1

tablespoon

salt

fresh black pepper
For the Greek tomato salad
½

red onion

, thinly sliced

½

cucumber

5

black olives

, chopped

fresh oregano or Greek Basil
For the peach salad
1

peach cut into wedges

soft goats cheese crumbled

1

teaspoon

champagne vinegar

mint leaves

(optional)
For the prosciutto salad
2

slices

of prosciutto crisped in a frying pan

handful of rocket leaves

(arugula)

1

teaspoon

champagne vinegar
For the mozzarella salad
best quality mozzarella or burrata you can afford

basil leaves

balsamic glaze
Instructions
Mix all the ingredients for each salad together and serve.
Notes
Notes: start with your basic recipe and use the add-ons to create your perfect recipe.
Nutrition
Calories:
266
kcal
|
Carbohydrates:
21
g
|
Protein:
4
g
|
Fat:
19
g
|
Saturated Fat:
3
g
|
Cholesterol:
5
mg
|
Sodium:
3712
mg
|
Potassium:
867
mg
|
Fiber:
5
g
|
Sugar:
15
g
|
Vitamin A:
2385
IU
|
Vitamin C:
43.1
mg
|
Calcium:
47
mg
|
Iron:
1
mg