The ultimate weeknight shortcut dinner. Rainbow Chimichurri Pita Pizzas. Soft fluffy pitas taking the place of pizza dough. Perfect summer dinner or snack.
Hello friends! Today is the ultimate weeknight shortcut dinner. Rainbow Chimichurri Pita Pizzas. Now say it 3 times fast! Okay, but this shortcut dinner also happens to be the follow-up to yesterday's lazy girl cooking episode about chimichurri sauce. Did you catch that one? It was about how I consider it "cooking" when I put everything into a food processor and hit the "go" button. I know… culinary achievement is my middle name.
But my other middle name is "super-short-cut-weeknight-dinner-ninja". Because them weeknights can get outta hand. Like seriously Thursday, why you so tricky? My best guess is that on a crazy Thursday night you need something that's gonna be quick and easy. And of course that usually looks like takeout. I'm here to tell you my friend, that you can safely step away from the takeout menu. Rainbow chimichurri pita pizzas is our jam tonight!
You and me have dinner plans tonight and they do not involve any kind of folding top cardboard or styrofoam box. It's you and me, some fresh herbs and some soft and fluffy, seeded mini pitas that just happen to be snuggled up to some dangerously good chimichurri sauce and have loads of these gorgeous rainbow cherry toms on top. But if you really want to, you can reach for that greasy takeout. Judgement free zone, guys. But tomatoes are love!
But with this recipe you will have dinner in your hands, which means in your belly, in less time than your delivery boy, or your hot sweaty bicycle Deliveroo guy can get to you. Oh… that doesn't sound appealing after all? It's not. Take my word for it. This used to be me. I mean the deliveree… not the Deliveroo guy. I want better for you. And I know that you want better for you too.
So let's talk about how you don't really need to actually do anything for this recipe. Unless you count hitting go on the food processor as "doing" something. You guys, it's not. Literally that's it.
Let me talk you through it:
5 Steps to Chimichurri Rainbow Pita Pizzas
Place chimichurri sauce ingredients in the food processor and blitz. K. Great. We're halfway there.

Open package of mini pitas. Again, less work than dialing for takeout.

Top pita pizzas with 1 teaspoon of sauce because 1 teaspoon is only 1 weight watchers point.

Top with sliced tomatoes and cheese and grill until golden.

Dump delivery boy.
K. I just made that last step up, but you get it. This is the dinner you want to be having on a Thursday night. Or in all seriousness, any night will do. Or snack time… these work well for snacks… and …. Right. I'll stop. You're with me. I can feel it. We're in this Thursday night dinner domination thing together. Go get 'em you tiger!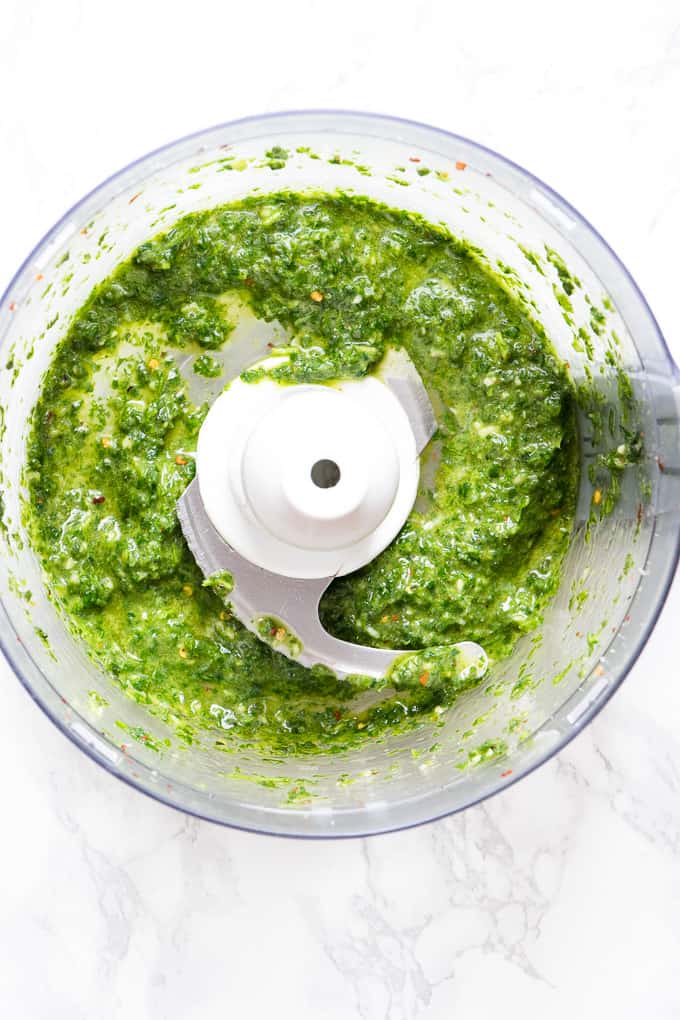 PS. Does anyone know if emoji is an official language yet?
Rainbow Chimichuri Pita Pizzas
Veggie pita pizzas loaded with fresh veggies, melted cheese and fresh chimichuri sauce.
Print
Pin
Rate
Ingredients
Chimichurri sauce
1

cup

packed parsley

((about 1 bunch))

¼

cup

packed oregano

((¼ bunch))

1

bunch cilantro

3

tablespoon

olive oil

1

clove

garlic

1

tablespoon

champagne vinegar

½

red jalapeno

salt

pepper
Pizzas
6

mini whole wheat pitas

1

punnet rainbow or red cherry tomatoes

½

cup

low fat mozzarella cheese
Instructions
Place all the ingredients for the sauce in a blender and blend until a chunky sauce forms. It the sauce is a bit thick for your liking you can thin it out with some water.
For the pizzas
Turn the grill on and heat the pitas for about 1 minute.

Remove from the oven and cover the pitas with about 1 teaspoon of the chimichurri sauce and cherry tomatoes and top with cheese.

Place back under the grill until the cheese is bubbling and brown.

Finish with micro greens and a drizzle of balsamic vinegar.

Makes 6 small pizzas
Nutrition
Calories:
245
kcal
|
Carbohydrates:
33
g
|
Protein:
8
g
|
Fat:
10
g
|
Saturated Fat:
2
g
|
Cholesterol:
6
mg
|
Sodium:
314
mg
|
Potassium:
189
mg
|
Fiber:
5
g
|
Vitamin A:
970
IU
|
Vitamin C:
15.8
mg
|
Calcium:
128
mg
|
Iron:
3.1
mg