12 smart points | 363 calories
Rich and fudgey one bowl gluten free brownies loaded with fresh raspberries. Crispy outer edges and a soft, chewy and kinda gooey middle.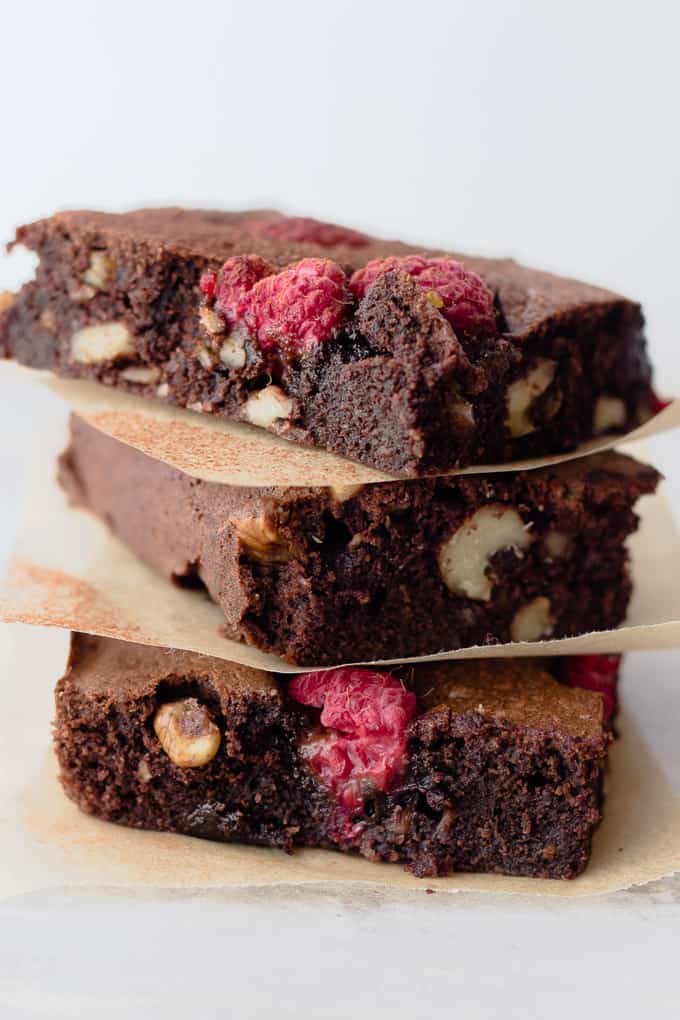 When I started Weight Watchers a couple of months ago, I thought that I would never be able to eat another brownie again! And I can pretty much bet that anytime you thought about giving a healthy eating a try, you thought that you would have to do the same. Well today we're busing the myth that you can't indulge while eating healthy, eating to lose weight or any other kind of positive lifestyle change that you're trying to make.
So, let me tell ya how we're gonna get this done. We're switching up our whole recipe and we're healthifiying it. <- Not a real word! These chewy gluten free brownies are made a celiac's dream with ground almonds. So, not only does this replace the flour, but ground almonds are used to give any baked goods richness. It also has the added bonus of adding protein. I draw the line at adding protein through black beans or any other kind of weird and wonderful way to healthify brownies. There has got to be a line here people. Amiright?
K. So we get rid of the regular flour and we sub the regular sugar for some caramel-y coconut sugar… hi, superfoods. 👋🏼 We skip butter completely. Use some natural peanut butter or almond butter. Or, if it's your thing, get the cashew butter out. Whatever nut butter you want to use would be totally cool. I appreciate that you will need to be a fan of nut butters for this recipe to work for you. But in all honesty, the nut flavour isn't the highlight. It's the undertone that ties all the nutty, fruity flavours together. Trust me on this one.
And hallelujah… we managed to make one bowl gluten free raspberry brownies with nothing more than the chocolate-y addition of cocoa powder. Yep. We skipped out on sugar laden chocolate and made these brownies sing with cocoa powder, almonds, peanut butter and some coconut oil. Bit of a mission, but we got there in the end. Granted, they aren't as sweet as the brownies you may be used to. But these brownies will never give you that dreaded sugar crash, or make you crave more sugary sweets for the rest of the day.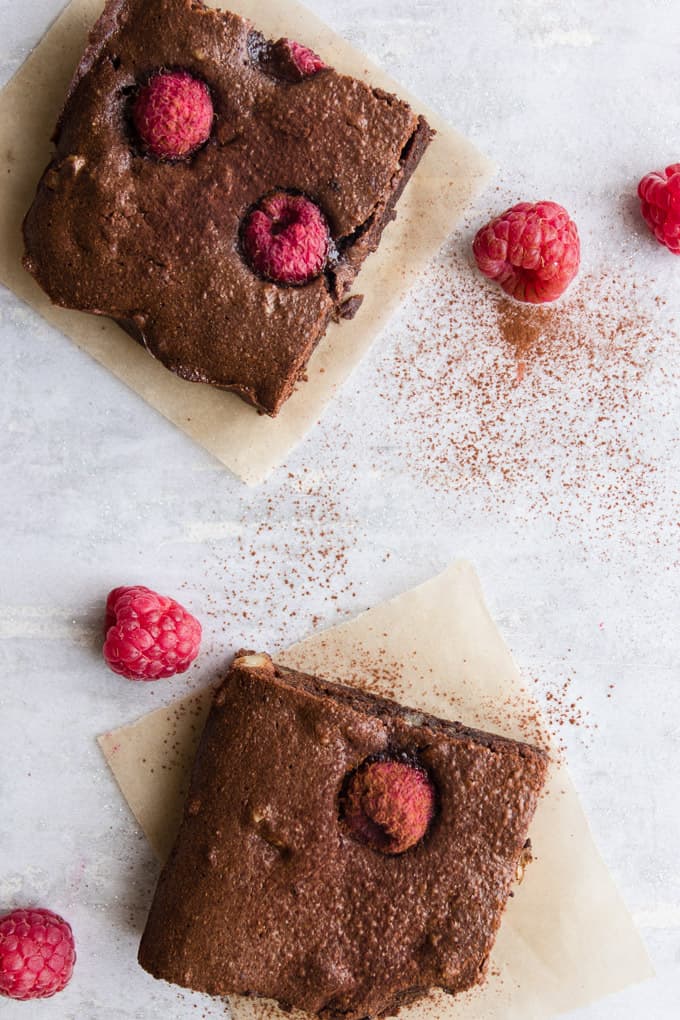 And let's get real. We're all just pretty excited that we can eat healthy and eat brownies. At the same time! And with these gluten free brownies they're the same thing!
One bowl Gluten Free Brownies
Rich and fudgy one bowl gluten free brownies loaded with fresh raspberries. Crispy outer edges and a soft, chewy and kinda gooey middle.
Print
Ingredients
65

g

coco powder

100

g

melted coconut oil

4

eggs

125

g

natural peanut butter

120

g

coconut sugar

100

g

almond meal

160

g

chopped walnuts

1/2

tsp

ground cinnamon

1

vanilla pod or 1 tsp vanilla seeds

pinch of sea salt

125

g

fresh raspberrie
Instructions
Pre heat the oven to 180c and line a 20cm square tin with baking paper

Place all the ingredients except the raspberries in a bowl and mix to form a batter.

Spread the batter evenly into the tin. Dot the raspberries evenly over the surface of the brownies.

Bake for about 25-30 minutes.

When the brownies are done, the top should look firm and crunchy and gives a little resistance when lightly touched.

Remove from the oven and leave to cool in the tin.

Cut into 12 pieces.

Store for unto 7 days or freeze individually and defrost as needed.
Nutrition Facts
One bowl Gluten Free Brownies
Amount Per Serving
Calories 339
Calories from Fat 252
% Daily Value*
Total Fat 28g 43%
Cholesterol 54mg 18%
Sodium 89mg 4%
Potassium 244mg 7%
Total Carbohydrates 19g 6%
Protein 9g 18%
* Percent Daily Values are based on a 2000 calorie diet.