This is the simplest tomato tart made with nothing but fresh heritage tomatoes, sticky onion jam, and crispy, flaky puff pastry scattered with onion seeds and thyme leaves. It's the perfect rustic tart for any time of day or night. You may be short on time these days, but you have definitely got the time for this 5 ingredient tart. It's healthy, requires no effort what so ever and is full of fresh, quality ingredients.
There's not a lot that gets me more excited than being able to bring you guys and gals impressive recipes that really don't require you to do much to achieve foodie perfection. This is potentially one of my favorite recipes of the summer, so far. It's all about simple quality ingredients that don't require much messing with. It's a lot like my asparagus tart, which was a huge hit.
If you happen to live near a farmer's market, or a Whole Foods, or in my case a Waitrose, then you'll have seen the bounty of heritage and heirloom tomatoes available right now. I think because the summer has been so hot they harvest has been exceptional this year.
But even though this tomato tart is really simple, like helloooo... onion jam, sliced tomatoes, and puff pastry... there are some things that I want you to know about making this the best tomato puff pastry tart that it can be.
What kind of tomatoes should I use in a tomato tart?
You're probably thinking "what's the diff? Why can't I use any tomatoes?"
Well, because of moisture content. Most commercially grown tomatoes are loaded with water and have a very high moisture content. You'll notice it when you slice one and it's nothing but juice on the cutting board. For this tart, we're not about overly juicy tomatoes, because we're going to end up with those dreaded soggy bottoms on the tart!
We're after heritage varieties that have almost a meaty texture that will hold up to roasting and not turn to mush in the oven. They come in a rainbow of colors, but for this tart, I've pretty much stuck to red, yellow and green varieties. If you grow your own, then you'll probably have much more choice.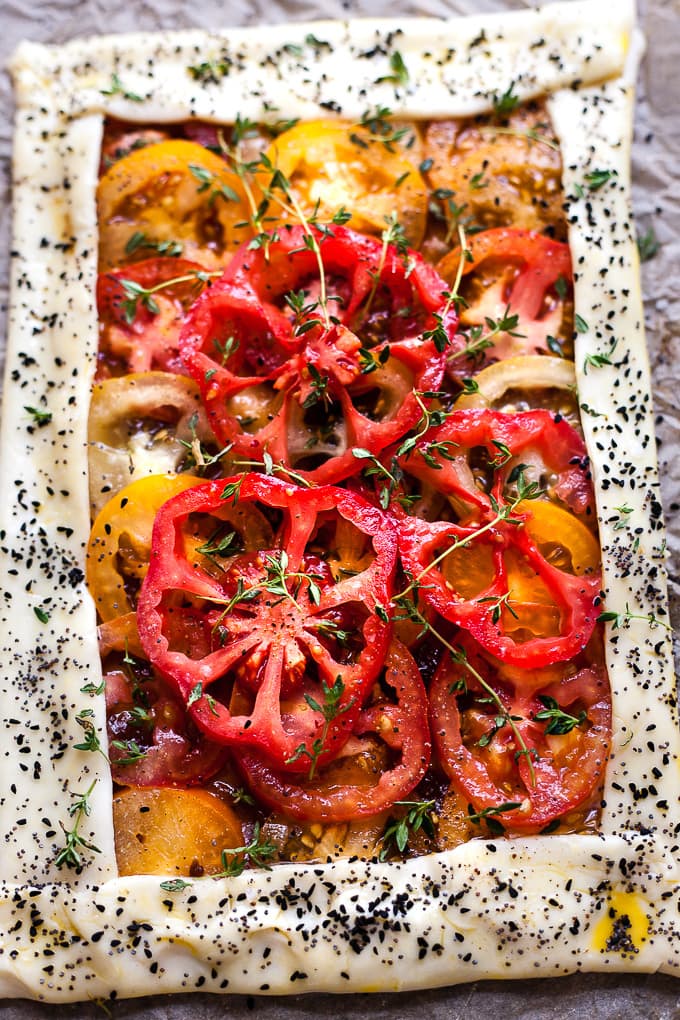 Okay. So, now that we're up to speed on what kinds of tomatoes and why for this little tart. Lets' talk about pastry. It may be one of my first loves. I've mentioned before that I'm a dough nerd of the highest order. Buuuuuuttttt, sometimes I just kinda skip making my own. Yes. I make my own puff pastry usually. But this summer has me taking a hard pass on that one.
What kind of pastry should I use for a puff pastry tomato tart?
Kind of a trick question, right?!
Yes. Puff pastry. But I can't stress this enough. You need to be using an all-butter puff pastry. You may not think it matters and in some instances, you may not be able to notice much of a difference. But in this tart, you will absolutely notice a difference.
I'm gonna go out on a limb and say that pretty much without exception you should always be buying all-butter puff. Make sure that you grab a sheet of pastry that's already been rolled out so that you're on easy street with this recipe.
Why should you be using all butter puff pastry all time?
Your pastry will get a better rise.
The pastry will get a deeper golden brown than one made with vegetable fats.
But let's not forget the most important point of all... flavor. An all butter puff will give you superior flavor every.single.time.
And looking at this tart you can tell that it's all about texture. Brush the pastry with some egg wash and scatter with onion seeds, poppy seeds and any other kind of seed you want. Fennel seeds would be great here!
This tomato tart is a prime candidate for dressing up for something even more elegant like summer entertaining.
Not sure how else dress up this tart up? Here are some optional extras...
Buratta or mozzarella cheese
fennel or caraway seeds
Mixed herbs like oregano, Greek basil, and parsley
Drizzle with an orange flower honey to bring more summer richness to the flavors going on.
So, go forth. Buy all the heritage tomatoes you can afford and start making this tomato tart (snuggled in crispy puff pastry) your own summer food signature dish.
THANKS SO MUCH FOR READING AND COOKING ALONG WITH ME! IF YOU MAKE THIS RECIPE OR HAVE A QUESTION, I'D LOVE IT IF YOU LEFT A COMMENT AND A RATING. YOU CAN ALSO FOLLOW ALONG ON PINTEREST, FACEBOOK AND INSTAGRAM TO SEE WHAT WE'RE EATING, PINNING AND A LITTLE BEHIND THE SCENES TOO!
Roasted Tomato Tart with Onion Puff Pastry
This is the simplest tomato tart made with nothing but fresh heritage tomatoes, sticky onion jam, and crispy, flaky puff pastry scattered with onion seeds and thyme leaves. It's the perfect rustic tart for any time of day or night.
Print
Pin
Rate
Ingredients
1

(

1

)

sheet all-butter puff pastry

¼ - ⅓

cup

onion jam

1

lb

(

1

lb

)

heritage tomatoes

mixed varieties

1

(

1

)

egg

beaten

1

tablespoon

(

1

tablespoon

) mixed seeds

poppy seeds, onion seeds, fennel seeds

1

(

1

)

bunch thyme

leaves picked

½

(

0.5

)

bunch basil

leaves chopped
Optional extras
Buratta or mozzarella

honey to drizzle
Instructions
Preheat the oven to 400f.

Lay out the puff pastry on a piece of baking paper or a lined baking tray and spread the onion jam over the pastry leaving a 2 inch border around the edge.

Thinly slice the tomatoes and arrange over the top of the onion jam leaving the two inch border. Sprinkle generously with sea salt.

Brush the border of the pastry with the beaten egg and fold over the tomatoes creating a tart. Brush the outside with the pastry with the beaten egg and scatter with the mixed seeds.

Scatter the thyme leaves over the top of the tart and bake on a baking tray in the preheated oven for about 35 minutes.

Once cooked, place on a cooling rack until ready to serve. Drizzle with honey, olive oil or balsamic vinegar. Or all 3!
Nutrition
Calories:
131
kcal
|
Carbohydrates:
10
g
|
Protein:
2
g
|
Fat:
8
g
|
Saturated Fat:
2
g
|
Cholesterol:
13
mg
|
Sodium:
57
mg
|
Potassium:
107
mg
|
Sugar:
1
g
|
Vitamin A:
340
IU
|
Vitamin C:
5.3
mg
|
Calcium:
10
mg
|
Iron:
0.9
mg