These easy lamb meatballs are crispy on the outside, and juicy and tender on the inside. The savory, umami flavor of the lamb is balanced perfectly with the salty, nutty taste of the parmesan cheese, and the fresh herbs and garlic add a bright, zesty note. And the best part is that they're so easy to make - just a few simple ingredients and some time in the oven (or on the stove), and you'll have a delicious and satisfying meal that everyone will love.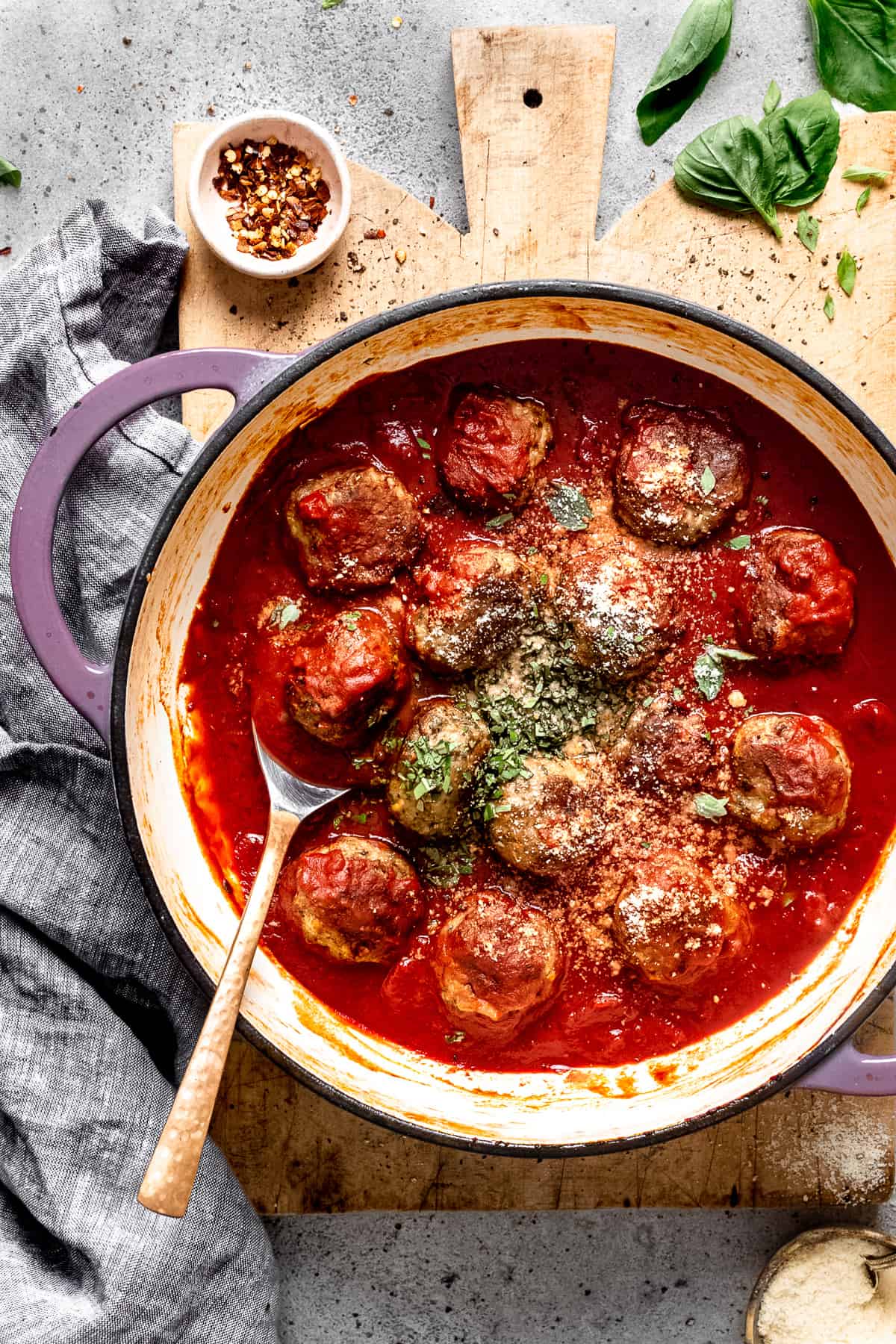 These baked meatballs are the perfect pairing with roasted red pepper pasta or ricotta gnocchi. Or keep it all low-carb and pair these meatballs in tomato sauce with this broccoli salad. And for a different version of Mediterranean meatballs, try these Greek meatballs with rice or these Greek meatballs.
Jump to:
🧾 Ingredients for juicy baked meatballs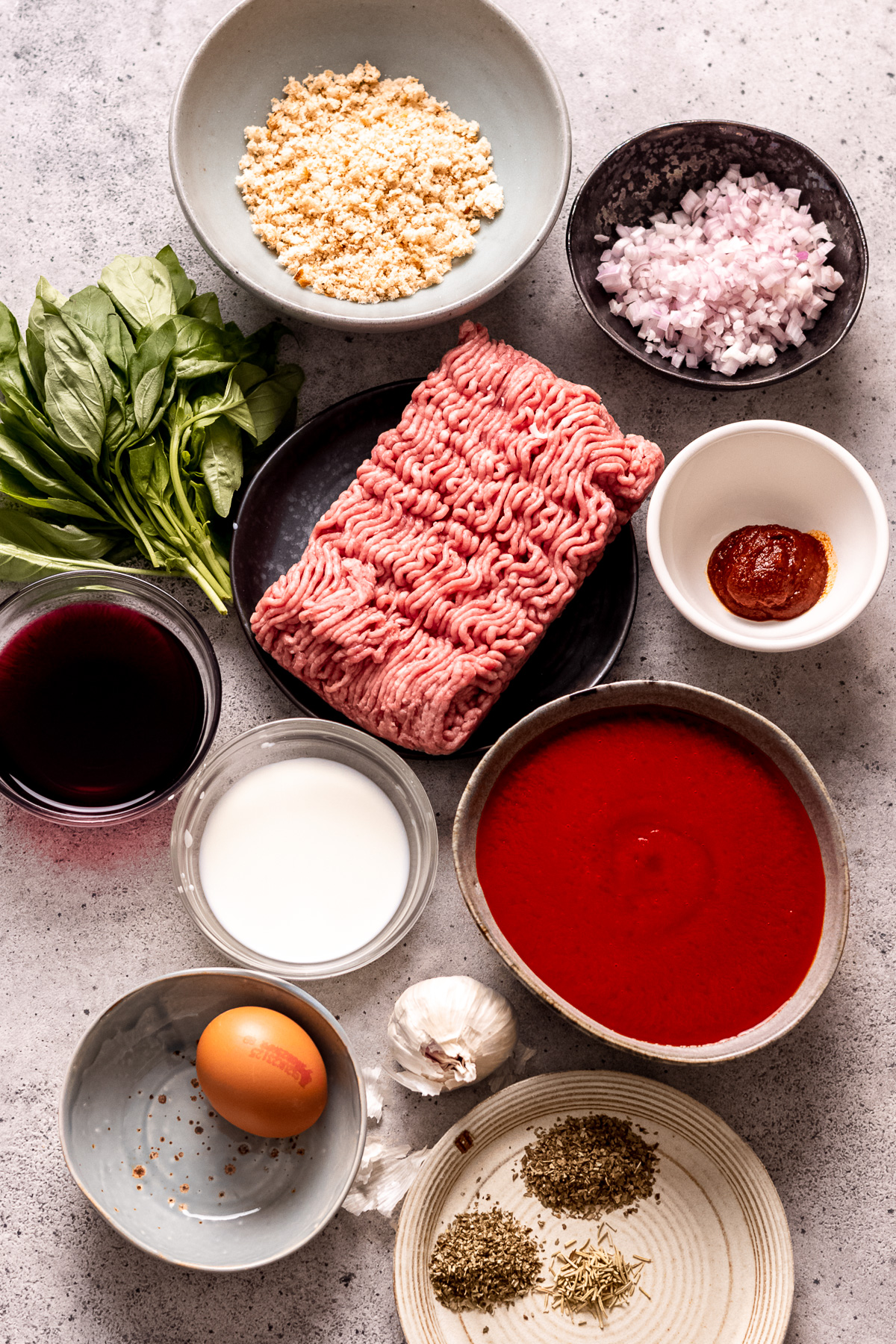 ground meat- this recipe uses lamb, but you can easily switch to beef, chicken or pork.
breadcrumbs- fresh breadcrumbs will give you softer meatballs, and panko breadcrumbs will give you a meatball with a crispy texture throughout.
egg- helps to bind the meatballs together
milk- adds moisture and richness to the meat.
herbs- for this Italian recipe I've used a blend or oregano, basil, thyme and garlic.
See recipe card for quantities.
📖 Substitutions & Variations
Meatballs are a great place to experiment with flavor and texture.
Meat - use a mix of ground beef and pork for extra juicy meatballs, or use ground turkey to keep them really lean.
Breadcrumbs - use gluten-free bread instead of white to make this gluten-free
Herbs - use herbs like tarragon and basil for a bright peppery flavor.
👩🏻‍🍳 Bake the perfect lamb meatballs- step by step
1 & 2
💡 Recipe pro-tips:
Cook a little bit of the meatball mixture in a pan before rolling the meatballs. Doing this means that you can ensure the level of seasoning before rolling the meatballs.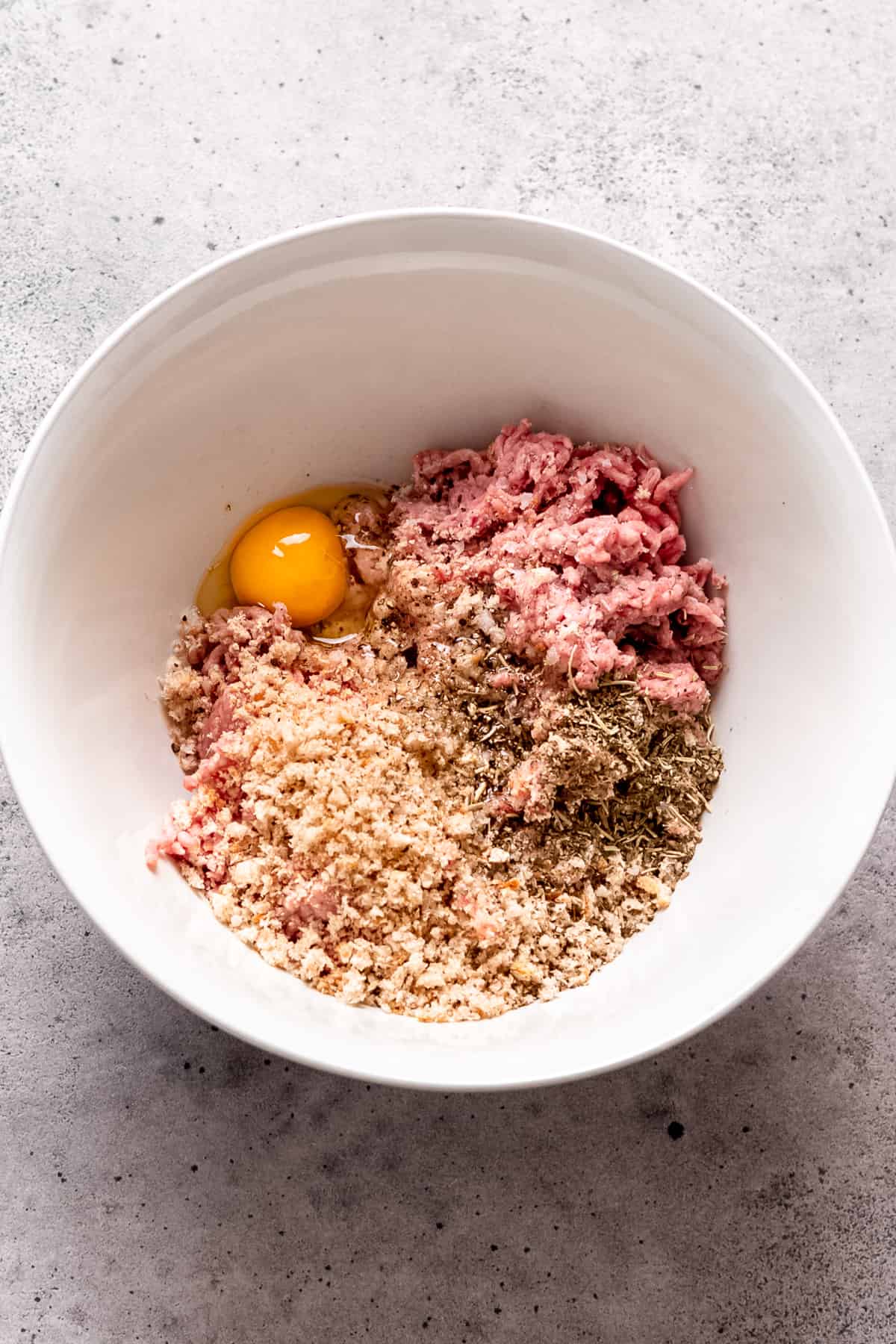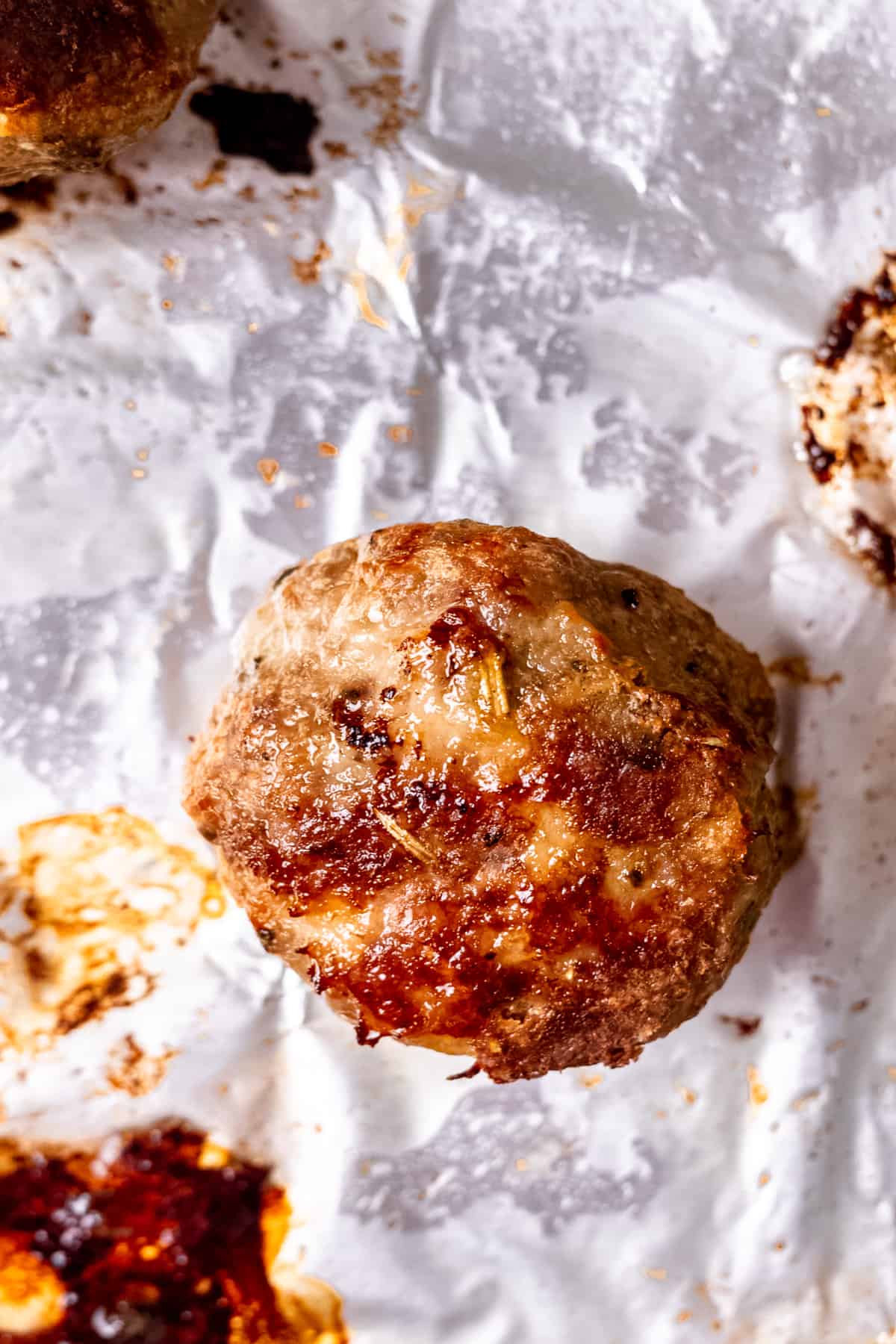 Place all the meatball ingredients into a medium size mixing bowl and mix to incorporate everything.
Use a tablespoon to scoop the meatball mixture from the bowl and roll it between 2 moist (not wet) hands. *Having damp hands helps to prevent the meatballs from sticking to you.
Place the rolled meatballs on a lined baking tray and spray with some olive oil. Bake in the preheated oven for about 20 minutes, until the meatballs are golden and crisp on the outside and soft and tender inside.
💡 Top tip
Don't overwork the meat: When mixing your meatballs, be careful not to overwork the meat. Overworking can result in tough, dense meatballs. Mix the ingredients just until they are combined and then stop.
3 & 4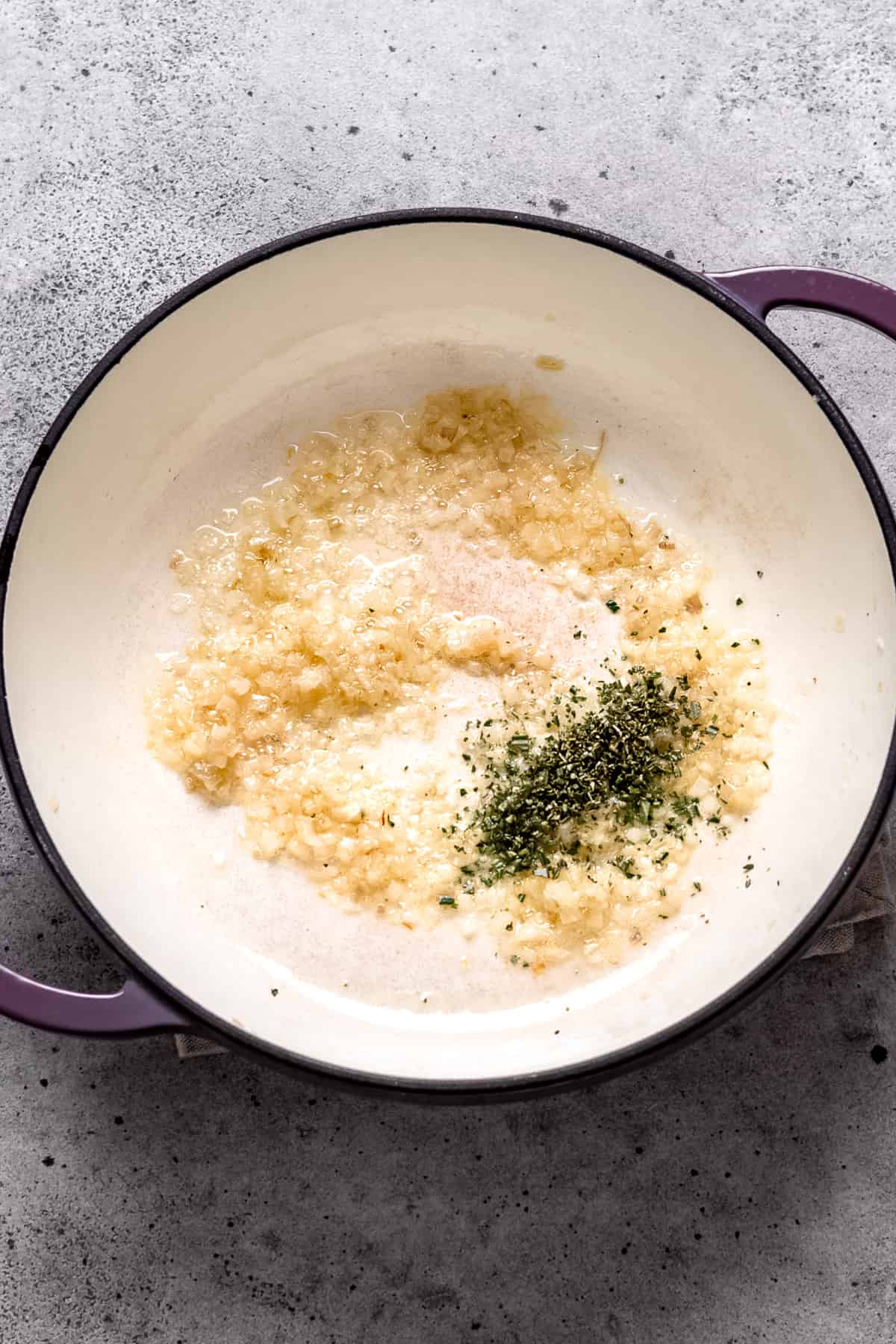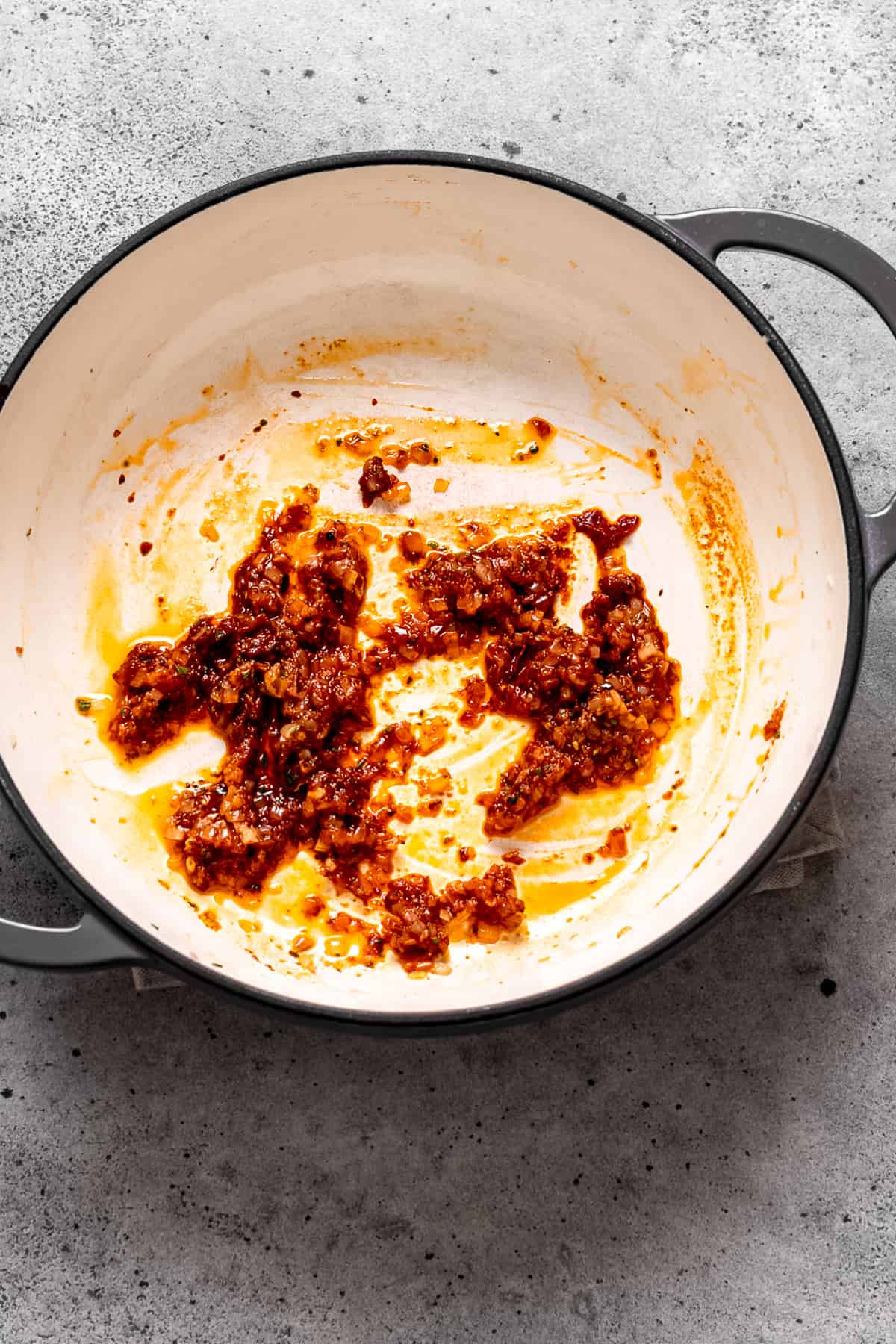 While the meatballs are baking, heat some olive oil in a medium pan and gently sauté the onions and garlic. Add in the herbs and mix well.
Once the onions and garlic are soft, fragrant, and translucent stir in the tomato paste and let it cook for a minute or two. Be sure to mix it in well with the onions.
5 & 6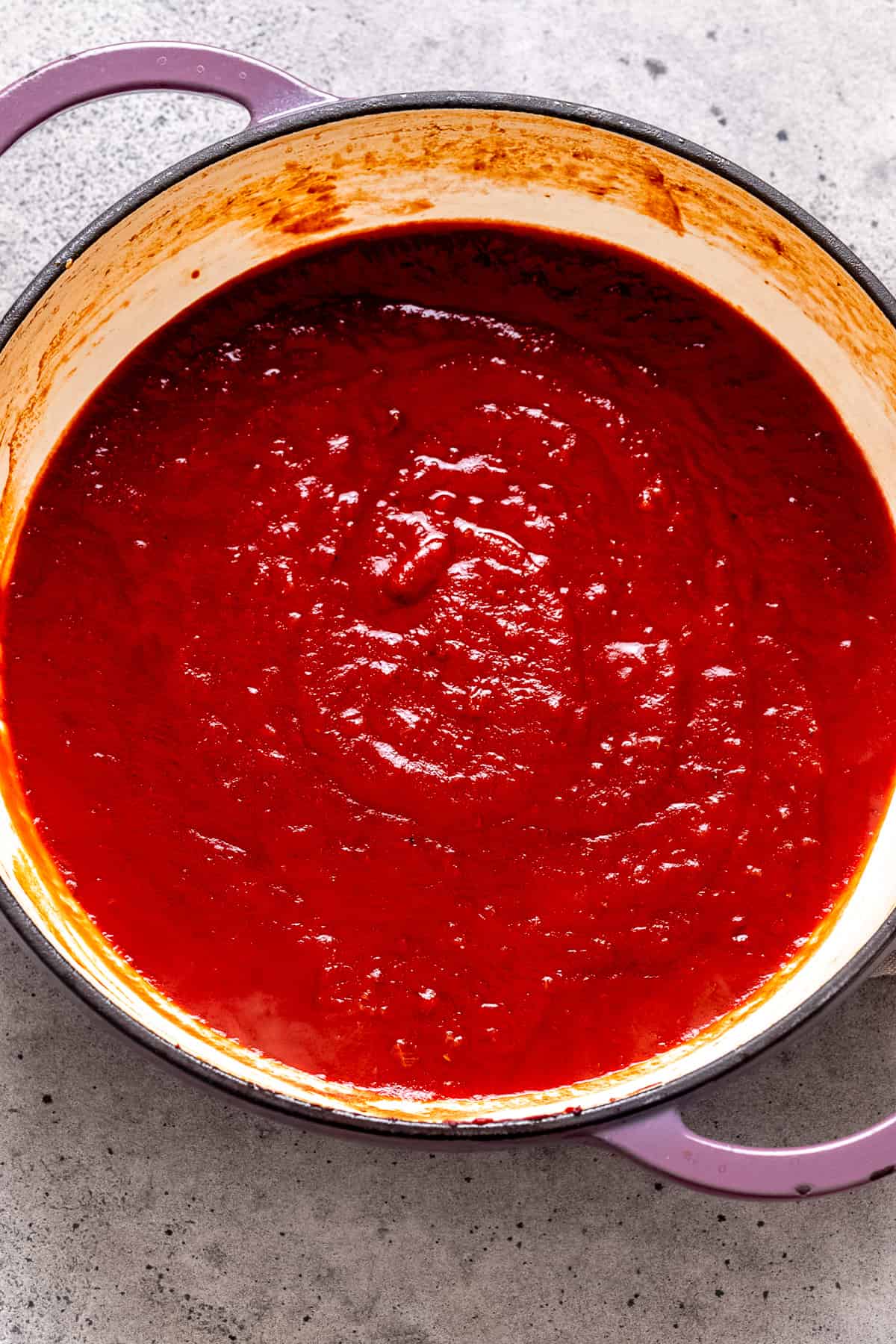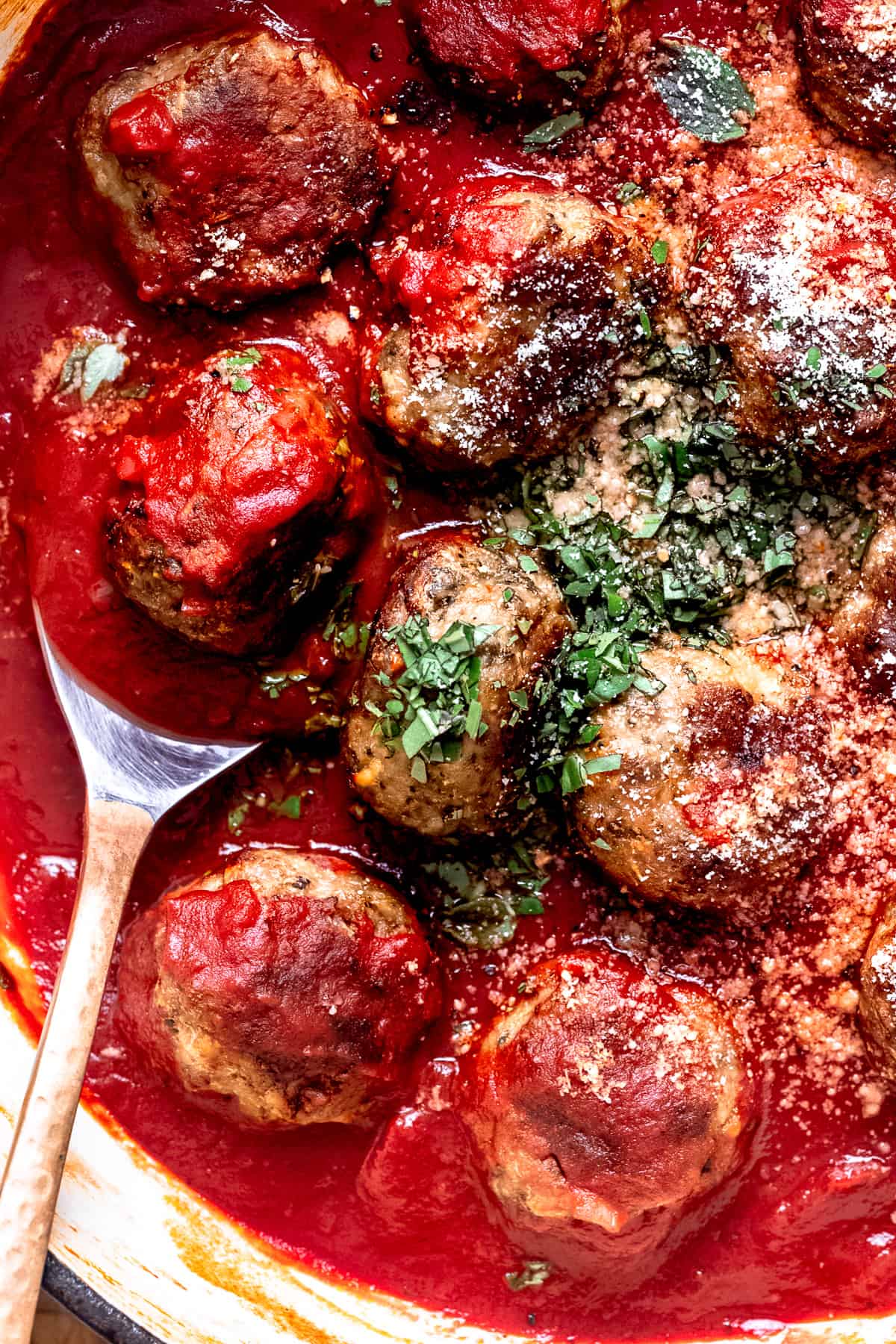 Pour in the passata and bring to a gentle simmer. Taste and adjust the seasoning.
Once the meatballs are cooked, remove them from the oven and place them in the sauce. Top with chopped fresh basil and parsley and some parmesan cheese.
Stove-top instructions for lamb meatballs
Follow the instructions for mixing the meatballs and shaping them.
Heat a tablespoon of olive oil in a nonstick or cast iron skillet. Once hot, carefully place the meatballs in the hot pan and gently fry on all sides until golden brown.
Remove the meatballs to a plate, follow the directions for making the sauce, and add the meatballs to the hot sauce to continue cooking, until they're done.
Top tips for baked meatballs
Brush with oil: Brushing your meatballs with oil before baking will help them develop a crispy exterior and keep them moist on the inside. You can use a simple mixture of olive oil, salt, and pepper, or brush them with your favorite sauce, such as marinara or teriyaki.
Use a meat thermometer: To ensure that your meatballs are cooked through and safe to eat, use a meat thermometer to check the internal temperature. Insert the thermometer into the center of a meatball - it should read at least 165°F (74°C) for fully cooked meatballs.
🍯 Storage
These baked meatballs can be kept in the sauce in the fridge for up to 3 days.
Or you can freeze them in the sauce for up to 3 months. See below for more instructions for freezing.
❓FAQ
Why do my meatballs keep falling apart?
To keep your meatballs from falling apart, be sure to use fresh breadcrumbs, mix the ingredients just until they are combined, and don't handle the meat too much. You can also chill the meatball mixture in the refrigerator for 30 minutes before shaping and cooking to help them hold their shape.
Can I use ground beef or pork instead of lamb?
Absolutely! While lamb is the traditional meat used in Italian lamb meatballs, you can use ground beef, pork, or a combination of meats instead. Just keep in mind that the flavor and texture may be slightly different.
Can I make meatballs ahead of time and freeze them?
Absolutely! Meatballs freeze very well and can be made ahead of time and frozen for later use. Simply shape the meatballs, place them on a baking sheet lined with parchment paper, and freeze until solid. Then, transfer them to a freezer bag and store in the freezer for up to 3 months.
How long should I cook my lamb meatballs?
Cooking time can vary depending on the size of your meatballs and the heat of your oven. Generally, you'll want to cook your meatballs over medium heat, turning them occasionally, until they are browned on all sides and cooked through, which should take about 6-8 minutes. You can always check for doneness by cutting into one of the meatballs to make sure there is no pink in the center.
If you tried this Recipe or any other recipe on my website, please let me know in the comments below. I love hearing from you. Also, please leave a star rating whilst you're there!
You can also follow along on Pinterest, Facebook, and Instagram.
Easy Italian Lamb Meatballs
Add a touch of Mediterranean flair to your dinner table with these homemade Italian lamb meatballs. Made with fresh or gluten-free breadcrumbs and flavorful spices, they're baked making them a healthy protein option that the whole family will love. Get the recipe now and enjoy a taste of classic Italian cuisine in your own home!
Print
Pin
Rate
Ingredients
For the Meatballs
1

pound

(

1

pound

)

ground lamb

½

cup

(

54

g

)

fresh breadcrumbs

*see notes

1

(

1

)

egg

lightly beaten

100

ml

milk

1

Tablespoon

(

1

Tablespoon

) dried oregano

1

Tablespoon

dried basil

½

Tablespoon

dried rosemary

½

Tablespoon

(

0.5

Tablespoon

) dried thyme

2

cloves

(

2

cloves

)

garlic

finely chopped and gently cooked

2

Tablespoons

(

2

Tablespoons

)

olive oil for baking

¼

teaspoon

(

0.25

teaspoon

) chilli flakes

*optional

Salt and Pepper to taste
For the Sauce
1

tablespoon

extra virgin olive oil

1

(

1

)

white onion

finely chopped

2

cloves

(

1

clove

)

garlic

finely chopped

2

cups

(

2

) tomato sauce

*also called passata

¼

cup

(

65.5

g

) tomato paste

½

cup

(

120

g

)

red wine

*optional

1

(

1

)

bunch fresh basil

chopped

½

(

0.5

)

bunch fresh oregano

chopped

Salt and pepper to taste
Instructions
To make the meatballs
Preheat the oven to 350ºF (175ºC) and line a baking tray with foil.

In a large bowl add the lamb, egg, dried herbs, and breadcrumbs. Pour in the milk and mix everything together well. Season well with salt and pepper. Be sure not to over-mix the lamb or you'll end up with tough meatballs.
Testing the mixture
Roll a mini meatball (about 1 teaspoon) and flatten it. Heat a teaspoon of oil in a small skillet and gently fry the flattened meatball for about 5 minutes. Once cooked, test the meatball for flavor and seasoning before rolling the remaining mixture.
Cooking the meatballs
If you are happy with the seasoning then use a spoon or an ice cream scoop to measure out 2 tablespoons of the meatball mixture. Roll out the mixture into small golfball-sized meatballs. Use damp hands to prevent the meatballs from sticking as you roll them. Place on the foil-lined baking tray and drizzle with the olive oil or use an olive oil spray. Bake in the preheated oven for about 20 minutes. The meatballs will be golden and the juices will run clear when pierced with a fork or knife.
To Make the Sauce
Meanwhile make the sauce. Heat the olive oil in a skillet or sauce pan over medium heat. Once the oil is hot, gently sauté the onions and garlic until they're fragrant and soft, about 5 minutes. Season with salt and pepper and continue to cook until the onions are just starting to turn golden, about another 8 minutes. Add the wine and scrape up any golden bits from the bottom of the pan. Let the wine come to a simmer and reduce for about 1 minute. *This burns off the alcohol.

Add the tomato paste and sauce. Stir in the fresh herbs and bring to a boil. Turn down and simmer for about 10 minutes, until the sauce is thick and hearty. Add the meatballs and stir to coat them.

Serve with pasta, a salad, or roasted vegetables.
Notes
Adjust seasoning to taste: Taste the meat mixture before shaping the meatballs and adjust the seasoning as needed to suit your preferences.

Don't overwork the meat: Overworking the meat can make your meatballs tough and dry. Mix the ingredients together just until combined, then shape the meatballs gently.

Cook the meatballs thoroughly: Make sure the internal temperature of the meatballs reaches 165°F (74°C) to ensure they are fully cooked and safe to eat.

Let the meatballs rest before serving: Letting the meatballs rest for a few minutes after cooking will help the juices distribute evenly and make them more tender.
Nutrition
Calories:
724
kcal
|
Carbohydrates:
44
g
|
Protein:
28
g
|
Fat:
47
g
|
Saturated Fat:
16
g
|
Cholesterol:
134
mg
|
Sodium:
760
mg
|
Potassium:
1257
mg
|
Fiber:
7
g
|
Sugar:
16
g
|
Vitamin A:
875
IU
|
Vitamin C:
32.5
mg
|
Calcium:
190
mg
|
Iron:
6.2
mg