These amazing homemade cardamom chocolate chip cookies are seriously next level. They are soft and chewy with big chunks of dark chocolate. This no-chill cookie dough doesn't require a mixer and is made with nutty browned butter for extra flavor. The cardamom is perfectly balanced with rich chocolate chips (or chunks) to create a warm and comforting cookie.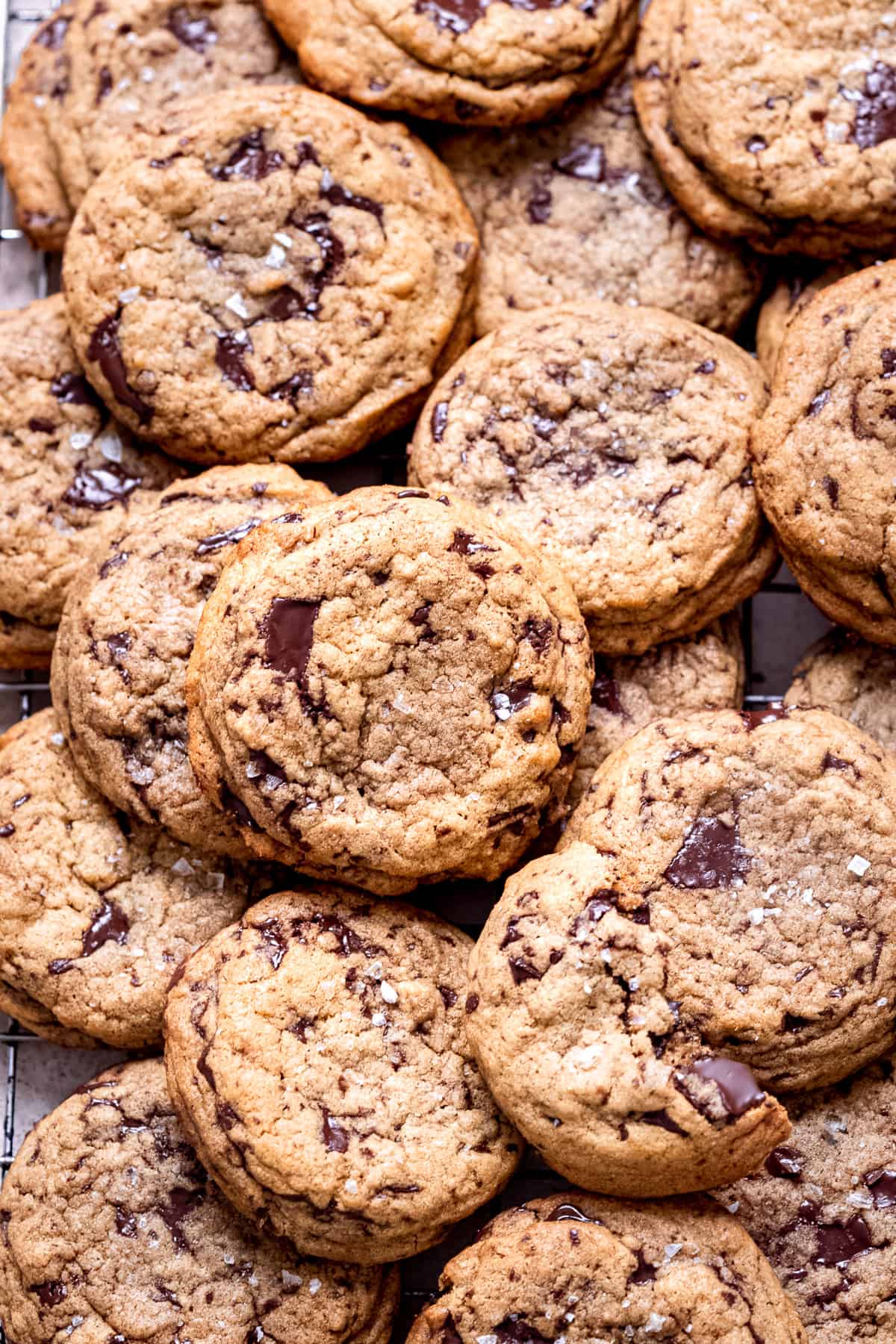 Cardamom is a warm fragrant spice with a floral aroma of pepper, mint, and citrus. It's often used in baking along with savory recipes. But it pairs incredibly well with chocolate.
You can add a pinch of cardamom to these dark chocolate brownies, or this chocolate caramel tart.
These chocolate chunk cookies have an incredible texture that is soft and chewy in the center, with an amazing outer crispiness that just gives them the perfect balance. Once baked they are golden brown with those beautiful pools of melted chocolate just peeking out. These cardamom chocolate chip cookies are a soft bakery-style cookie that everyone loves. You can also try these double chocolate chip cookies. If you're looking for something similar but with cinnamon, these brown sugar and cinnamon cookies are such a great choice!
Jump to:
🧾 Key ingredients for chewy cardamom chocolate chip cookies
dark chocolate bar- at least 70%
Sugars- dark brown sugar creates the soft and moist texture of these cookies, while granulated sugar helps to create the golden color and crisp outer edge.
butter- to add an extra layer of depth and complexity to these cookies, half the butter is browned before mixing it into the cookie dough. It takes on a nutty almost caramel flavor that pairs so well with the bitterness of the dark chocolate and the warmth of the cardamom. It also helps to create the golden color of the cookies. Just be sure to let it cool before using it.
flour- a crucial part of cookie (and all baking) success is to measure the flour accurately. If possible use a food scale but if you don't have one, be sure to use a knife with a flat edge to level off the flour in the measuring cup.
eggs- large and at room temperature. *to warm up eggs quickly, gently place them in a cup of warm (not hot) water for about 5 minutes before cracking them.
See recipe card for quantities.
👩🏻‍🍳 How to make the chewiest cardamom chocolate chip cookies-overview
Start by browning half the butter and creaming the other half with the sugar.
Add in the eggs one at a time and mix in until they have each been absorbed.
Fold in the flour, cardamom and baking soda until you have a thick cookie dough. Then gently fold in the chocolate chips or chopped chocolate.
Preheat the oven and line a cookie sheet with parchment paper. *Most cookies have enough butter that the paper isn't necessary, but if you feel more comfortable you can use it.
Use a large cookie scoop to drop the dough onto the sheet in large mounds. *Leave enough room between each cookie so that they have room to spread a little while baking.
Let the baked cookies cool for a couple of minutes on the baking tray, then use a spatula to move the cookies to a cooling rack to cool completely.
Store any unbaked dough in a freezer bag in the freezer for up to 3 months. Store baked cookies in an airtight tin for up to 3-4 days.
📖 Step by step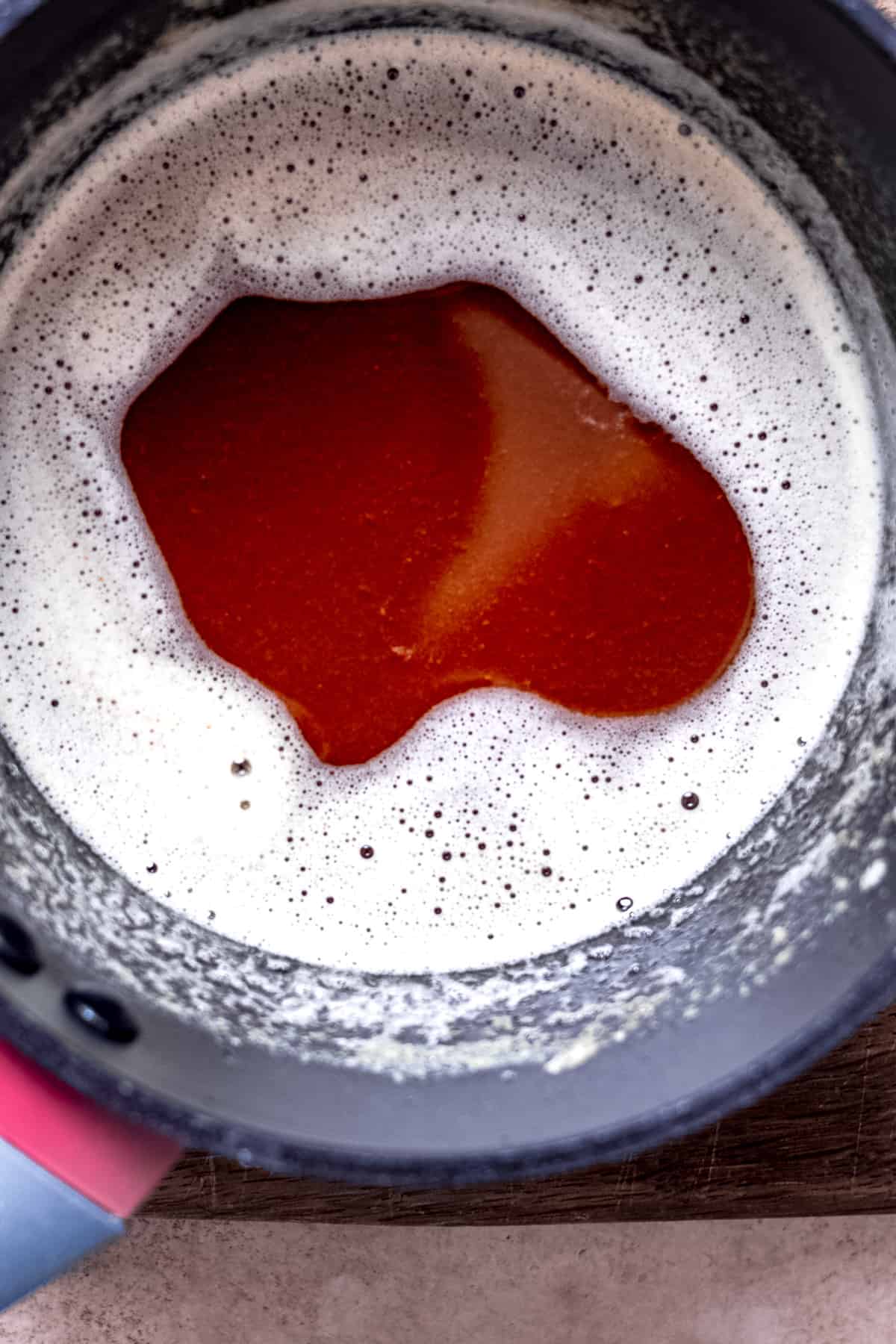 As mentioned above, we're browning half the butter. I always use salted but if you prefer unsalted for baking that will work, too. The other half of the butter gets creamed with the sugars using an electric whisk.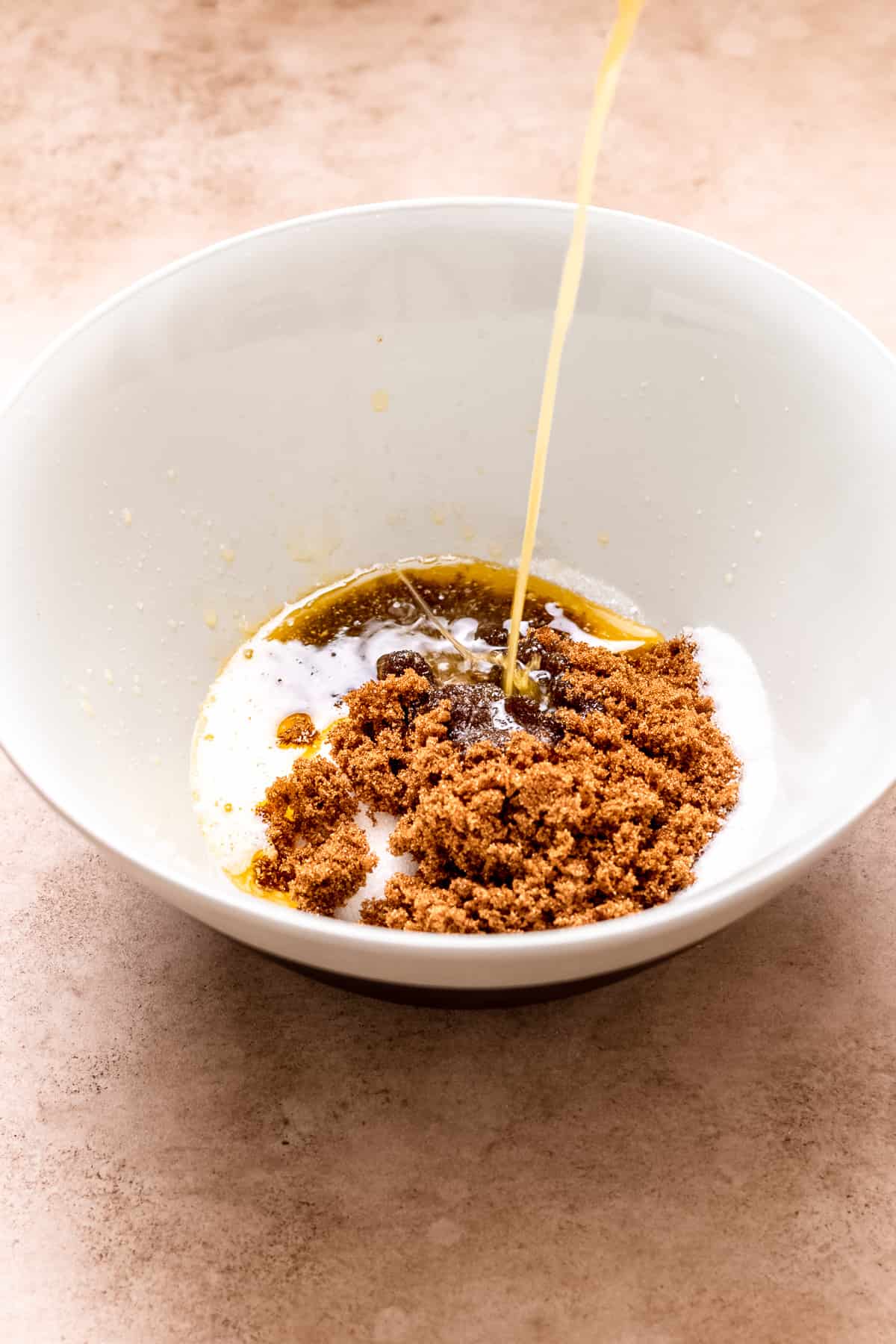 Cream half the butter- make sure it's very soft- with the brown and granulated sugars in a medium bowl. Pour the cooled brown butter into the bowl and whisk until light and fluffy.
Add the eggs one at a time mixing after each addition. This is where you whisk in the vanilla, too.
Once the eggs and vanilla are incorporated into the sugar and butter, it's time to gently fold in the flour, baking soda and cardamom. *Use a spatula for this part to ensure that the dough doesn't get over-mixed.
Then gently fold in the chocolate chunks. You can absolutely use chocolate chips here too. I prefer to use a bar because unlike chocolate chips the chunks of chocolate melt slightly while baking and create large pools of melted chocolate.
There is absolutely no requirement to chill this dough. Use a large cookie scoop, or just a large spoon to portion out the cookies.
💡 Chef's top tip: You can use hands that are slightly damp and roll the cookies into balls and place them on a baking tray. *Using slightly moist hands will keep the cookie dough from sticking to you.
↔️Substitutions & Variations
Use different chocolate and pair with other warming spices like cinnamon, nutmeg or mixed spice.
You can also add in walnuts or pecans for a richer cookie with more texture.
🍫 What kind of chocolate should you use when pairing it with cardamom?
White Chocolate: Cardamom pairs really well with white chocolate. The cardamom's warm and sweet flavor complements the white chocolate's creamy and delicate flavor. Try adding a pinch to these white chocolate cheesecake bars. The combination creates a subtle and sophisticated taste experience, with the cardamom adding a hint of spice and complexity to the white chocolate. It's a perfect balance of sweetness and spiciness.
Dark Chocolate: Cardamom is an excellent pairing with dark chocolate. The strong and rich flavor of the dark chocolate pairs perfectly with the warm and sweet flavor of the cardamom. The combination creates a bold and intense taste experience, with the cardamom adding a spicy kick to the dark chocolate. The pairing is also great for those who want a more complex and nuanced chocolate experience.
Milk Chocolate: Cardamom also pairs well with milk chocolate. The creamy and sweet flavor of the milk chocolate complements the warm and sweet flavor of the cardamom, creating a rich and indulgent taste experience. The cardamom adds a subtle and complex flavor to the milk chocolate, creating a perfect balance of sweetness and spiciness.
*Top Tip- Try making these chewy chocolate chunk cookies with each kind of chocolate or a mix of all 3!
💭 How to tell when cookies are done
Look at the edges: Cookies are typically done when the edges start to turn golden brown. If the edges are still pale, they may need a few more minutes in the oven.
Check the color: Depending on the type of cookie you're baking, the color may change as it bakes. For example, chocolate chip cookies will start to turn golden brown around the edges and the tops will darken slightly.
Press lightly: If the cookie feels firm when you press it lightly with your fingertip, it's likely done. If it still feels soft and doughy, it needs more time in the oven.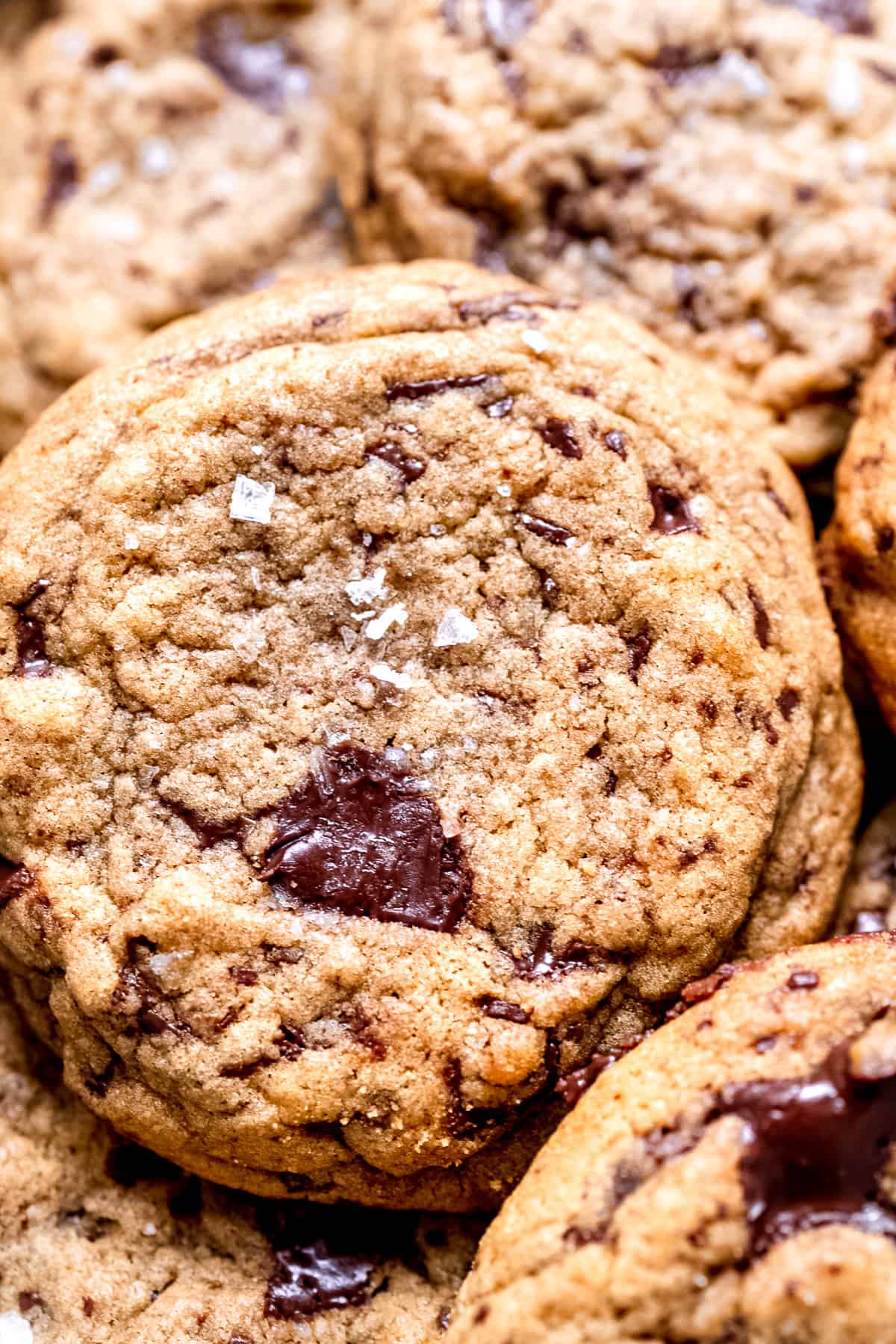 💡 Top tips- What's wrong with my cookies?
Overbaking: one of the most common problems when baking cookies. It can lead to dry and crunchy cookies that are unpleasant to eat. To avoid this, it's important to monitor the baking time closely and take the cookies out of the oven when they are just set around the edges but still soft in the center.
Underbaking: another common problem when baking cookies. It can lead to cookies that are raw or undercooked in the center. To avoid this, it's important to make sure that the cookies are fully baked but not overbaked. A good rule of thumb is to bake the cookies until the edges are golden brown and the center is set.
Spreading: can occur when the dough is too soft or the oven temperature is too low. This can cause the cookies to spread too much and become thin and crispy. To avoid this, it's important to chill the dough before baking and to make sure that the oven is preheated to the correct temperature.
Flat or Thick Cookies: occur when the dough is too warm or too cold. This can cause the cookies to spread too much or not spread at all. To avoid this, it's important to follow the recipe instructions and make sure that the dough is at the correct temperature before baking.
Uneven or inconsistent baking: occurs when the oven temperature is not consistent or when the cookies are not placed evenly on the baking sheet. To avoid this, it's important to preheat the oven and to rotate the baking sheet halfway through the baking time to ensure even baking.
❓FAQ
How to fix greasy cookies?
Add more dry ingredients: If you have additional dry ingredients (such as flour or oats) on hand, you can try mixing in a little bit at a time until the dough becomes less greasy. This may help to absorb some of the excess fat.
Bake for a little longer: If the cookies are still too greasy, you can try baking them for a few extra minutes to help the excess fat cook-off. Just be careful not to over-bake them, as this can cause them to become dry and crumbly.
Can I freeze these cookies?
Absolutely! The best way to freeze most cookie dough is to portion it into balls and freeze those. That way you can defrost 1-2 cookies at a time while keeping the rest frozen.
What's the best way to store these cookies?
In a clean airtight container at room temperature is the best way to store most cookies. It helps them stay fresh and keep from drying out. They'll stay fresh for 3-4 days.
More chocolate recipes
Looking for other recipes like this? Try these: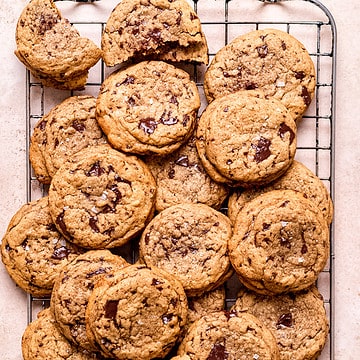 CARDAMOM CHOCOLATE CHIP COOKIES
This cardamom chocolate chip cookie is my perfect version of the classic chocolate chip cookie. Big. Chocolate-y, more on the salty side than sweet side and fragrant with warming cardamom.
Print
Pin
Rate
Instructions
Preheat the oven to 325ºF/ 160ºC

Place ½ the butter in the bowl of a stand mixer with the white and brown sugar. Or use a regular mixing bowl and an electric hand whisk.

Place the other half of the butter in a small sauce pan and cook over medium heat until golden and nutty. About 4 minutes. Remove from the heat and leave to cool for 5 minutes.

Beat the sugars with the softened butter until, light and fluffy. Slowly pour the browned butter into the sugars and continue to mix well. When properly mixed the butter and sugar will be light and fluffy and pale in color.

Add the eggs and vanilla and mix until the eggs are incorporated. Stir in the flour, baking soda, and cardamom. Mix until just combined.

Fold in the chocolate chunks and mix gently.

Using a scoop, roll the cookies into balls and place them on a baking tray 3 inches apart. Gently flatten the cookies and sprinkle them with some sea salt if you like. The sea salt is completely optional but is a lovely addition.

Bake for 6-10 minutes. Leave to cool on the tray for 2 minutes, then transfer to a wire rack to finish cooling.
Nutrition
Calories:
236
kcal
|
Carbohydrates:
26
g
|
Protein:
2
g
|
Fat:
13
g
|
Saturated Fat:
8
g
|
Cholesterol:
34
mg
|
Sodium:
122
mg
|
Potassium:
109
mg
|
Fiber:
1
g
|
Sugar:
14
g
|
Vitamin A:
265
IU
|
Calcium:
21
mg
|
Iron:
1.6
mg