This no-bake chocolate tart is the perfect make-ahead dessert to wow your guests. It's made with a buttery biscuit base and a creamy, luscious dark chocolate ganache filling. Just a couple of simple ingredients and about 20 minutes (plus fridge time) and you've got an absolute show-stopping dessert.
This is really the easiest dessert to make for any kind of entertaining or gathering. You can even buy the pastry shell and make this a REALLY quick dessert. It's also perfect for any season, but it really shines at Christmas when you're so busy, but you want everything to be spectacular.
Making a ganache filling is really simple, but you may still have some questions.
What exactly is a ganache anyway?
A ganache is a cream and chocolate emulsification. Melted chocolate and hot cream get mixed together to form a truffle-like mixture. As the mix cools in the fridge the chocolate crystals start to re-align and the chocolate will set to varying degrees of firmness.
For very firm ganache you would use more chocolate and less cream and for a very soft set ganache, you would use more cream. In this recipe, the perfect ganache is set and hold it's shape, but is still creamy enough to eat with only a fork when it's room temperature. This recipe uses almost equal parts of cream and chocolate, so it sets really creamy.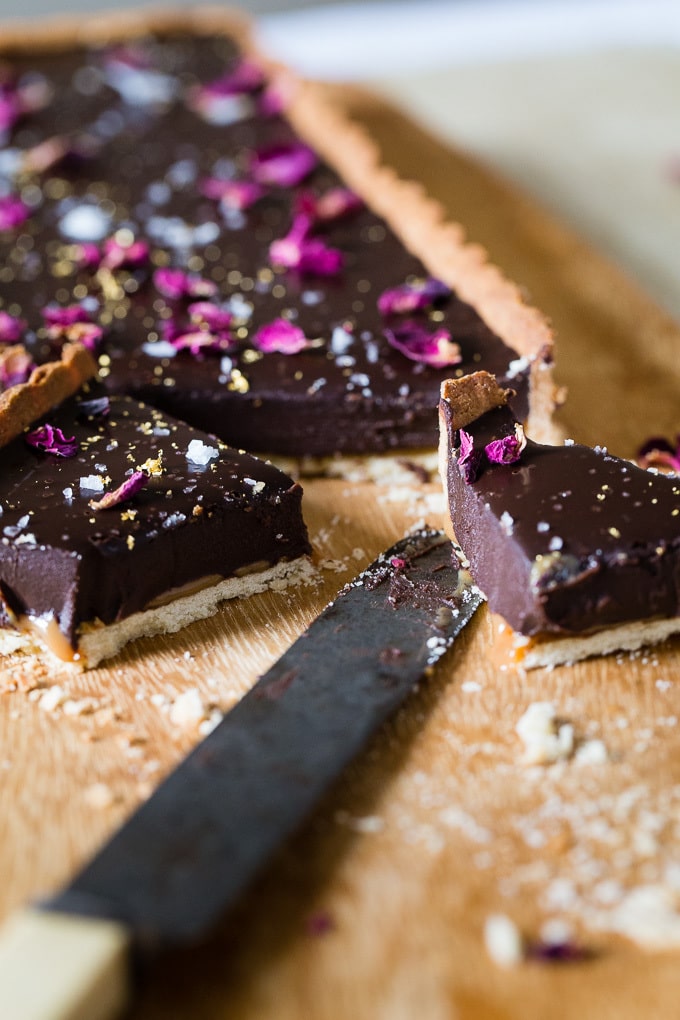 What kind of chocolate should you use?
The kind of chocolate you use will have a huge impact on the final tart, as you would expect! You can use milk chocolate for this tart and that would be gorgeous, but it would also be sweeter than dark chocolate.
If you plan on making this with dark chocolate then you can try something with anywhere from 54% to 72% cocoa solids. The higher the percentage you pick, the richer your tart will be. A lower percentage will be sweeter and less bitter. But, whatever chocolate you pick, make sure it is excellent quality. I've listed some of my personal picks:
Chocolate for No Bake Chocolate Tart
Now that we've established how perfect this tart is for a low maintenance dessert you'll want to know...
How far in advance can no bake chocolate tart be made?
You can make the tart shell and bake it off according to the instructions and freeze it for a month, up to 6 weeks even. The tart itself can be made a day or two before and left covered in the fridge. Because it contains fresh cream I wouldn't make it any earlier than 2 days before.
How to prepare no-bake chocolate tart for serving
For best results and flavor serve this tart at room temperature.
If you've made the tart a day or 2 before, it will look a little dry on the top. DON'T WORRY! It won't be dry on the inside. Like most foods, the outer layer may dry out a little if it sits in the fridge. How you're going to fix that is with some heat. You can use a kitchen blow torch, or turn your broiler on in your oven.
If using a blowtorch, gently warm the top of the tart by running the flame around the surface and let that chocolate just barely melt so that it looks shiny and fresh again.
If using the broiler, place the tart close underneath the element and let the surface melt very slightly. Just enough to make the tart looks glossy and fresh.
You can definitely freeze this tart as well. When it comes time for serving, keep the tart, or slices if you've portioned it, wrapped in plastic wrap and foil while you defrost. Any condensation will cling to the foil, not your tart, so you'll avoid soggy pastry.
The caramel on the bottom of this tart is completely optional. I've made this dessert almost 100 times and love it with and without caramel. In this recipe, it's just a tin of boiled condensed milk that's been caramelized. That way it can really be a make-ahead dream. Once you've boiled a tin of condensed milk, it can sit in the fridge or back in the cupboard until you need it.
Decorate simply, with dried rose petals and some sea salt flakes for sparkle and you will be the hostess with the mostess!
THANKS SO MUCH FOR READING AND COOKING ALONG WITH ME! IF YOU MAKE THIS RECIPE OR HAVE A QUESTION, I'D LOVE IT IF YOU LEFT A COMMENT AND A RATING. YOU CAN ALSO FOLLOW ALONG ON PINTEREST, FACEBOOK AND INSTAGRAM TO SEE WHAT WE'RE EATING, PINNING AND A LITTLE BEHIND THE SCENES TOO!
No Bake Chocolate Tart With Salted Caramel
A rich dark chocolate tart with flakes of sea salt. The perfect no-bake chocolate dessert.
Print
Pin
Rate
Ingredients
For the pastry
350

g

(

350

g

)

flour

125

g

(

125

g

)

butter (cold

125

g

(

125

g

)

sugar

2

(

2

)

eggs + 1 yolk

pinch

of salt
For the Chocolate Ganache
1

cup

(

238

g

)

whipping cream

8

ounces

(

226.8

g

)

dark chocolate

2

tablespoon

(

2

tablespoon

)

corn syrup or liquid glucose

UK

¼

cup

(

56.75

g

)

butter
For the Salted Caramel
1

(

1

)

tin caramel condensed milk

1

tablespoon

(

1

tablespoon

) sea salt
Instructions
For the pastry
Measure flour into a medium mixing bowl. Rub cold butter through the flour until the mixture is pea sized. You can do this in a food processor. Add the sugar and pinch of salt and mix to combine. Add the eggs and yolk. Mix gently. Turn out onto a lightly floured surface and knead just until dough comes together. Cling film and rest for 20 minutes in the fridge.

Roll pastry out onto lightly floured surface and roll to the thickness of a coin.

Line your greased tart tin with the pastry. I used a 34 cm rectangle tart tin. Blind bake at 180c for 15 minutes. Brush the pastry shell with egg wash and return to the oven for a few

more minutes, until golden and crisp.

In a medium bowl mix the caramel condensed milk with the sea salt.

Spread a layer of caramel on the tart base.
For the Chocolate Ganache
Measure the cream, chocolate, and corn syrup or glucose into a medium pan.

Place over a low to medium heat until melted. Remove from the heat and add the butter a little at a time until incorporated. Pour into your prepared and cooled tart shell. Place in the fridge to set.

Scatter with dried rose petals and sea salt.
Nutrition
Calories:
366
kcal
|
Carbohydrates:
35
g
|
Protein:
4
g
|
Fat:
22
g
|
Saturated Fat:
13
g
|
Cholesterol:
70
mg
|
Sodium:
571
mg
|
Potassium:
153
mg
|
Fiber:
2
g
|
Sugar:
14
g
|
Vitamin A:
575
IU
|
Vitamin C:
0.1
mg
|
Calcium:
31
mg
|
Iron:
3
mg