These dark chocolate brownies made from scratch will be the best brownies you've ever tried. They're rich, thick, chewy, and fudgy. They only require 6 basic ingredients and are easy enough that the most novice baker will turn out the perfect rich brownie every time.
Having spent years as a pastry chef in Michelin-star restaurants I'm a very big fan of chocolate desserts. You can try this dark chocolate no-bake tart or this hazelnut chocolate tart. Both rich and delicious.
Or try a different bar or square like these strawberry rhubarb bars or these white chocolate raspberry cheesecake bars.
Jump to:
⭐️ Top 5 reasons why you you'll love these fudgy brownies:
Easy to make: Homemade brownies are relatively easy to make, even for novice bakers. They don't require any fancy equipment or techniques, and the ingredients are readily available in most grocery stores. With a few simple steps, you can have a batch of delicious brownies ready in no time.
Fudgy texture: The fudgy texture of homemade brownies is what sets them apart from other baked goods. They're dense, moist, and chewy, with a slight crunch on top. The perfect brownie has a crisp top layer that gives way to a soft, fudgy interior.
No preservatives: Many store-bought brownies contain preservatives and artificial ingredients to extend their shelf life. Homemade brownies are made with fresh ingredients, without any added chemicals or preservatives, making them a healthier option.
Versatility: Homemade brownies are incredibly versatile. They can be served warm or cold, with a scoop of ice cream or a drizzle of caramel sauce. They can be made with nuts, dried fruit, or even marshmallows. Or try adding in some caramel, espresso, cinnamon, or marshmallows to create an interesting flavour profile. They're perfect for any occasion, from birthdays to potlucks.
Fresher ingredients: When you make brownies from scratch at home, you can control the quality and freshness of the ingredients. Using high-quality chocolate, fresh eggs, and butter can make a big difference in the flavor and texture of the brownies.
🧾 Basic brownie ingredients
dark chocolate- at least 60% cocoa solids
cocoa powder- Dutch process; adds depth and richness to the brownies
eggs- large, room temperature
butter- room temperature- salted or unsalted both work really well
granulated sugar
all-purpose flour
See recipe card for quantities.
📖 Substitutions & Variations
Add-ins- chocolate chips, semi-sweet, milk, or white chocolate chips, chopped walnuts or pecans
dark salted caramel- drop spoonfuls of caramel on the top of the brownies and use a toothpick or knife to swirl the caramel throughout the brownie batter before baking.
sea salt- for the topping. Sprinkle sea salt flakes over the brownies before baking.
👩🏻‍🍳 How to master the fudgiest dark chocolate brownies: step by step
step 1 & 2
When baking, your very first steps should be to preheat the oven and prepare your baking tin. Oven- 325ºF. Square metal baking pan 9x9. Line it with nonstick baking paper.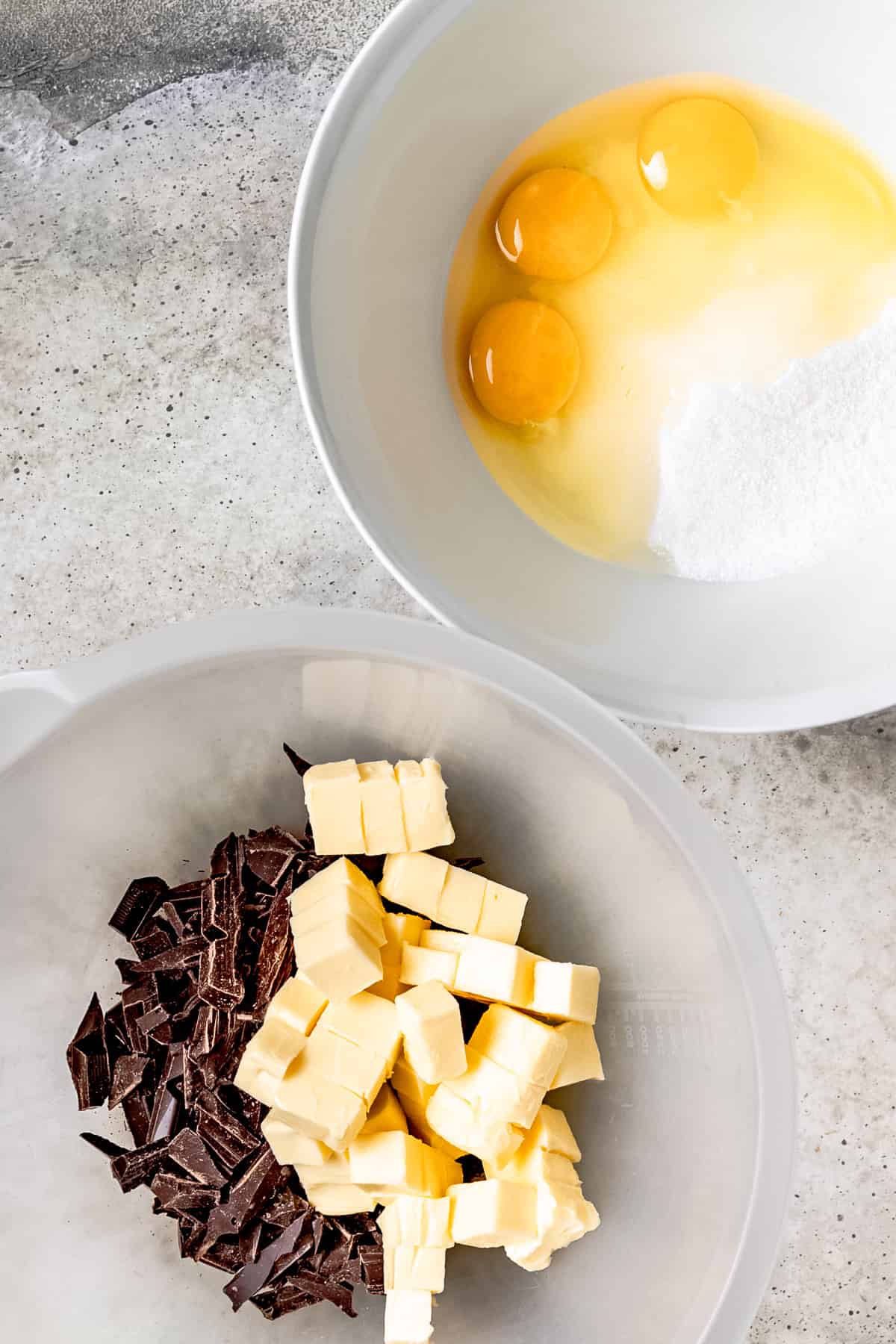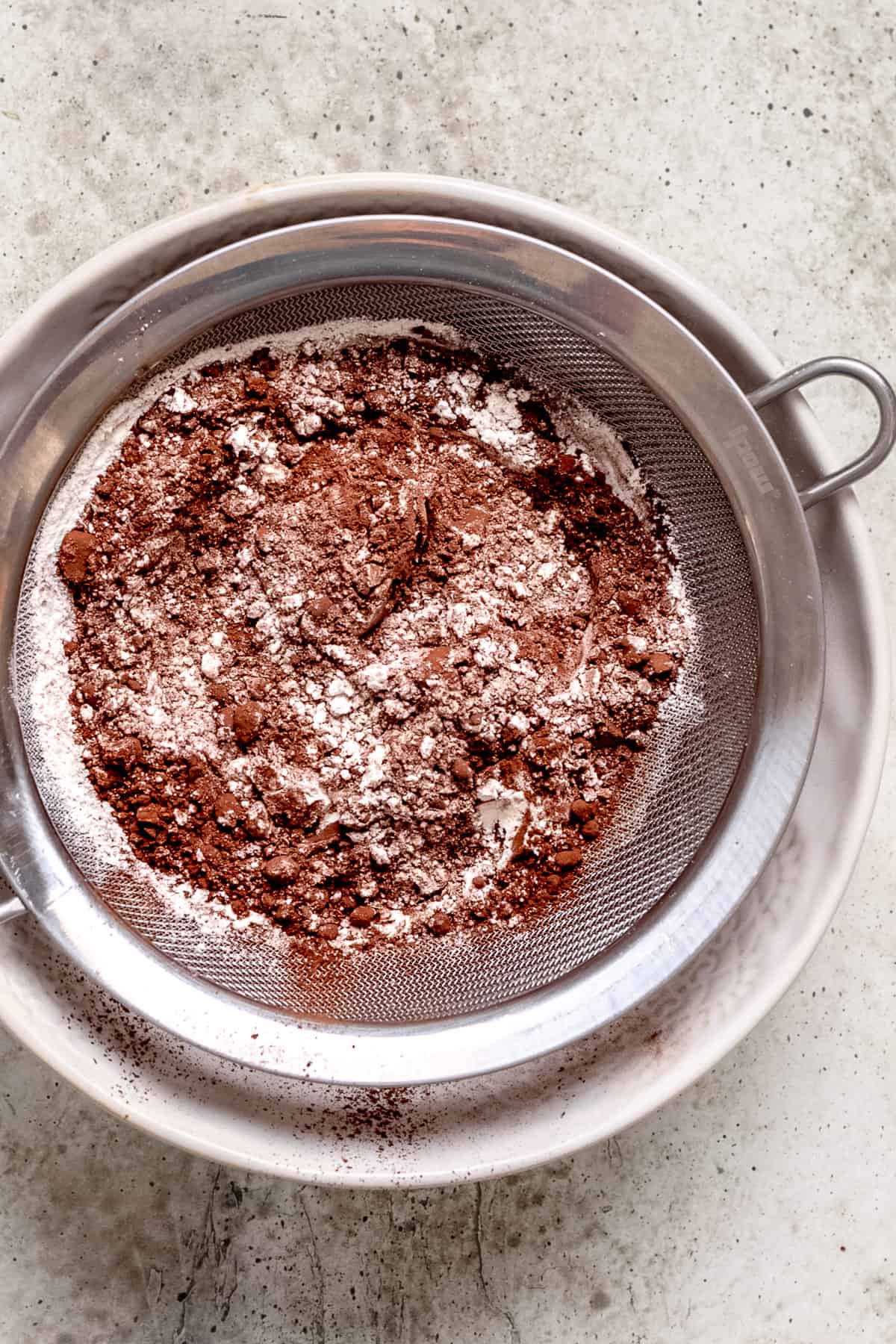 Start by measuring the chocolate and butter in a microwave-safe bowl. In a second bowl measure the sugar and the eggs. In the third bowl, sift the flour and sugar together.
Cocoa powder can be quite lumpy, so it's important to take the small step of sifting.
3 & 4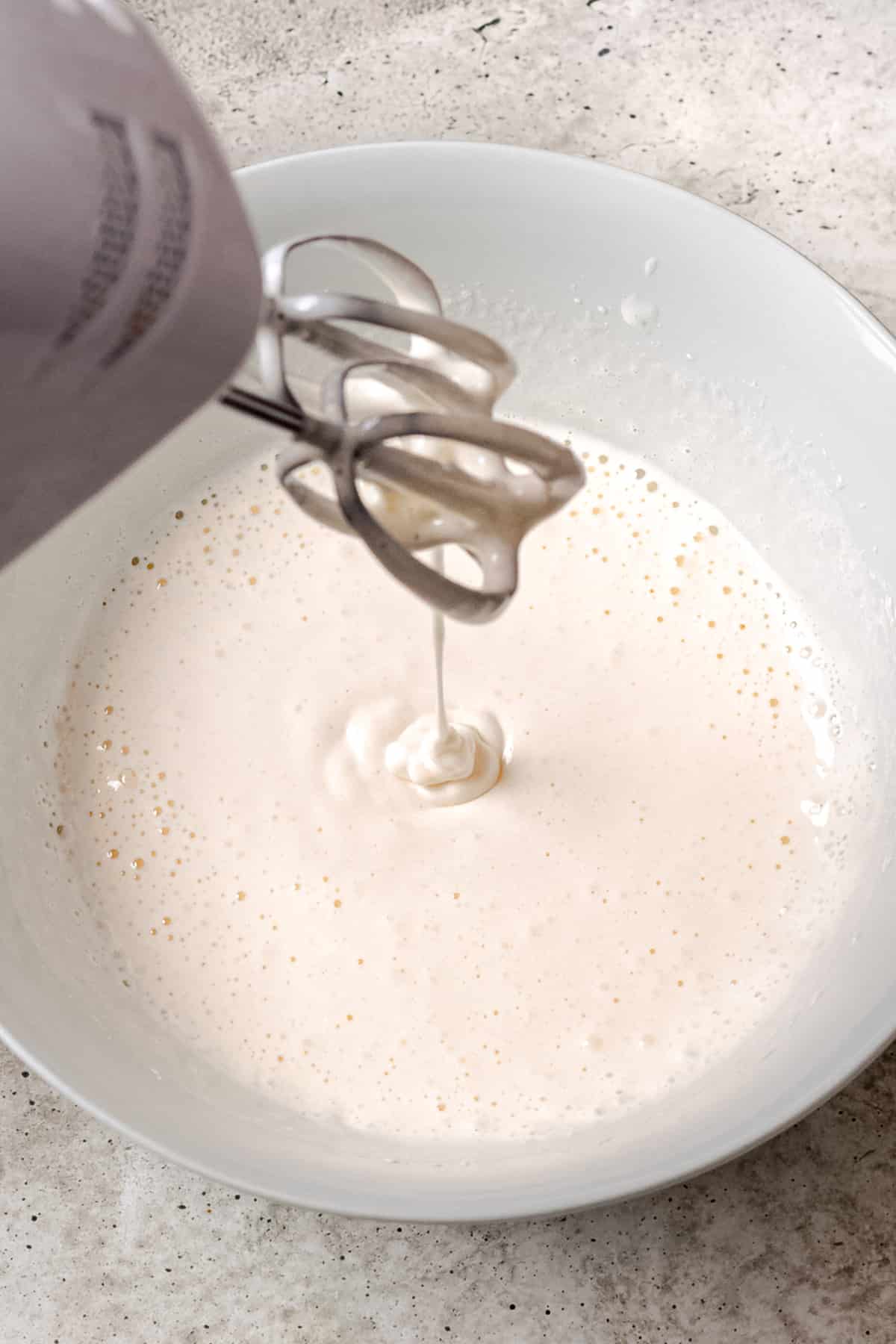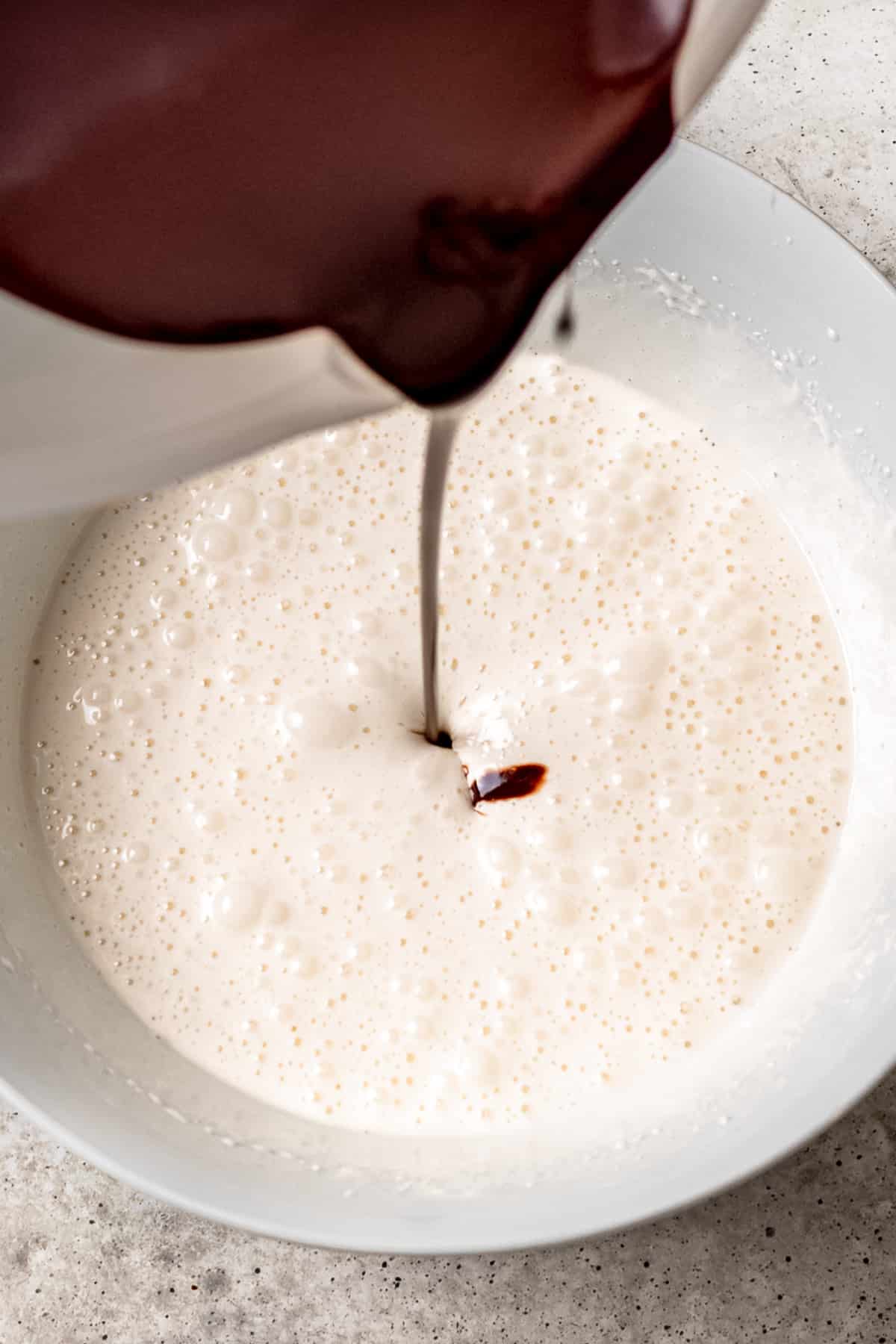 Using an electric hand whisk, or a stand mixer if you have one, whisk the eggs and sugar until the mixture is soft, thick, and fluffy. This should take about 5 minutes on a high setting. If you are using a stand mixer a medium high setting will do.
*See the above photo- the egg mixture leaves a ribbon on the surface when drizzled.
While you are whisking the eggs and sugar, gently melt the butter and chocolate in the microwave. Remove the bowl and stir the chocolate and butter every 30 seconds to ensure that everything melts evenly and the chocolate doesn't burn.
5 & 6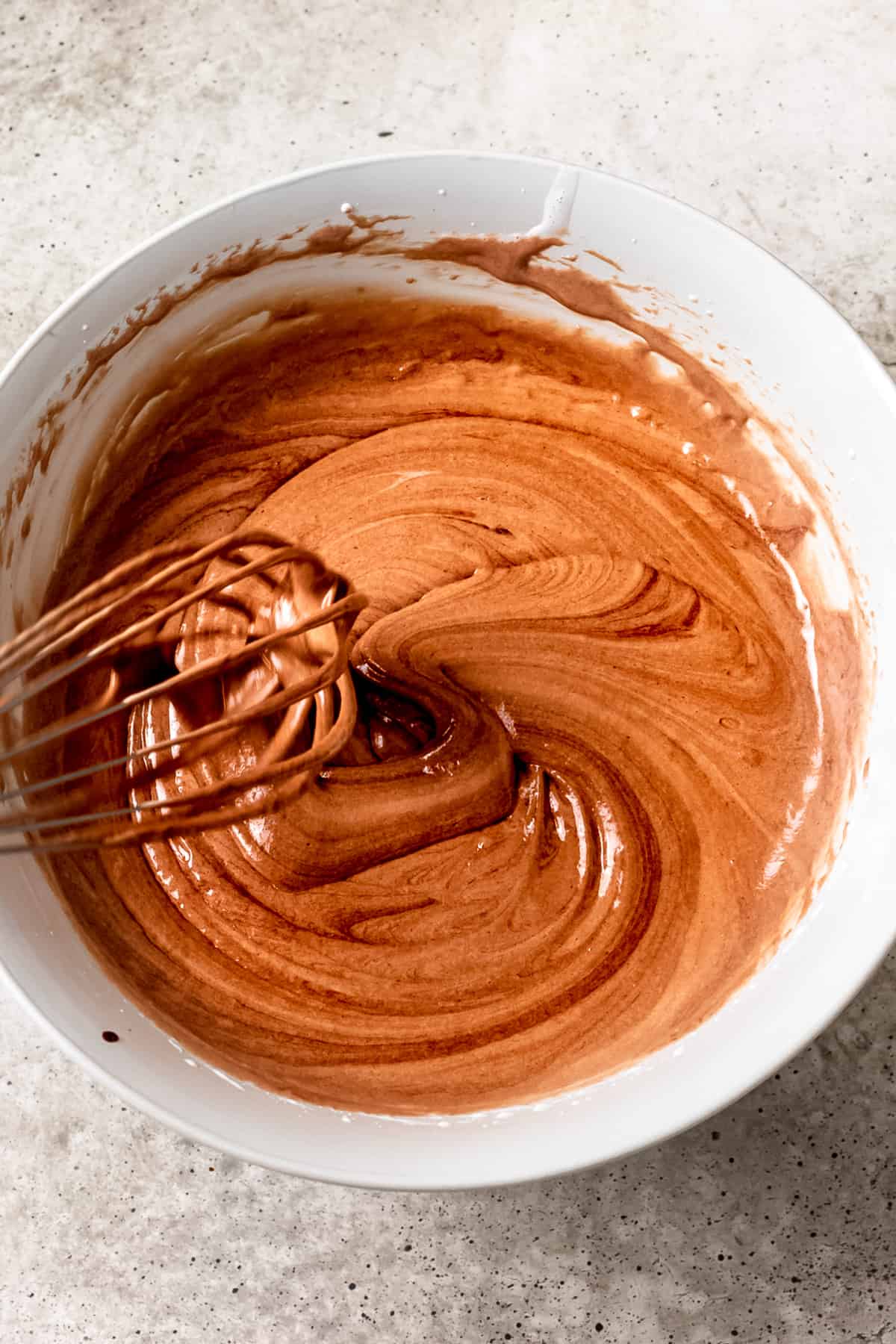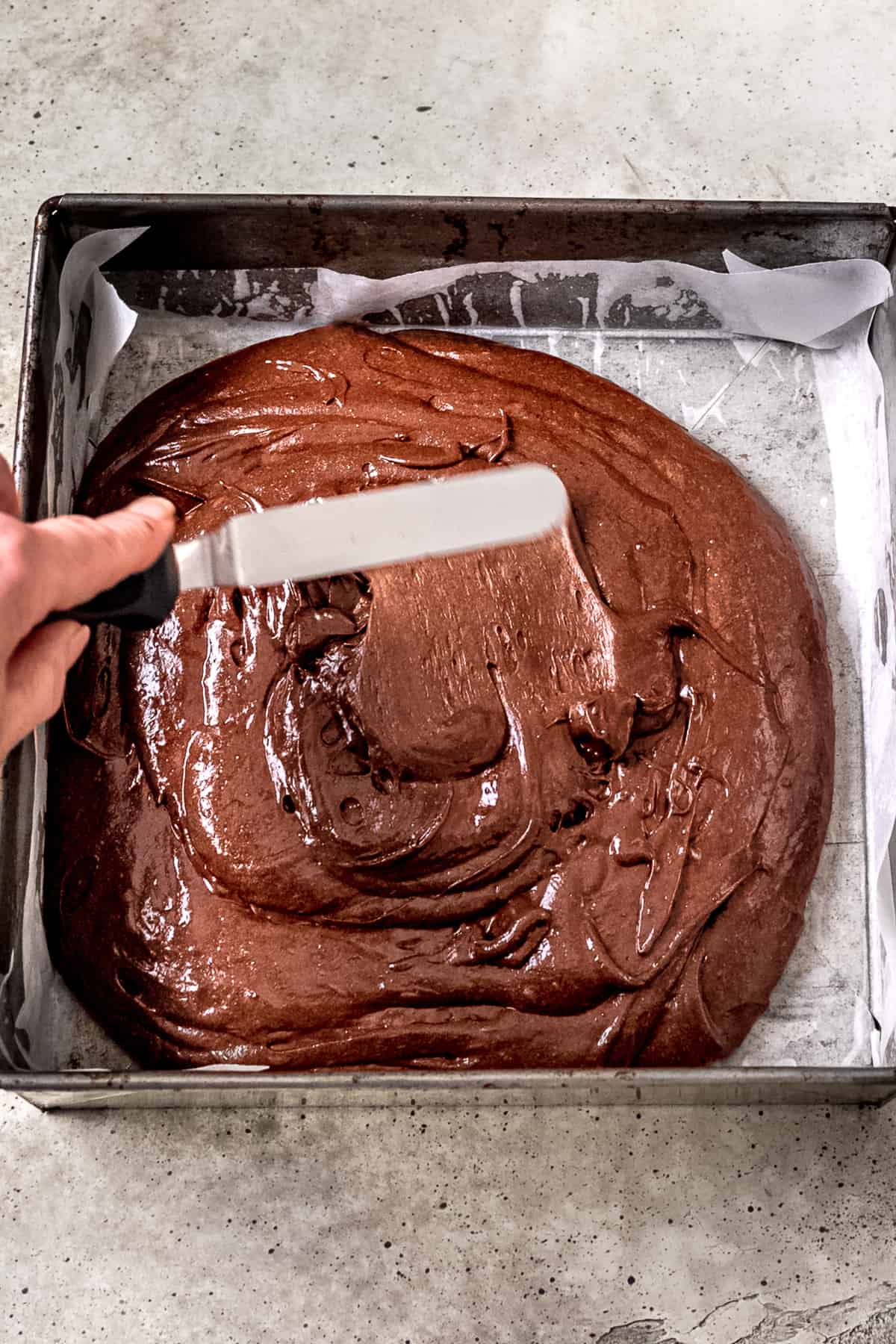 Once the eggs are whipped and the chocolate and butter are melted and incorporated, pour the chocolate into the eggs and use a whisk to gently fold them together.
Add the sifted cocoa powder and flour and whisk them in as well. Be sure to whisk only until the flour is just mixed in. Your batter will become very thick.
Pour/ spoon the batter into a metal baking tin lined with parchment paper and bake for about 25-30 minutes.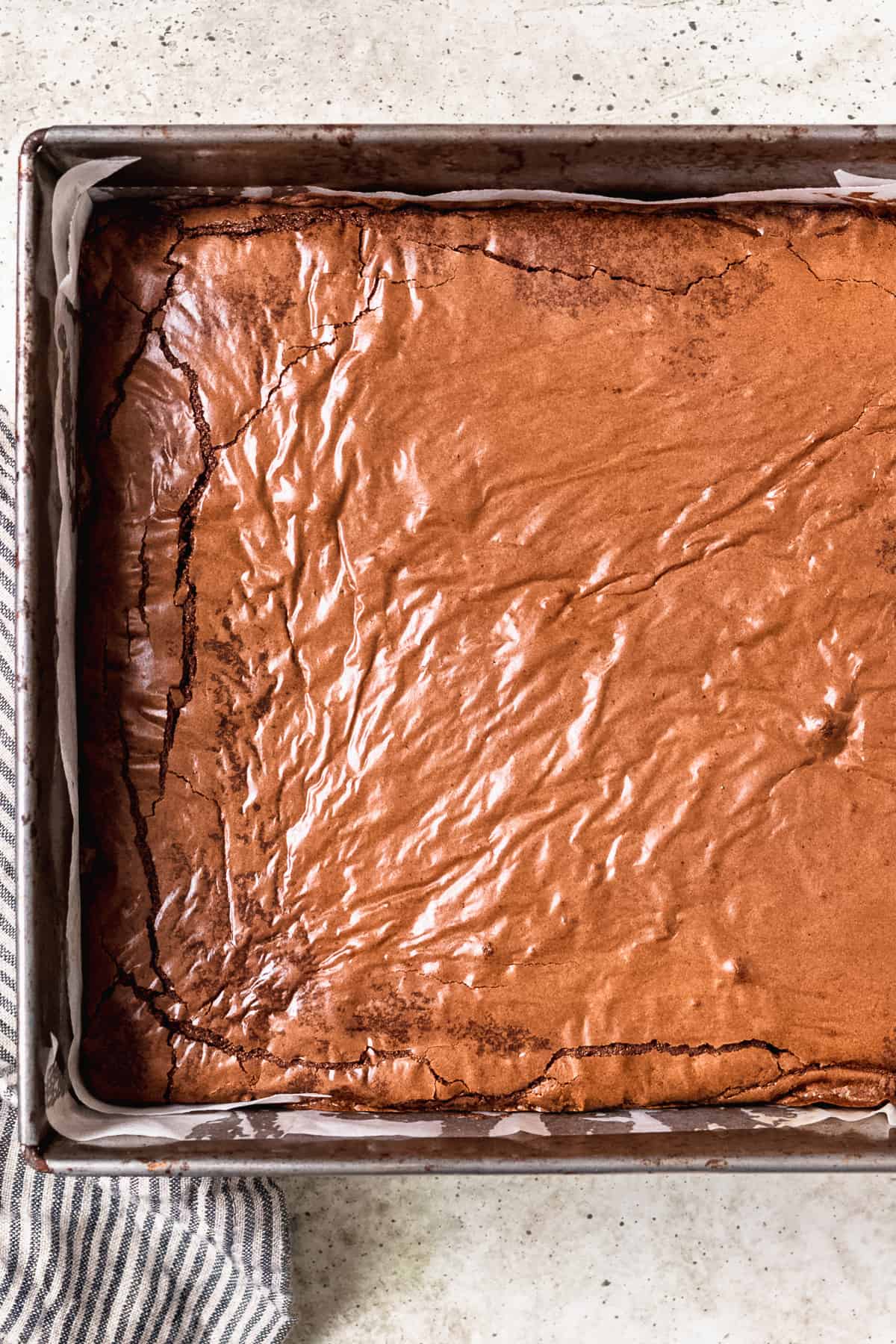 The brownies will develop a shiny top with crackles around the edges.
Most common brownie problems and how to fix them:
Overmixing the batter: This causes the brownies to become tough and dry, resulting in a less-than-perfect texture. It's essential to mix the ingredients only until they are just combined.
Not using the right pan: results in uneven baking or burnt edges. A metal or aluminum baking pan is the best choice for making brownies. Glass or ceramic pans tend to cook more slowly and may result in a gooey center.
Not measuring ingredients correctly: Accurate measurement of ingredients is critical when baking. Too much or too little of any ingredient can significantly impact the final result. Be sure to use a kitchen scale or measuring cups and spoons to measure the ingredients correctly.
Overbaking or underbaking: Brownies can be tricky to bake correctly. Overbaking causes them to become dry and crumbly while underbaking can result in a gooey center. It's important to follow the recipe's baking time and check the brownies regularly to ensure they're not over or under-done.
Not letting the brownies cool completely before cutting: Cutting into warm brownies can result in them falling apart or becoming messy. For the best result let the brownies cool completely in the pan before cutting them into pieces. This will also help them set and firm up.
Use a clean sharp knife: Dip a knife in hot water and wipe dry with a clean paper towel. Be sure to wipe the blade clean after each cut to get nice tidy edges.
🔪 Equipment
Equipment can have a big impact on how a recipe turns out. For making brownies, metal pans really are the best option, ensuring that brownies bake evenly.
🍯 Storing dark chocolate brownies
Baked brownies store best at room temperature the day they are made, then in the fridge.
Because of the butter and chocolate, they can stay in the fridge for a few days without drying out.
They also freeze exceptionally well making them great for making ahead.
💡 Top tip
Use melted butter: it moisture to the batter and helps create a fudgier texture. Just be sure to let the melted butter cool slightly before adding it to the other ingredients, so it doesn't scramble the eggs.
❓FAQ
How can you tell when brownies are done?
There are a few ways to tell when brownies are baked and ready to come out of the oven:
The toothpick test: Insert a toothpick or a cake tester into the center of the brownies. If it comes out clean or with just a few moist crumbs attached, the brownies are done.
The jiggle test: Gently shake the baking pan to see if the center of the brownies is set or if it jiggles. If it's still jiggly, the brownies need more time in the oven.
The visual test: Look at the edges of the brownies. If they're pulling away from the sides of the pan and starting to look slightly dry, the brownies are done.
The aroma: You can also tell when brownies are baked by their aroma. If the kitchen smells like chocolate and the brownies are starting to smell slightly nutty, it's a good indication that they're done.
How to make brownies more chewy?
Use more sugar: Sugar contributes to the texture of brownies, and using more sugar can make them chewier. Try increasing the amount of granulated sugar or adding brown sugar to the recipe.
Use bread flour: Bread flour has a higher protein content than all-purpose flour, which can contribute to a chewier texture. Try using bread flour in place of all-purpose flour in your brownie recipe.
Don't overmix the batter: Overmixing the batter can cause the gluten in the flour to develop, which can lead to a cakey texture. Be sure to mix the batter just until the ingredients are combined.
Underbake slightly: Removing the brownies from the oven a few minutes early can result in a chewier texture. Take them out when the edges are set but the center is still slightly jiggly.
What makes brownies fudgy vs cakey?
Fudgy brownies: have a higher fat-to-flour ratio, which means they contain more butter or oil relative to the amount of flour. This results in a denser, more moist texture. They also usually have a higher proportion of chocolate, which contributes to their rich flavor.
Cakey brownies: have a higher flour-to-fat ratio and less chocolate, which results in a lighter texture that's more similar to cake. They may also contain more leavening agents, like baking powder or baking soda, which help the brownies rise and create a cake-like texture.

What is the secret to moist brownies?
Use enough fat: Brownies need fat to keep them moist and tender. Use enough butter, oil, or other fat in the recipe to achieve a moist texture.
Don't overmix the batter: Overmixing the batter can cause the gluten in the flour to develop, which can lead to a tough, dry texture. Mix the batter just until the ingredients are combined.
Don't overbake: Overbaking can also lead to dry, crumbly brownies. Make sure to keep an eye on the baking time and take the brownies out of the oven as soon as the edges are set and the center is still slightly jiggly.
Let them cool properly: Allow the brownies to cool completely before cutting them. This will help them retain their moisture and prevent them from drying out.
If you tried this Recipe or any other recipe on my website, please let me know in the comments below. I love hearing from you. Also, please leave a star rating whilst you're there!
You can also follow along on Pinterest, Facebook, and Instagram.
The Best Chewy Fudge Brownie (From Scratch) Recipe In The World!
Our homemade dark chocolate brownies are made with premium chocolate, and simple pantry ingredients, and are incredibly moist and chewy. This easy recipe is perfect for dessert, parties, or any special occasion. Indulge in the ultimate chocolate treat!
Print
Pin
Rate
Ingredients
1 ¼

cup

(

218.75

g

) dark chocolate chocolate

1

cup

(

189.17

g

)

butter

*salted or unsalted

½

cup

(

62.5

g

)

flour

⅓

cup

(

43

g

) cocoa powder

3

(

3

)

eggs

*room temperature

1 ¼

cup

(

200

g

)

sugar

1

teaspoon

(

1

teaspoon

) sea salt

*optional- for sprinkling
Instructions
Preheat the oven to 325ºF or 160ºC. (for fan oven 320ºF & 150ºC) and line a 9 x 9 square pan with some baking parchment or greaseproof paper.
Mixing the brownie batter
Melt the butter and the chocolate together in a bowl set over a simmering pan of water or in the microwave on medium setting, in 30-second intervals. Be sure to stir between each interval.

While the chocolate and butter are melting, place the eggs and sugar in the bowl of an electric mixer fitted with the whisk attachment. Whisk on high until fluffy and pale in color. You can use an electric hand whisk if you don't have a stand mixer.

Once the chocolate and butter are melted and the eggs are whisked, gently pour the chocolate mixture into the eggs. Use a hand whisk to gently fold the two mixtures together.
Baking brownies and checking for doneness
Once the chocolate is incorporated, sieve the cocoa powder and flour into the chocolate mixture and fold in until just combined. Pour the brownie batter into the prepared baking tin and bake in the preheated oven for about 15 minutes. Turn the pan around and bake for another 10-15 minutes. *Be careful to not overbake.

Once the brownies are baked, the top will be shiny and crackly and will appear set. Remove the brownies from the oven and leave them to cool in the tin for at least 1 hour before slicing them into squares.
Notes
To cut the brownies, use a hot dry knife and wipe it clean before each slice. That will ensure each brownie has clean edges.
Store any leftover brownies in an airtight container for up to 3 days in the fridge or in the freezer for up to 3 months.
Serve them warm with vanilla ice cream and chocolate sauce for an easy dessert.
Nutrition
Calories:
174
kcal
|
Carbohydrates:
26
g
|
Protein:
3
g
|
Fat:
7
g
|
Saturated Fat:
3
g
|
Cholesterol:
31
mg
|
Sodium:
160
mg
|
Potassium:
154
mg
|
Fiber:
2
g
|
Sugar:
18
g
|
Vitamin A:
50
IU
|
Calcium:
18
mg
|
Iron:
2.3
mg