These pumpkin cheesecake bars are perfect for anyone needing a simple dessert this holiday season. With a straightforward process, even amateur bakers can get these creamy cheesecake bars right. These dessert bars take around 90 minutes to prepare and bake, and are an excellent choice for a make-ahead dessert.
If you're a cheesecake lover, my white chocolate raspberry cheesecake bars are another "must-try" recipe. Or try this no-bake lemon cheesecake or my no-bake strawberry cheesecake for a bright and fresh dessert.
Jump to:
⭐️ Top Reasons To Make These Pumpkin Cheesecake Bars
No Water Bath makes it easier: Skip the hassle of a water bath, making these bars easy and fuss-free.
Achieving a Creamy Texture: Achieve luscious creaminess without any special techniques.
They can be made ahead of time: Ideal for prepping ahead, saving you time on the day.
Customizable: Use the base recipe as a canvas for endless variations. *See the variation notes below for some ideas to get you started.
No Special Equipment: All you need are standard kitchen tools, no special gadgets are required.
Great for Leftovers: These bars store well, offering a scrumptious treat for days to come.
🧾 Ingredient guide and easy substitutions
Here I provide an overview of the key ingredients and what you may want/ need to use as a substitute for dietary requirements, accessibility or preference. As always, the exact quantities can be found in the recipe card below.
Choosing the right Graham Cracker Crust: Serves as the textured, crunchy base, perfectly complementing the creamy cheesecake layer above.

Crumb or Whole: You can use pre-made graham cracker crumbs or blend whole graham crackers.
Gluten-Free: A gluten-free version can be used if required. Here's a list of the best gluten-free graham crackers.
Butter: Salted or unsalted butter works; just adjust the salt in the recipe accordingly.

Cream Cheese: Acts as the core of the creamy, rich cheesecake layer.

Type: Use only block-style cream cheese for optimal texture. Spreadable cream cheese is a bit too soft to yield the desired results.

Pumpkin Puree vs Pumpkin Pie Filling: Essential for that signature pumpkin flavor and for adding moistness to the cheesecake.

Imperative Note: Do not use pumpkin pie filling as it's too sweet. Homemade pumpkin puree is also not recommended due to excessive moisture.

White Sugar: Adds sweetness to balance the flavors.

Specifics: Use white sugar for best results.

Eggs: Size & Temperature: Use large eggs and ensure that they, along with all other ingredients, are at room temperature for better mixing.
Spices: Pumpkin pie spice brings seasonal depth and aroma to your dish.

Substitution: Ground cinnamon, nutmeg, and clove can be used instead of pumpkin pie spice. Check the recipe card for exact measurements.
📖 Variations
While having a "tried and true" go-to recipe is comforting, eating the same thing can get monotonous. To help you mix things up without the learning curve of a completely new dish, I've listed some easy variations below. This way, you can refresh these pumpkin cheesecake bars whenever you feel the need for a change.
Crust Alternatives:

Ginger Snap Biscuits: Replace graham crackers with ginger snap biscuits for a spicier, more aromatic crust.
Chocolate or Golden Oreo Cookie Crumbs: Opt for these if you're looking for a richer or a sweeter crust.

Nutty Base:

Chopped Nuts: Adding chopped pecans or walnuts to the crust not only gives an additional layer of flavor but also introduces a contrasting texture, making each bite more interesting.
👩🏻‍🍳 Step by step guide to perfect cheesecake bars
1 & 2 Preparing and making the graham cracker crust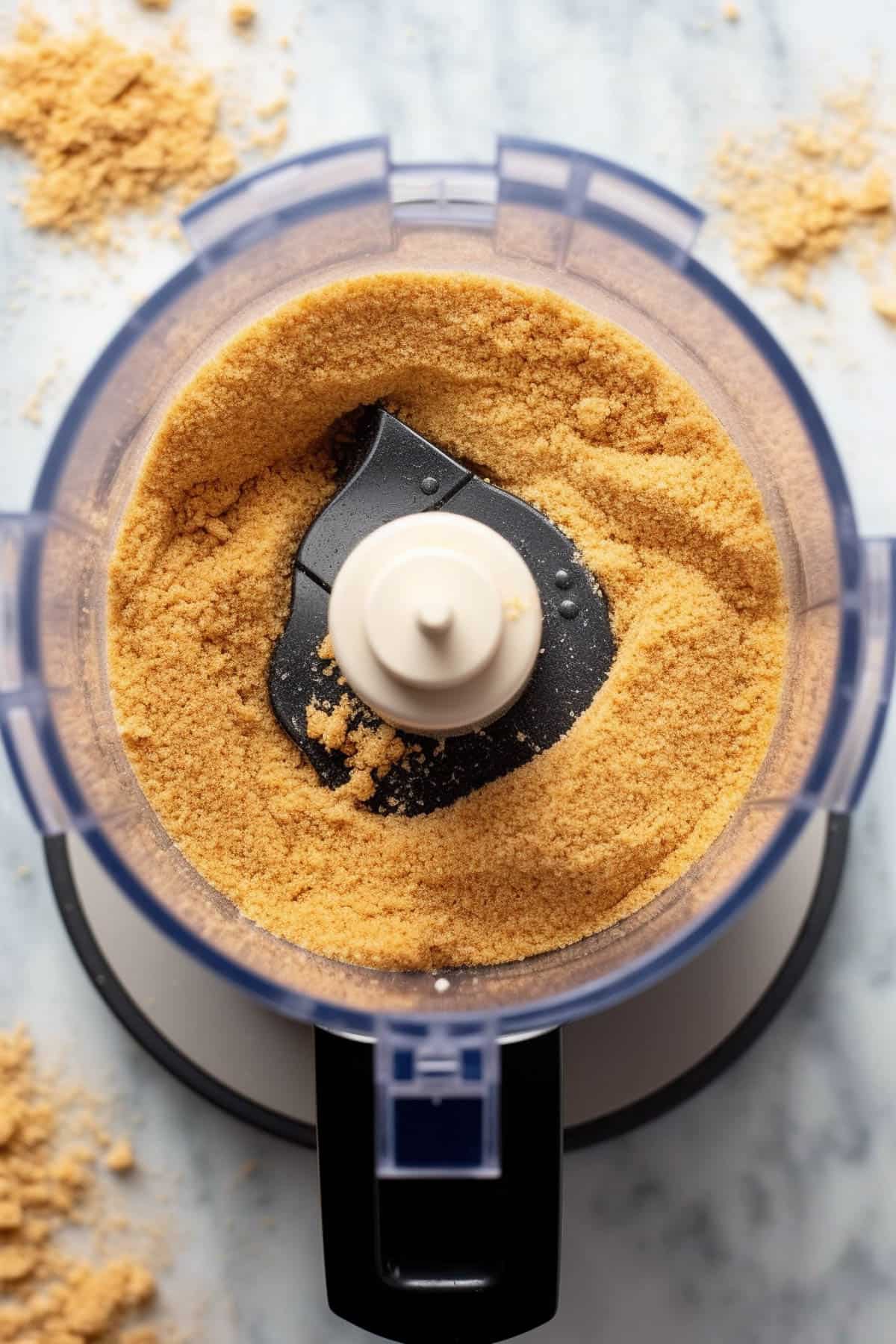 Prep Tips:

Ensure all your ingredients are at room temperature for more even mixing.
Preheat your oven to the recommended temperature.
Grease your baking pan and set aside.

Making the Crust:

Combine graham cracker crumbs, butter, and sugar in a bowl.
Optional: You can add chopped pecans or walnuts for added texture.
Press this mixture into the bottom of your prepared baking pan.
Helpful Tip: You can use salted or unsalted butter; just remember to adjust the salt in the recipe accordingly.
3 & 4 Making the cheesecake filling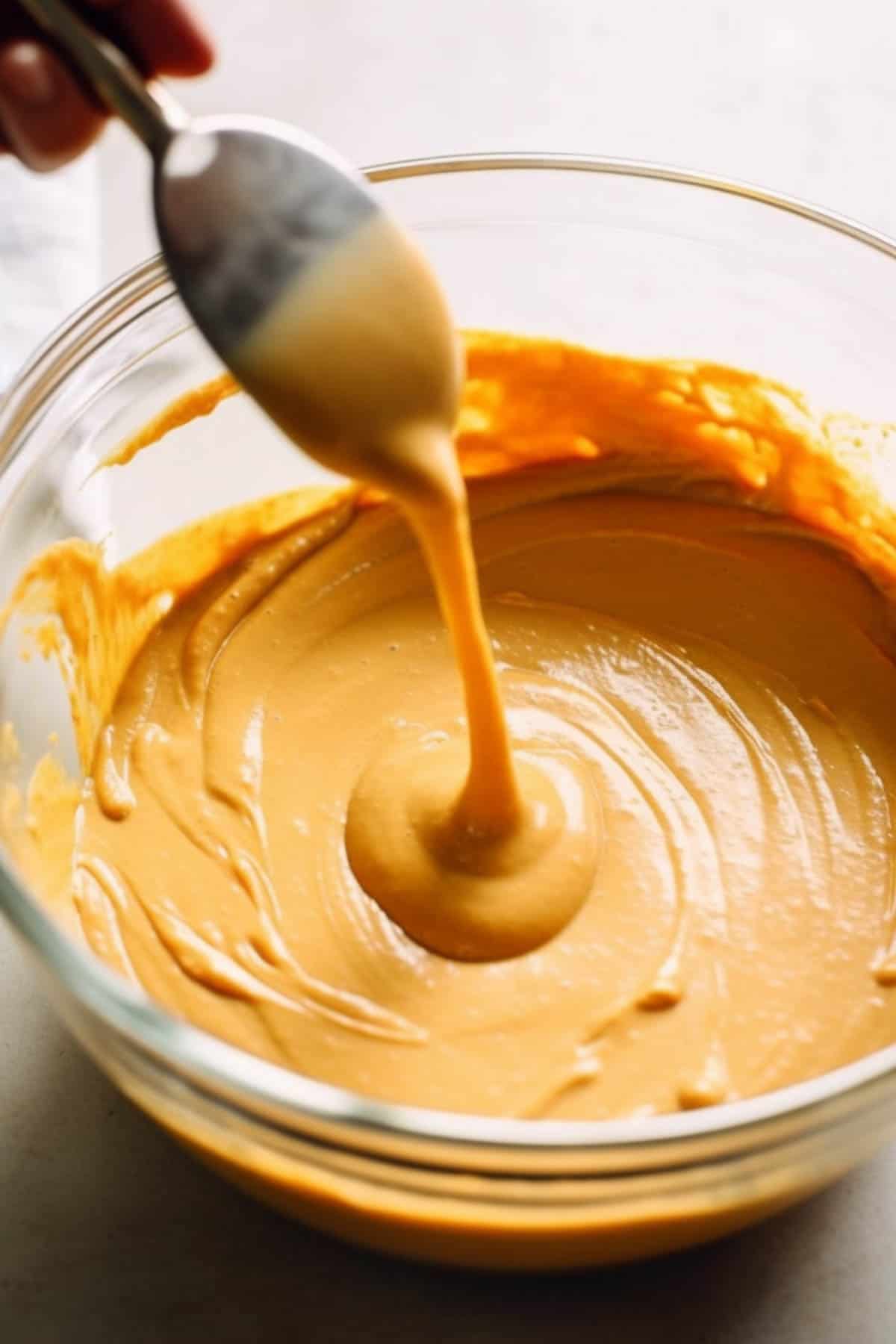 Cream Cheese Filling:

In a separate mixing bowl, beat block-style cream cheese until smooth.
Add white sugar, followed by eggs one at a time, ensuring each is well-incorporated.

Pumpkin Puree and Spices:

Mix in pumpkin puree—ensure it's puree, not pie filling which would be too sweet.
Add in your spices. You can use ground cinnamon, nutmeg, and clove as an alternative to pumpkin pie spice.
5 & 6 Bake, cool and slice the cheesecake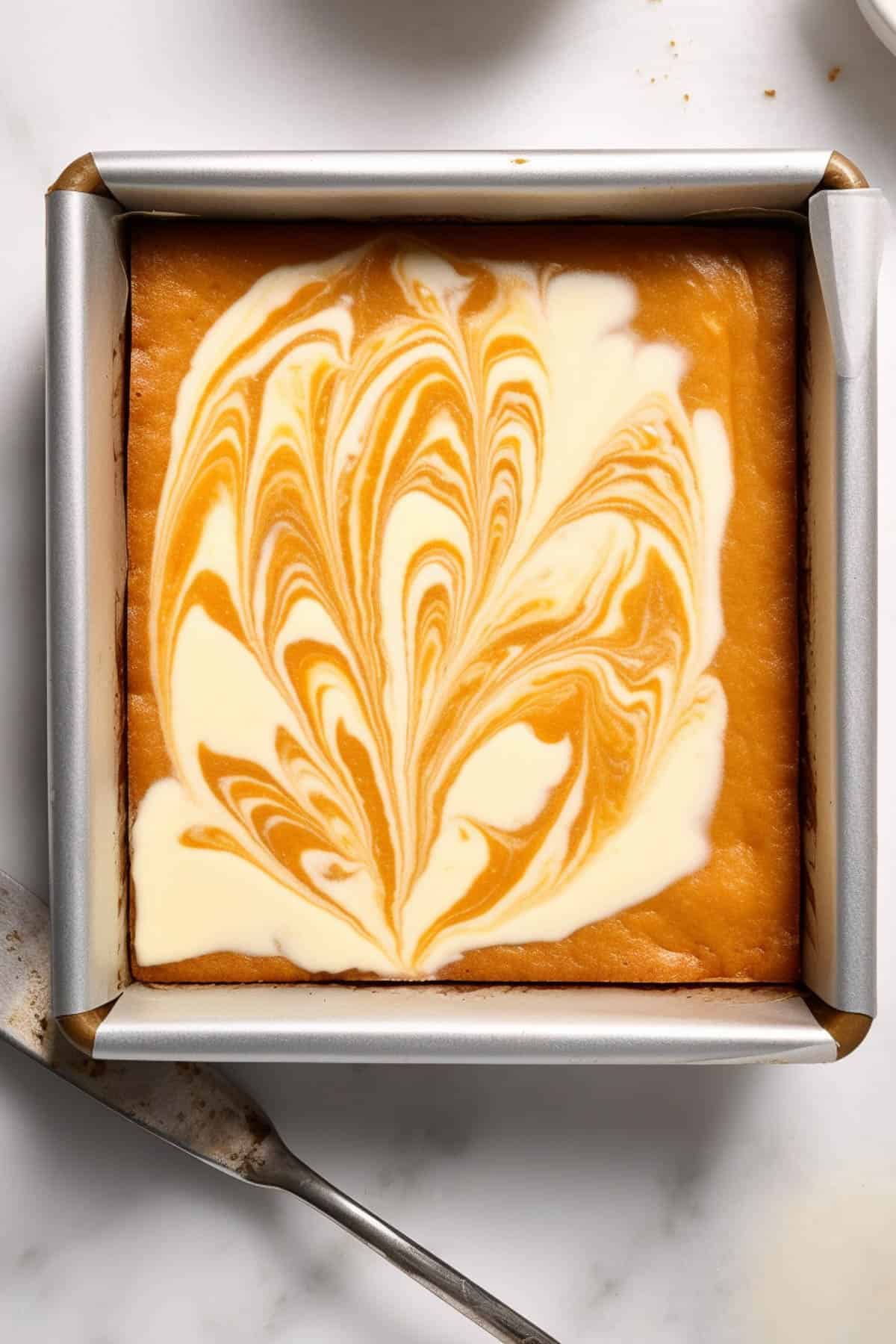 Pour and Bake:

Pour the cream cheese and pumpkin mixture over the crust in your pan.
Place it in the oven and bake as per your original instructions.
Helpful Tip: Using room-temperature ingredients helps to ensure a smoother and more uniform bake.

Cooling and Storage:

Once baked, allow your cheesecake to cool before moving it to the fridge for further cooling.
💭 Post-baking tips
Cooling: Let the cheesecake bars cool at room temperature for 3-4 hours. This step helps prevent cracks and ensures a better texture. After this period, chill in the fridge for at least 6 hours, or overnight, to let the cheesecake set completely.
Covering: Use plastic wrap to cover the tin, but make sure it doesn't touch the surface of the cheesecake to avoid moisture build-up.
Slicing: For clean-cut edges, use a sharp knife dipped in hot water. Wipe the blade clean between each cut.
Serving: Let the cheesecake bars sit at room temperature for about 10-15 minutes before serving. This allows the flavors to come through more vividly.
🍯 The best way to store cheesecake bars
Fridge: After the cooling step, place the fully-set cheesecake bars in an airtight container to lock in moisture and shield them from other food odors. Store them in the refrigerator for up to 3 days to maintain peak freshness.
Freezer: For longer storage, wrap each cheesecake bar tightly in cling film, making sure to eliminate air pockets to avoid freezer burn. Place the wrapped bars in a freezer-safe, airtight container or Ziploc bag. They can be stored in the freezer for up to 1 month without sacrificing flavor or texture.
💡 Unlock Pro Tips for Flawless Pumpkin Cheesecake Bars
Drawing from a decade in Michelin-starred kitchens and Cordon Bleu training, I'm sharing simple yet impactful tips for making the best pumpkin cheesecake bars.
Choose a Metal Tin: Metal conducts heat better than glass or ceramic, resulting in even cooking and a perfect crust.
Line Your Tin: Opt for greaseproof paper over foil for its superior non-stick properties, making it easier to lift out the cheesecake bars.
Room-Temperature Ingredients: Ensure all your ingredients are at room temperature for smoother mixing and a more consistent texture.
Avoid Overmixing: Stop mixing as soon as ingredients are combined. Overmixing can cause cracks in the cheesecake surface.
💎 Troubleshooting Guide for Pumpkin Cheesecake Bars
Cracking Issues:

Problem: My cheesecake bars cracked on top.
Solution: Cracking usually happens due to overmixing or sudden temperature changes. Make sure to mix until just combined and allow the bars to cool gradually to prevent this.

Texture:

Problem: The texture of my cheesecake is not creamy; it's grainy.
Solution: This often happens when the ingredients are not at room temperature or not well incorporated. Make sure all ingredients are at room temp and mixed adequately.

Soggy Crust:

Problem: My graham cracker crust is soggy.
Solution: The crust may become soggy if the butter is not evenly distributed or if it's overcooked. Ensure even mixing and follow baking times precisely.

Flavor Concerns:

Problem: My cheesecake bars don't have that signature pumpkin flavor.
Solution: Make sure you're using pure pumpkin puree, not pumpkin pie filling. Also, accurately measure your spices to get that pumpkin spice flavor.
❓Recipe FAQ's
Why don't these cheesecake bars need a water bath?
Most cheesecakes need to be baked with a water bath to ensure that classic creamy cheesecake texture and to keep them from drying out and cracking while baking. But these cheesecake bars are thinner and require much less baking time than traditional ones.
Why did my cheesecake crack?
Cheesecakes may crack from overmixing or abrupt temperature shifts. Slow cooling is key to prevent cracks and maintain a creamy texture. Letting the cheesecake cool at room temperature before refrigerating helps it set uniformly, retaining both its texture and appearance.
Why can't I make my own pumpkin puree?
Making your own pumpkin puree is not recommended for this recipe, as homemade puree tends to retain more moisture and may affect the final result.
Can I use low-fat cream cheese?
I would advise against it. It will alter the texture and flavor of your cheesecake bars. For best results, stick to full-fat block-style cream cheese.
What can I use instead of graham crackers?
You can use other types of cookies like digestive biscuits or even pretzels for a salty twist.
How do I know when my cheesecake bars are done baking?
The edges should look set, but the middle should still jiggle a bit when you move the pan.
More cheesecake recipes you'll love
Looking for other recipes like this? Try these:
If you tried these pumpkin cheesecake bars or any other recipe on my website, please let me know in the comments below. I love hearing from you. Also, please leave a star rating while you're there!
You can also follow along on Pinterest, Facebook, and Instagram!
You can also find weekly meal plans and budget recipes over on our sister site Savvy Bites.
Pumpkin Cheesecake Bars
These pumpkin cheesecake bars are the epitome of halloween desserts. Combining the creamy texture of cheesecake with the rich flavors of pumpkin and spices, these bars are a perfect treat for any occasion. Easy to make without any special equipment, these bars are a hit every time!
Print
Pin
Rate
Ingredients
For the Crust:
1 ½

cups

(

126

g

)

graham cracker crumbs

,

or ginger snap or biscoff biscuits, chocolate, or golden Oreo crumbs for variation *see notes

½

cup

(

113 ½

g

)

melted butter

,

salted or unsalted

¼

cup

(

50

g

) white sugar

Optional: replace ¼ cup of graham cracker crumbs with ¼ chopped pecans or walnuts.
For the Cheesecake:
16

oz

(

453 ⅗

g

)

block-style cream cheese

,

room temperature

¾

cup

(

150

g

) white sugar

1

cup

(

245

g

)

pumpkin puree

,

not pumpkin pie filling *see notes

2

(

2

)

large eggs

,

room temperature

1

teaspoon

(

1

teaspoon

) vanilla extract

2

teaspoons

(

2

teaspoons

)

pumpkin pie spice

,

or a mix of ground cinnamon, nutmeg, and clove *see notes
Instructions
For the Crust:
Preheat Oven: Preheat your oven to 350°F (175°C). Line a 9x9-inch square pan with greaseproof or baking paper.

Mix Ingredients: In a medium bowl, combine graham cracker crumbs, melted butter, and sugar. Mix until well combined.

Press and Bake: Press the mixture firmly into the bottom of the lined pan. Bake for 10 minutes and then set aside to cool.
For the Cheesecake:
Cream Cheese and Sugar: Using an electric whisk, beat the room temperature block-style cream cheese and sugar until smooth and creamy.

Add Pumpkin: Incorporate the pumpkin puree, ensuring it is well blended with the cream cheese mixture.

Add Eggs and Flavor: Beat in the eggs, one at a time, followed by the vanilla extract and pumpkin pie spice.

Pour and Smooth: Pour the cheesecake mixture over the pre-baked crust, smoothing the top with a spatula.

Bake: Place the pan in the preheated oven and bake for 25-30 minutes, or until the cheesecake is set but still slightly jiggly in the center.

Cool and Chill: Allow the bars to cool to room temperature for 4-6 hours to prevent cracking. Once cooled, move to the fridge to finish setting.
Notes
Ingredient notes: All ingredients should be at room temperature for smoother blending.
For the crust, you can use crumbs or blend whole crackers. Adding chopped nuts like pecans or walnuts adds a nutty texture. Use a food processor to blend whole crackers.
Use block-style cream cheese and white sugar for better texture and flavor.
Pumpkin puree is imperative; pumpkin pie filling will be too sweet.
Pumpkin pie spice: If you can't find pumpkin pie spice, you can make your own: ¾ teaspoon cinnamon, ½ teaspoon ground ginger, ⅛ teaspoon ground cloves, ¼ teaspoon nutmeg
Baking notes: Use a metal baking pan for better heat conduction.
Avoid overmixing the batter, as it can lead to cracks.
Use a sharp knife dipped in hot water for clean-cut edges. Wipe the blade clean between each cut.
Nutrition
Calories:
177
kcal
|
Carbohydrates:
22
g
|
Protein:
6
g
|
Fat:
7
g
|
Saturated Fat:
4
g
|
Polyunsaturated Fat:
0.4
g
|
Monounsaturated Fat:
2
g
|
Trans Fat:
0.2
g
|
Cholesterol:
39
mg
|
Sodium:
305
mg
|
Potassium:
136
mg
|
Fiber:
1
g
|
Sugar:
16
g
|
Vitamin A:
2606
IU
|
Vitamin C:
1
mg
|
Calcium:
116
mg
|
Iron:
1
mg