Pavlova is a delicious and elegant dessert that is perfect for any occasion. This meringue dessert is named after the Russian ballerina Anna Pavlova, and it is typically topped with whipped cream and fruit. Pavlova is easy to make, and it can be customized to your liking. This recipe includes step-by-step instructions and tips for making a perfect pavlova every time. It's also perfect for dietary requirements as it's naturally dairy and gluten-free.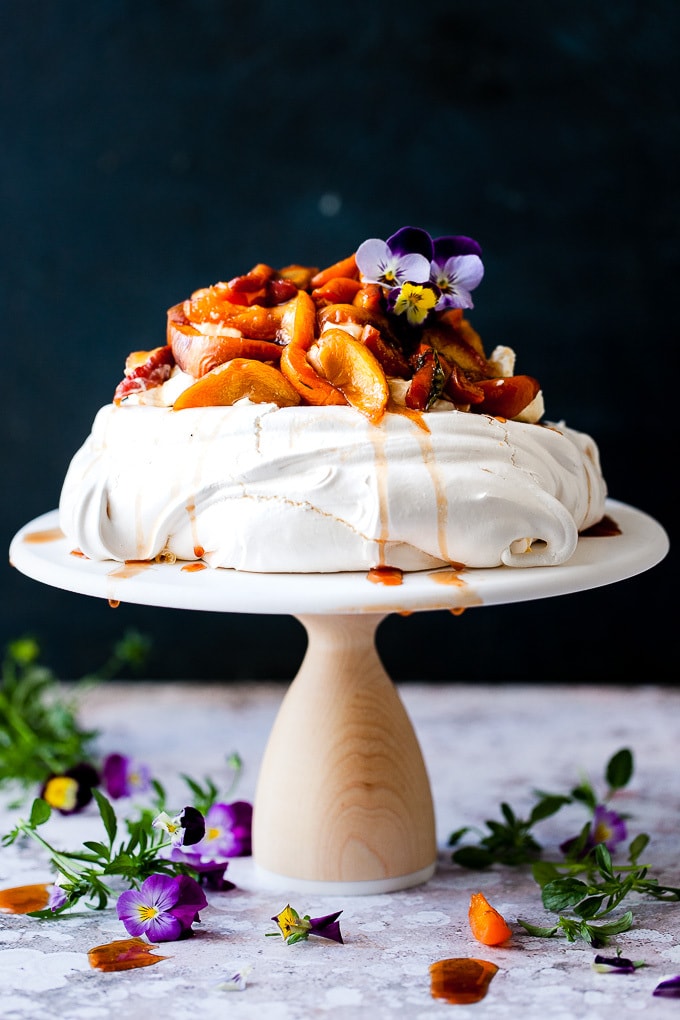 Pavlova is the perfect summer dessert. A classic pavlova recipe is usually served with fruit and whipped cream, it can also be turned into a chocolate lovers' dream with the addition of melted dark chocolate and salted caramel sauce, like in these mini chocolate pavlovas.
Try this no-bake lemon cheesecake or these raspberry cheesecake bars if you need more summer dessert inspiration. This pavlova features roasted summer fruit and fresh whipped cream, but you can skip the roasting step and just use fresh fruit if you prefer.
Jump to:
🧾 Ingredients
egg whites- *use fresh egg whites
granulated or superfine sugar-
vanilla
acid- lemon juice, white wine vinegar or cider vinegar: acid helps to set the egg whites and creates structure to the pavlova.
corn starch or cream of tartar- also helps to create structure to the egg whites and absorb any excess moisture creating the crisp exterior shell and the marshmallow center.
Optional toppings- whipped cream, fresh or roasted fruit
💡Top tip
Cold egg whites separate best, but room-temperature egg whites whip better. So, separate your egg whites from the yolks with cold eggs and let the egg whites stand at room temperature for a few hours before whipping them.
See recipe card for quantities.
👩🏻‍🍳 Step-by-step guide to making pavlova dessert at home
Preparing the Pavlova
Preheat the oven- to 250ºF and line a baking sheet with nonstick baking paper. The low temperature prevents coloring and helps to set meringue.
Whipping the egg whites- place the room-temperature egg whites in a very clean grease-free bowl of a stand mixer fitted with the whisk attachment and start to whip on medium-low speed. *Starting low and increasing the speed will help to create a more stable meringue that won't collapse during baking. Whip the egg whites to stiff peaks for the most stable meringue.
Adding the sugar- Slowly add in the sugar in increments making sure that all the sugar is dissolved into the egg whites before adding in any more. *Rub some of the meringue between your fingers to ensure the sugar is fully dissolved. If not, the meringue will have a gritty texture.
Incorporating vinegar and cornstarch- both help to set the egg white and soak up extra moisture creating a soft and marshmallowy interior while the exterior creates a crisp shell.
Forming the pavlova base on the baking sheet- drop the soft meringue into a large pile on the baking tray and use the back of a spoon to spread the base of the meringue and lift the sides, creating a shallow bowl-like pavlova that can be filled with vanilla whipped cream before serving.
Baking the Pavlova
Setting the oven temperature and baking time- preheat the oven, but stay at a low temperature so as not to color the meringue.
Monitoring the pavlova for doneness- the outside of the shell will be crispy and set. The meringue should easily peel off of the baking paper once it's baked through.
Cooling the pavlova in the oven- this helps to prevent cracks that are caused by sudden and extreme temperature fluctuations. Cooling it in the oven allows it to continue cooking to ensure that it's the perfect texture all the way through and it allows the shell to cool slowly so that it doesn't crack.
Assembling and Decorating
Be sure that the pavlova cake is completely cool before filling it with cream and fruit.
Whipped cream preparation- you can use sweetened whipped cream, chocolate swirled cream, vanilla, and some rum. Spoon the whipped cream into the base of the pavlova and top with fresh or roasted fruit
Drizzling sauces or garnishing with herbs, if desired
📖 Variations
Cream of tartar: Cream of tartar is an acidic powder that helps to stabilize the egg whites and give the pavlova a crispier texture. If you don't have cream of tartar, you can use lemon juice or vinegar instead.
Cornstarch: Cornstarch helps to prevent the pavlova from becoming too dry. If you don't have cornstarch, you can omit it. However, the pavlova may be a bit more delicate.
Vanilla extract: Vanilla extract adds flavor to the pavlova. If you don't have vanilla extract, you can use another flavor extract, such as almond extract or lemon extract. Fruit: Pavlova is traditionally topped with whipped cream and fruit. However, you can top it with any type of fruit you like. Some popular choices include strawberries, raspberries, blueberries, and kiwi.
Toppings: In addition to whipped cream and fruit, you can top pavlova with other toppings, such as chocolate sauce, caramel sauce, or nuts.
Here are a few variations of pavlova:
Chocolate pavlova: To make chocolate pavlova, add ¼ cup of cocoa powder to the meringue mixture.
Coffee pavlova: To make coffee pavlova, add ¼ cup of instant coffee granules to the meringue mixture.
Lemon pavlova: To make lemon pavlova, add the zest and juice of 1 lemon to the meringue mixture.
Caramel pavlova: To make caramel pavlova, make a caramel sauce by melting 1 cup of sugar in a saucepan over medium heat. Once the sugar has melted and turned golden brown, remove it from the heat and let it cool slightly. Then, spread the caramel sauce over the pavlova before topping it with whipped cream and fruit.
🥡 How to store pavlova dessert
Room Temperature: If you plan to serve the pavlova within a few hours, it can be stored at room temperature. Keep it in a cool, dry place away from direct sunlight and any sources of heat.
Airtight Container: To store pavlova for a longer period, place it in an airtight container. This helps prevent moisture from being absorbed, which will cause the pavlova to become soft and lose its crispness.
Cool and Dry Location: Find a cool and dry spot in your kitchen or pantry to store the pavlova. Avoid areas that are prone to humidity or temperature fluctuations, such as near the stove or refrigerator.
Avoid Refrigeration: It's generally recommended not to refrigerate pavlova as the moisture from the refrigerator can cause the meringue to become soft and lose its texture. However, if your pavlova has a perishable filling, such as whipped cream with fresh fruit, it's best to refrigerate it and consume within a day.
Consume Promptly: Pavlova is best enjoyed fresh. It is at its peak when the meringue is crisp on the outside and soft on the inside. Therefore, it's recommended to consume pavlova within 1-2 days of preparation for the best taste and texture.
❓FAQ
Can I make pavlova ahead of time?
You can make the meringue ahead of time and assemble it shortly before serving. It can be made up to 3 days in advance, but it's absolutely crucial that it stays dry. Store it in a cool dry plastic container away from any moisture.
Can I freeze pavlova?
Pavlova is not meant for freezing or for the fridge. Any moisture will essentially melt the meringue and you'll end up with a soggy mess.
Common problems making pavlova
Not crispy: If your pavlova is not crispy, it may be because you did not beat the egg whites long enough. Make sure to beat the egg whites until they form stiff peaks.
Light and airy: If your pavlova is not light and airy, it may be because you did not add enough sugar. Make sure to add enough sugar so that the meringue mixture is stiff and glossy.
Pavlova is cracked: If your pavlova is cracked, it may be because you opened the oven door too early. Make sure to not open the oven door until the pavlova is completely cooked.
Soggy meringue: If your pavlova is soggy, it may be because you did not let it cool completely before serving. Make sure to let the pavlova cool completely before topping it with whipped cream and fruit.
More inspiring desserts
Looking for other recipes like this? Try these:
Pairing
Use homemade flavorings in this pavlova dessert:
The Easiest Fruit Pavlova Dessert- Dairy and Gluten Free
This gorgeous easy fruit pavlova is baked to crispy perfection and filled with cream then topped off with juicy roasted peaches and cream. The perfect summer dessert for any occasion.
Print
Pin
Rate
Ingredients
4

(

4

)

egg whites

120g approx ¼ cup

1

cup

(

200

g

)

sugar

1 /4

teaspoon

cornstarch

½

teaspoon

cream of tartar or lemon juice

1 ½

cups

(

357

g

)

whipping cream

whipped to soft peaks
For the peaches
½

cup

(

110

g

)

brown sugar

2

(

2

)

peaches

cut into 6

2

(

2

)

apricots

cut into 6

¼

teaspoon

(

0.25

teaspoon

)

cinnamon

1

(

1

)

lemon

juice only
Instructions
To make the meringue
Preheat the oven to 225ºF. Place a ¼ cup of the sugar and all the egg whites in the bowl of a stand mixer fitted with the whisk. Mix the meringue on the lowest setting for 2 minutes. Add another ¼ cup of sugar and turn the mixer to medium and whisk for a further minute.

Add the remaining sugar, cornstarch, cream of tartar, and vanilla and whisk on medium-high until the mixture is completely smooth, thick, and silky white. Continue to whisk on medium-high until the meringue has stiff peaks.

Place the meringue on a baking tray lined with a sheet of baking paper or a baking mat. Using a spoon, gently start to make a well in the center. Starting in the middle and working your way out, until you have an 8-inch round meringue. Bake in the oven for about 3 hours.

When ready to serve, whip the cream and fill the pavlova. Place the roasted fruit on top and let the juices run down the side of the meringue.
For roasting the peaches
Preheat the oven to 350F. In a small roasting pan mix the brown sugar, peaches, apricots cinnamon and lemon juice. Roast in the oven for about 10-15 minutes. Until the sugar has melted and the peaches have softened. Remove from the oven and set aside while you make the meringue.
Notes
Use fresh egg whites.
Beat the egg whites until they form stiff peaks.
Add the sugar gradually, beating until the meringue mixture is stiff and glossy.
Bake the pavlova in a preheated oven at 225ºF for 1- 1.5 hours, or until the meringue peels away from the baking paper easily.
Let the pavlova cool completely (in the oven) before topping it with whipped cream and fruit.
Nutrition
Calories:
222
kcal
|
Carbohydrates:
30
g
|
Protein:
2
g
|
Fat:
11
g
|
Saturated Fat:
6
g
|
Cholesterol:
40
mg
|
Sodium:
30
mg
|
Potassium:
125
mg
|
Sugar:
28
g
|
Vitamin A:
630
IU
|
Vitamin C:
7.2
mg
|
Calcium:
31
mg
|
Iron:
0.2
mg