If you've ever thought of making your own lemon curd, this easy recipe is what you need. Experience the rich, tangy, and creamy goodness of homemade lemon curd in less than 10 minutes. Its top features? You can enjoy it as a bright and tart cake filling or a scrumptious spread for scones and muffins.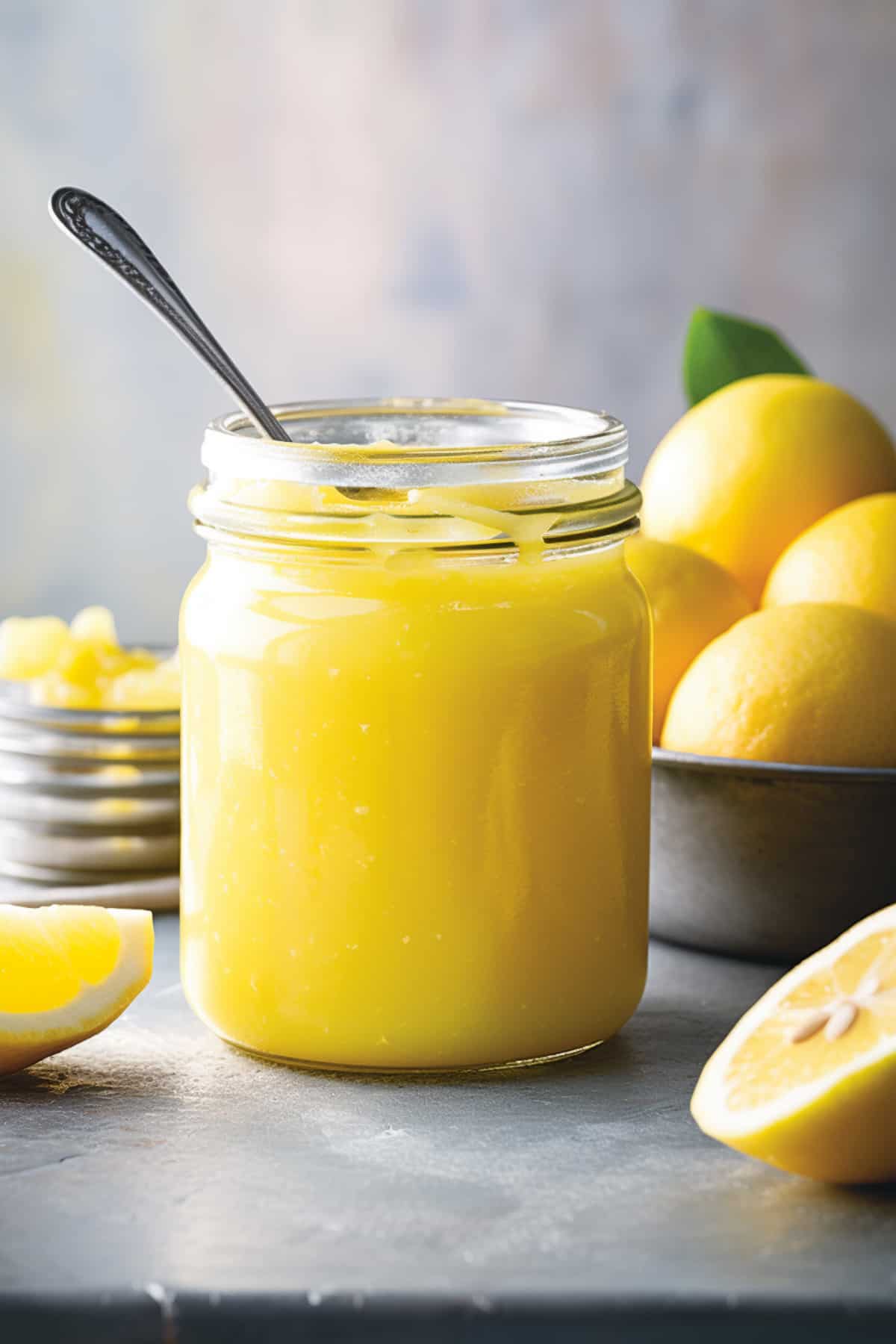 If you're looking for more fruit curds you can try our blueberry curd, passionfruit curd or lime curd.
And if you're looking for the best ways to use your homemade lemon curd then you definitely need to try these lemon curd cookies or this easy lemon Dutch baby pancake.
Jump to:
⭐️ Why You'll Love This Recipe
Fast and Easy: Takes less than 10 minutes
Versatile: Perfect for desserts, afternoon teas, and brunches
Rich Flavor: Homemade version is far superior to store-bought varieties
Budget-Friendly: Save money by using everyday ingredients
🧾 Ingredients
Granulated Sugar: Adds sweetness and balances the tartness of the lemon.
Fresh Lemon Juice: The core ingredient that gives the curd its tangy flavor.
Finely Grated Lemon Zest: Adds texture and intensified lemon essence.
Large Eggs at Room Temperature: Act as a thickening agent.
Room-Temperature Unsalted Butter: Adds creaminess and richness.
See recipe card for quantities.
📖 Substitutions & Variations
Vegan Lemon Curd: Replace eggs with a plant-based alternative like silken tofu.
Orange Curd: Substitute lemon juice and zest with orange for a milder flavor.
👩🏻‍🍳 Step By Step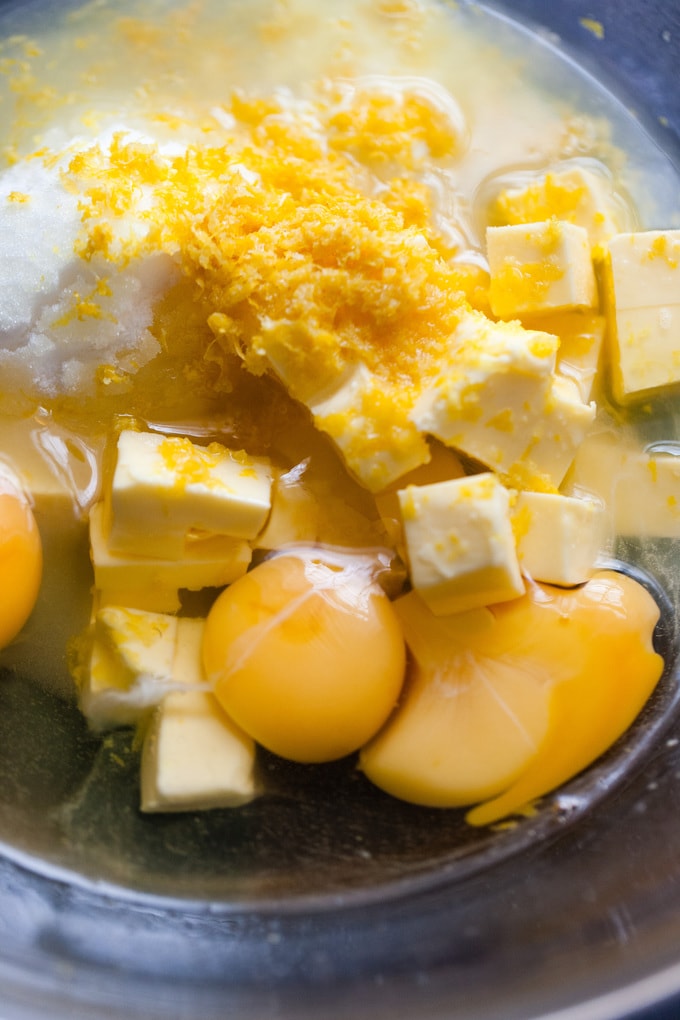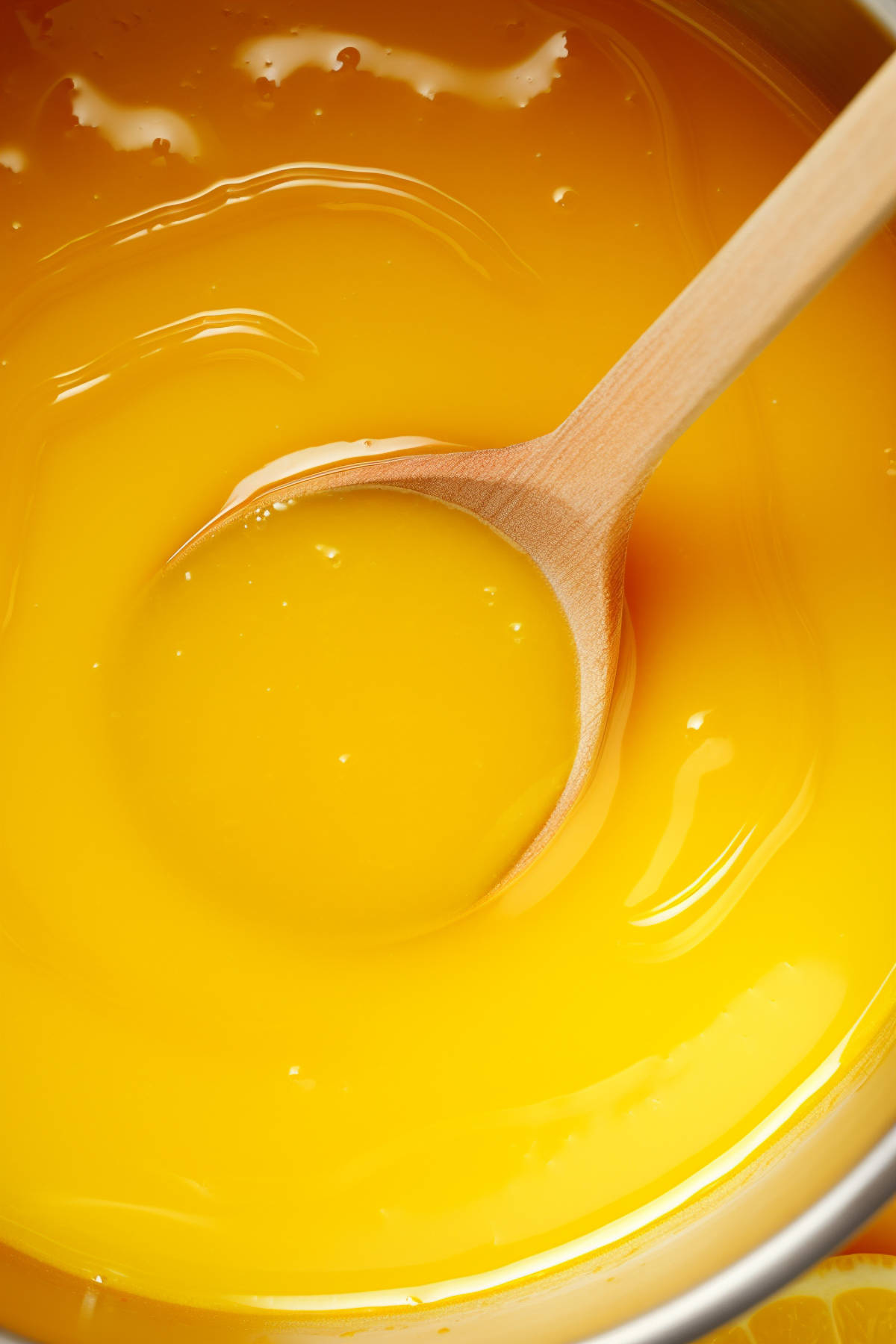 Combine Ingredients: Mix granulated sugar, fresh lemon juice, lemon zest, and large eggs in a 2-quart saucepan.

Special Tip: Use a whisk for an even mix.

Cook: Add unsalted butter and cook over low heat, stirring constantly.

Special Tip: Keep stirring to prevent curdling.

Check Consistency: Cook until the curd thickens, approximately 6-8 minutes.

Special Tip: Use a thermometer to check; ideal temperature is between 160-170°F.

Strain: Optionally, strain through a fine-mesh strainer to remove lemon zest.

Special Tip: If you like a zestier texture, you can skip this step.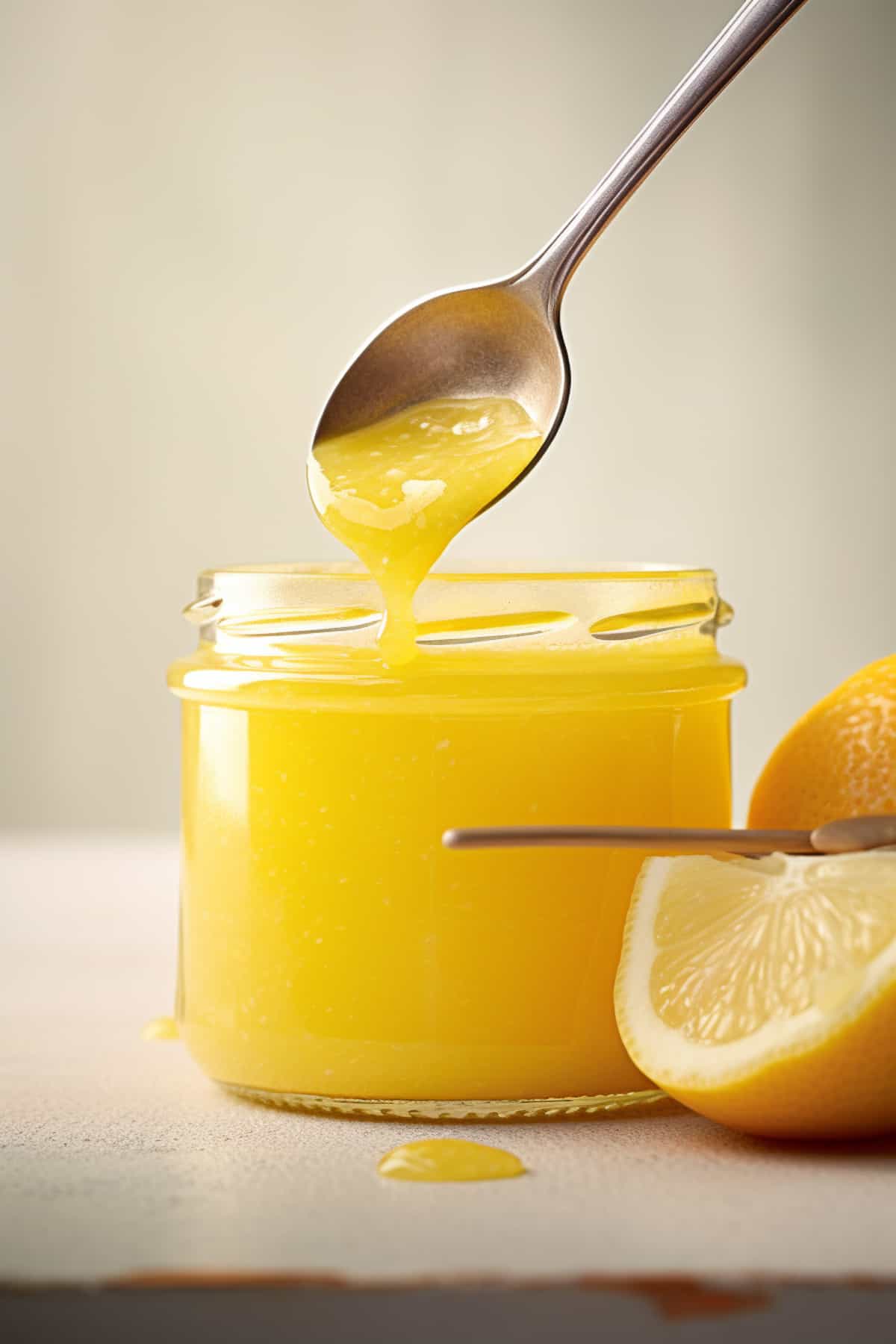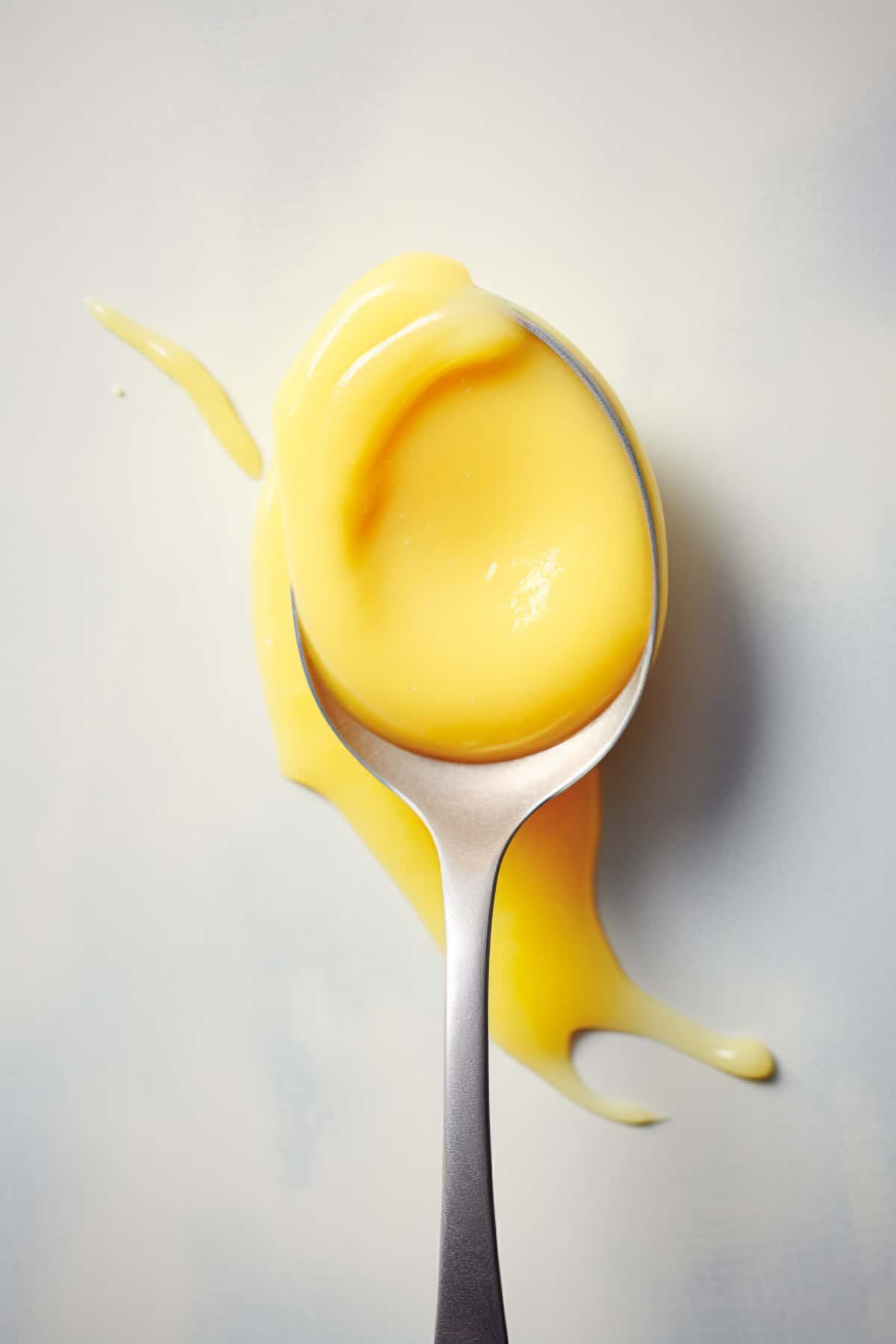 🍋 Top Tip: Microwave Lemons for Maximum Juice:
Before juicing your lemons for lemon curd or any other recipe, a helpful tip is to microwave them for about 20 seconds. This softens the lemon and helps break down some of the fibers inside, making it easier to extract more juice. After microwaving, roll the lemon on a hard surface with the palm of your hand to further soften it. Then, proceed to cut and juice the lemon as usual. This method can be particularly useful when you need to get the most out of your lemons, ensuring that not a drop goes to waste.
🍯 Storage
Fridge

Store in an airtight jar for up to one week.

Freezer

Can be frozen for up to 3 months in a freezer-safe container.

Reheat

No reheating is necessary, best served cold.
💡 Top Tips
Use a fine mesh strainer for smoother consistency.
Utilize an instant-read thermometer for precise cooking.
❓FAQ
Why Didn't My Curd Set?
Short Cooking Time: It needs enough time on the stove to thicken.
Low Heat: Cooking on low heat may not be sufficient for thickening.
Wrong Ingredient Ratios: Inaccurate amounts of sugar, lemon, or eggs can affect consistency.
Poor Stirring: Consistent stirring is needed for even thickening.
Quality of Eggs: Older or lower-quality eggs might not help the curd set well.
Can you freeze lemon curd?
Yes, you can freeze lemon curd! It stores well in the freezer for 3 to 12 months. To freeze it for best results, portion it into small airtight containers or freezer bags and freeze. When ready to enjoy, defrost overnight in the refrigerator. It is recommended to freeze lemon curd in small portions, such as in silicone muffin tins, for easier defrosting and portioning.
Can I use bottled lemon juice instead of fresh?
Fresh lemon juice is recommended for flavor, but bottled can be used in a pinch. Note that it might affect the taste and consistency.
Is it necessary to strain the curd?
Straining removes the lemon zest and any coagulated egg, resulting in a smoother curd. It's optional but recommended for a silky texture.
Whether you're hosting an afternoon tea or looking for the perfect holiday dessert, this lemon curd recipe is a go-to. Its creamy, rich flavor will turn even the most novice cooks into instant gourmets. And remember, the options are endless: fill a tart, spread it on a muffin, or even enjoy it as a breakfast spread. Happy cooking!
Related
Looking for other recipes like this? Try these:
If you tried this Recipe or any other recipe on my website, please let me know in the comments below. I love hearing from you. Also, please leave a star rating whilst you're there!
You can also follow along on Pinterest, Facebook, and Instagram!
You can also find weekly meal plans and budget recipes over on our sister site Savvy Bites.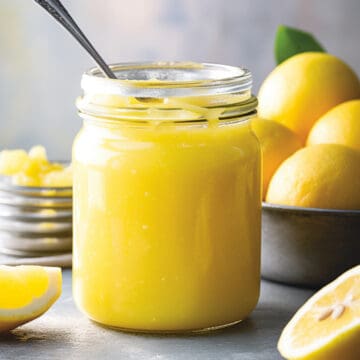 Easy Lemon Curd Recipe
There's nothing like homemade lemon curd to elevate your desserts to the next level. This smooth, tangy spread is quick to prepare and is perfect for everything from tarts to toast. Using the stovetop method, you'll have delicious lemon curd in no time!
Print
Pin
Rate
Ingredients
1

cup

granulated sugar

1

cup

freshly squeezed lemon juice

,

about 4-5 lemons

Zest from 3 lemons

4

large eggs

1

cup

unsalted butter

,

cut into small cubes
Instructions
Prepping the Lemons
To maximize juice extraction, microwave the lemons for 20 seconds. Let them cool for a moment, then roll them on the countertop to soften them up.
Zesting and Juicing
Zest the lemons with a Microplane or zester, avoiding the white pith.

Cut the lemons in half and juice them to get about 1 cup of lemon juice.
Mixing Ingredients
In a mixing bowl, whisk together the lemon zest, lemon juice, and sugar until well combined.

Beat in the eggs one at a time, ensuring each is well incorporated before adding the next.
Cooking the Curd
Pour the mixture into a saucepan and place it over low heat.

Add the cubed butter to the saucepan.

Stir continuously with a wooden spoon, making sure to scrape the sides and bottom to prevent sticking.

Continue cooking until the mixture thickens enough to coat the back of the spoon (approximately 10 minutes).
Cooling and Storing
Remove from heat and pour into a glass jar or container.

Let the curd cool to room temperature, then refrigerate.
Notes
The key to a smooth curd is constant stirring. Make sure to scrape the sides and bottom of the pan to prevent sticking and burning.
If your curd isn't setting, it may not have cooked long enough or at a high enough temperature. It will also thicken more as it cools.
Lemon curd will keep in the refrigerator for up to 1 week or can be frozen for up to 2 months.
Enjoy your homemade lemon curd!
Nutrition
Calories:
1351
kcal
|
Carbohydrates:
109
g
|
Protein:
12
g
|
Fat:
101
g
|
Saturated Fat:
61
g
|
Polyunsaturated Fat:
5
g
|
Monounsaturated Fat:
27
g
|
Trans Fat:
4
g
|
Cholesterol:
571
mg
|
Sodium:
140
mg
|
Potassium:
276
mg
|
Fiber:
0.4
g
|
Sugar:
103
g
|
Vitamin A:
3319
IU
|
Vitamin C:
47
mg
|
Calcium:
85
mg
|
Iron:
2
mg