This easy blueberry curd is a scrumptious spread that offers a velvety texture combined with a tangy kick and an explosion of fresh blueberry taste. And you can whip up this easy fruit curd in under half an hour.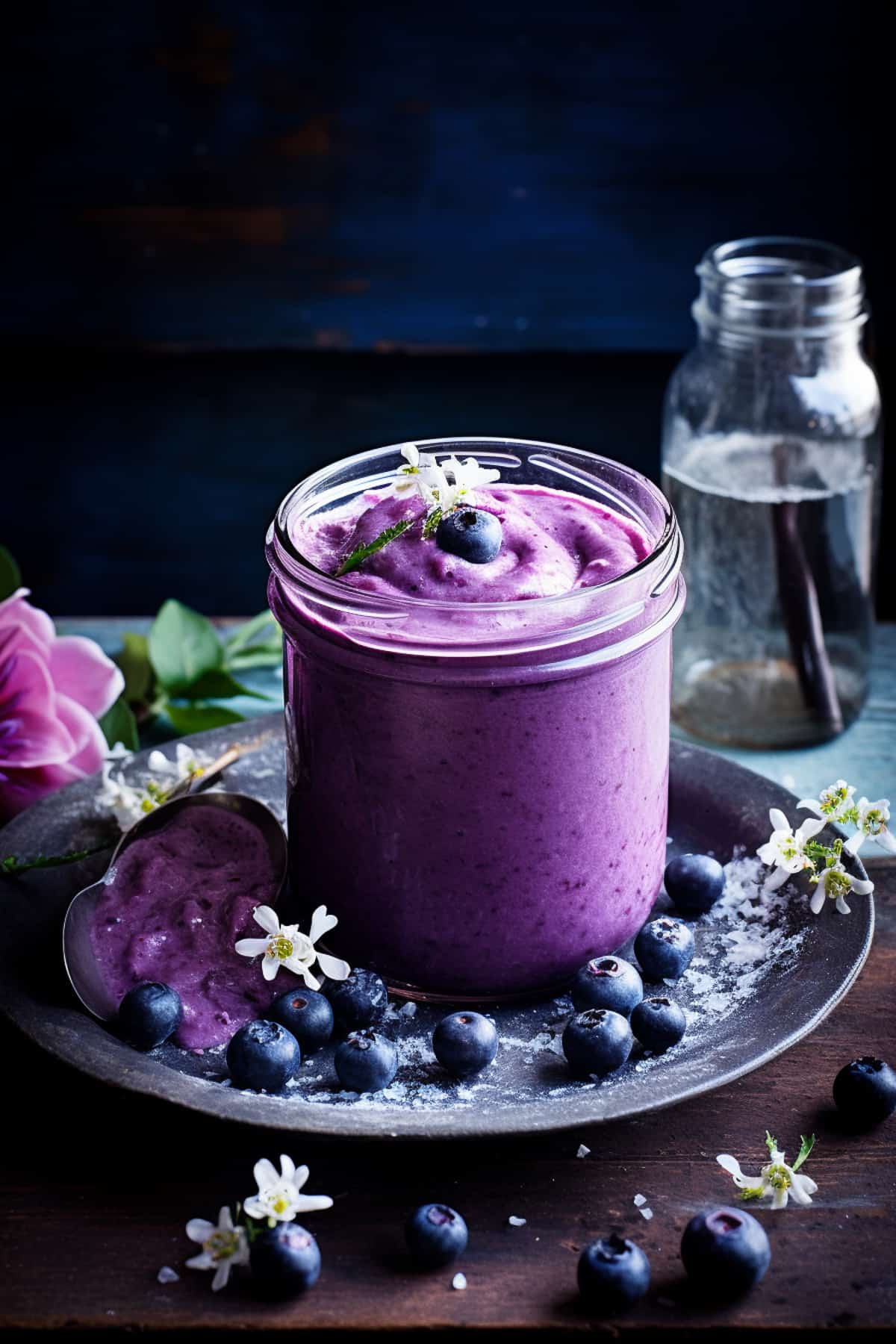 Try our other fruit curds like passionfruit curd and this traditional homemade lemon curd. You can use this blueberry curd as a cake filling or spoon it into the center of this summer pavlova or these lemon curd cookies and spread it onto these blueberry scones.
Jump to:
⭐️ Why You'll Love This Recipe
Indulgent and Tart: The perfect balance of sweet and tart makes this blueberry curd irresistible.
Versatile: Great as a topping for desserts or as a unique spread for your morning toast.
Quick and Easy: With simple ingredients and steps, this is a beginner-friendly recipe.
🧾 Ingredients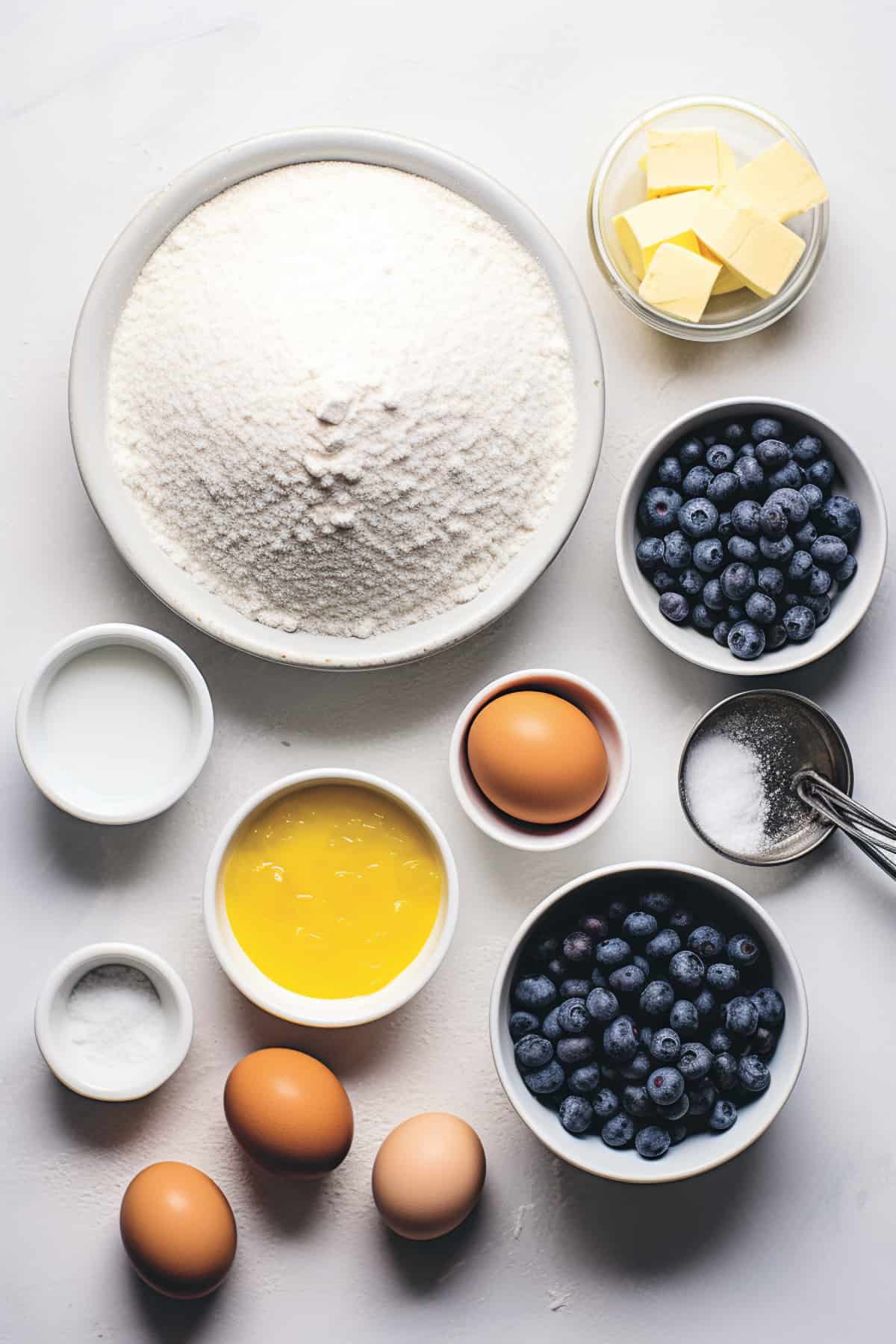 Blueberries: The star of the show, providing natural pectin and vibrant color.
Lemon Juice and Zest: Adds a citrus twist and brightens the blueberry flavor.
Whole Eggs: For a creamy and luscious texture.
Granulated Sugar: Sweetens the curd just enough without overpowering the fruitiness.
Butter: Adds richness; dairy-free butter can also be used.
Fine Sea Salt: Just a pinch to balance flavors.
See recipe card for quantities.
👩🏻‍🍳 Step By Step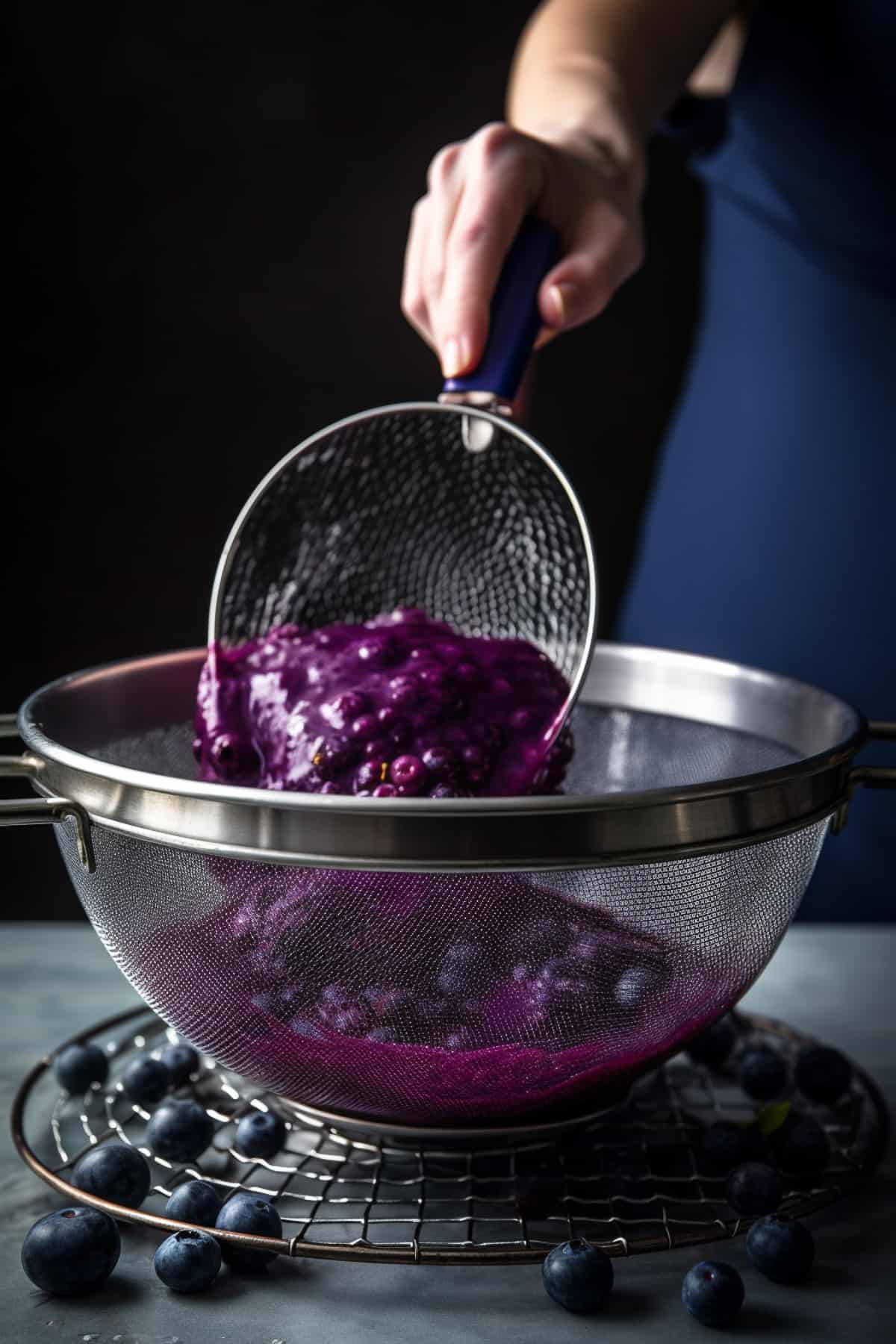 Prepare Blueberry and Lemon Mixture: Simmer blueberries and lemon juice until the blueberries pop.
Strain the Mixture: Strain to get a smooth blueberry-lemon puree. Tip: Use a fine mesh strainer for best results.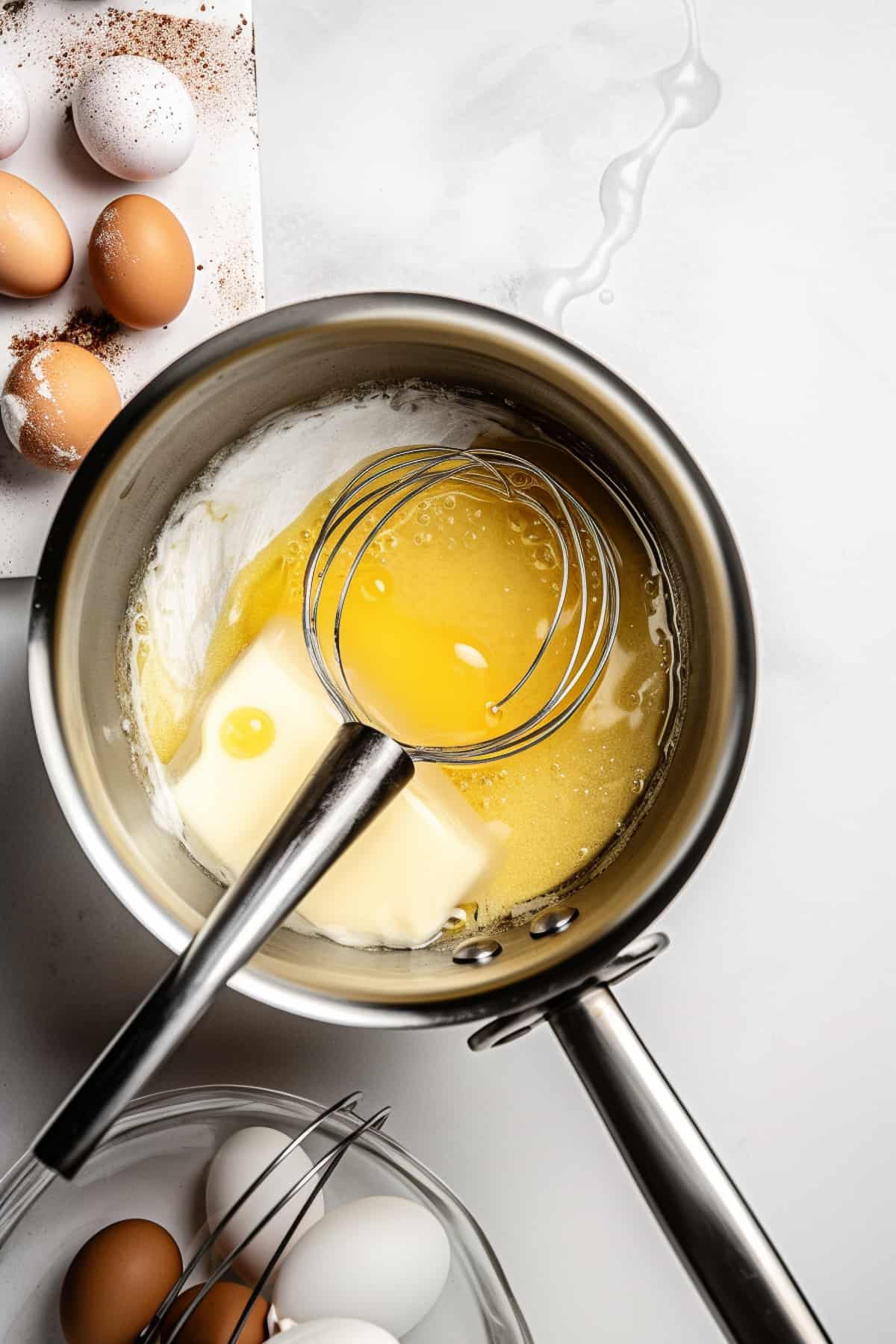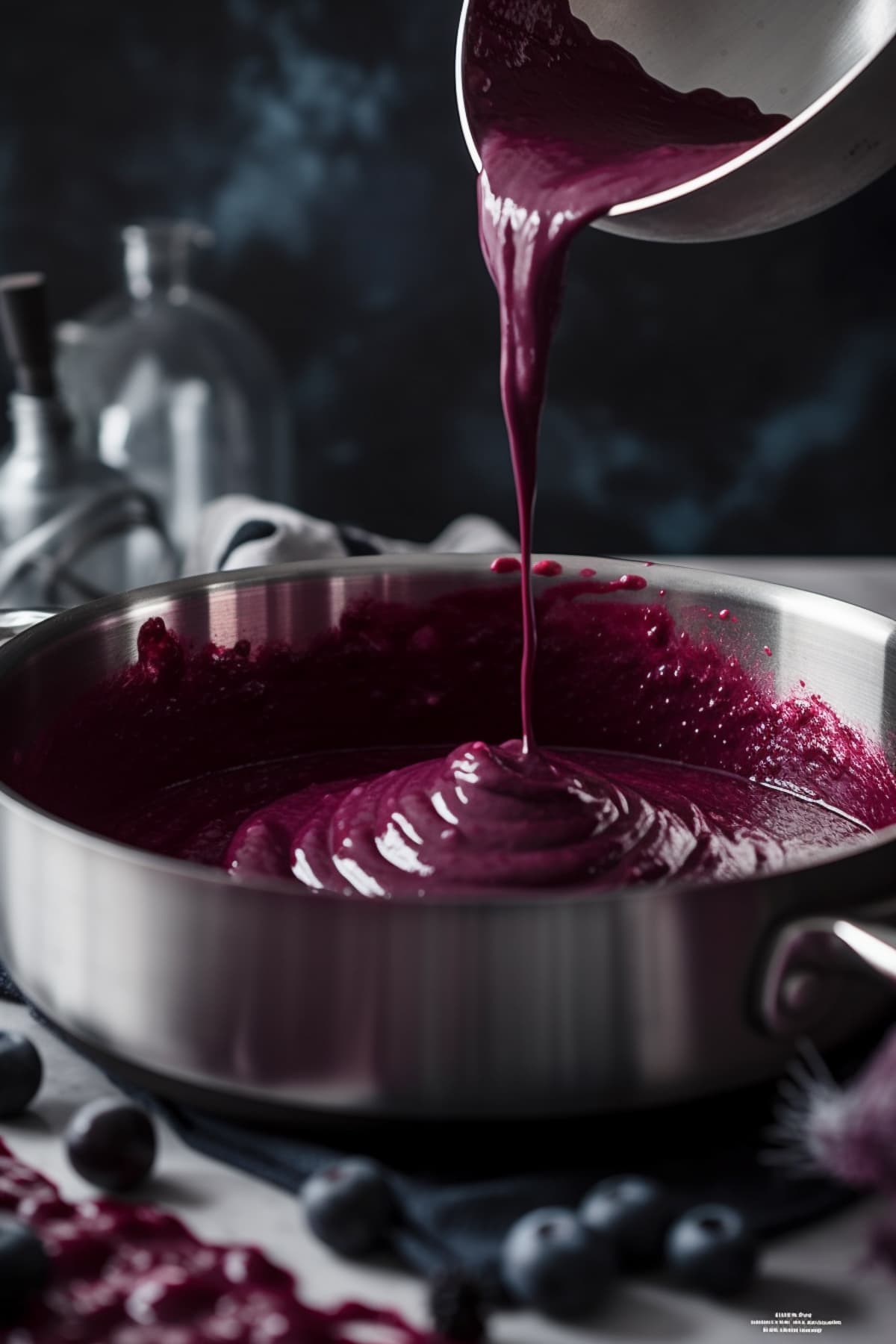 Whisk Eggs and Add Sugar: Whisk whole eggs and slowly incorporate granulated sugar. Tip: Eggs should be at room temperature.
Cook and Thicken: Cook over medium heat, stirring until the mixture thickens. Tip: Use a thermometer to ensure the curd reaches 190°F.
Add Butter and Salt: Stir in chunks of butter and a pinch of sea salt.
Final Strain and Storage: Strain the curd once more and store it in an airtight container in the fridge.
🍯 Storage
Fridge

Store in an airtight container for up to 1 week.

Freezer

Freezing blueberry curd is possible; it will last up to 3 months.

Reheat

Gently reheat in a microwave or on the stovetop.
💡 Top Tips
Constant Stirring: When cooking the curd on the stove, make sure to stir constantly with a wooden spoon or silicone spatula. This prevents the curd from sticking to the bottom of the pan and ensures even cooking. It also prevents the formation of lumps, giving you a smoother curd.
Strain for Smoothness: After cooking, strain the curd through a fine-mesh sieve to remove any blueberry skins or seeds. This extra step will give you an ultra-smooth texture.
Monitor Temperature: Use a cooking thermometer to make sure your curd reaches a temperature of 170°F to 175°F (77°C to 80°C). This ensures that the curd is fully cooked and will thicken appropriately.
Acid Balance: The balance between sweet and tart is crucial for a perfect blueberry curd. Don't skip on the lemon juice; it not only adds a brightness to the blueberry flavor but also helps in the thickening process.
❓FAQ
Can I use frozen blueberries?
Yes, but the texture may vary. Using frozen blueberries may result in a thinner, less vibrant curd due to their higher water content. To compensate, you may need to cook the curd longer or adjust the flavoring.
How do I know when the curd has thickened enough?
Blueberry curd should reach a temperature of 170°F to 175°F (77°C to 80°C) to be fully done. At this temperature, the curd will have thickened enough to coat the back of a spoon, and it will continue to thicken as it cools. Make sure to use a cooking thermometer for accurate results.
Related
Looking for other recipes like this? Try these:
If you tried this Recipe or any other recipe on my website, please let me know in the comments below. I love hearing from you. Also, please leave a star rating whilst you're there!
You can also follow along on Pinterest, Facebook, and Instagram!
You can also find weekly meal plans and budget recipes over on our sister site Savvy Bites.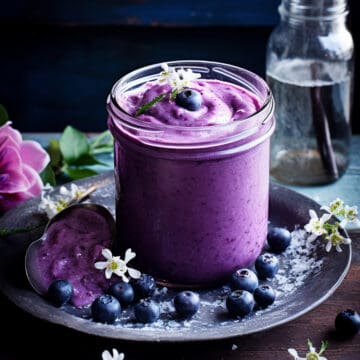 The Best Easy Blueberry Curd
Easy Blueberry Curd! This homemade spread combines the smooth texture of classic fruit curds with the unique tang and sweetness of blueberries. Perfect for topping toast, filling pastries, or even just eating by the spoonful.
Print
Pin
Rate
Ingredients
1

cup

fresh blueberries

or frozen

Zest and juice of 1 lemon

2

whole eggs

2

egg yolks

1

cup

granulated sugar

½

cup

unsalted butter

cut into small cubes

A pinch of fine sea salt
Instructions
Prepare the Blueberry-Lemon Base
Cook the Blueberries: In a saucepan, combine blueberries and lemon juice. Cook over medium heat until blueberries burst and release their juice, approximately 5-7 minutes.

Strain the Mixture: Use a fine-mesh sieve to strain the cooked blueberries, collecting the liquid in a bowl. Press to extract as much juice as possible. Add lemon zest to the blueberry juice and set aside.
Make the Curd
Prepare Egg Mixture: In a heat-proof bowl, whisk together whole eggs, egg yolks, and granulated sugar until smooth.

Combine with Blueberry Base: Slowly whisk in the blueberry-lemon juice mixture to the egg mixture until well combined.

Cook the Curd: Place the bowl over a pot of simmering water (double boiler). Add a pinch of sea salt. Stir constantly, using a wooden spoon or heat-resistant silicone spatula, until the mixture thickens and coats the back of the spoon, around 10-15 minutes.
Finish and Store
Add Butter: Remove the bowl from heat. Add butter cubes one at a time, stirring until each is melted and the curd is smooth.

Strain Again: For a super-smooth texture, strain the curd through a fine-mesh sieve into your storage container or jar.

Cool and Store: Allow the curd to cool to room temperature. Once cooled, transfer to an airtight container and store in the fridge for up to one week. Place plastic wrap directly on the surface of the curd to prevent a skin from forming.
Notes
Butter: For a dairy-free version, you can substitute dairy-free butter.
Blueberries: Fresh and frozen blueberries work equally well; if using frozen, no need to thaw.
Thickening: If your curd isn't thickening, increase the cooking time but maintain low heat to prevent scrambling.
Storage: Blueberry curd can be stored in the refrigerator for up to a week or in the freezer for up to three months. Thaw in the fridge before using if frozen.
Nutrition
Calories:
955
kcal
|
Carbohydrates:
111
g
|
Protein:
9
g
|
Fat:
56
g
|
Saturated Fat:
32
g
|
Polyunsaturated Fat:
3
g
|
Monounsaturated Fat:
16
g
|
Trans Fat:
2
g
|
Cholesterol:
480
mg
|
Sodium:
79
mg
|
Potassium:
153
mg
|
Fiber:
2
g
|
Sugar:
107
g
|
Vitamin A:
1955
IU
|
Vitamin C:
7
mg
|
Calcium:
67
mg
|
Iron:
2
mg