This ricotta gnocchi recipe is the simplest and best way to get soft, fluffy, golden ricotta dumplings on the table in 30 minutes. Using ricotta instead of mashed potato makes this dinner perfect for weeknights. Crispy on the outside and soft and fluffy on the inside these dumplings are perfect served with roasted garlic tomatoes and lots of fresh parmesan cheese.
This is the simplest weeknight recipe that will feel like you went big time on dinner. All we've got to do is put the ingredients into a bowl and make a dough. That's it. As you may know, my love affair with Italian foods really knows no bounds. It's always my go to for quick weeknight meals like this roasted red pepper pasta, or this mushroom pasta or this pizza!
Okay. There may be are a few other steps, but they involve boiling water and warming some oil in a pan. But I feel like those two things are definitely non challenging things that we can handle mid week. This gnocchi has become one of my go-to dinners in recent weeks. And even a cheese hater like Mr. T. loves this quick and simple ricotta gnocchi.
Ricotta Gnocchi Step By Step
This may not seem like a step by step when I say "put everything in a bowl and mix." But, that's the first step. Just get everything together and place in a bowl. Bring it all together with a wooden spoon or spatula and mix it into a dough. *Yes. You can use a stand mixer fitted with a paddle, but this dough is so soft and lovely to work with, it doesn't need it.
When you bring it all together it will form the most satisfying dough. It'll be soft but not sticky and pretty smooth with some flecks of green from all the herbs we've loaded into it. You can divide the dough into 6 wedges to make it easier to work with.
Roll this dough out into a sausage shape on a well floured surface. What you're looking for here is for the dough to be about an inch in diameter. It doesn't matter how long your sausage shape is, just that it's 1 inch in diameter.
Cut the dough into pieces about 1 inch in length. Line all your gnocchi up like little soldiers on a well floured baking tray.
Bring your pan of water to the boil. The secret to knowing when gnocchi is cooked is that it floats to the top of the pan. This really only takes about 3 minutes in boiling water, making it a really quick dinner.
Chef's Pro Tip: To get your gnocchi out of the boiling water, the best kitchen tool is called a spider. They are a super cheap version of a slotted spoon, but 1000x better.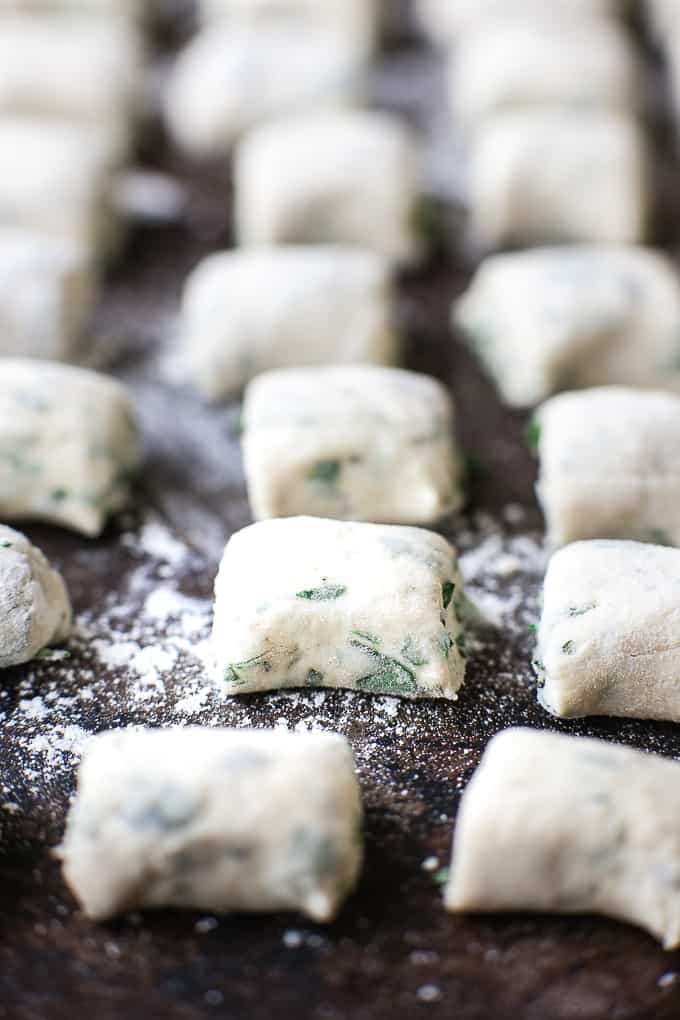 Now, this is the part where you can go a few different ways. You can A. Heat some oil in a pan and gently fry those fluffy ricotta gnocchi until they are just golden and crispy on the outside and still soft and fluffy on the inside. B. You can simply take your soft and fluffy gnocchi and toss them with some sauce and dig in rather than go the golden fried route. C. You can let them cool and freeze them flat on a tray before you pack them up ready to be defrosted and served at a moments notice.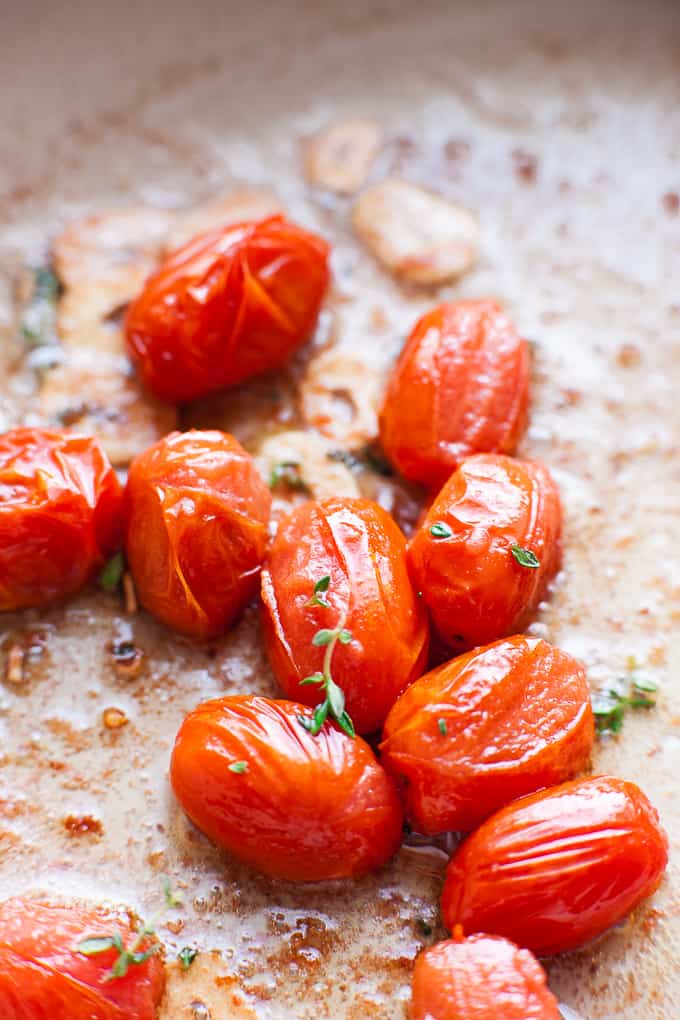 If you go with the gently fried route, then you'll just heat some oil in a pan and toss the dumplings in. Let them colour on one side before you turn them to colour the second side. Remove them to a bowl and keep them warm in the oven.
Toss in the cherry tomatoes and some slices of garlic and thyme leaves. Let the garlic start to brown and the tomatoes burst. Pour this tomato garlic sauce over your gnocchi and dig in.
This gnocchi has absolutely tons of herbs throughout the dough, but it really is lovely to sprinkle the finished dish with some thyme leaves and some micro greens. If you can't get micro greens then skip it. And finish the whole thing with some more fresh grated parmesan.
This is one of the most customisable recipes for using what ever you have on hand.
Thanks so much for being here! I'd love it if you left a rating and a comment letting me know how much you loved any of these recipes. Follow along on Instagram, Pinterest and Facebook for the latest!
30 Minute Ricotta Gnocchi with Tomatoes
Homemade tender ricotta gnocchi with a burst cherry tomato sauce. The perfect dinner.
Print
Pin
Rate
Ingredients
To serve
2

sprigs fresh thyme leaves

picked

2

Tablespoons

fresh grated parmesan
Instructions
In a medium bowl combine to ricotta, parmesan, flour, herbs, eggs and salt. Mix to form a soft but not sticky dough. Divide the dough into 6 to make it easier to work with.

Flour the counter and roll the dough into 1 inch thick log shapes. Slice the logs into 1 inch lengths.

Bring a large pot of salted water to a boil. Working in batches, boil the gnocchi about 15-20 at a time and boil until the gnocchi rise to the top.

Using a spider or similar slotted spoon, remove the dumplings and leave on a baking tray to drain.

In a non stick skillet heat the olive oil until hot. Place the gnocchi in the pan and gently fry until the gnocchi are golden on both sides. Add the garlic and tomatoes roasting until the garlic is golden and the tomatoes are soft and the skins have burst. Serve in bowls with extra cheese and micro greens.
Notes
To freeze the dough, roll into logs and cut into 1 inch lengths. Lay flat on a tray and freeze. Once frozen place in ziplock bags or containers. Will keep in the freezer for 3 months.

To freeze the cooked gnocchi, boil the dumplings and set aside to cool. Once cooled completely place in a freezer bag and freeze immediately. Will keep for 1 month.
Nutrition
Calories:
472
kcal
|
Carbohydrates:
34
g
|
Protein:
27
g
|
Fat:
24
g
|
Saturated Fat:
10
g
|
Cholesterol:
169
mg
|
Sodium:
1665
mg
|
Potassium:
475
mg
|
Fiber:
1
g
|
Sugar:
3
g
|
Vitamin A:
1295
IU
|
Vitamin C:
27.2
mg
|
Calcium:
525
mg
|
Iron:
3.5
mg