Easy Thai Peanut Noodles is an incredibly flavorful dish that can be prepared in just 20 minutes. With its combination of Thai flavors and the richness of peanut sauce, this dish is full of bold flavors. The quick preparation time makes it a convenient easy dinner option without spending hours in the kitchen. Whether you're a fan of Thai cuisine or simply looking for a quick and easy dinner, these Easy Thai Peanut Noodles are sure to satisfy your cravings.
If you love Asian-style noodles you definitely need to check out these Korean style noodles, this prawn Thai red curry noodle bowl, or these easy Szechuan noodles.
Jump to:
⭐️ Why You'll Love These Thai Peanut Noodles
Rich Flavor: Thai Peanut Noodles offer a complex mix of sweet, salty, spicy, and umami tastes, making each bite bold and flavorful.
Versatility: This dish is adaptable to different dietary needs and preferences, and it can be enjoyed hot or cold. Add in chicken, shrimp or tofu.
Quick to Make: You can whip up this dish in about 20 minutes, making it a convenient choice for a fast yet delicious meal.
🧾 Ingredients for Thai Peanut Noodles
Noodles: The foundation of this dish, noodles provide a satisfying base. Opt for rice noodles to achieve an authentic Thai taste. Their delicate texture perfectly complements the rich and savory peanut sauce.
Peanut Sauce: The key to the dish's tantalizing flavors, the peanut sauce adds a creamy and nutty element. Made with a blend of peanuts, soy sauce, ginger, garlic, and lime juice, this sauce effortlessly enhances the noodles, creating a mouthwatering symphony of flavors.
Vegetables: To add a vibrant and healthy touch, an assortment of colorful vegetables is a must. Crispy bell peppers, crunchy carrots, and refreshing cucumber slices not only provide a delightful crunch but also bring a burst of freshness to the dish.
See recipe card for quantities.
📖 Substitutions & Variations
These additions can elevate the taste of the Easy Thai Peanut Noodles.
Fresh Herbs: Add a handful of fresh cilantro or Thai basil leaves for a burst of freshness and aromatic essence.
Crunchy Peanuts: Top the noodles with crushed peanuts to introduce a delightful crunch that contrasts with the soft noodles.
Toasted Sesame Seeds: Sprinkle some toasted sesame seeds over the dish for a nutty flavor profile and an extra touch of texture.
Chili Flakes or Sriracha: For those who enjoy a spicy kick, a sprinkle of chili flakes or a drizzle of Sriracha sauce can add a fiery element to the noodles.
Lime Wedges: Serve the noodles with lime wedges on the side to squeeze over the dish, creating a tangy and refreshing taste.
To add even more depth to the dish, consider adding protein marinated with soy sauce, ginger, and garlic before cooking.
These additional steps will infuse the ingredients with rich flavors, complementing the overall taste of the noodles.
👩🏻‍🍳 Step By Step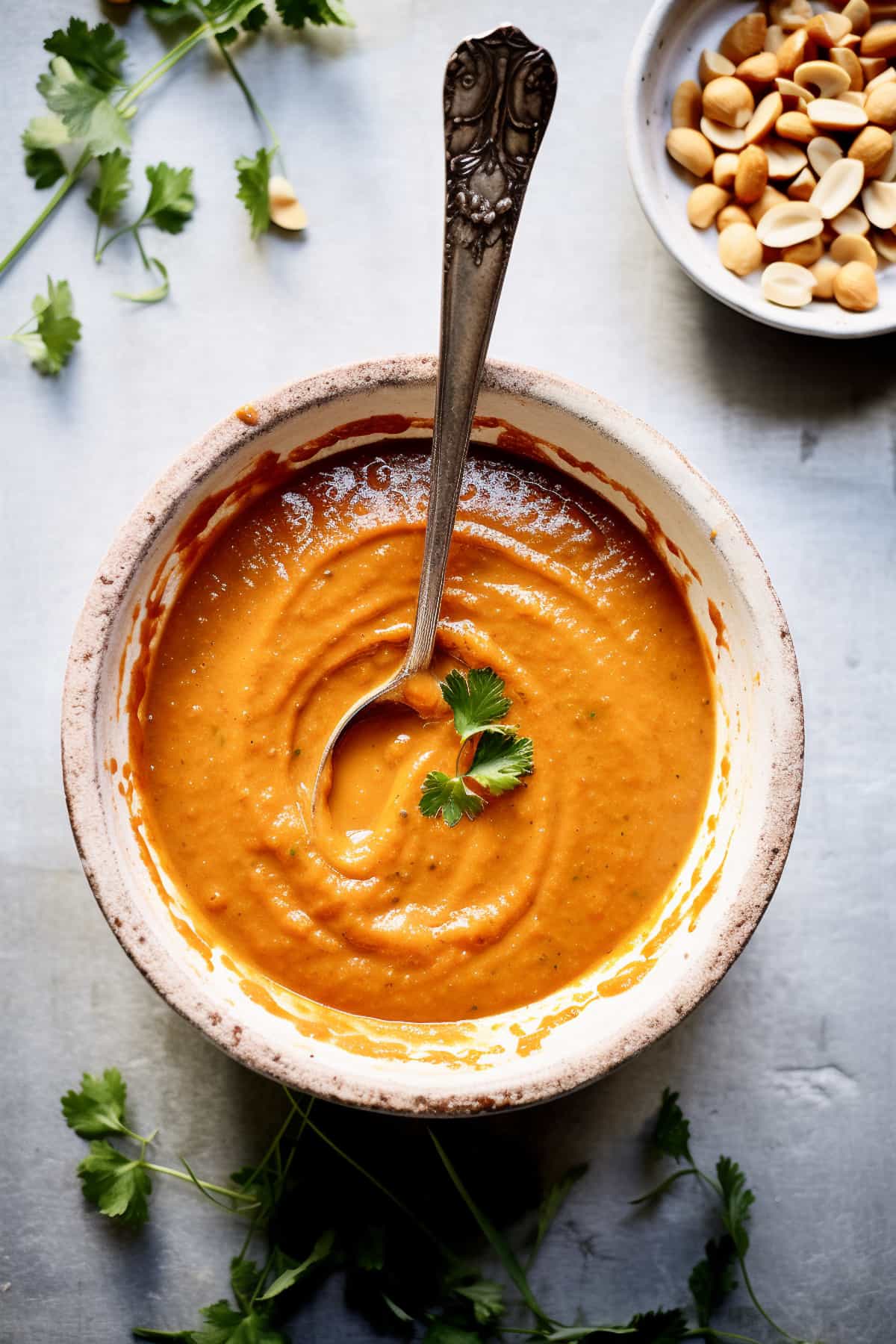 Cook the noodles: Boil the noodles according to the package instructions until they are tender. Drain and set aside for later use.
Prepare the sauce: In a bowl, combine peanut butter, soy sauce, lime juice, ginger, garlic, and red pepper flakes. Mix well until the ingredients are well combined and the sauce is smooth.
Cook the vegetables: Heat a large skillet over medium heat and add some oil. Add vegetables like bell peppers, carrots, and broccoli to the skillet. Cook them until they are tender-crisp.
Add the sauce: Pour the prepared sauce over the cooked vegetables in the skillet. Stir well to coat the vegetables evenly with the sauce.
Combine the noodles and vegetables: Add the cooked noodles to the skillet with vegetables and sauce. Use tongs or a fork to toss everything together until the noodles are well-coated and heated through.
Serve and enjoy: Transfer the Thai Peanut Noodles to serving plates or bowls. Garnish with chopped peanuts, cilantro, and lime wedges.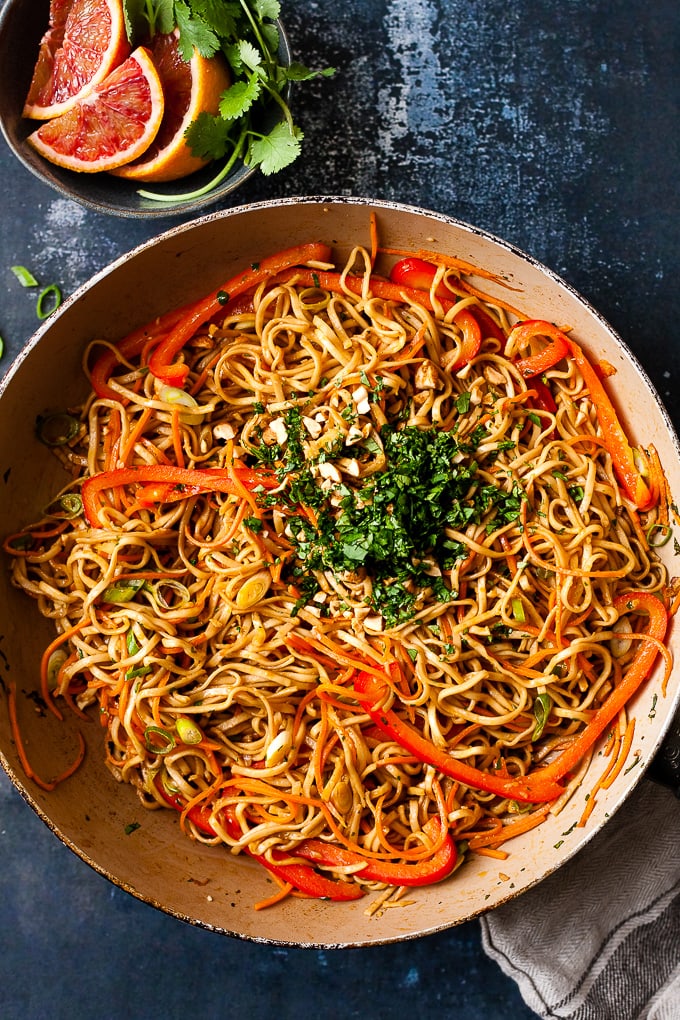 🍯 Storage
Fridge

Thai Peanut Noodles can be stored in an airtight container in the refrigerator for up to 3–5 days. Make sure the noodles are completely cool before sealing them to maintain their texture and flavor.
Not suitable for freezing.
💡 Top Tips For Perfect Noodles
Balance Your Flavors

Thai cuisine is all about the balance of flavors: sweet, salty, spicy, and umami. Taste your peanut sauce as you go and adjust the ingredients to hit all these notes. Don't be afraid to add a dash of lime for acidity or a sprinkle of brown sugar for sweetness to achieve that perfect balance.

Use Fresh Ingredients

Fresh herbs and vegetables can elevate your Thai Peanut Noodles to a new level. Consider using fresh basil, cilantro, or mint, as well as freshly squeezed lime juice and freshly grated ginger and garlic. The fresher the ingredients, the more vibrant your dish will be.

Don't Overcook

Nothing ruins a noodle dish faster than mushy noodles. Be mindful of your cooking times, both for the noodles and any vegetables you may add. Aim for al dente noodles and crisp-tender vegetables to give your dish a variety of textures.
❓FAQ
Can I make the peanut sauce ahead of time?
Yes, you can make the peanut sauce ahead of time and store it in the refrigerator. Just make sure to shake well before using.
Which type of noodles can I use for Easy Thai Peanut Noodles?
You can use any type of noodles you like for Easy Thai Peanut Noodles. Options include fettuccine, lo mein, or even spaghetti. You can even use Ramen noodles from a soup packet.
What Can I Use Instead of Peanut Butter?
You can use alternatives like almond butter, cashew butter, or even sunflower seed butter. Each will offer a slightly different flavor profile, so you may need to adjust the other sauce ingredients accordingly.
Can I Make This Recipe Vegan or Gluten-Free?
Absolutely! To make this recipe vegan, you can substitute any animal-based ingredients with plant-based alternatives like tofu or tempeh. For a gluten-free version, make sure to use gluten-free soy sauce and rice noodles, which are naturally gluten-free. Always double-check labels to ensure that the ingredients meet your dietary needs.
More Asian Noodle Recipes
Looking for other recipes like this? Try these:
If you tried this Recipe or any other recipe on my website, please let me know in the comments below. I love hearing from you. Also, please leave a star rating whilst you're there!
You can also follow along on Pinterest, Facebook, and Instagram!
You can also find weekly meal plans and budget recipes over on our sister site Savvy Bites.
Easiest Spicy Thai Peanut Noodles
Indulge in the complex flavors of these Spicy Thai Peanut Noodles, where the tanginess of lime meets the richness of peanut butter. Perfect for a quick weeknight dinner or a flavorful meal prep option.
Print
Pin
Rate
Ingredients
For the Noodles and Veggies
1

lb

egg noodles or spaghetti

½

large carrot

,

finely sliced (a mandolin works great)

1

red bell pepper

,

thinly sliced

1

tablespoon

sesame oil
For the Spicy Peanut Sauce
For Serving
2

tablespoons

thinly sliced green onions

¼

cup

chopped cilantro
Instructions
Prepare the Noodles
Cook the noodles according to package instructions. Once done, drain and set aside.

Make the Spicy Peanut Sauce

Combine all sauce ingredients in a measuring jug or small bowl. Whisk until smooth and creamy. Alternatively, blend all ingredients in a blender for about 2 minutes until smooth.
Sauté the Veggies
Heat 1 tablespoon of sesame oil in a non-stick skillet over medium heat.

Add the thinly sliced red bell pepper and carrot. Sauté for about 2 minutes, or until slightly softened.
Combine and Serve
Add the cooked noodles to the skillet with the veggies.

Pour in ½ to ¾ of the prepared sauce, and toss to coat the noodles evenly.

Serve the noodles in bowls, topped with chopped peanuts, sliced green onions, and cilantro.

Drizzle the remaining sauce over the top, if desired.
Notes
Sauce Adjustments: The sriracha hot sauce can be adjusted according to your heat preference.
Noodle Choice: Feel free to use rice noodles for a gluten-free option.
Veggie Options: This recipe is highly versatile; you can add other veggies like snap peas or mushrooms for variation.
Storage: Leftovers can be stored in an airtight container in the fridge for up to 3–5 days or frozen for up to 2–3 months.
Enjoy your Spicy Thai Peanut Noodles!
Nutrition
Calories:
645
kcal
|
Carbohydrates:
87
g
|
Protein:
21
g
|
Fat:
24
g
|
Saturated Fat:
4
g
|
Polyunsaturated Fat:
9
g
|
Monounsaturated Fat:
10
g
|
Trans Fat:
0.1
g
|
Cholesterol:
95
mg
|
Sodium:
405
mg
|
Potassium:
507
mg
|
Fiber:
6
g
|
Sugar:
5
g
|
Vitamin A:
2348
IU
|
Vitamin C:
42
mg
|
Calcium:
61
mg
|
Iron:
3
mg