This tuscan pasta feast is a healthy and quick way to get extra veggies this winter. Rich roasted red pepper pasta with bitter wilted Italian green and toasted almonds. Healthy, vegetarian, weeknight comfort food.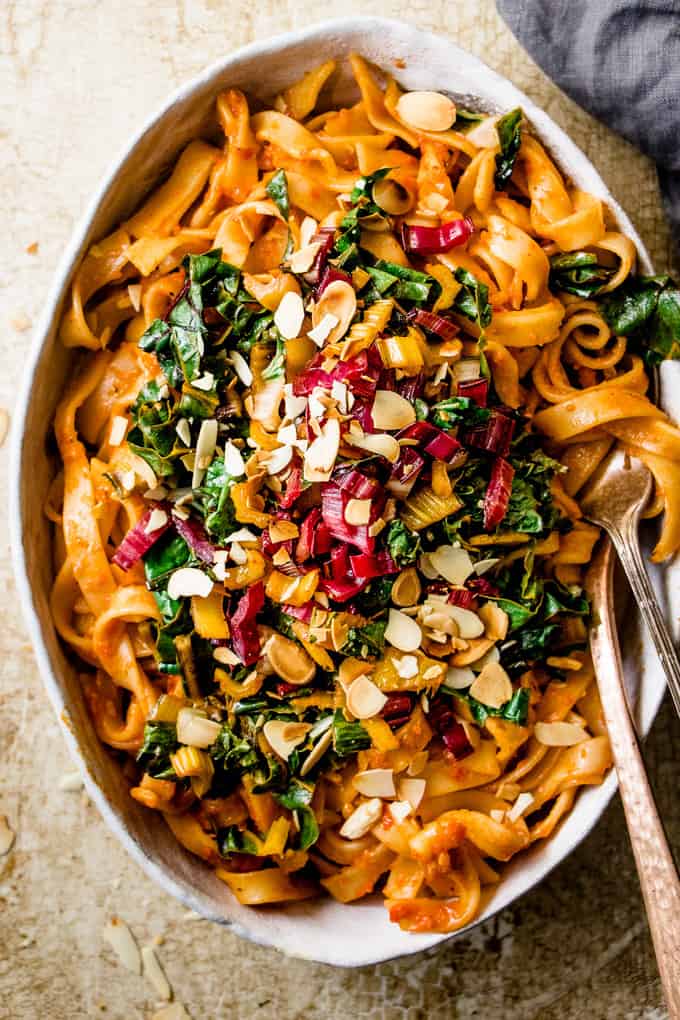 Today we're going for all the cosy things. Isn't Sunday night the dinner that you especially want to make cosy and have all the family gathered 'round the table? This red pepper pasta is a modern classic that will be such a huge hit with the family. The best part is, picky eaters won't realise how healthy this is.
Do you remember a few days ago we made this really useful roasted pepper sauce that I told you should always be in your freezer? Okay. That's what we're using today. This is perfect for Sunday nights when you want to gather the family and have a casual and cosy dinner. That's what Sundays are for, right? I know. It's really traditional to have a big Sunday roast and lots of side dishes and the works. I love those kinds of dinners, too. But tonight it's about roasted red pepper pasta.
I figure in the next couple of weeks, we'll have plenty of opportunity to make big feasts and entertain with show stopping dishes. But some nights boiling noodles and getting roasted red pepper sauce out of the freezer is all we're about.
Sunday is often pasta night in our house because I always used to make pasta on a Sunday night when I was a kid. It felt cosy and luxurious and nourishing. All the things you want on cold winter nights when you're getting ready to start the week.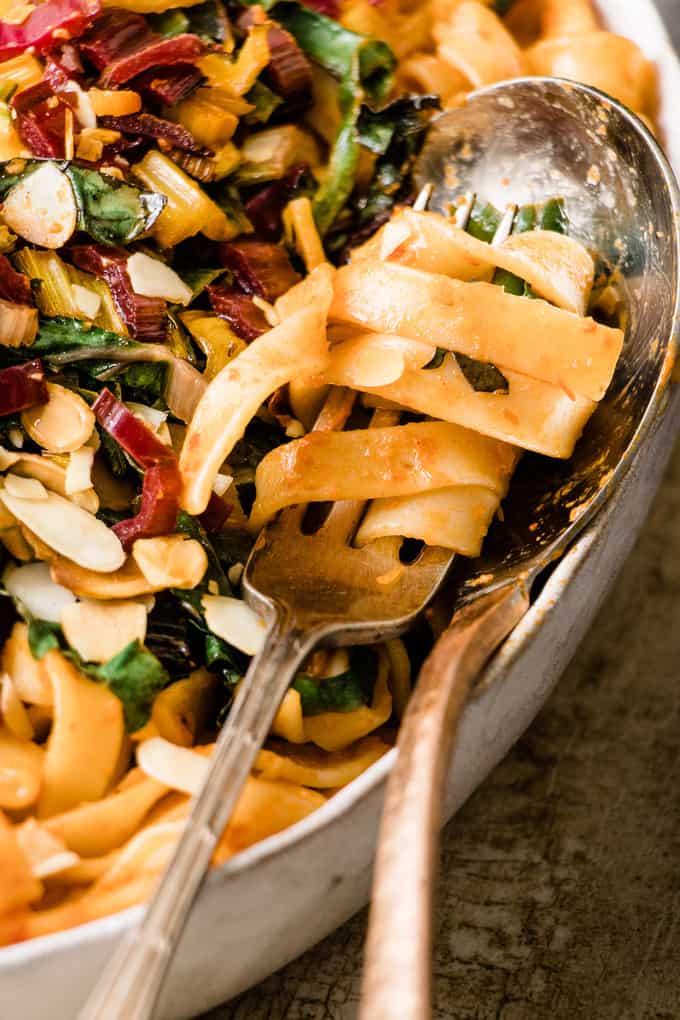 For the greens in this pasta dish, I used rainbow swiss chard (because they're gorgeous), but you can use any green leaf like kale, spinach or cavalo nero. It brings so much earthiness to the pasta and the sweet richness of the pepper sauce. And at this time of year we all need to be eating more dark leafy greens to make sure we get our calcium and iron.
If you happen to be making this from the beginning, (don't worry it's super easy) you'll have left over sauce to stash in the freezer.
Top 4 Reasons to Make Roasted Red Pepper Pasta Tonight
It's a super easy way to get your daily serving of veggies.
It tastes like you're in the Tuscan country side.
Perfect for cosy winter nights.
It's quick and easy. So it's perfect for weeknights too.
Tuscan Roasted Red Pepper Pasta
This tuscan pasta feast is a quick way to get extra veggies. Rich roasted red pepper pasta with bitter wilted Italian green and toasted almonds.
Print
Ingredients
1/2

quantity of really useful roasted red pepper sauce

1

cup

250ml heavy (whipping) cream

1

pound

450g tagliatelle or other long noodle

1/2

bunch swiss chard or 2 cups of spinach or kale.

1/4

cup

toasted almonds
Instructions
In a small dry frying pan toast the almonds until they are just starting to brown and smell fragrant.

Place them in a small bowl and set aside until you're ready to serve.

In the same pan, heat the tablespoon of olive oil and toss with the swiss chard. Heat until the chard is just wilted and set aside.

Put half the amount of pepper sauce in a skillet or deep frying pan and add the cream. Whisk well and bring to the boil.

Cook the pasta according to the package directions and drain. Toss with the sauce to ensure all the pasta is well coated.

Place the pasta in a serving bowl and top with the wilted greens and the toasted almonds.
Recipe Notes
Notes: This pasta would be perfect for adding chicken or prawns.
Nutrition Facts
Tuscan Roasted Red Pepper Pasta
Amount Per Serving
Calories 684
Calories from Fat 270
% Daily Value*
Total Fat 30g 46%
Cholesterol 176mg 59%
Sodium 50mg 2%
Potassium 400mg 11%
Total Carbohydrates 84g 28%
Protein 19g 38%
* Percent Daily Values are based on a 2000 calorie diet.