This honey sesame chicken is an incredible take-out-inspired chicken recipe that's easy and only takes 30 minutes to make. It's oven baked, rather than fried so it's healthy too.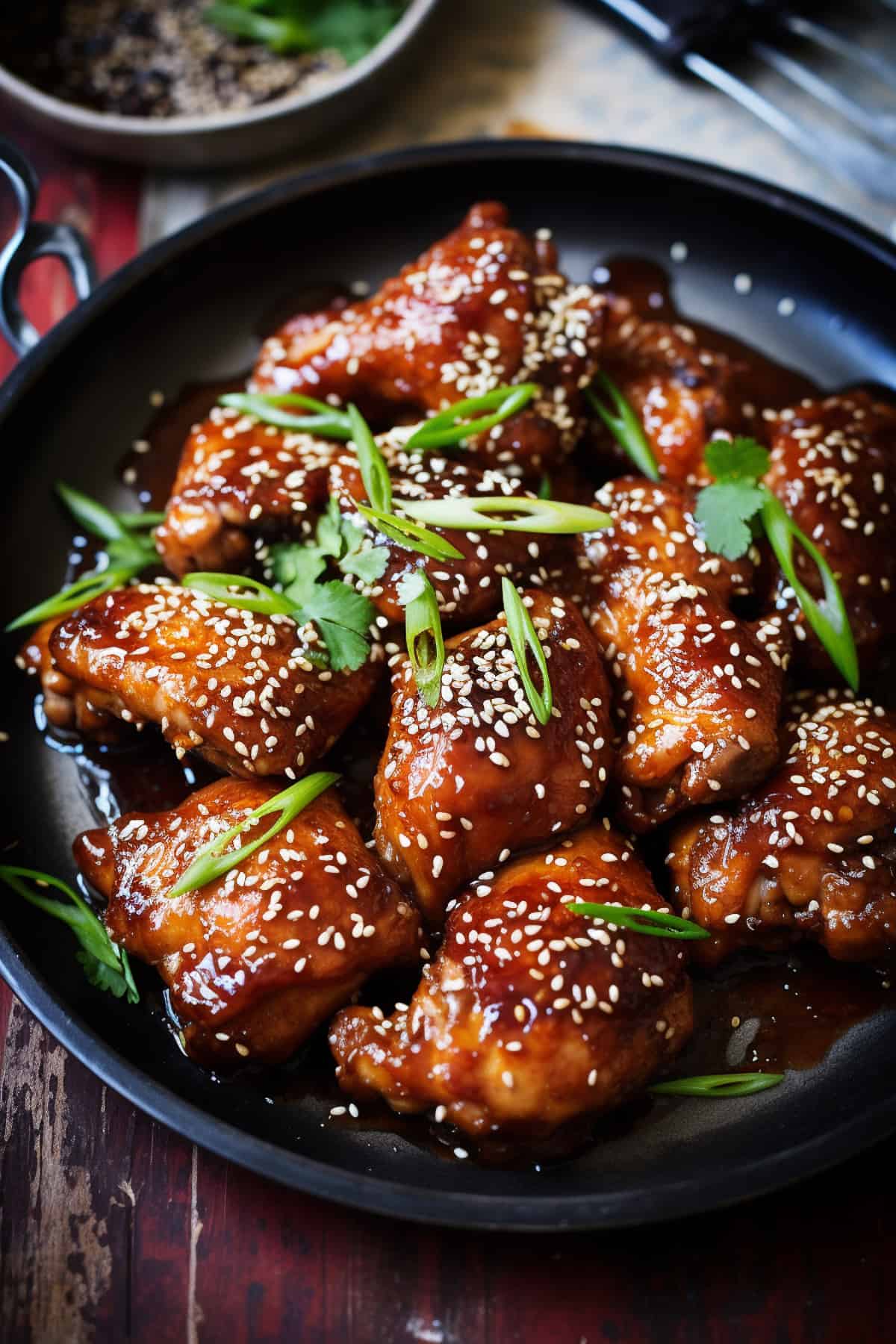 Not only are these crispy chicken thighs juicy but they're coated with a sticky honey glaze that is absolutely irresistible.
If you're looking for more Asian-inspired chicken recipes then you definitely need to check out this spicy Korean chicken, or these honey garlic chicken skewers.
Serve this easy takeout-inspired recipe with my 15-minute cauliflower fried rice or this easy egg fried rice for the ultimate family-friendly dinner.
Jump to:
🧾 Ingredients for Chinese honey chicken
chicken thighs- bone in skin on will give you juicy chicken and will also be very affordable.
honey- good quality honey is really important for this recipe. Be sure that it is pure honey and not mixed with artificial sweeteners.
soy sauce- you can use dark or light soy sauce for this recipe or use tamari if you need to make this gluten free.
aromatics-

garlic- look for plump firm cloves for the best flavour
ginger- use fresh ginger rather than powdered. They have completely different flavors.

sesame oil- be sure to use dark toasted sesame oil for the best flavor.
See recipe card for quantities.
📖 Substitutions & Variations
Protein Substitutions:

Instead of chicken, you can use boneless pork chops, shrimp, tofu, or even cauliflower florets for a vegetarian option. Adjust the cooking time accordingly based on the protein chosen. *shrimp will need significantly less time than pork chops!

Spicy Twist:

If you love a bit of heat, you can add some crushed red pepper flakes or sriracha sauce to the honey sesame sauce. Adjust the amount to your preferred level of spiciness.

Vegetable Additions:

Include some colorful vegetables like bell peppers, carrots, snap peas, or broccoli florets to the dish. Stir-fry them then add to the chicken to create a more well-rounded and nutritious meal.
👩🏻‍🍳 Crispy honey chicken in 3 easy steps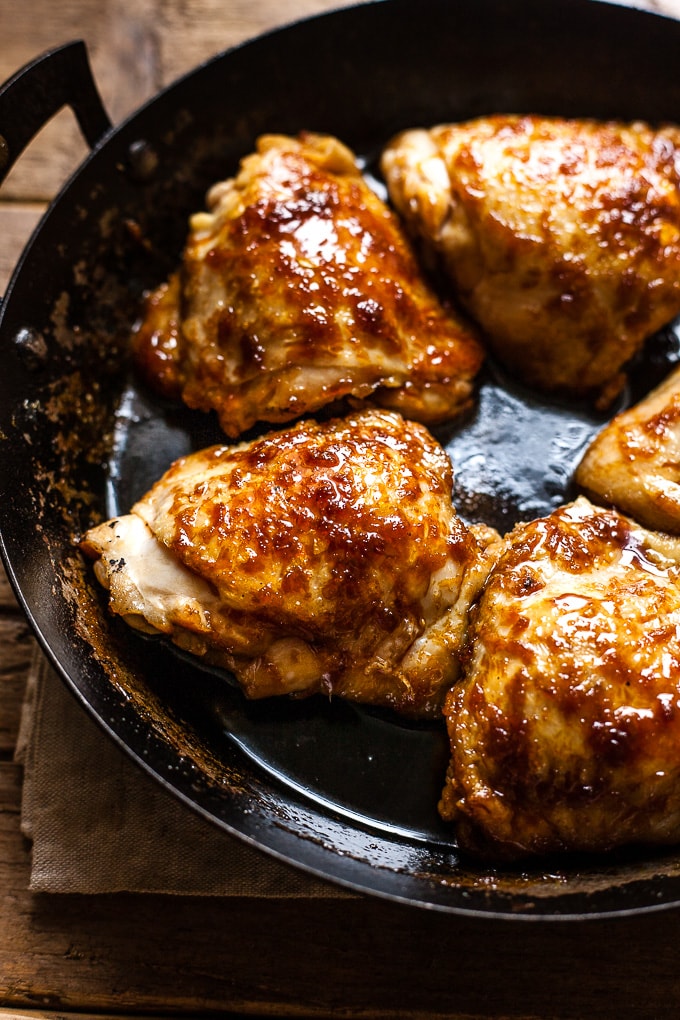 💡 Recipe pro-tips:
Marinate for Flavor: To infuse the chicken with maximum flavor, we're going to marinate it in a sauce that we cook into our sticky honey glaze. Let the chicken marinate for at least 30 minutes or overnight for an even more intense flavor.
Prepare the chicken and marinade:

In a mixing bowl, whisk together a marinade of soy sauce, honey, sesame oil, minced garlic, grated ginger, and any other desired seasonings or spices *chili flakes or sriracha.
Add the chicken thighs to the marinade, ensuring they are well-coated. Let it marinate for at least 30 minutes or refrigerate overnight for more flavor.

Bake the chicken:

Preheat the oven to a moderate temperature (around 375-400°F or 190-200°C). *Remove the chicken from the marinade but reserve don't throw it away. We're going to cook this to make our sauce.
Place the marinated chicken in a high-sided skillet or on a greased or lined baking sheet, leaving space between each piece.
Bake in the preheated oven for approximately 20-25 minutes or until the chicken is cooked through and reaches an internal temperature of 165°F (75°C).

Make the honey sesame sauce and coat the chicken:

In a small saucepan, heat the reserved marinade over low heat. Stir until everything is well combined and the sauce has come to a gentle simmer.
Once the chicken is baked and cooked, remove it from the oven and pour the honey sesame sauce over the crispy chicken thighs. *Be sure each piece is evenly coated.
Allow the chicken to rest for a few minutes to absorb the flavors of the sauce.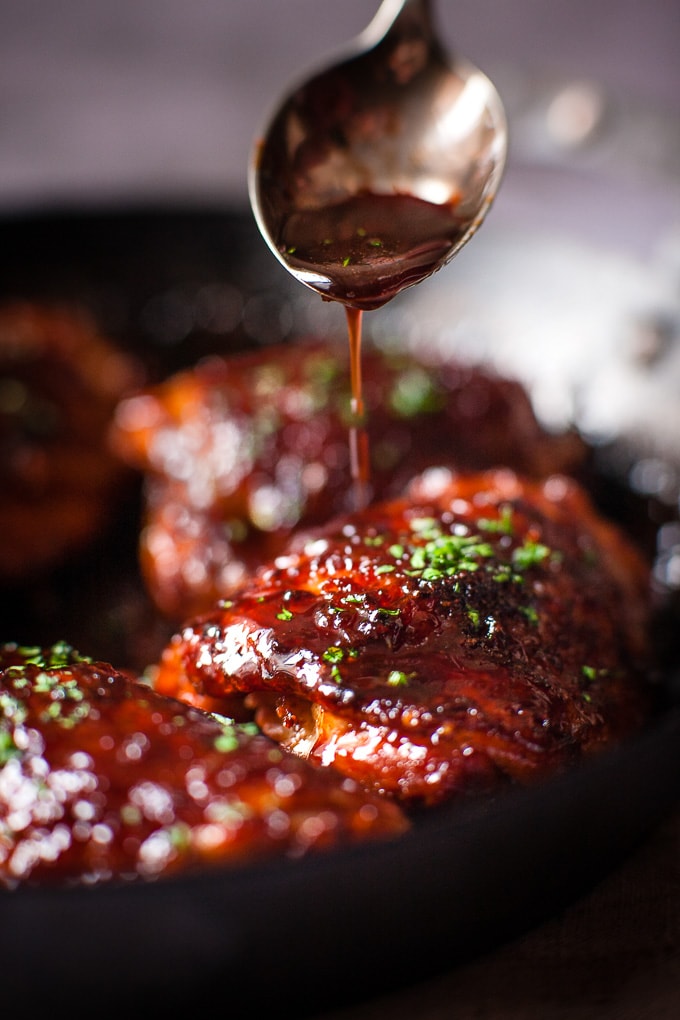 💡 Top Secret Tip: Baste with the marinade during baking
While the chicken is baking, reserve a small portion of the honey sesame marinade.
About halfway through the cooking time, use a brush or spoon to baste the chicken with the reserved marinade.
This will enhance the flavor and help create a beautiful glaze on the chicken as it continues to bake.
Be sure to baste the chicken quickly and return it to the oven to maintain the cooking temperature.
🍯 Storage
Storage:

Allow the baked honey sesame chicken to cool completely.
Transfer the chicken to an airtight container or wrap it tightly with plastic wrap or aluminum foil.
Store the chicken in the refrigerator for up to 3-4 days.

Reheating:

Preheat your oven to a moderate temperature (around 350°F or 175°C).
Place the baked honey sesame chicken on a baking sheet or in an oven-safe dish.
Cover the chicken with foil to prevent it from drying out during reheating.
Bake in the preheated oven for about 10-15 minutes or until the chicken is heated through.
For a quicker reheating option, you can also use the microwave, *you will lose the crispiness. Place the chicken on a microwave-safe plate, cover it with a damp paper towel, and heat in intervals of 30 seconds until thoroughly heated.
❓FAQ
Can I use boneless chicken breast instead of chicken thighs?
Absolutely! Just be sure to adjust the cooking times if necessary to be sure that your chicken breast doesn't dry out while baking.
Can I make honey sesame chicken ahead of time?
It is best enjoyed fresh, but you can mix the marinade ahead of time. You can even make a double batch and freeze it for later or for drizzling over other Asian recipes.
How can I make the dish less sweet?
If you prefer a less sweet version of honey sesame chicken, you can adjust the amount of honey used in the recipe. Start by reducing the quantity of honey slightly and taste the sauce as you go. You can also add a bit more soy sauce or a splash of rice vinegar to balance the flavors. Or add chili flakes for some spice.
If you tried this honey sesame chicken or any other recipe on my website, please let me know in the comments below. I love hearing from you. Also, please leave a star rating whilst you're there!
You can also follow along on Pinterest, Facebook, and Instagram.
More Asian chicken recipes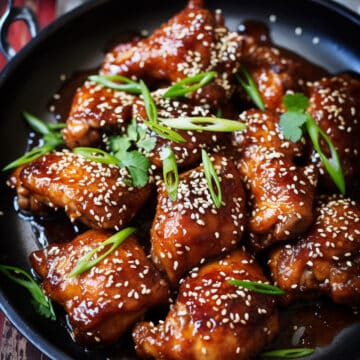 How To Make Perfect Honey Sesame Chicken
This baked honey sesame chicken is an absolute dinner hero with its irresistible combination of tender chicken and sticky honey sesame glaze. An Asian-inspired restaurant quality dinner ready in only 30 minutes.
Print
Pin
Rate
Ingredients
6

chicken thighs

,

bone-in, skin-on *see notes
for honey sesame sauce and marinade
4

cloves

garlic

,

minced

1

tablespoon

fresh ginger

,

minced

⅓

cup

honey

1

tablespoon

sesame oil

⅓

cup

soy sauce

,

light or dark

2

tablespoons

water
Instructions
To make the marinade
Whisk all the marinade ingredients together in a medium mixing bowl. Place the chicken in the bowl and leave to marinate in the sauce for 30 minutes up to overnight.
To bake the honey sesame chicken
When ready to bake the chicken, preheat the oven to 350ºF and remove the thighs from the marinade (reserve the marinade for later) and place in a high-sided skillet or on a parchment paper-lined baking tray. Bake in the preheated oven for about 25-30 minutes until the chicken has reached an internal temperature of 165ºF and the juices run clear.
To make the honey glaze
Serve the chicken with rice and drizzle with the remaining sauce.

While the chicken is baking, pour the reserved marinade into a small saucepan over medium heat and whisk until the sauce comes to a gentle simmer. Continue to simmer until the sauce has reduced into a stick glaze that will run off a spoon. This should only take about 5 minutes. *See notes.
To serve the honey sesame chicken
Once the chicken is baked and your honey glaze is your desired consistency, drizzle the chicken thighs with the sauce, garnish with the sesame seeds, and serve immediately. Serve with rice and greens for the perfect Asian-inspired takeout dish.
Notes
If you accidentally over-reduce the sauce you can add some water a teaspoon at a time until you have the desired consistency.
If your sauce is too thin you can mix 1 teaspoon of cornstarch with 1 tablespoon of water and add that into the sauce and simmer for a minute or two until it has thickened up.
While the chicken is baking you can drizzle some of the reserved sauce over the thighs and return to the oven to continue baking to get the most flavor.
Nutrition info is for one chicken thigh with glaze and does not include rice or greens.
Nutrition
Calories:
348
kcal
|
Carbohydrates:
16
g
|
Protein:
18
g
|
Fat:
23
g
|
Saturated Fat:
5
g
|
Cholesterol:
110
mg
|
Sodium:
88
mg
|
Potassium:
249
mg
|
Sugar:
15
g
|
Vitamin A:
90
IU
|
Vitamin C:
0.7
mg
|
Calcium:
13
mg
|
Iron:
0.9
mg