There's no better way to keep the fall wind at bay than to sit down and cozy up with this nourishing and hearty lightened up creamy chicken rice soup.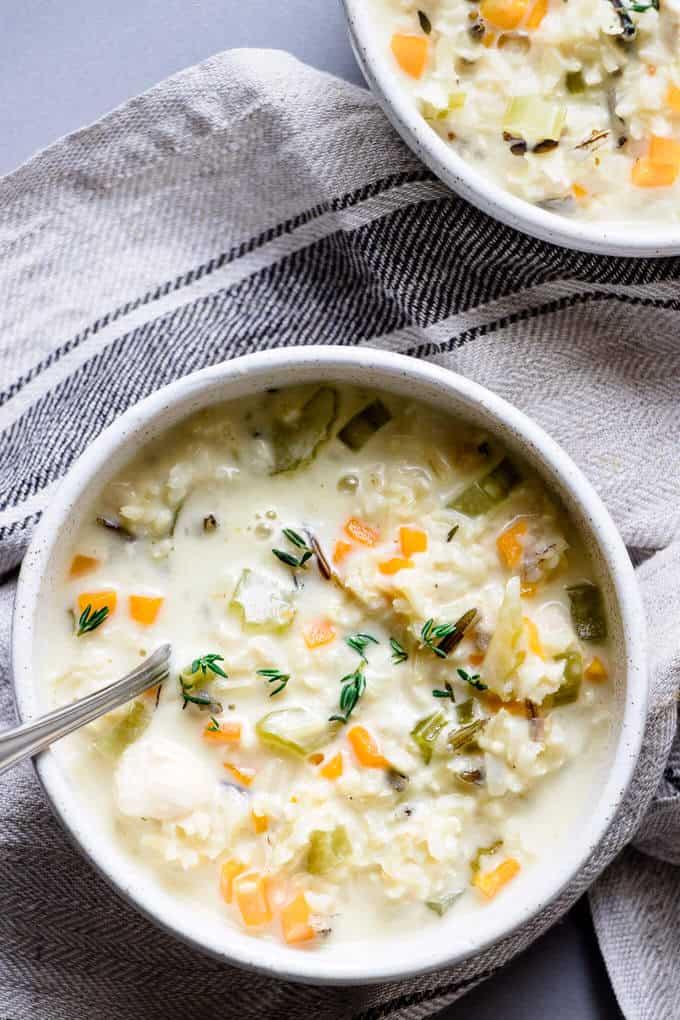 Fall weekends are all about the cozy things. And this chicken rice soup is as cozy as it gets. It's full of hearty vegetables, nourishing brown and wild rice. And lots of chunks of chicken to keep the fall wind at bay.
But how is this lightened up I hear you ask? Well... it's cream free! That's right... that creamy, thick, silky soup is totally cream free. The magic of this lightened up creamy chicken soup is that it's thickened with a cornflour water slurry. ← Slurry is just a fancy word for a thickening agent (cornflour, flour, arrowroot etc.) mixed with water. The ratio of your slurry can vary, but I prefer to have a slurry that's quite thick.
What is a slurry and how does it work?
But here's the deal with thicken with a slurry. You need to let the liquid that you're thickening to come to a full boil for it's maximum thickening potential to be reached. It's not enough to add the slurry and to mix it in. It needs to come to a boil for a few reasons:
Why your lightened up creamy chicken rice soup needs to come to a boil when you thicken:
the cornflour needs to be cooked out properly. There's some pretty crazy science behind all this cooking stuff, but the cornflour actually only needs to come to 83℃ or 181℉, but it would be a bit much for me to say that you should stand at the stove with a temperature probe and wait for your soup. So a full boil makes sure that you've definitely hit that mark.
If the cornflour doesn't hit the 83℃, not only does it not have the proper amount of thickening, your soup can have a claggy texture. A claggy texture is the very opposite of that cozy feeling that we're looking for!
This is a total besides the point, but when you use cornstarch, the soup is amazing for freezing. I tend to find if I try to freeze a cream based soup, they're never as good, once defrosted.
With the thickening coming from the starch in this soup, milk is used for the dairy portion. Now, in our house we buy 2% (semi skimmed) milk. But, if you would prefer a richer texture then you can use whole milk. With the starch from the rice, and the thickening of the soup, I personally wouldn't waste my calories on whole milk or cream. I'd rather have dessert!
Lightened Up Creamy Chicken Rice Soup
There's no better way to keep the fall wind at bay than to sit down and cozy up with this nourishing and hearty lightened up creamy chicken rice soup.
Print
Pin
Rate
Ingredients
2

boneless skinless chicken breasts

chopped

2

shallots

diced

2

carrot sticks

diced

2

ribs celery

diced

2

cloves

garlic

minced

1

tablespoon

olive oil

2

fresh bay leaves

3

sprigs thyme

1

cup

brown and wild rice mix

1.5

litres chicken broth

500

ml

milk

2

tablespoon

cornflour

2

tablespoon

water
Instructions
Directions

In a large heavy sauce pan heat the oil over a medium heat.

Add the shallots, carrots, celery and garlic.

Sweat the vegetables off for a few minutes until they are soft and the shallots are translucent.

Add the chicken, rice, bay leaves, 2 sprigs of thyme leaves and the chicken broth.

Bring to broth to the boil and reduce to a simmer.

Cook covered for about 20-25 minutes until the rice is cooked.

Add the milk and bring to the boil again.

Mix the cornflour with the water and add to the soup pot.

Bring to the boil for a minute.

Save the last sprig of thyme to garnish the soup bowls.

Serve with warm crusty bread and a large salad.

Makes 2 litres about 8 portions.
Nutrition
Calories:
193
kcal
|
Carbohydrates:
26
g
|
Protein:
10
g
|
Fat:
5
g
|
Saturated Fat:
1
g
|
Cholesterol:
24
mg
|
Sodium:
80
mg
|
Potassium:
346
mg
|
Fiber:
1
g
|
Sugar:
4
g
|
Vitamin A:
2720
IU
|
Vitamin C:
2.9
mg
|
Calcium:
94
mg
|
Iron:
0.7
mg