How To Make Bone Broth. This is a 5 step guide to getting the best from your broth and some of the main health benefits.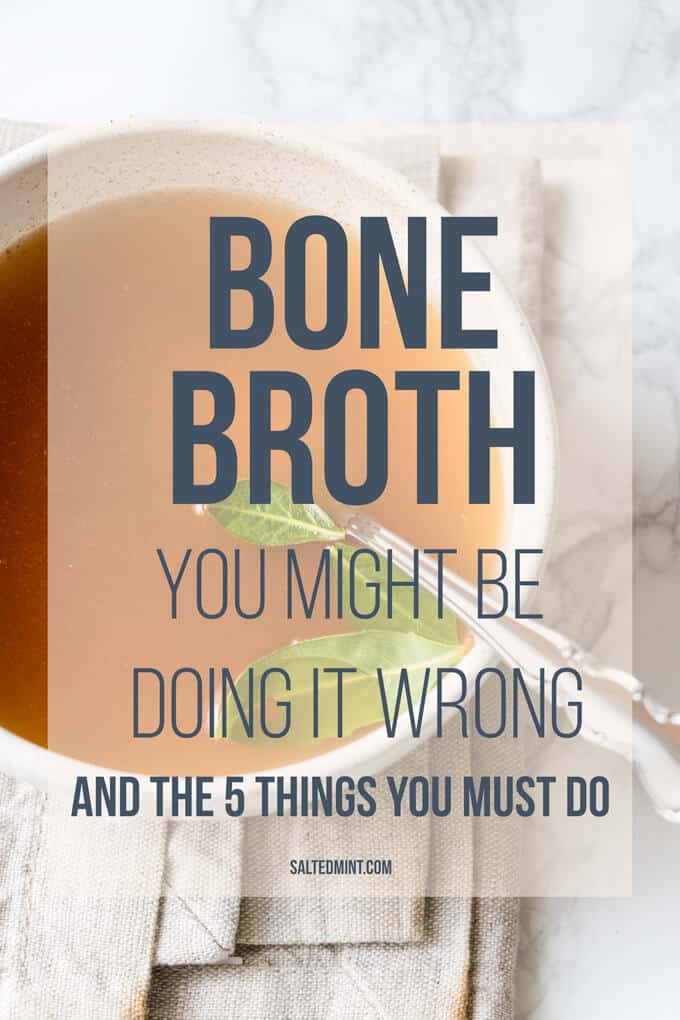 Bone broth has long been the darling of the health food world. And has even longer graced the kitchens of everyday people for thousands of years. With good reason. People have been making bone broth since we've had fire. Bone broth is full of amino acids, collagen, gelatine and trace minerals. It's touted as doing wonders for gut health, and is a bolster to the immune system. So with winter, and cold and flu season approaching, it's time you learn to master the simple process of how to make bone broth at home.
Bone broth is a simple thing to make. It is essentially soup after all. But there are a few important steps to follow. That can mean the difference between stellar bone broth or dish water style bone broth.
So What Is Bone Broth?
Bone broth is essentially soup. However, it's a soup that is loaded with health benefits and can help heal some chronic syndromes like leaky gut. It's widely known for improving joint health and boosting your immune system. Bone broth is the stock that is produced by boiling animal bones and water (with a splash of apple cider vinegar for a long period of time. Not only is bone broth simple to make, but it is also really cheap. Homemade bone broth is much better flavour and health wise than commercially available broths. You can order the bones online. Or you can ask your butcher for the marrow bones of the beef and often they'll give them away for free. In the UK, butchers are charged for disposal of bones.
How To Make Bone Broth In 5 Simple Steps
Not any bones will do to make bone broth. You need to use the marrow bones of beef. Preferably these marrow bones are from grass fed organic cows. They have all the gelatinous marrow in the centre of the bones. Marrow is the substance that lays claim to aiding in gut health and cold and flu fighting anti bodies. But, if you're not doing the five steps listed below, you're not enjoying the best possible bone broth
Blanch the bones first.

While the bones have loads of gelatinous goodness in them, they'll also have some bits that will be slightly unpleasant. Some of the bones may have quite a bit of blood and veins clinging on. This is no cause for alarm, but if you don't blanch the bones first you may end up with a bitter and metallic tasting stock.

Roast the bones.

Once you've blanched them for about 20 minutes, roast the bones with some carrots in a very hot oven. The roasting adds depth of flavour and will give you a stock that is a deep rich dark brown rather than an insipid beige from non-roasted bones. When you make a chicken based broth if you don't roast the bones first that is referred to as a white stock. When the bones are roasted it's a brown chicken stock. On the matter of roasting, you want to roast the bones as far as you can without burning them. This will give the most in-depth flavour.

Be careful what you add.

Bone broth can be made in the most puritanical way with nothing but the bones and water. Or, you can add aromatics and build a more complex broth that will form the perfect base to anything you add it to. And will make drinking a cup a day much more palatable. The perfect place to start is with some peppercorns, bay leaves, thyme sprigs and some carrot. You can add a celery and onions to form a traditional mire poi mix. The carrots will add some sweetness that lift the deep richness of the broth. This isn't necessarily a bad thing, just know that it will happen. I usually prefer to add the carrots and celery and have a deep, rich umami flavoured broth with lots of flavour notes. *side note. I skip the onion because it's toxic to dogs and we ALL enjoy the benefits of bone broth in our house.

Pass that broth like it's liquid gold.

The bones you use will likely have bits of meat on them and the impurities in the bones will rise to the surface. Be sure to skim the foam that gathers and floats on the top of the broth. Once your stock is cooked (see note below) use a slotted spoon or a spider to get all the large pieces of bone and vegetables out, if you used them. Gently strain the broth through a muslin cloth or a clean damp jay cloth. Pour the broth gently and slowly. This minimises the disturbance and helps to keep the broth clear.

Cool the broth down quickly.

Hot broth can be a breeding ground for bacteria. Not the healthy gut friendly stuff, but nasty bacteria than can make you sick. Very sick. So, the broth needs to be cooled as quickly and efficiently as you can. In a bowl over ice is a great way to cool it quickly. Or you can add cooler ice packs and dig them out of the broth once it's been cooled.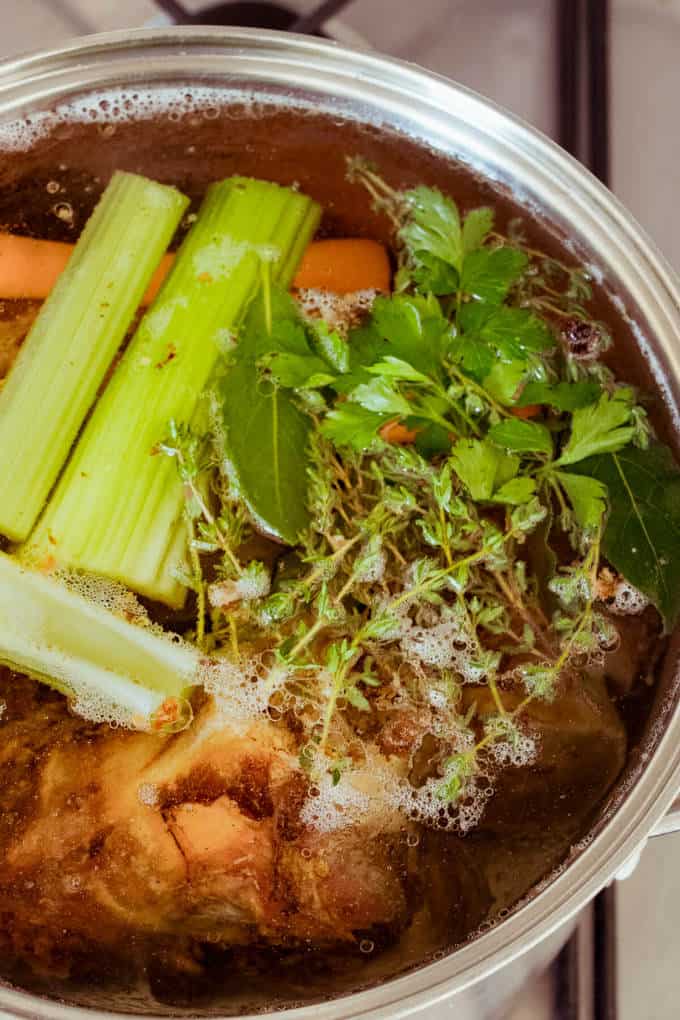 How Long Does Bone Broth Really Take To Make?
So the question of how long it takes to make bone broth is variable. But whatever the case, you can be settled on at least 12 hours. But have no fear. These hours are mostly passive hours. You can leave your pot of broth ticking over on the stove overnight. The roasting of the bones only takes about 40 minutes. Then you need to get the bones in a pot and cover with cold water. Bring this up to the boil. Turn down to simmer and leave for anywhere from 12 to 36 hours. That may seem an extraordinary amount of time, but beef bones are so dense. There's so much marrow that it does take a long time for all of the nutrients and minerals to be pulled out of the bones.
The best way to make sure that you don't get caught out and miss out on the time to make your own broth is by making a meal plan and you can start with a meal planner and making sure that you order your bones with sufficient time to make sure that you'll be home during simmer time.
Some Of The Health Benefits Of Making Bone Broth
So not only can bone broth help ease the common cold and boost the immune system, but it can help protect joints.
It's one of the best sources of natural collagen which is a natural lubricant for joints. This collagen is also partly responsible for healthy skin. You can ditch the pricey face creams that are full of collagen and you can introduce bone broth into your diet.
Bone broth has over 19 essential and non-essential amino acids which are the building blocks of protein.
The collagen/gellatine combo help to support the form connective tissue.
It's packed with nutrients to support gut health and brain health.
So, with bone broth so easy and cheap to make and with all it's benefits, it's a no brainer to make it part of your everyday diet. Any recipe that uses a stock or stock cube would be the perfect recipe to get started using bone broth in everyday use.
To store it, you should cool the broth as quickly as possible. Once the broth has set to a jelly, divide it between containers and freeze, pulling out what you need when you need it.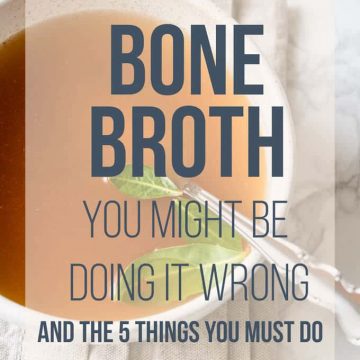 Bone Broth
How To Make Bone Broth. A 5 step guide to getting the best from your broth and some of the main health benefits.
Print
Pin
Rate
Ingredients
1

kg

marrow bones

3

heads of celery

2

carrots

1

bunch parsley

1

tablespoon

apple cider vinegar

6

peppercorns
Instructions
Bring a large pot of water to the boil and blanch the bones for 5 minutes.

Drain from the pot and pat dry with a paper towel.

Heat the oven to 375f or 180c.

Place the bones in a roasting tray and roast in the oven for about 30 minutes or until dark and golden.

Once the bones are roasted place in a tall heavy pot and cover the bones with cold water.

Add the aromatics and place the pot on the heat and bring to the boil.

Once the stock has boiled, skim any froth from the top of the stock and turn the heat down to minimum.

Leave to simmer for at least 12 hours and unto 24 hours.

Top up the pot with cold water if the bones become uncovered by liquid.

After the boiling time, use a slotted spoon or tongs to remove the bones from the liquid pass the broth through a clean cloth or some muslin.

Cool the broth quickly and leave to set.

Divide into containers and freeze.

Use in any recipe that requires stock and drink as you wish.

Makes approx. 6 litres.
Nutrition
Calories:
248
kcal
|
Carbohydrates:
2
g
|
Protein:
2
g
|
Fat:
25
g
|
Sodium:
30
mg
|
Potassium:
117
mg
|
Sugar:
1
g
|
Vitamin A:
3575
IU
|
Vitamin C:
2.1
mg
|
Calcium:
15
mg
|
Iron:
1.5
mg