Hey Friends! Happy Wednesday! First things first. I really need to talk up this soup. This soup being the Vegan 15 Minute Watercress Soup. Whoa. It's soooo simple and so truly amazing! It's a thick nourishing soup loaded with peppery greens and creamy potatoes. And completely vegan.
Now, it's not a huge departure from what we normally do here at Salted Mint. But, it is a little off the beaten path. Firstly, the cost of making this soup will be literally pennies per bowl. Secondly, mid-week time saver. Ummmm, yes please! Thirdly, superfoods dinner. You betcha. So already, before we even talk about the smooth creaminess of this, soup, or the peppery fresh flavour, or the fact that it's super rich in iron and vitamins. We're already winning.
Not too shabby for 15 minutes on a mid week cooking sesh, no? Now, let's be clear, the idea for this soup came about because as we wait for Christmas all the treats and nibbles and drinks with friends we need something super nutritious to set us up for the celebrations ahead. I thought that we needed something that uses one of those "in-between season" kinds of vegetables. Except that watercress needs more respect than to be thought of as "in-between" anything.
These little deep green leaves are where flavour lives. Flavour not only lives in these leaves, it throws a party and invites it's friends. These little green gems are packed with peppery, almost lemony flavour. And when they get a little help from some onion and celery, they really come alive. When I made this soup, there was the need for soul satisfying thickness. 'Cause isn't that always the need with a soup? So instead of cream, I used baby new potatoes. That's right people. We're hitting all the seasonal veg right now.
Other than watercress love going on, it's pretty quite 'round here for a Wednesday. Maybe that's cause I'm contemplating a million other watercress recipes right now and wondering if I could just start to dedicate a whole website to this humble green leaf.... okay, maybe not. But, this soup is that good, that you'll be wondering how you're going to get it in at every meal.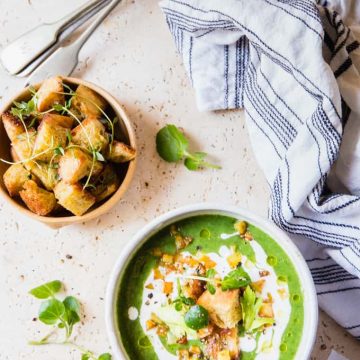 15 Minute Watercress Soup
Vegan 15 Minute Watercress Soup. It's a thick nourishing soup loaded with peppery greens and creamy potatoes. And completely vegan.
Print
Pin
Rate
Ingredients
Ingredients

For the soup

200

g

watercress

4

small potatoes

750

ml

veggie stock

2

stalks of celery

2

cloves

garlic

1

small onion

1

sprig of thyme
For garnish
small potato dice pan fried

croutons

lemon pepper vegan yogurt
Instructions
Instructions

Heat 1 tablespoon of oil in a medium sized pot.

Sauté the onion and garlic together.

Add the celery and thyme and heat for 1 minute.

Add the stock and bring to the boil.

Add the watercress to the stock and boil for 2 minutes.

Place the liquid in a blender and blitz until it is a smooth creamy soup.

Fry the potato cubes in a frying pan until golden and cooked through.

Place the soup in bowls and garnish with potatoes, croutons and vegan yogurt.
Nutrition
Calories:
195
kcal
|
Carbohydrates:
43
g
|
Protein:
6
g
|
Sodium:
800
mg
|
Potassium:
1153
mg
|
Fiber:
5
g
|
Sugar:
4
g
|
Vitamin A:
2085
IU
|
Vitamin C:
67
mg
|
Calcium:
103
mg
|
Iron:
1.8
mg