Bold, flavorful, and bursting with delicious textures, this sweet potato curry soup is a delectable fusion of Indian and Thai flavors. Ready in just under an hour, this is the perfect soup to warm your belly on a chilly day. The rich and creamy curry with bites of soft sweet potato and the added sweet zing of coconut milk will have you going for seconds.
If you're a fan of chunky, texture-rich soups, you might want to check out my hearty tortellini vegetable soup as well. And if you want more sweet potato recipes you need this sweet potato and red lentil dhal or this spicy sweet potato soup.
Curry: A Fusion of Flavors from India and Thailand
Curry, with its origins in South Asia, has many variations, including yellow, red, and green, which are popular in Thai cuisine. Yellow curry is sweet and mild, red is hotter due to red chilies, while green curry, made with green chilies, is fresh and aromatic.
Indian curry often has a deeper flavor due to longer cooking times, while Thai curry is lighter and has a pronounced coconut milk base.
Our Sweet Potato Curry Soup beautifully blends the depth of Indian curry with the lightness of Thai curry, creating a globally-inspired dish that's sure to delight.
Make your own curry paste with my easy recipes: red Thai curry paste, green Thai curry paste, yellow Thai curry paste.
Jump to:
⭐️ Why You'll Love This Sweet Potato Soup
Unforgettable flavor: The sweetness of the potatoes pairs beautifully with the richness of curry and coconut milk.
Hearty and filling: Loaded with chunks of sweet potato and other vegetables, it's a meal in itself.
Flexible and versatile: This recipe can be easily adapted to suit your taste or dietary needs.
Nutritious: Packed with vitamins and fiber, this soup is as healthy as it is delicious.
🧾 Ingredients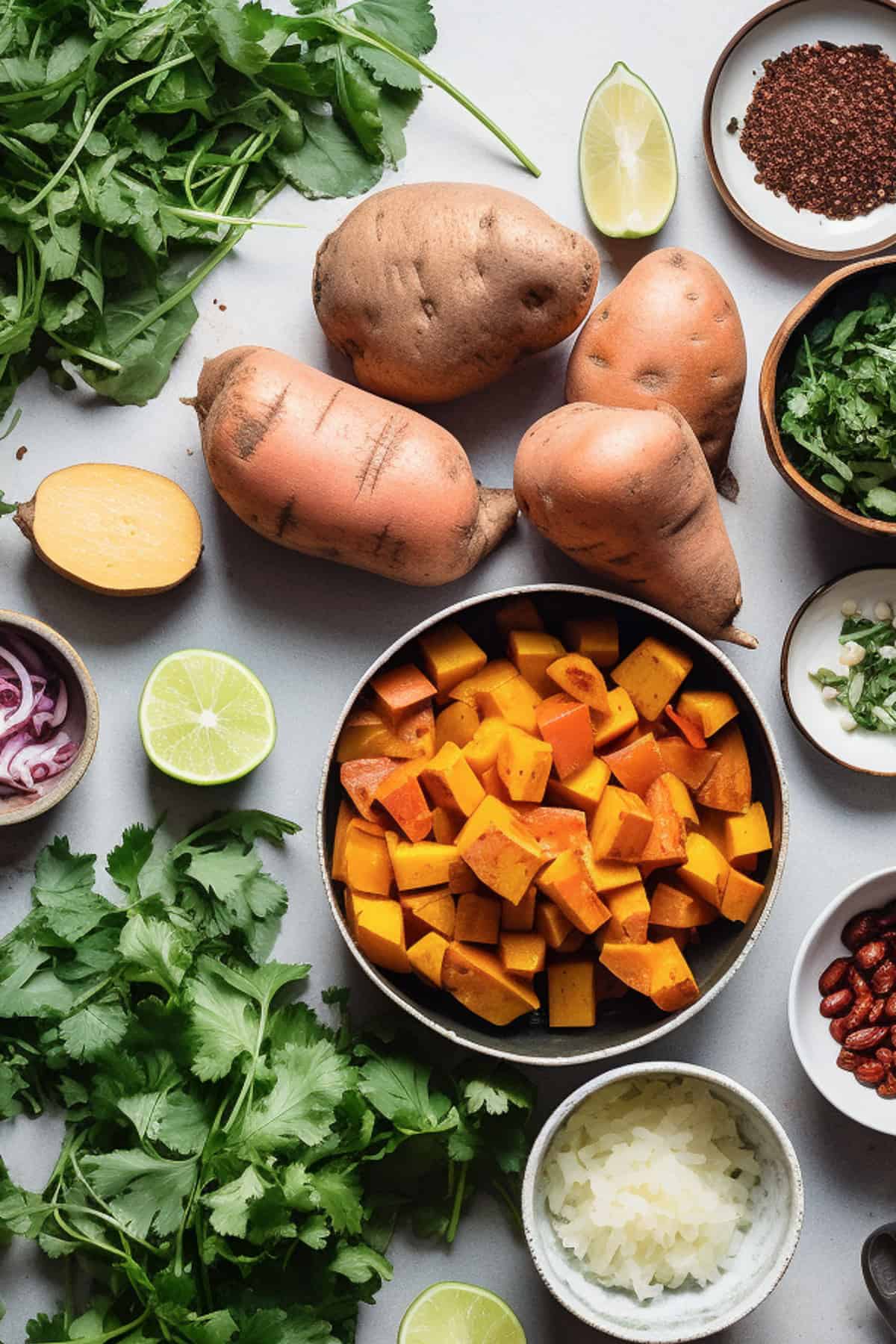 Sweet potatoes: These are the star of the dish, providing a sweet contrast to the spicy curry.
Curry powder: This adds a depth of flavor and a beautiful golden color to the soup.
Coconut milk: Adds a creamy, rich texture to the soup and complements the spicy curry perfectly.
Chickpeas: They add texture and plant-based protein to the soup, making it more filling.
Vegetable or chicken broth: This forms the base of the soup, adding depth and flavor.
Onion and garlic: These form the aromatic base of the soup.
Spices: A blend of cumin, garam masala, cayenne pepper, and ground turmeric adds a beautiful depth of flavor.
See recipe card for quantities.
📖 Substitutions & Variations
Feel free to experiment and make this sweet potato curry soup your own. Here are a few ideas:
More Veggies: Consider adding kale, spinach, or bell peppers for an additional burst of nutrition and color.
Spice It Up: Adjust the quantity of curry powder or other spices to make the soup milder or spicier, based on your preference.
👩🏻‍🍳 Step By Step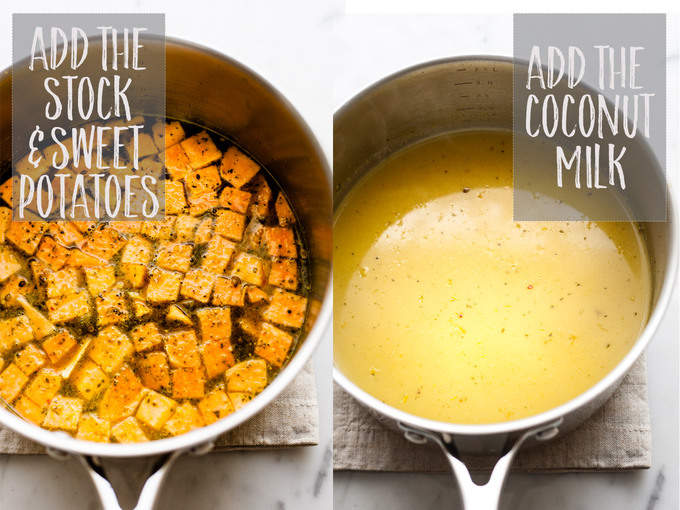 Start by heating some olive oil in a large pot. Add the onions and garlic, cooking until soft and fragrant. For an extra depth of flavor, caramelize the onions until they turn a deep golden brown.
Add the sweet potatoes and spices to the pot, ensuring the potatoes are thoroughly coated in the spices.
Pour in the coconut milk and broth, bringing the soup to a boil. Reduce the heat, allowing it to simmer until the sweet potatoes become tender.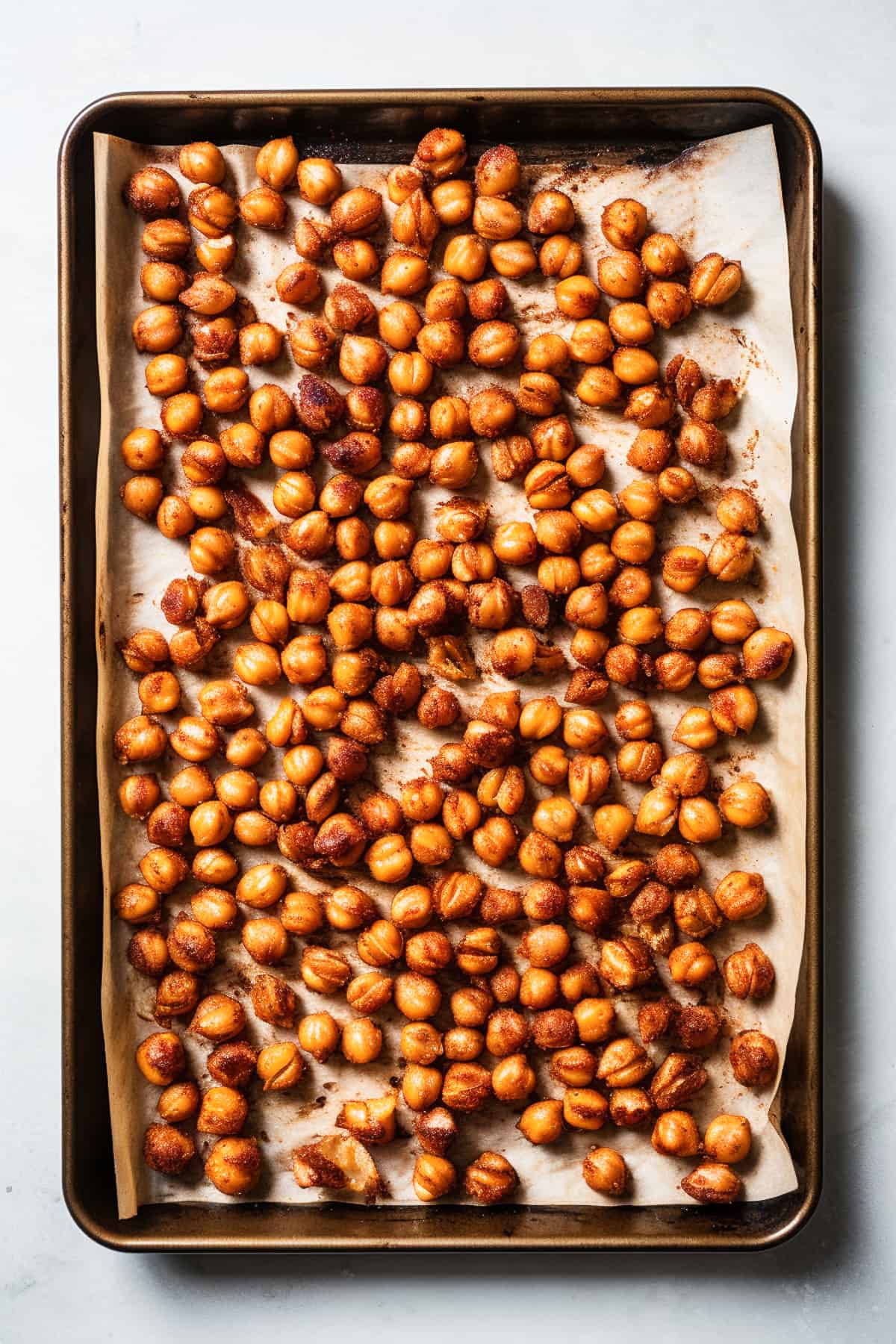 While the soup simmers, prepare the chickpea garnish. Mix the chickpeas in olive oil and spices, spread them on a baking sheet, and bake until crispy.
Once the sweet potatoes are tender, it's time to season the soup to taste. If you prefer a thinner consistency, add more broth.
Serve this hearty soup with soft and fluffy naan bread for the perfect lunch or dinner.
Hint: Make sure to cut the sweet potatoes into evenly sized pieces to ensure they all cook at the same time.
🍯 Storage
Fridge: Leftover soup can be stored in the refrigerator for up to 5 days.
Freezer: This soup freezes well. Let it cool completely before transferring to freezer-safe containers. It can be frozen for up to 3 months.
Reheat: Reheat the soup in a saucepan over medium heat, adding a bit of broth or water if needed to thin it out.
💡 Top tip
Share something here that you think is key to making this recipe well, such as: Don't overcook the burgers! Sear the outside and cook to a minimum internal temperature, but they should still be juicy for best results.
❓FAQ
Can I use chicken broth instead of vegetable broth?
Yes, you can substitute vegetable broth with chicken broth if you prefer.
Can I make this soup in a slow cooker?
Yes, you can. Follow the same instructions, but let the soup cook on low for 6-8 hours or on high for 3-4 hours.
Can I use regular potatoes instead of sweet potatoes?
Yes, but keep in mind that this will change the flavor profile of the soup. Regular potatoes are less sweet and more starchy.
Your sweet potato curry soup is ready to serve and enjoy! It's perfect for those chilly evenings when you want a hearty, comforting, and healthy meal. If you make this recipe, I'd love to hear what you think. And if you're in the mood for more comforting soup recipes, check out more soup recipes below.
Bread for Soup
These bread and cracker recipes go perfectly with this easy and hearty sweet potato soup.
More Hearty Soup Recipes
If you tried this Recipe or any other recipe on my website, please let me know in the comments below. I love hearing from you. Also, please leave a star rating whilst you're there!
You can also follow along on Pinterest, Facebook, and Instagram!
You can also find weekly meal plans and budget recipes over on our sister site Savvy Bites.
Easy Sweet Potato Curry Soup
Dive into a bowl of this hearty, flavorful Sweet Potato Curry Soup. A harmony of sweet potatoes, aromatic spices, and creamy coconut milk, it's a perfect comfort meal for any day.
Print
Pin
Rate
Ingredients
1

pound

of sweet potatoes

peeled and cubed

2

tablespoons

of curry powder

1

can

13.5 ounces of coconut milk

1

can

15 ounces of chickpeas, drained and rinsed

1

quart

of vegetable or chicken broth

1

medium onion

finely chopped

2

cloves

of garlic

minced

1

teaspoon

each of ground cumin

garam masala, cayenne pepper, and ground turmeric

Salt to taste

Olive oil for sautéing and roasting chickpeas
Instructions
Preparation:
Preheat your oven to 400 degrees Fahrenheit for the chickpea garnish. Prepare a baking sheet with parchment paper.
Cooking:
Heat a couple of tablespoons of olive oil in a large pot over medium heat. Add the chopped onions and minced garlic, sauté until they turn soft and golden brown.

Add the sweet potatoes to the pot along with the curry powder, ground cumin, garam masala, cayenne pepper, and ground turmeric. Stir until the sweet potatoes are well coated with the spices.

Pour in the coconut milk and broth. Increase the heat and bring the mixture to a boil. Once boiling, reduce the heat and let it simmer for approximately 30 minutes, or until the sweet potatoes are tender.

While the soup is simmering, prepare the chickpea garnish. Toss the chickpeas in a tablespoon of olive oil, and a pinch each of cayenne pepper, cumin, and salt. Spread them evenly on the prepared baking sheet and bake for 15-20 minutes, or until they're crispy and golden brown.

Once the sweet potatoes are tender, season the soup with salt to taste. If you prefer a thinner soup, you can add more broth or water.
Serving:
Divide the soup between bowls and top with roasted chickpeas. Serve with fluffy homemade naan bread for a healthy and hearty lunch of dinner.
Notes
Make sure to cut the sweet potatoes into evenly sized pieces for uniform cooking.
The roasted chickpeas are not just a garnish; they add a satisfying crunch and extra protein.
Do taste and adjust the seasonings as you cook. The flavors will deepen as the soup simmers, so start with less and add more if required.
The leftover soup can be refrigerated for up to 5 days, or frozen for up to 3 months.
You might need to add a little water or broth when reheating to reach your desired consistency.
Nutrition
Calories:
133
kcal
|
Carbohydrates:
31
g
|
Protein:
2
g
|
Fat:
1
g
|
Saturated Fat:
0.2
g
|
Polyunsaturated Fat:
0.1
g
|
Monounsaturated Fat:
0.2
g
|
Sodium:
1012
mg
|
Potassium:
469
mg
|
Fiber:
5
g
|
Sugar:
8
g
|
Vitamin A:
16622
IU
|
Vitamin C:
5
mg
|
Calcium:
55
mg
|
Iron:
2
mg