Simple homemade flatbread crackers. Topped with seeds and spices for flavour and texture. Perfect for cheese and dips or as a hostess gift
Okay. Let's get this all out on the table shall we? The idea of making crackers at home, has never really crossed my mind. <- Ugh. It did cross my mind, but it never really felt urgent. So I never did it. It felt like a total luxury to be at home and make something as fancy as crackers. That is until I made them at home. Then our whole house was like... 'hey... why don't we make crackers at home?"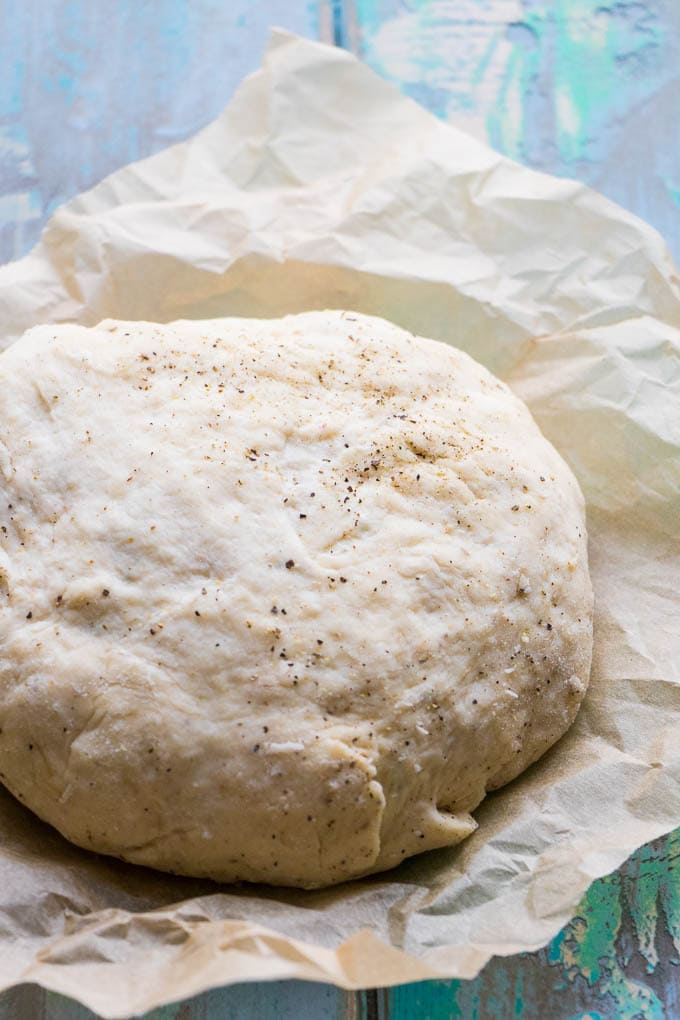 And in the spirit of total honesty, I had so much fun making crackers!!!! Just when my sophisticated foodie self was starting to think that we were so over the simple things, bam, she was smacked down by my cracker-making-simple-self. These simple flatbread crackers are gonna be a new staple in your house. They go with cheese and wine <- see? Fancy. They also are versatile enough to work like a chip and happen to love a bit of dip. <- Simple.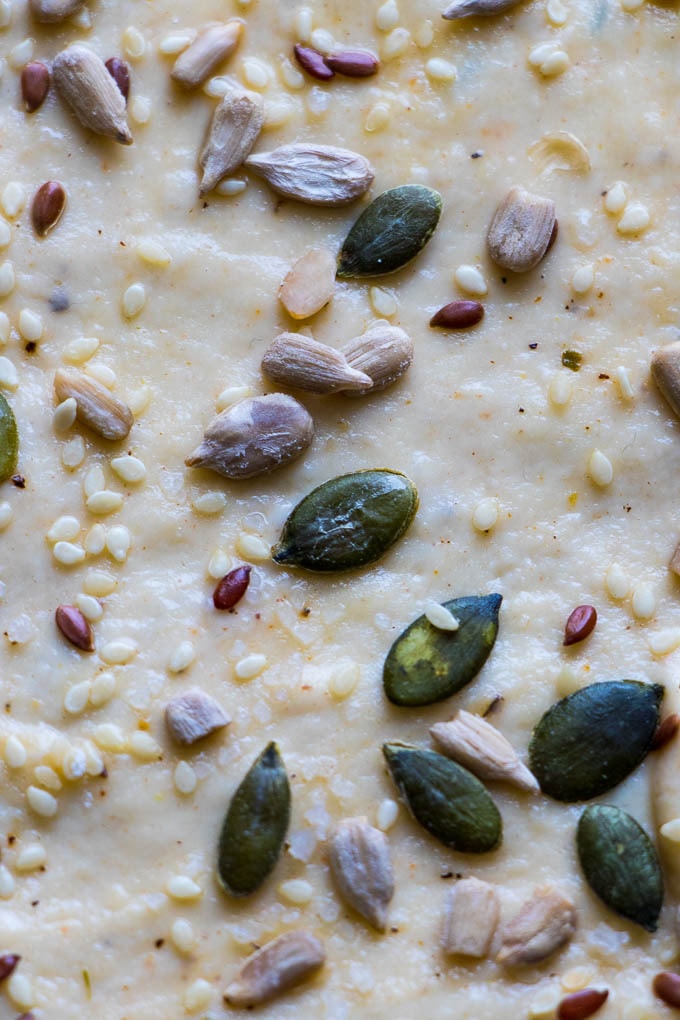 The combinations that you can create with these crackers is kinda their secret weapon. All you need to do is dig around in your spice cabinet and find various mixed seeds and herbs and experiment. I split the dough into 4 and rolled each portion out and topped with a different seed/spice combo. However, the whole mix did get a very liberal dose of cracked black pepper and a pinch of cayenne.
If you happen to know this Green Goddess Soup , then you may have also noticed a very seeded and delicious looking stack flatbread crackers that snuggled up along side that bowl of soup. Well, a reader asked what the recipe was. So, confession is that they were store bought. But, once someone asked for a cracker recipe I had to make it happen. These are so easy to make, and bake in about 15 minutes. You could cook them a little longer if you fancy a darker cracker, but I found 15 minutes to be the sweet spot for these. They come out with those dark golden spots and are crispy, but not super crunchy. Simple good food.
*As a note, they crisp up further once you take them out of the oven and let them cool.
easy home made flatbread crackers
Homemade seeded crackers are the super fast healthy alternative to store bought.
Print
Pin
Rate
Ingredients
200

g

flour

1

teaspoon

salt

1

teaspoon

sugar

3

leaves

sprigs fresh thyme

2

teaspoon

cracked black pepper

large pinch cayenne pepper

125

ml

water

2

tablespoon

olive oil

za'atar fennel seeds

, mixed seeds, onion seeds, caraway seeds for topping.
Instructions
Pre-heat the oven to 200c.

In the bowl of a stand mixer place all the dry ingredients.

Mix the water and olive oil.

Using the paddle, add the water and oil to the flour while mixing.

Once the dough comes together, form it into a square.

Cut the square into 4 blocks.

Roll the dough out to your desired thickness.

Brush with the beaten egg and top with your desired accessories.

Prick all the crackers with a fork so they don't puff up too much.

Bake in the oven until they are golden and starting to crisp up.

Remove from the oven when they're done and cut them into squares, triangles, or both.

They will continue to crisp as they cool.

Makes about 50 crackers.
Nutrition
Calories:
100
kcal
|
Carbohydrates:
16
g
|
Protein:
2
g
|
Fat:
3
g
|
Sodium:
233
mg
|
Potassium:
26
mg
|
Vitamin A:
15
IU
|
Vitamin C:
0.5
mg
|
Calcium:
6
mg
|
Iron:
1
mg