Learn the art of creating the perfect holiday cheeseboard for effortless hosting. Perfect for any occasion from Thanksgiving to Christmas and Easter. This guide simplifies creating an elegant cheese platter, delighting guests and ensuring stress-free celebrations for any group size.
Enhance your holiday table with this festive (and easy) cheeseboard and dips guide, featuring homemade crackers, this lemon and roasted garlic spinach dip, this white bean dip or this easy green pea hummus recipe.
Jump to:
⭐️ Why you need a cheeseboard this holiday season
Quick and Elegant Cheeseboard Ideas: Easily assemble a stunning spread, allowing more time to enjoy the festivities.
Encourages socializing: Acts as a focal point for guests to gather and interact.
Versatile Celebration Centerpiece: Ideal for any holiday event, from Thanksgiving to New Year's Eve.
Simple Sophistication: Adds elegance with minimal effort, perfect for impressing guests.
Pleases every palate: Offers something for everyone with its variety of flavors and pairings.
👩🏻‍🍳 How many cheeses should you serve?
Before you shop for cheese and accompaniments you need to ask yourself a few questions.
Is this board part of a larger gathering, ie a cheeseboard after dinner?
Or is this the main event?
Is this party in the evening where people won't be eating again, or is this afternoon and people will go on to have dinner later?
Follow this cheeseboard serving size guide for the perfect amount per guest:
1 ounce of each cheese for every guest and about five types of cheese.
For a party in which cheese is the main event, plan on buying 3 pounds for eight people, 6 pounds for 16 people, or 9 pounds for 24 people.
If cheese is one of many served items, buy 3 to 4 ounces per person.
It's really easy to overload your cheeseboard with lots of different varieties but stick to between three and five really big chunks. There's nothing worse than having a slice of cheese that's not big enough to go around.
🧾Best cheeses for a cheese board
Once you've decided how much cheese you need, you can choose what cheeses to include. They are often grouped by type of milk, texture, age, country of origin, flavor and preparation.
Textures range from soft to firm (hard), while flavours range from mild to extra sharp. Some cheeses are fresh and meant to be eaten right away, while others can be aged for months or even years.
These are the main categories of cheese:
Blue cheeses: marbled blue jack, gorgonzola, cabrales, stilton and Danish blue.
Soft cheeses: goat's cheese, feta, burrata, stracchino, ricotta, neufchatel and queso blanco.
Soft-ripened cheeses: brie and camembert.
Semi-hard cheeses: fontina, gouda, muenster, butterkäse, cheddar, colby, edam, emmental, gruyere, jarlsberg, manchego, gruyère, comté and Monterey Jack.
Hard cheeses: Parmigiano Reggiano, pecorino, beaufort, manchego.
*To create the perfect cheeseboard, pick at least one from each category and 2 from your favorite.
*My Personal cheeseboard would be gorgonzola, goat's cheese, brie (triple creme if possible), gouda, cheddar, and manchego.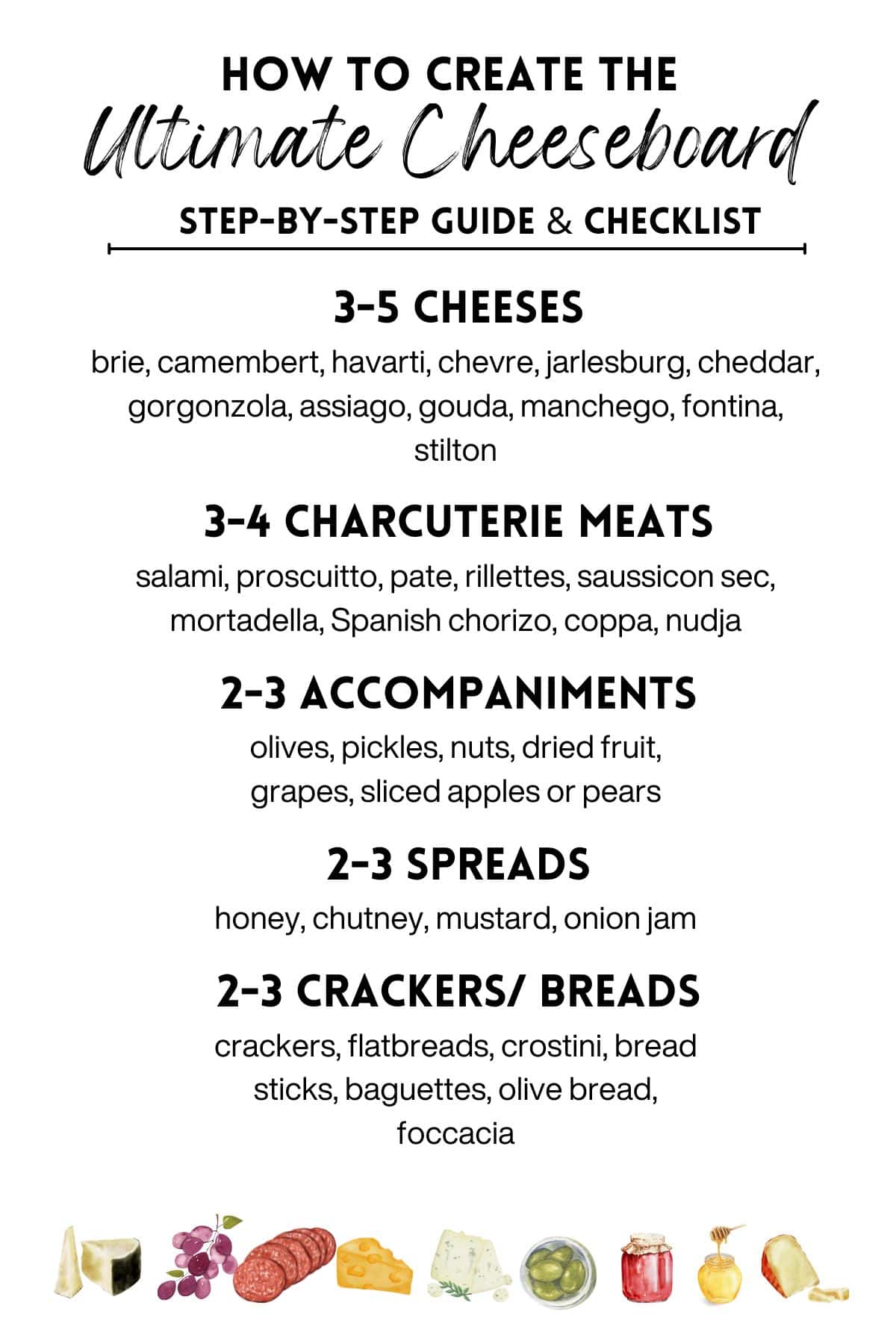 Cheeseboard Pairings- The main components
Once you've decided on your cheeses, you must consider what else will be on your board. Charcuterie, along with sweet and savory accompaniments, is the most popular. *You can do a cheese plate or platter for a smaller gathering.
Cheese- soft, semi-soft, semi-firm, firm (pasturised vs unpasteurized) washed rind etc. goat's cheese etc. *See notes above.
Charcuterie- mild to spicy cured meats. Ensure there is something for everyone. Prosciutto, genoa salami, chorizo, sopressata, ham, and cured sausages are all classic choices for a cheese (or charcuterie) board. *Choose 4 items from this category.
Accompaniments- Briney- olives, cornichons, pickled onions, etc. Sweet- dried apricots, figs (fresh or dried), grapes (brings sweetness and acidity), nuts. *Choose 4-6 items from this category.
condiments- chutneys, preserves and jelly, honey, whole grain mustard, etc. *Choose 3 items from this category.
For serving- crackers and bread- from artisan crackers like rosemary and black pepper to more neutral like water crackers. And these homemade flatbread crackers. Breads can range from olive bread to simple sourdough. The key is texture. Crisp crackers and soft breads. *Choose 3 items from this category.
Best Practices for Serving Cheese
Cheeses should be brought to room temperature and covered with a damp paper towel to prevent drying. *Don't use plastic wrap for this. It will make your cheese sweat.
It's best to unwrap the cheese straight from the fridge while the soft cheeses are still firm. *Once they are at room temperature, very ripe cheeses can become very soft, making them more challenging to handle.
Unwrap all your cheeses from the fridge, place them on your cheeseboard and cover them with a damp paper towel for 30-60 minutes while they come to room temperature.
Once they are at room temp. uncover your cheeses and finish building your board.
🍯 Grapes and Chutneys in Cheeseboards
Do we have to serve grapes with a cheeseboard?
Grapes are designed as a palate cleanser between each cheese. So you should eat a piece of cheese, THEN a grape. Pear and apple are also good fruit options but require cutting. Grapes need to be washed and dried before being placed on the board.
Chutneys and quince pastes, served with cheese, are fantastic. These should compliment the flavor rather than act as a palate cleanser.
*For Christmas and holidays use cranberry and port fruit chutney or an orange marmalade style preserve.
What are the best crackers to serve with cheese?
You want a cracker that has a clean, sharp crack. And the simpler, the better.
Charcoal crackers and sourdough crackers are the best. But you can go for any cracker if you keep it simple. Avoid crackers with an overtly strong flavor, as they can often take away from the flavour of the cheese. My homemade crackers are a great recipe because they can be customised with just plain sea salt, fresh thyme, or poppy and sesame seeds.
💡 Chef's Guide: Expert Cheeseboard Tips
Drawing from a decade in Michelin-starred kitchens and Cordon Bleu training, I'm sharing simple yet impactful tips for creating the ultimate cheeseboard.
Leave All Condiments on the Side: Let guests choose their preferred cheese pairings and accompaniments.
Have a Knife for Each Cheese: Prevent flavor cross-contamination by using separate knives for cheeses like brie and blue cheese.
Pre-Slice Firmer Cheeses: Offer a few pre-sliced pieces of harder cheeses like cheddar or Parmigiano. This makes it easier for guests to enjoy without struggling to cut through them themselves.
Label Your Cheeses: Use small labels or flags to identify each cheese type. This not only adds to the aesthetic but also helps guests know what they're trying, especially useful for those with dietary preferences or allergies.
❓Recipe FAQ's
How do I balance flavors and textures on my cheeseboard?
Aim for a mix of soft, semi-soft, and hard cheeses. Include a variety of flavors from mild to strong, and add different textures with accompaniments like crunchy nuts, crisp fruits, and smooth spreads.
Is there a specific order in which cheeses should be tasted?
It's generally recommended to start with milder cheeses and progress to the stronger-flavored varieties. This progression allows the palate to appreciate the subtler flavors before moving on to the more intense ones.
Creating the perfect cheeseboard is all about balance, variety, and personal touch. Whether you're hosting a grand holiday feast or a cozy get-together, an incredible cheeseboard is always a highlight. Use this guide to help you confidently create endless variations that your guests will love!
Dips to serve at a cheeseboard party
Looking for other recipes like this? Try these:
If you made this cheeseboard for the holidays let me know which cheese was the favorite! I love hearing from you. Also, please leave a star rating while you're there!
You can also follow along on Pinterest, Facebook, and Instagram!
You can also find weekly meal plans and budget recipes over on our sister site Savvy Bites.
Ultimate Cheeseboard
Indulge your guests with a cheeseboard that's a feast for the eyes and the palate. Perfect for any occasion, this cheeseboard blends a variety of cheeses from creamy to firm, accompanied by an array of flavorsome pairings. It's an artful mix of taste and texture that's sure to impress.
Print
Pin
Rate
Ingredients
Cheeses (5-8 varieties):
200

g

(

7

oz

)

Aged Cheddar

,

A classic hard cheese with a sharp taste.

200

g

(

7

oz

)

Gouda

,

A semi-hard cheese known for its rich, buttery flavor.

200

g

(

7

oz

)

Brie

,

A soft cheese with a mild, creamy texture.

150

g

(

5 2/7

oz

)

Blue Cheese

,

A bold, soft cheese with a distinct flavor.

200

g

(

7

oz

)

Manchego

,

A firm cheese with a nutty taste.

150

g

(

5 2/7

oz

)

Goat Cheese

,

A tangy, soft cheese.

150

g

(

5 2/7

oz

)

Parmigiano-Reggiano

,

A hard, granular cheese with a rich flavor.

200

g

(

7

oz

)

Camembert

,

A creamy, soft cheese similar to Brie.
Accompaniments
Crackers and Bread: A mix of artisan crackers and sliced baguette.

Meats: Prosciutto

,

salami, and other cured meats.

Fruits: Grapes

,

figs, and sliced apples or pears.

Nuts: Almonds

,

walnuts, or pecans.

Chutneys and Jams: Fig jam

,

honey, and a savory chutney.

Olives and Pickles: A selection for added zest.
Instructions
Bring Cheese to Room Temperature: Remove cheeses from the fridge 1 hour before serving to enhance their flavor and texture.

Structure the Board: Start with the cheeses, spacing them out. Add meats, then fill gaps with crackers/bread. Place small bowls of chutneys/jams. Scatter fruits and nuts last for a decorative touch.

Serving: Provide cheese knives and spreaders. Encourage guests to try different cheese pairings.
Storing Leftover Cheese:
Wrap leftovers in wax paper or parchment, then place in an airtight container.

Store in the refrigerator's cheese drawer.

Consume within 5-7 days for best quality.
Nutrition
Calories:
646
kcal
|
Carbohydrates:
2
g
|
Protein:
43
g
|
Fat:
51
g
|
Saturated Fat:
33
g
|
Polyunsaturated Fat:
1
g
|
Monounsaturated Fat:
11
g
|
Cholesterol:
159
mg
|
Sodium:
1473
mg
|
Potassium:
204
mg
|
Sugar:
1
g
|
Vitamin A:
1365
IU
|
Calcium:
1110
mg
|
Iron:
1
mg