This easy guide on how to make 2-ingredient naan, a light and fluffy flatbread, will revolutionize your homemade Indian meals! This naan is not just a simple bread; it's a flavor-packed side that elevates your entire meal. In less than 10 minutes, you can create this no-yeast bread that's perfect for both beginners and confident home cooks.
For more easy-to-follow bread recipes check out our homemade bread rolls or this savory garlic naan bread.
Jump to:
⭐️ Why This is The BEST 2 Ingredient Naan Dough
No Special Ingredients Required: Made from self-rising flour and Greek yogurt, this naan doesn't demand a long list of exotic ingredients.
Super Quick to Make: With a total time of under 10 minutes, this is a time-saver recipe.
Health-Friendly: Virtually fat-free and can be made gluten-free or dairy-free.
🧾 Key Ingredients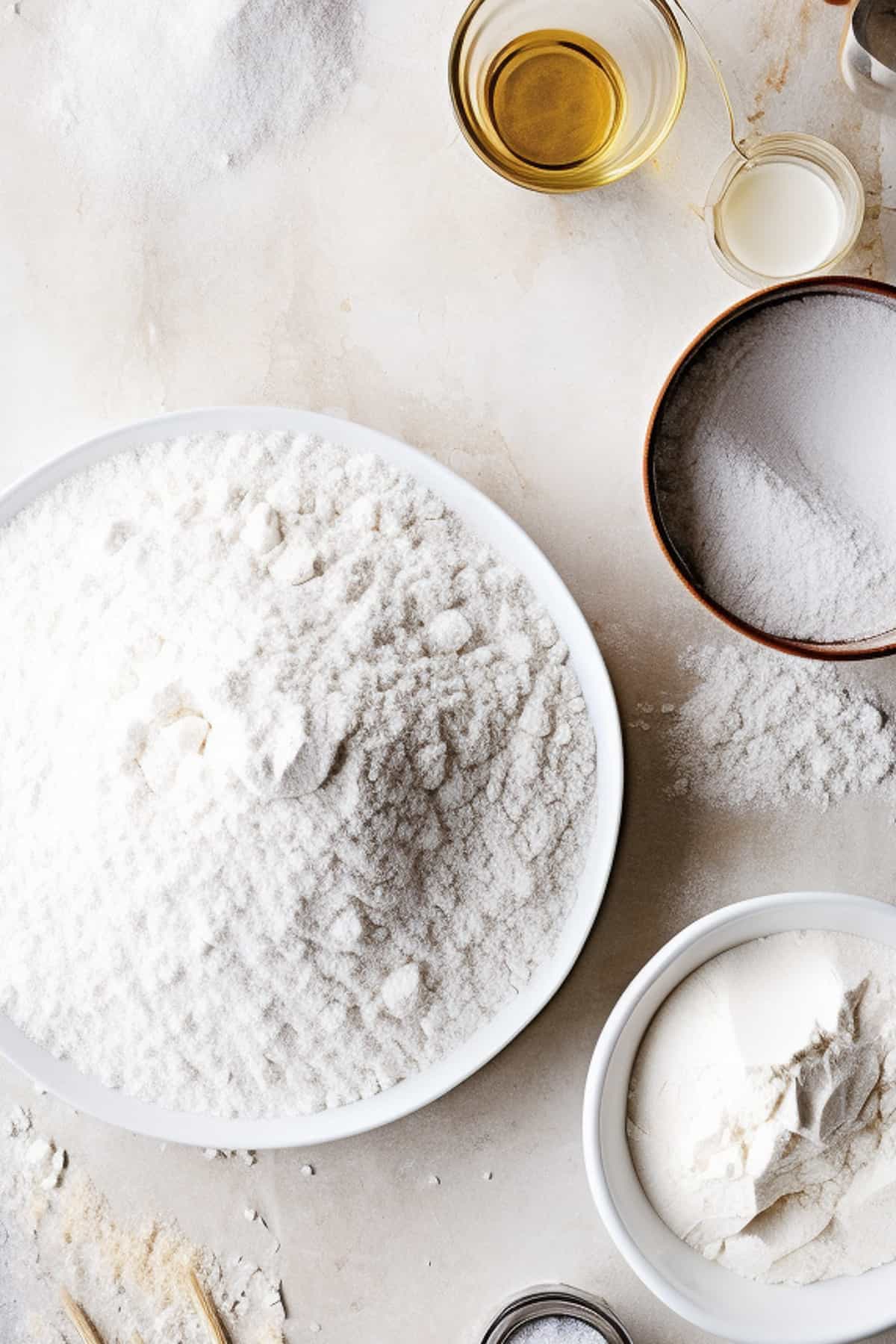 Self-Raising Flour: Acts as the backbone of the bread. Gluten-free variants can also be used. You can make your own self-raising flour using all-purpose flour and baking powder.
Greek Yogurt: Adds moisture and tanginess. Vegan and dairy-free versions can be substituted.
Salt: flaky sea salt is best.
See recipe card for quantities.
💡 Ingredient Top Tip
Making Your Own Self-Raising Flour
To make 1 cup of self-raising flour, you will need:
1 cup all-purpose flour
1 ½ teaspoons baking powder
¼ teaspoon salt (optional)
📖 Substitutions & Variations
Ingredient Substitutions
Dairy-Free Option: If you're looking to go dairy-free, you can use coconut Greek yogurt in place of regular Greek yogurt. *This will slightly change the flavor of the naan, but it pairs incredible with curries.
Gluten-Free Option: Substitute self-rising flour with a gluten-free flour mix and add 1 ½ teaspoons of baking powder for every cup of gluten-free flour.
Flavor Variations
Garlic Naan: To make garlic naan, finely chop 2-3 cloves of garlic and mix them into the dough during the initial combining step. Alternatively, you can infuse melted butter with minced garlic and brush this over the naan as it cooks.

Pro Tip: For even more flavor, sprinkle some garlic powder on top before serving.

Cheesy Naan: Add ½ to 1 cup of shredded cheese (like mozzarella, cheddar, or your preferred cheese) into the dough mix. Make sure to distribute the cheese evenly in the dough.

Pro Tip:: You can also sprinkle more shredded cheese on top of the naan while it's cooking for an extra cheesy finish.

Herbed Naan: Add 1-2 tablespoons of finely chopped fresh herbs such as cilantro, parsley, or mint into the dough during the initial combining step.

Pro Tip: You can also mix herbs into the melted butter or olive oil that you're using to brush the naan during frying.
👩🏻‍🍳 Making Easy Naan Step By Step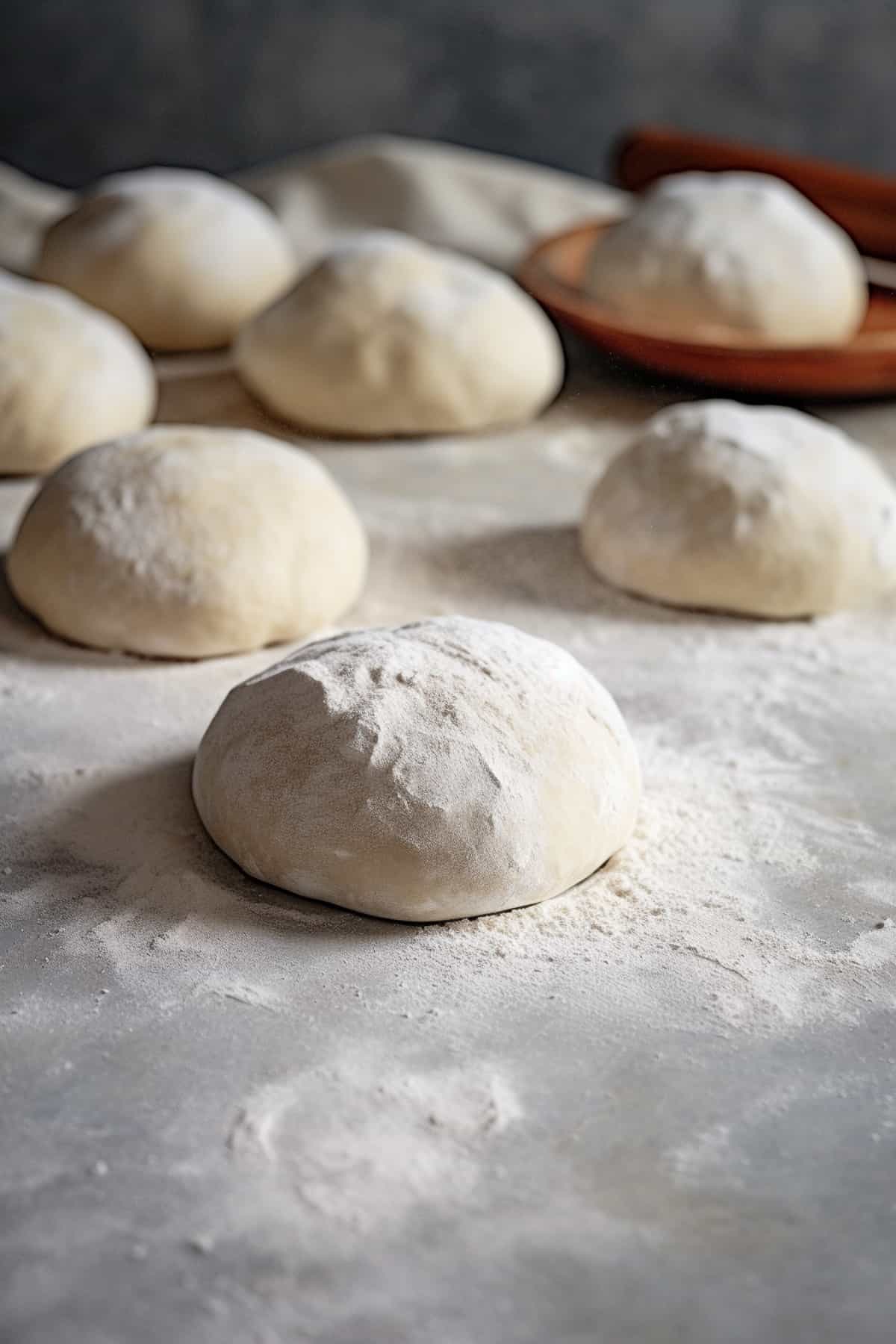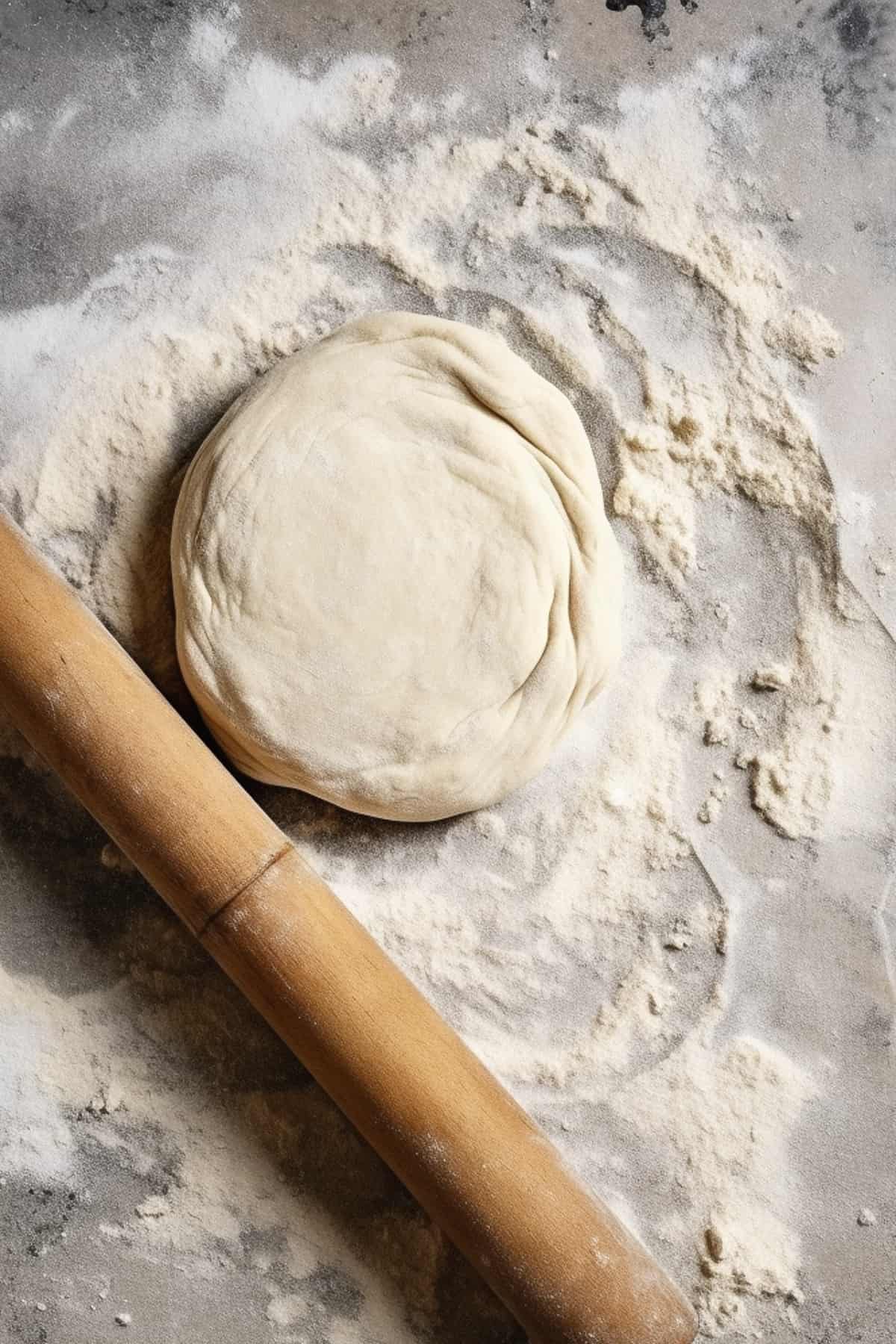 Combine the Ingredients: In a large mixing bowl, blend the self-rising flour and Greek yogurt together until a smooth, non-sticky dough forms.
Pro Tips:

If you're going dairy-free, opt for coconut or soy Greek-style yogurt.
Visual Cues: The dough should be smooth and not sticky to the touch. *Because this is a self-raising dough it doesn't require kneading.

Divide and Shape: Portion the dough into 8 equal pieces, and roll them into your desired shapes—be it circles or ovals.

Visual Cues: The dough should divide easily and roll without tearing.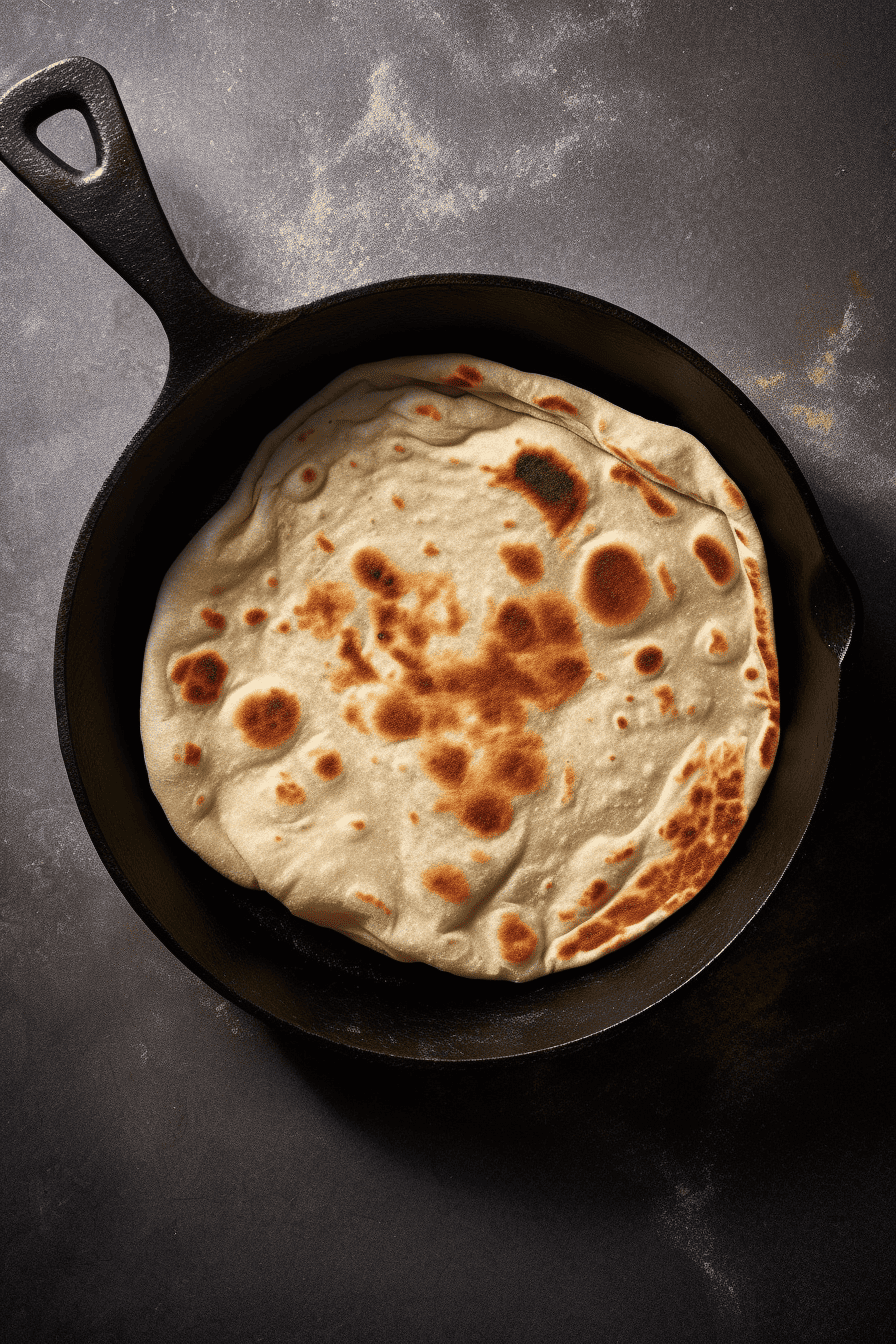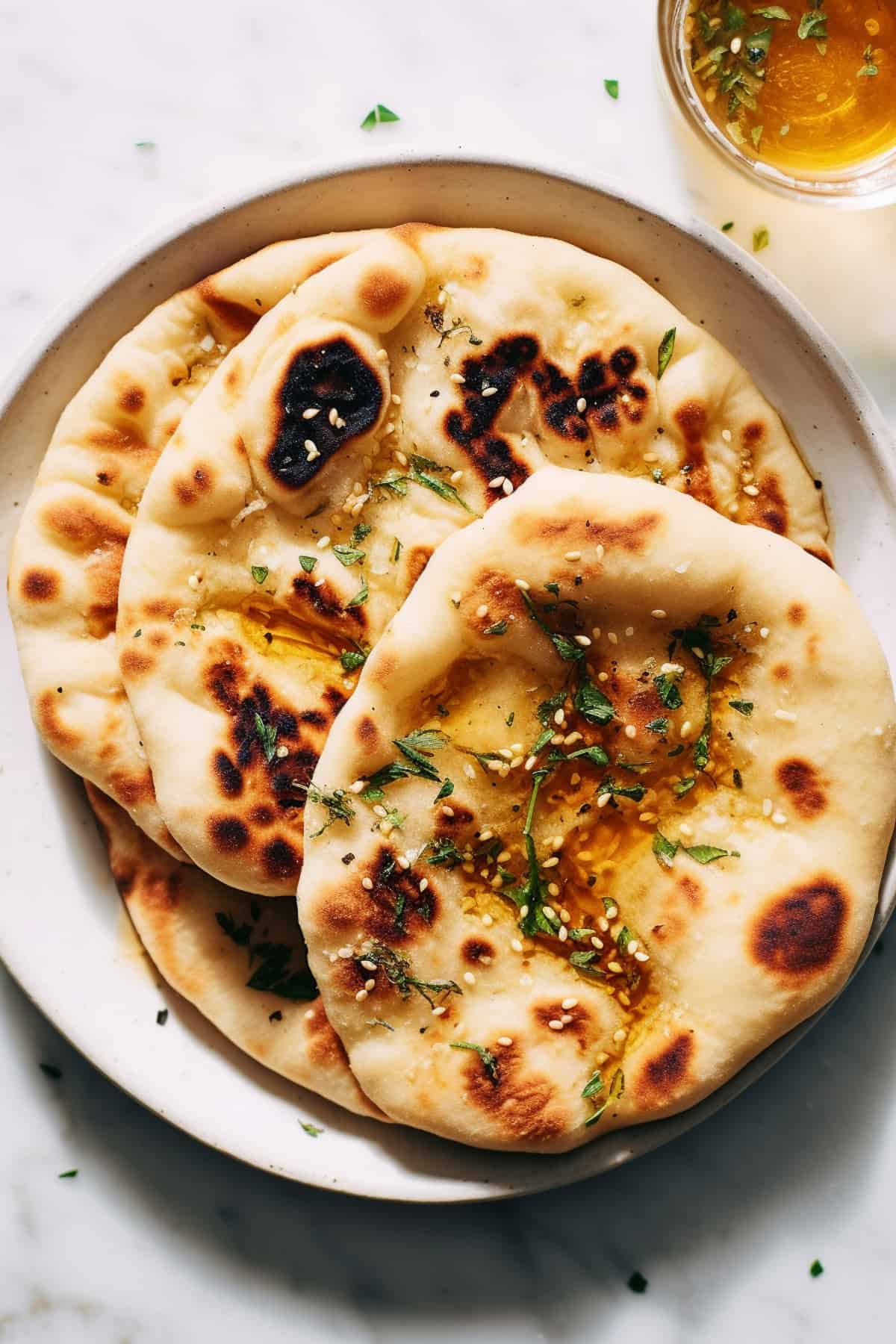 Prepare Your Pan: Preheat a non-stick or cast-iron skillet over medium heat.

Pro Tips: A cast-iron skillet is highly recommended for consistent, even cooking.

Brush and Fry: Place a piece of the shaped dough into the skillet. Brush the top side with melted butter or olive oil. Cook for 2-3 minutes before flipping.

Pro Tips: Brush the flipped side with more melted butter or olive oil for a richer flavor and glossier appearance.
Visual Cues: The naan should begin to bubble and display light browning on the cooked side.

Final Flip and Finish: After flipping, cook the other side for another 2-3 minutes, or until both sides sh

Visual Cues: Look for a bubbly surface and light browning on both sides.
🍯 Storage: Can Naan Bread Be Stored in the Fridge or Freezer?
If you intend to consume the naan within three days, refrigeration is not necessary.
Refrigeration Notes: Storing uncooked dough in the fridge is not recommended, as it tends to become overly sticky and will require additional flour to shape into naan bread later. If you have already cooked naan that you won't be eating right away, you can store it in a resealable plastic bag in the fridge for up to a week.
Freezing Naan: Cooked naan freezes well. Simply put the pieces in a resealable plastic bag, and they should remain good for up to six months when frozen.
Reheating Instructions: For frozen naan, let it come to room temperature before reheating. You can either warm it in the microwave or give it a quick heat in a pan to crisp it up.
❓FAQ
Can I use regular flour?
You can make your own self-rising flour using all-purpose flour, baking powder, and salt.
What can I pair this naan with?
The options are endless! Pair it with curries, stews, or even use it as a pizza base.
Whether you're a fan of traditional naan or new to this East Asian staple, this 2-ingredient naan is a quick and easy side dish that you can whip up in no time. A perfect blend of convenience and taste, this recipe is a must-try!

Pairing
These are my favorite curry dishes to serve with this soft and fluffy naan:
If you tried this easy naan recipe or any other recipe on my website, please let me know in the comments below. I love hearing from you. Also, please leave a star rating while you're there!
You can also follow along on Pinterest, Facebook, and Instagram!
You can also find weekly meal plans and budget recipes over on our sister site Savvy Bites.
Easy 2 Ingredient Naan (No Yeast)
Savor the comfort of homemade naan bread, perfect for pairing with curry, chili, or pasta. Quick to prepare and cook, this naan recipe is a go-to side dish for any meal.
Print
Pin
Rate
Ingredients
1 ¾

cups

(

218 ¾

g

)

self-raising flour

1

cup

(

200

g

)

Greek yogurt

,

use fat-free if desired

Pinch

(

Pinch

)

of salt

Melted butter or olive oil for brushing

,

optional
Instructions
Prepare the Dough:
In a mixing bowl, combine the self-raising flour, Greek yogurt, and a pinch of salt. Mix until well incorporated.

The dough should be soft but not sticky. If it feels sticky, add a small amount of extra flour until the consistency is right.
Shape the Dough:
Turn the dough out onto a floured surface and shape it into a disc.

Cut the dough into 4 to 6 pieces, depending on how large you want your naan to be. Roll each piece out to about a 5mm thickness.
Cook the Naan:
Place a non-stick skillet over medium-high heat. Once hot, add a piece of rolled-out dough.

First Side Cooking: Cook the naan on the first side for about 3 minutes, until it starts to bubble and brown.

Second Side Cooking: Flip the naan and cook for an additional 2-3 minutes.
Optional Brushing:
While the naan is still in the pan, lightly brush it with melted butter or olive oil for added flavor.

Remove from the pan and serve immediately with your choice of curry, chili, or pasta.
Notes
Homemade Self-Raising Flour: If you don't have self-raising flour, you can make your own by adding 2 teaspoons of baking powder to 1 cup (150g) of all-purpose flour. Whisk the ingredients together to combine.
Optional Add-ins: Feel free to sprinkle some garlic, shredded cheese, or herbs onto the dough before cooking for a customized flavor.
Nutrition
Calories:
152
kcal
|
Carbohydrates:
28
g
|
Protein:
8
g
|
Fat:
1
g
|
Saturated Fat:
0.1
g
|
Polyunsaturated Fat:
0.3
g
|
Monounsaturated Fat:
0.1
g
|
Trans Fat:
0.002
g
|
Cholesterol:
2
mg
|
Sodium:
13
mg
|
Potassium:
83
mg
|
Fiber:
1
g
|
Sugar:
1
g
|
Vitamin A:
2
IU
|
Calcium:
42
mg
|
Iron:
0.4
mg