This is the absolute best Italian pizza dough recipe. Made in the traditional Neapolitan style, this homemade dough is rolled thin for a crisp but still slightly chewy pizza crust. It's an easy recipe with only 4 ingredients needed. Load up some toppings and your favorite cheese for the perfect rustic pizza at home.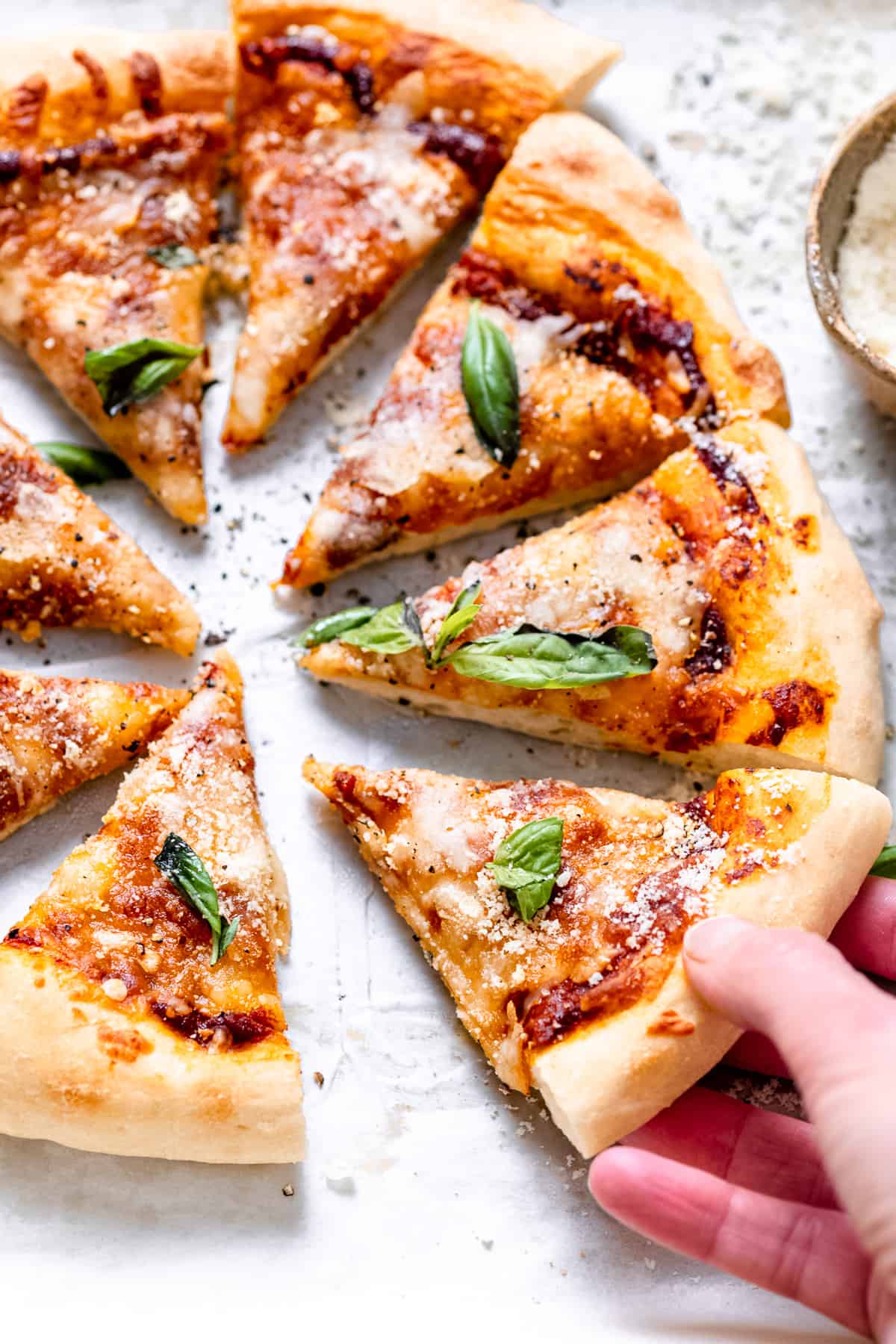 I absolutely LOVE making pizza at home, with my particular favorites being this spicy chorizo pizza, Napolese salad pizza, or fig and prosciutto pizza.
Pizza sauce is as important as the base and the toppings. Homemade sauce really will go a very long way to delivering you an exceptional pizza experience! Try this classic arrabbiata sauce or roasted red pepper sauce or for something really different this roasted cauliflower alfredo sauce is amazing with an artichoke topping.
Jump to:
⭐️ Top 5 reasons you should be making pizza dough at home:

Customization: Making pizza at home allows you to customize your toppings and experiment with different flavor combinations. You can add as much or as little of each ingredient as you like, and even try out unique or unusual toppings that you might not find at a pizzeria.
Healthier options: When you make pizza at home, you have control over the ingredients and can make healthier choices. For example, you can use whole wheat flour, fresh vegetables, and lean proteins to make a healthier, more nutritious pizza.
Fun and social: Making pizza at home can be a fun and social activity for friends and family. Everyone can join in on the fun and make their own personal pizzas with their favorite toppings.
Budget-friendly: Making pizza at home is more cost effective than ordering from a pizzeria. You can buy the ingredients in bulk and make several pizzas for the cost of one or two from a restaurant.
Satisfaction: There is something incredibly satisfying about making your own pizza from scratch. From kneading the dough to topping it with your favorite ingredients, the entire process can be very rewarding and result in a delicious meal that you can be proud of.
You only need 4 basic (and cheap) ingredients to make your own dough.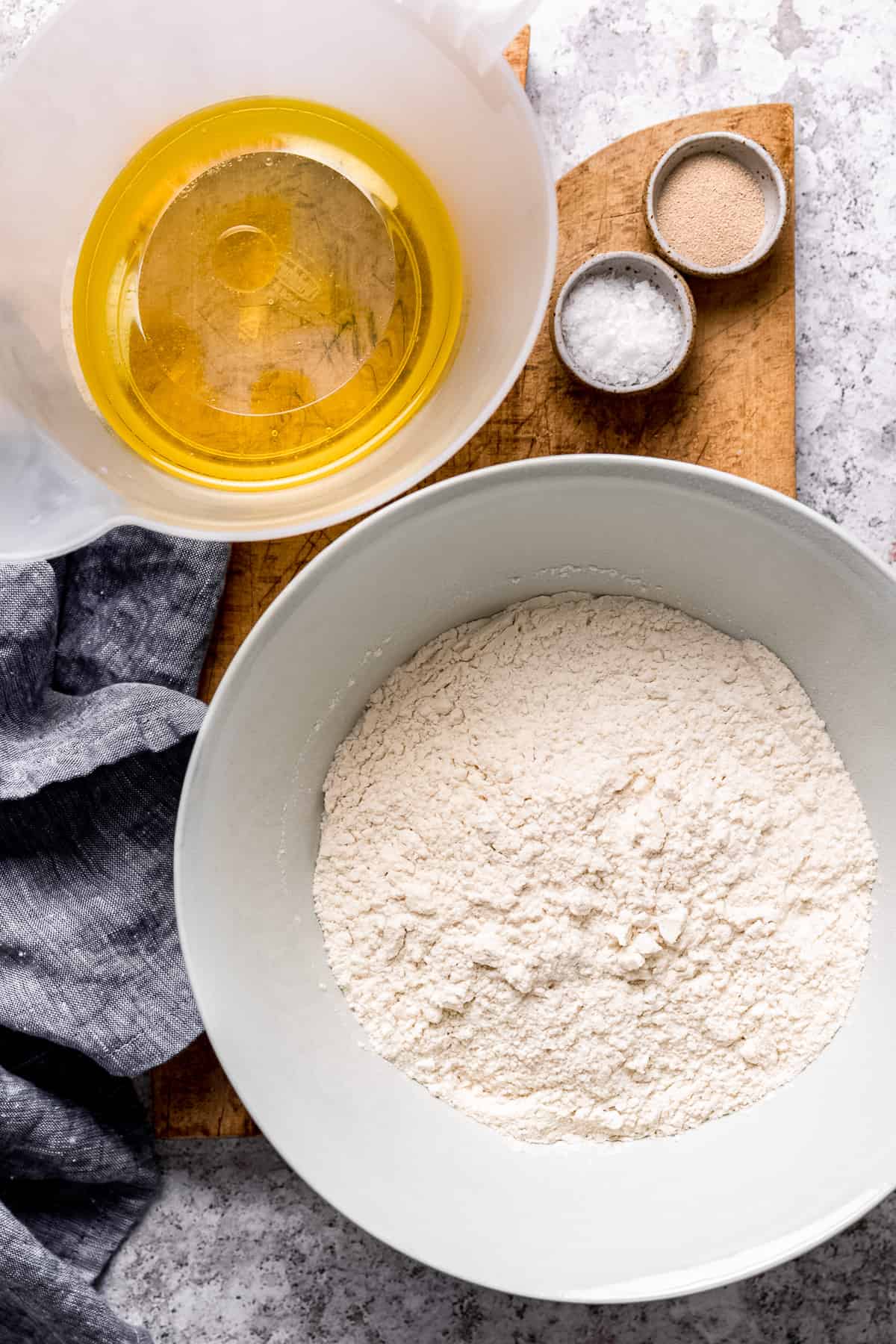 all-purpose flour (strong flour in the UK)- no need to sieve the flour
active dried yeast- you can add this type of yeast directly to your dry ingredients without having to bloom the yeast in water
salt- sea salt if possible
olive oil- extra virgin olive oil is best. If all you have is vegetable oil, then skip this ingredient.
See recipe card for quantities.
tip section: The secret to making amazing pizza dough at home is water. Making pizza at home means that you have to cook them longer because a domestic oven doesn't get as hot. A homemade pizza dough should be about 45-50% water.
👩🏻‍🍳 Mastering the art of pizza dough: step by step
1 & 2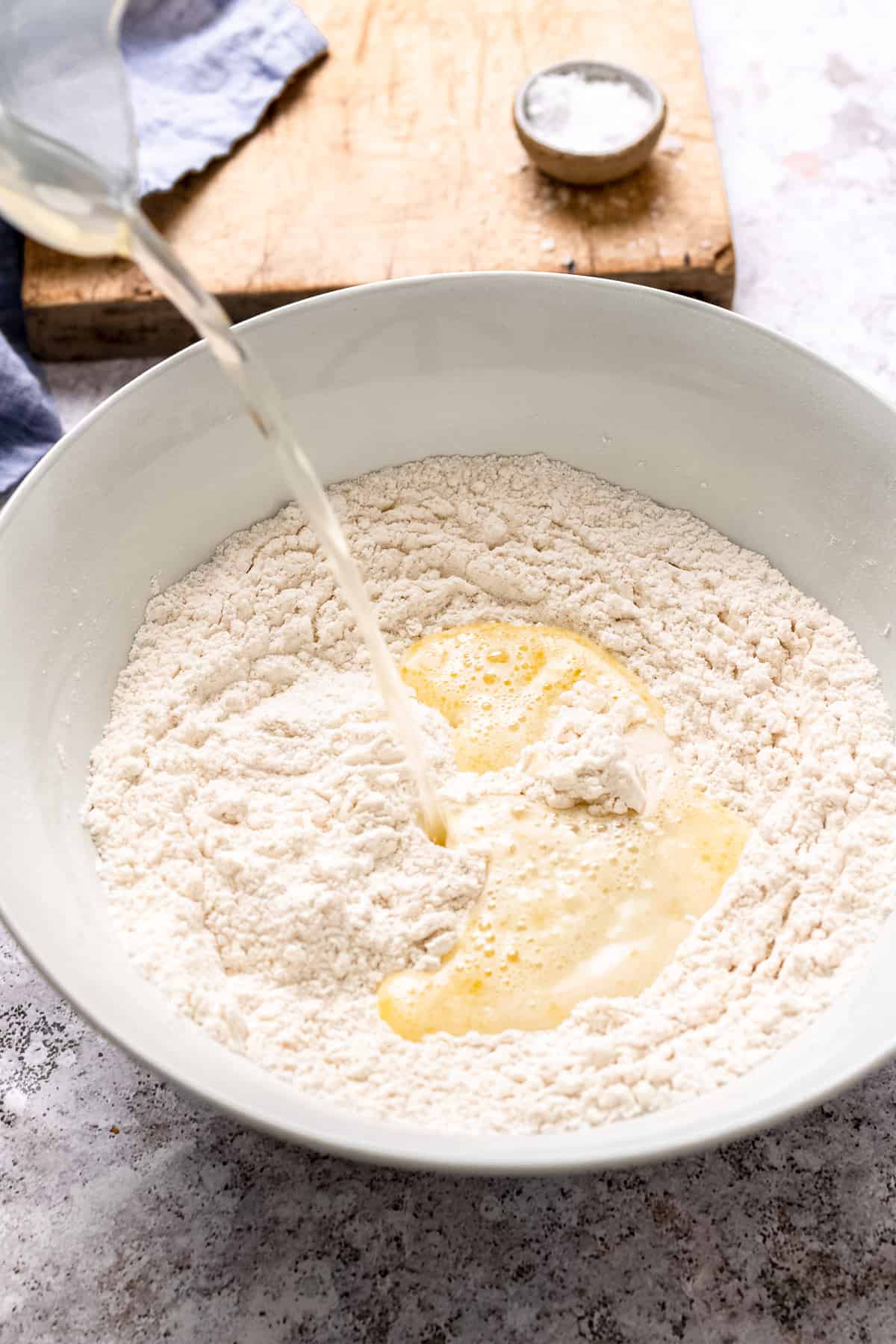 Start by adding the dry ingredients into a medium-large mixing bowl. The flour doesn't need to be sifted. Stir in the salt and dry yeast. Use a fork to make sure that everything is well-mixed.
Measure out some warm water and add the olive oil. Pour the liquid into the flour and yeast mixture. Using a wooden spoon or spatula to bring the dough together. *It will look soft and shaggy.
tip section: Adding some olive oil to the pizza dough will create a crisper crust once baked. It helps to prevent the sauce from being absorbed into the crust while it bakes and making it soggy.
step 3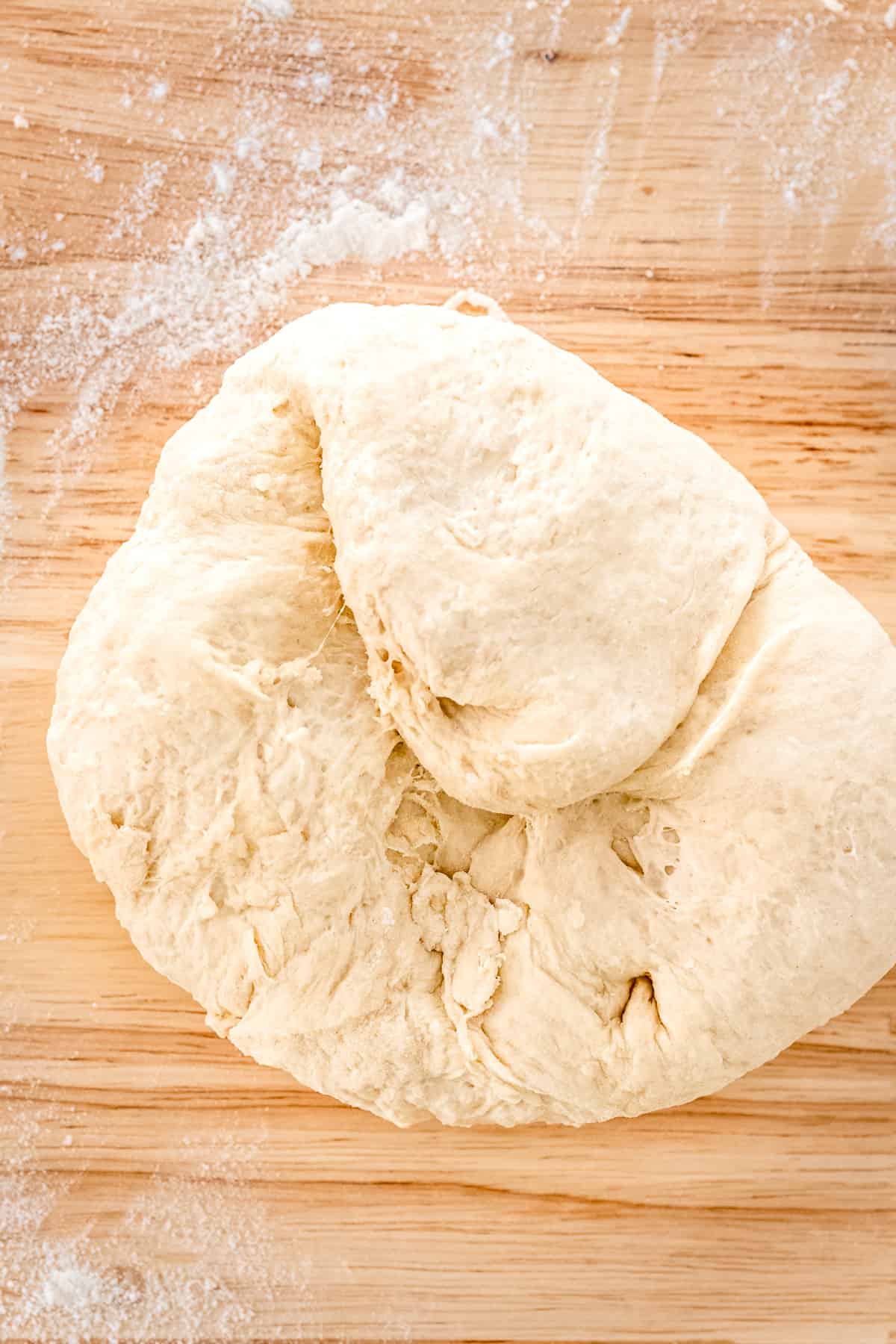 This is the most important step in making homemade pizza dough. Kneading the dough develops the gluten which creates structure and chewiness. It also traps air and results in a well-risen dough. Turn the dough onto a lightly floured surface and knead by hand for about 5 minutes, until the dough is soft and smooth and springs back when gently pressed. The dough shouldn't be sticky once the gluten has been
*You can place the dough in the bowl of a stand mixer fitted with the dough hook and leave it to knead for about 5 minutes. The same visual cues apply.
step 4 & 5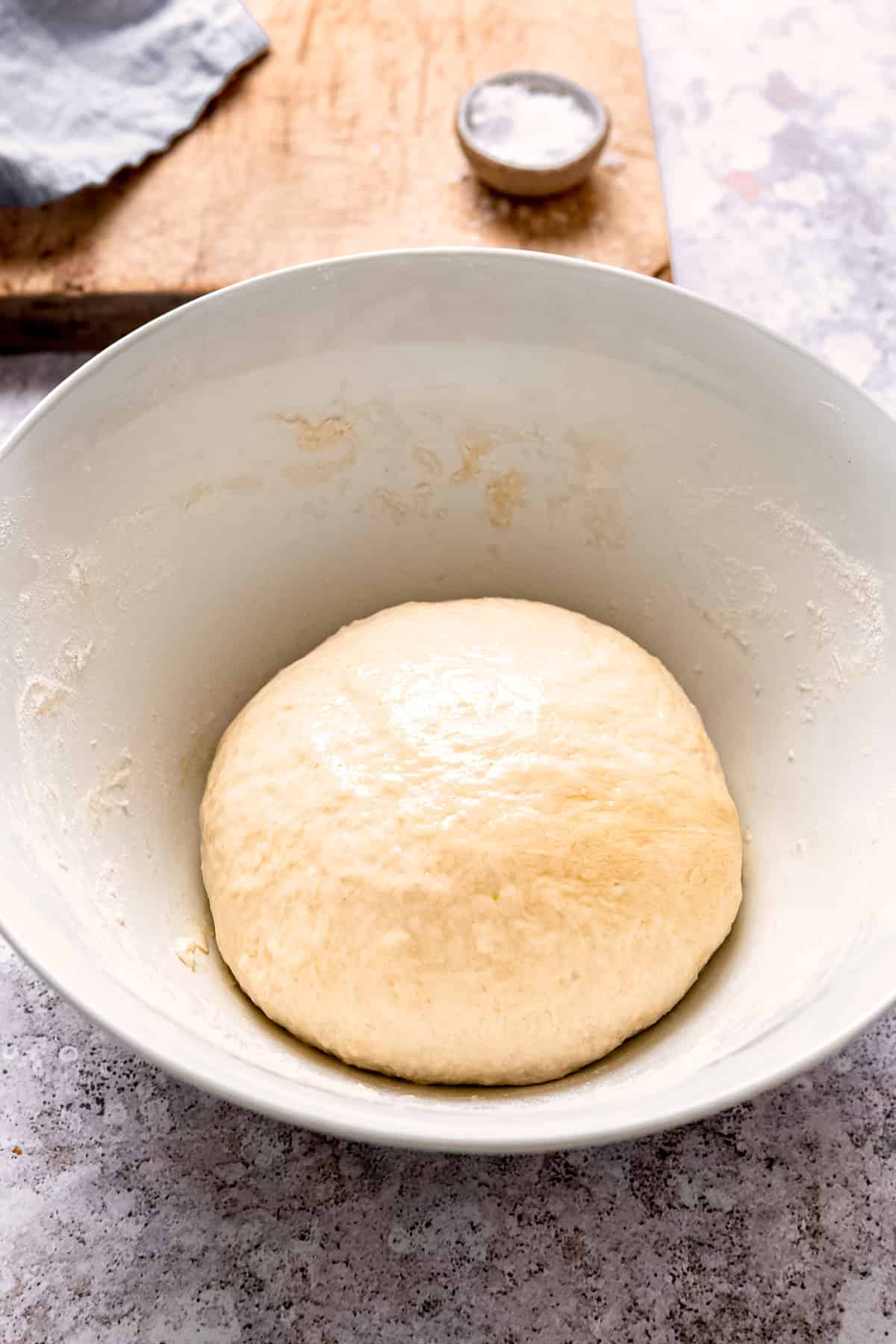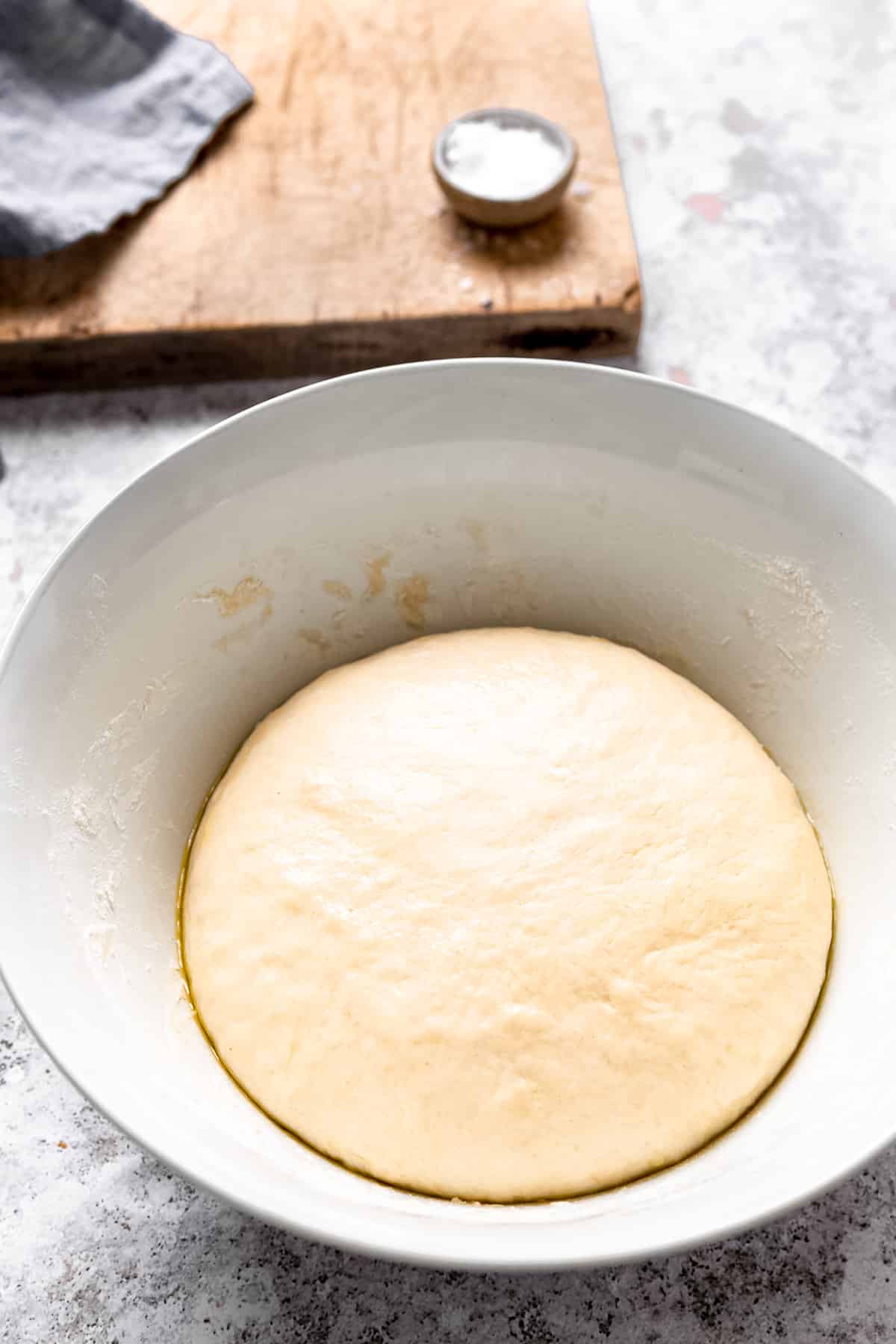 Once the dough is smooth and springy, drizzle it with a bit of olive oil. Place it back in the bowl to rise. Cover it with a clean tea towel and leave it in a warm place.
Leave to rise for about 45 minutes. The dough will have doubled in size. Gently press your index finger into the dough to create an indentation. The dough is ready if the indentation remains. If it springs back, cover the dough and leave to rise for a further 15 minutes.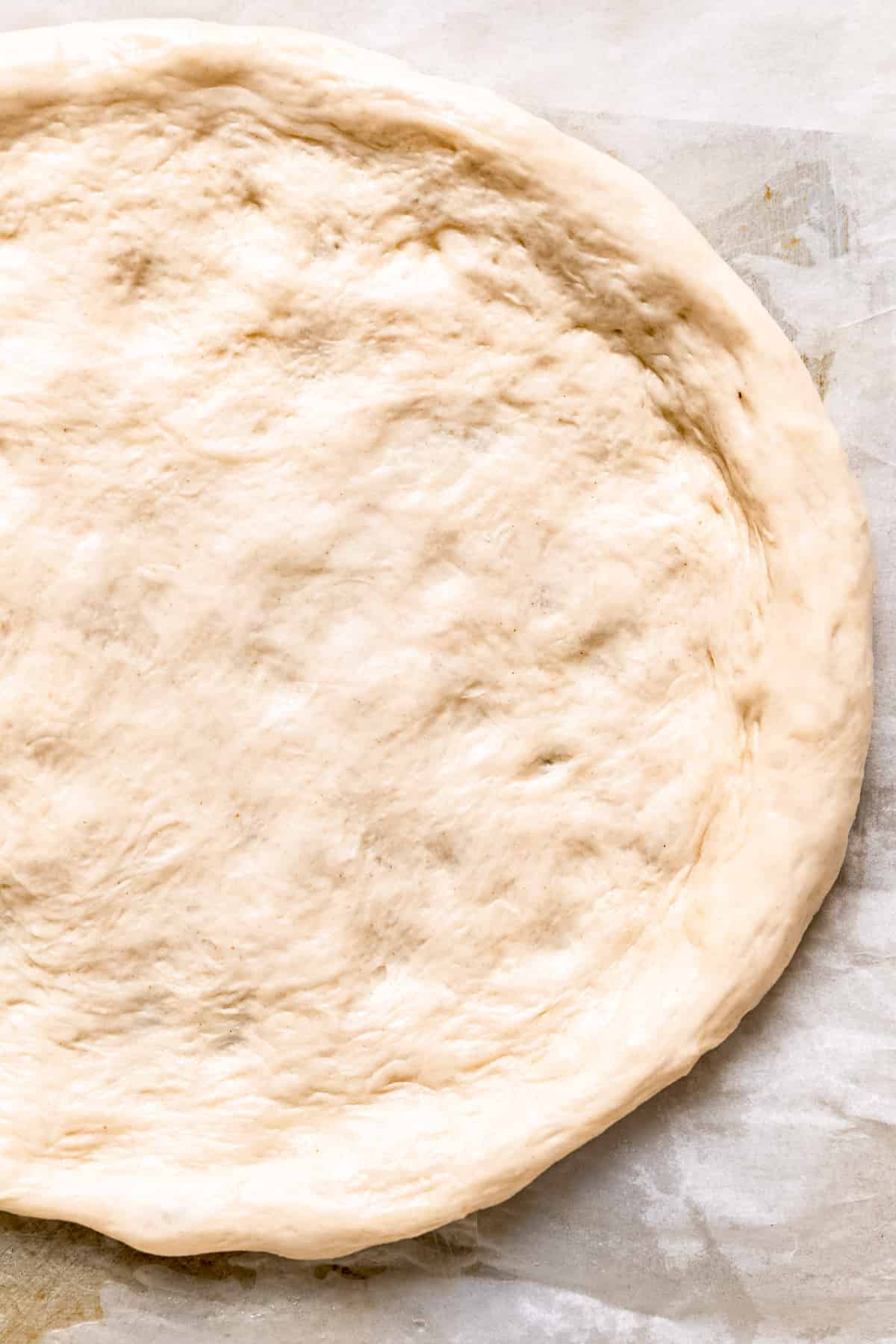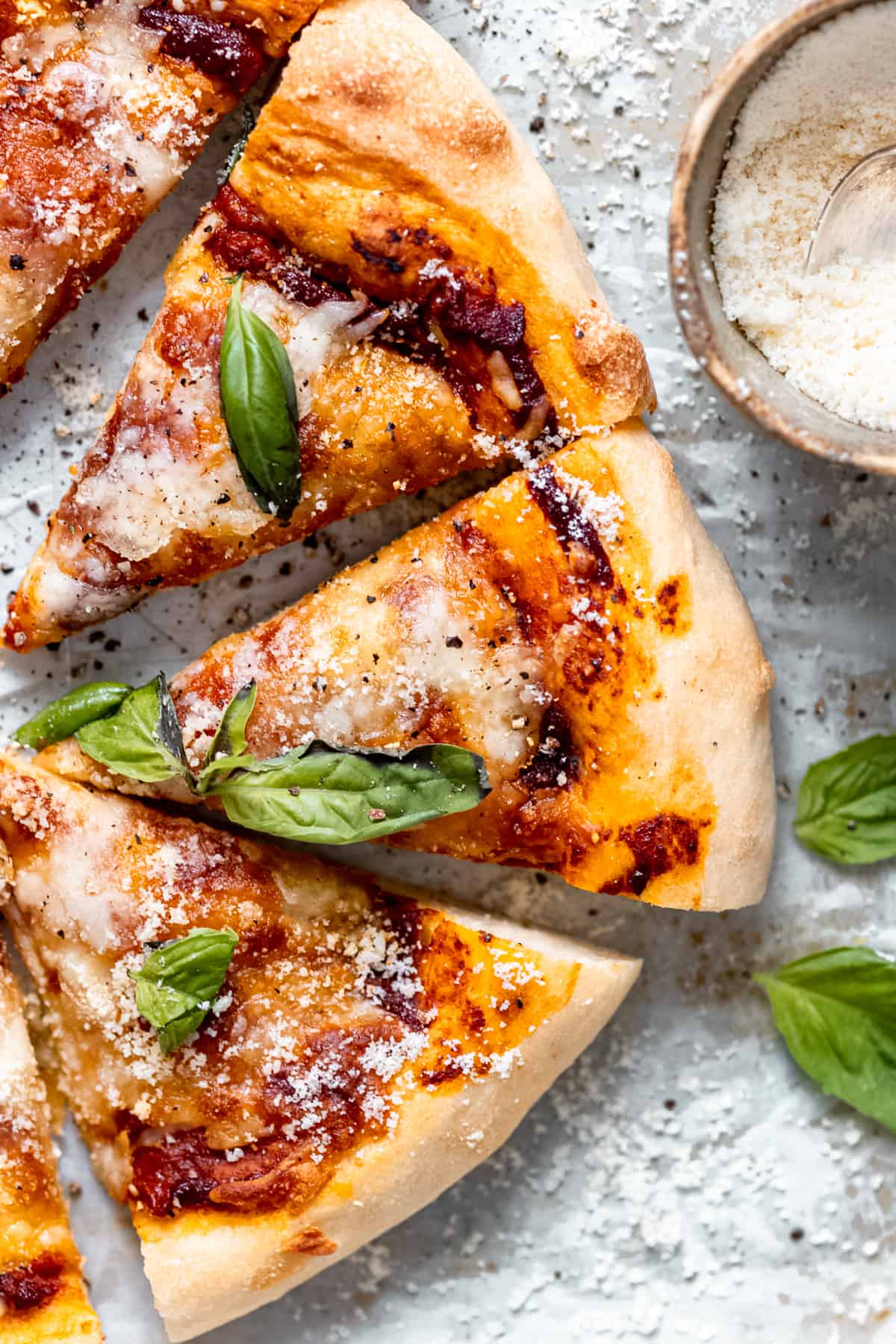 Preheat the oven to about 400ºF. Turn the dough out of the bowl and place on a clean work surface. Gently press out the dough starting from the center of the pizza base and working out to the edge.
If you like a soft and fluffy crust leave a ¼ inch around the edge of the pizza dough.
Top with pizza sauce, your favorite toppings, and some mozzarella cheese. Bake for about 25 minutes until the pizza is golden and the cheese is melted.
For a very crispy crust similar to wood-fired pizza you can use a pizza stone.
📖 5 common problems when making pizza dough and how to avoid them
Here are some common problems people might encounter when making homemade pizza dough:
too dry or too wet: If the dough is too dry, it will be difficult to shape and may result in a tough, dense crust. If the dough is too wet, it will be sticky and difficult to work with. To fix this, add a small amount of flour or water to adjust the consistency.
doesn't rise- If the dough doesn't rise, it may be due to using expired yeast or not allowing enough time for the dough to rise. Make sure to use fresh yeast and give the dough plenty of time to rise in a warm, draft-free environment.
too tough: If the dough is too tough, it may be due to not kneading the dough and developing the gluten enough or the dough or using too much flour. Be sure to knead the dough well and use only as much flour as necessary to keep the dough from sticking.
too thin or too thick: If the dough is too thin, it may tear or burn easily. If it is too thick, it may be too doughy and heavy. Roll the dough out to an even thickness.
doesn't hold its shape: If the dough doesn't hold its shape or keeps shrinking back, it is due to not enough rising time. To fix this, give the dough plenty of time to rest and rise, and handle it gently when shaping the crust.
🍯 Storage- How to freeze pizza dough
Pizza dough freezes very well. Once the dough has risen, knock the air out of it and portion the dough into 4. Wrap the dough in plastic wrap and place in the freezer.
Defrost- Remove the dough from the freezer and leave in the fridge for a few hours until the dough has defrosted. Let it come to room temperature before pressing it out on a baking tray.
If you tried this Recipe or any other recipe on my website, please let me know in the comments below. I love hearing from you. Also, please leave a star rating whilst you're there!
You can also follow along on Pinterest, Facebook, and Instagram.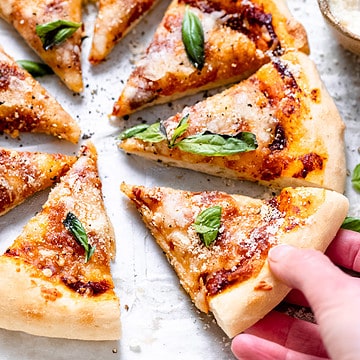 The Best Easy Italian Pizza Dough
This is THE BEST Italian pizza dough you will ever make. Easy to make without a mixer, and it bakes up with a crispy base and a chewy crumb. Load on all your favorite toppings or keep it simple with cheese and tomato sauce.
Print
Pin
Rate
Instructions
In a mixing bowl or in the bowl of a stand mixer place the flour, yeast, and sea salt. Measure out the water and ensure that it is warm- 110ºF or 43ºC. Pour the olive oil into the water and whisk.

Make a well in the center of the flour and pour half the water mixture in. Start to mix the dough with your hands or the dough hook if using the mixture. Continue adding the water slowly, until the dough comes together into a shaggy but not sticky dough. If making by hand, turn the dough out onto a lightly floured surface and knead for 10 minutes. If using a mixer set the speed to medium/low and mix with the dough hook for 5 minutes.

The dough should be smooth and springy when it's kneaded correctly. If the dough doesn't spring back when gently pressed, continue to knead for a further 2-3 minutes.

Place the dough in a lightly oiled bowl and leave covered in a warm place to prove for about 30 minutes or until doubled in size. If your kitchen is cold this may take up to 1 hour.

Once the dough has proved, knock the air out and divide it into 4 balls of dough. Freeze whatever dough you don't use, wrapping it in plastic wrap or a freezer bag.

Press the remaining dough out on a lightly floured surface, being sure to start from the center of the dough and work your way outwards. If you love a fluffy crust, then be sure to leave a ½ inch border around the edge of the pizza base.

Gently place the pizza base on a lined baking tray and top it with your preferred sauce and toppings. Or use a pizza stone to bake your pizza.

Bake in a 400ºF oven for about 12-15 minutes.
Notes
Use your hands rather than a rolling pin to push the dough out on the baking tray or worktop. This will ensure a more rustic and authentic pizza base.
Kneading this dough properly is the most crucial step. If you don't have a stand mixer continue to knead by hand until the dough is smooth and elastic. *Dough that hasn't been kneaded properly will result in a dry, tough and crumbly base because the gluten strands haven't been developed enough to create a chewy pizza crust.
Temperature matters! The hotter your oven goes, the better homemade pizza will be. Domestic ovens can't come close to the heat of a proper wood-fired oven, but a hot oven and a pizza stone will go a very long way to make it worth the effort.
The nutrition calculations are per pizza base which is usually a pizzeria medium.
Nutrition
Calories:
760
kcal
|
Carbohydrates:
131
g
|
Protein:
21
g
|
Fat:
16
g
|
Saturated Fat:
2
g
|
Polyunsaturated Fat:
2
g
|
Monounsaturated Fat:
11
g
|
Sodium:
788
mg
|
Potassium:
265
mg
|
Fiber:
7
g
|
Sugar:
0.5
g
|
Vitamin C:
0.03
mg
|
Calcium:
31
mg
|
Iron:
8
mg