The magic of freshly baked bread rolls wafting through your home can turn any ordinary day into a special occasion. Perfect for a novice baker or a seasoned home chef, these dinner rolls are incredibly easy to make. They only take about 3 hours from start to finish (including rising time). They're incredibly soft, fluffy, and can be made ahead of time, making them perfect for Thanksgiving, Christmas or simply dunking into soups and sauces.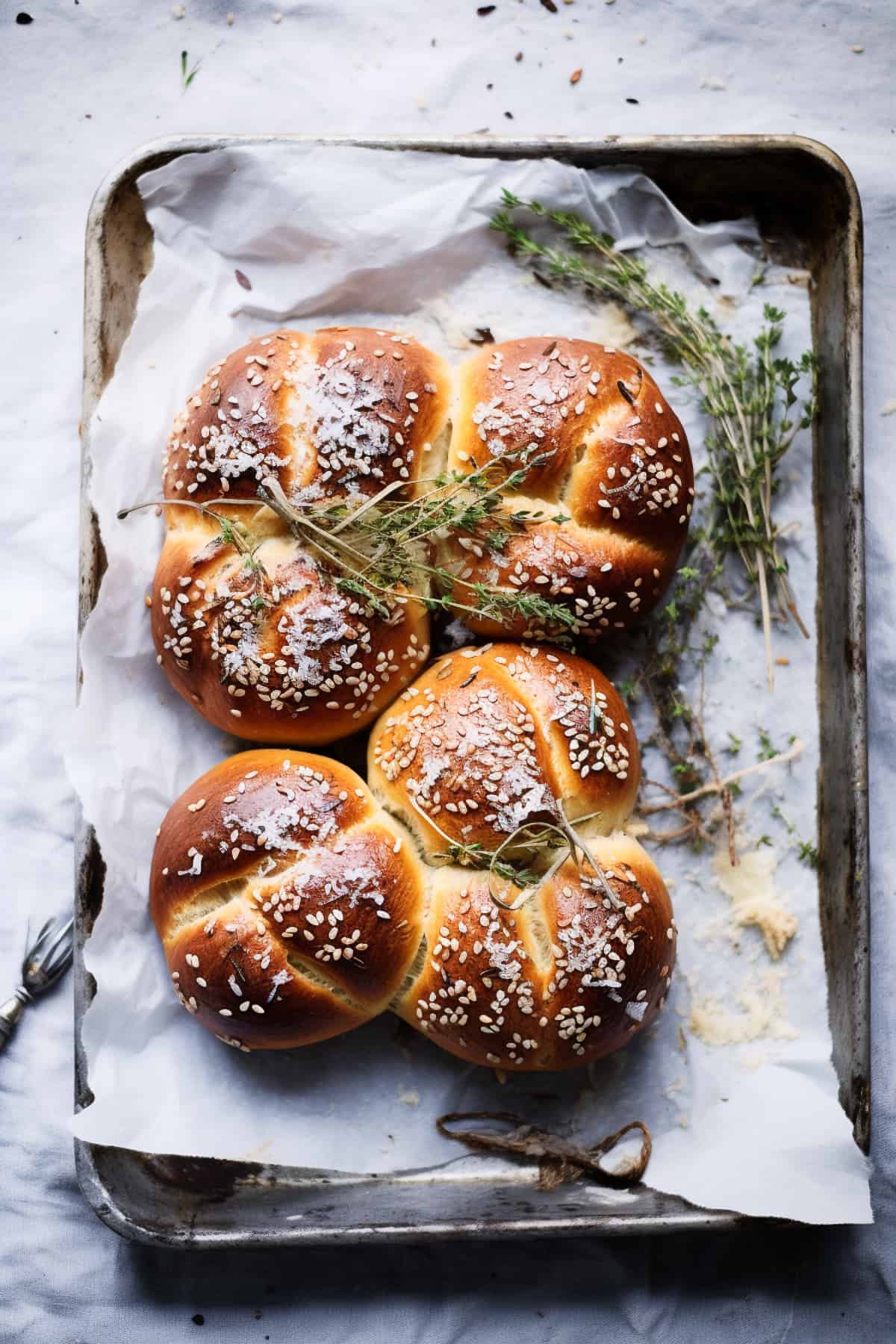 If you love these bread rolls, be sure to check out our homemade naan bread recipe for another simple and delicious bread that you can make at home.
Jump to:
⭐️ Why You'll Love These Bread Rolls
Simple Ingredients: Made from just flour, water, yeast and salt.
Versatile: Great for sandwiches, served with soups, or enjoyed with a dollop of butter.
Make-Ahead and Freeze Option: Prepare them ahead, freeze, and bake them whenever you need.
Freezer-Friendly: Keep a batch in the freezer for instant use.
Customizable: Experiment with various seed types for unique flavors.
Perfect Texture: Achieve soft, fluffy rolls even with a lean dough.
🧾 Ingredients Needed for Bread Making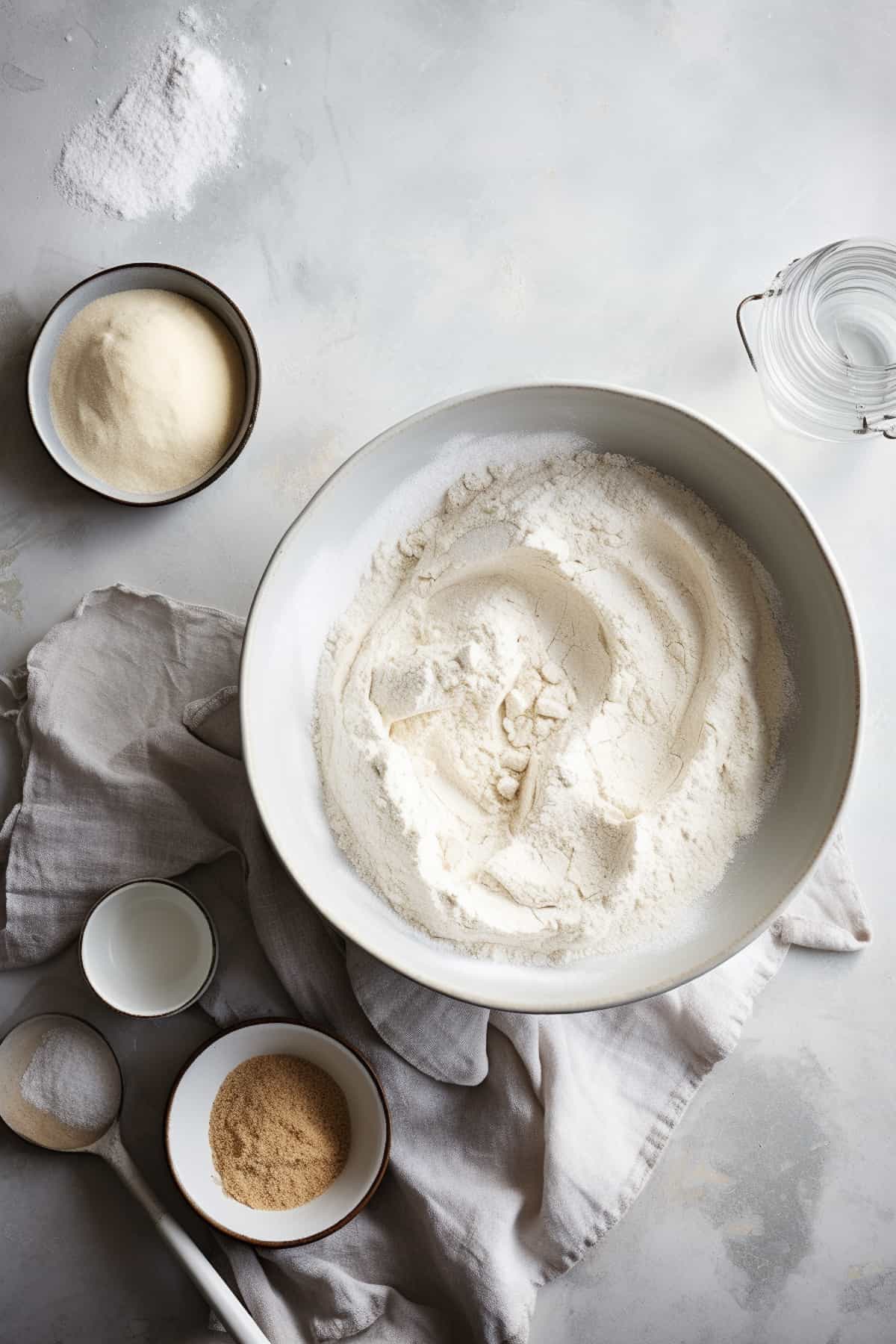 Flour (All-purpose or bread flour): Gives structure to the rolls.
Instant or Active Dry Yeast: Leavens the dough, making it rise.
Sugar: Adds a touch of sweetness and helps to feed the yeast.
Water: Binds the ingredients together.
Salt: Enhances the flavors.
Seeds (e.g., sesame, poppy, sunflower): Adds texture and flavor.
See recipe card for quantities.
📖 Substitutions
Flour Substitution: Whole wheat or mixed grain.
Different Seeds: Customize with your favorite seeds.
🍞 Flavor Variations
Garlic and Rosemary Rolls:
Substitute: Replace the seed topping with a garlic and rosemary mixture.
Addition: Mix 2 minced garlic cloves and 1 tablespoon of chopped fresh rosemary into the dough.
Topping: Brush with melted butter mixed with minced garlic and a sprinkle of rosemary before baking.
Cheddar Cheese Rolls:
Substitute: Omit the seed topping.
Addition: Mix 1 cup of shredded cheddar cheese into the dough.
Topping: Sprinkle additional shredded cheddar cheese on top of the rolls just before baking.
Parmesan and Herb Dinner Rolls:
Substitute: Omit the seed topping.
Addition: Add ½ cup grated Parmesan cheese and 1 tablespoon of mixed dried herbs (such as basil, oregano, thyme) into the dough.
Topping: Sprinkle with more grated Parmesan and herbs before baking.
For Garlic and Rosemary, Cheddar Cheese, and Parmesan and Herb Variations: Follow the original recipe for dough preparation.
👩🏻‍🍳 Step By Step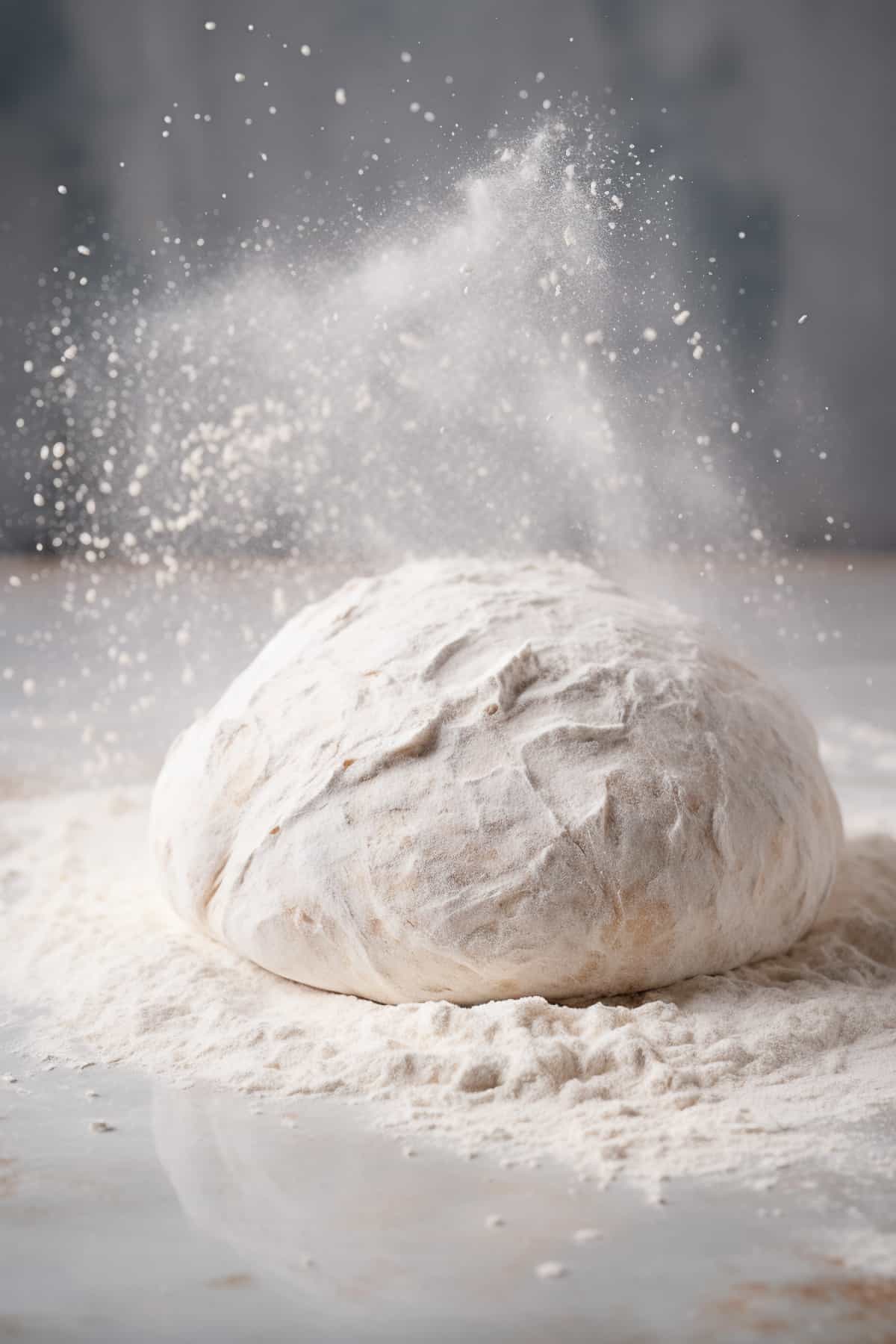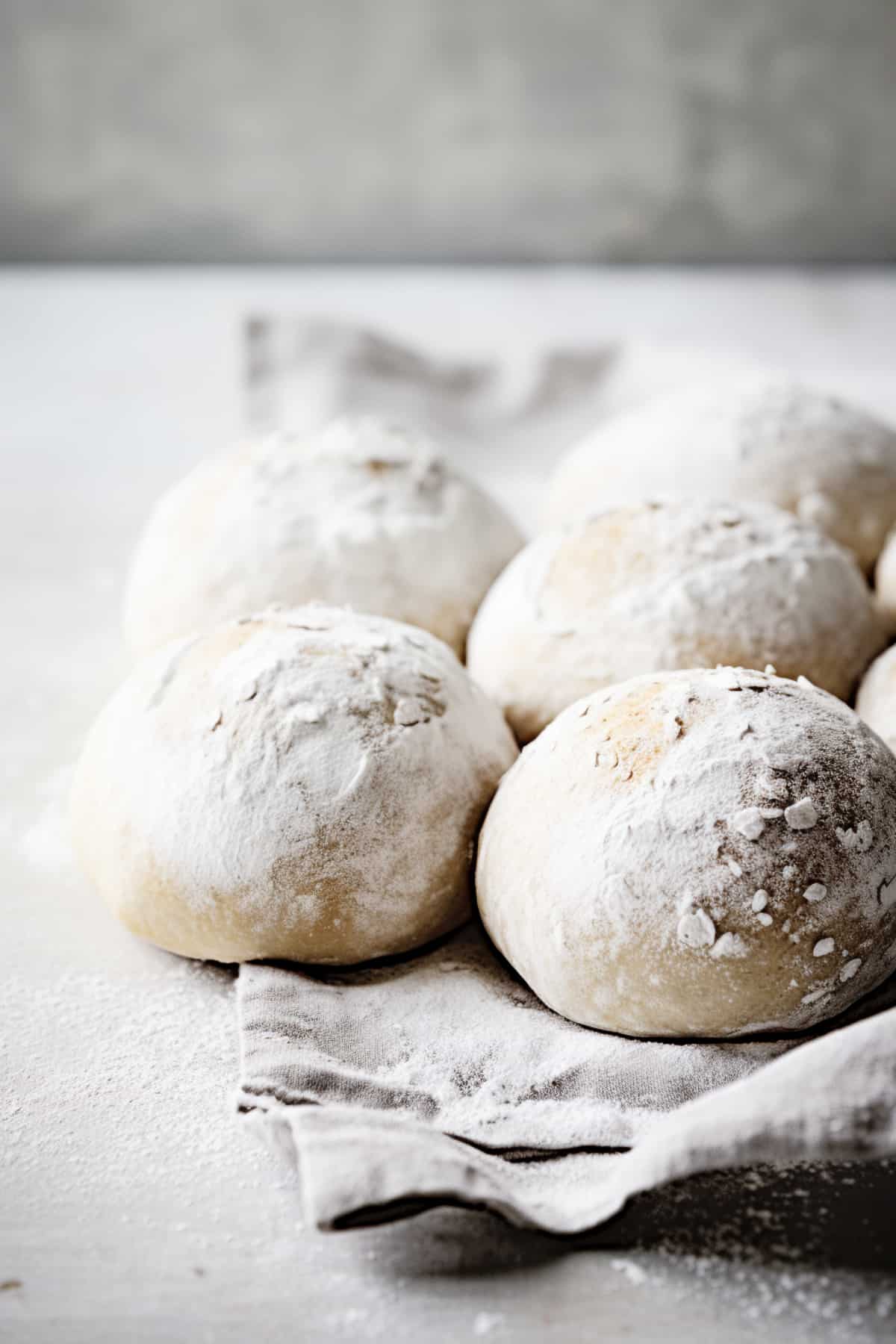 Make the Dough: Combine flour, yeast, sugar, warm water, and salt in a stand mixer or by hand until it forms a soft dough. Tip in bold italics: Gradually add the water to avoid a sticky dough.
Knead the Dough: Knead in a stand mixer with a dough hook or by hand for about 8-10 minutes. It should be smooth and elastic.
First Proofing: Cover and let the dough rise for 1 hour or until doubled in size.
Shape the Rolls: Divide into equal parts, shape into balls, then flatten slightly.
Second Proofing: Let them rise again, covered, for 30 minutes.
Bake: Preheat the oven, bake until golden brown, and cool on a wire rack.
Tip: Use a kitchen scale for uniform rolls. This will help them all bake evenly.
🔪 Equipment
Stand Mixer: For mixing and kneading the dough, especially useful if you are making a large batch. A dough hook attachment will be helpful, but you can also knead the dough by hand if you don't have a mixer.
Baking Sheet or Baking Pan: To shape and bake the rolls, ensuring they cook evenly.
Pastry Brush: For applying the egg wash evenly over the rolls, which helps the seeds stick and gives a golden-brown finish.
Measuring Cups and Spoons: To measure the ingredients accurately, especially for the yeast, salt, and sugar, which must be precise for the dough to rise and flavor properly.
🍯 Storage
Fridge

Store baked rolls in airtight bags for up to 3 days.

Freezer

Freeze-shaped dough balls or baked rolls for up to 3 months.

Reheat

Thaw overnight in the fridge, allow to rise if it's dough, then bake as usual.
💡 Top Tips
Shaping: Be gentle to retain the dough's airiness. For consistency, use a kitchen scale.
Freezing: Freeze individually first to prevent sticking.
Baking Frozen Rolls: You can also bake from frozen; just allow an extra 5-10 minutes of baking time.
Creating Softness: Despite the lean dough, proper kneading and proofing times are crucial for a soft texture.
❓FAQ
Can I make these bread rolls without a stand mixer?
Absolutely! Mixing by hand might take longer, but it's equally effective. Just knead the dough on a floured surface until smooth.

Can I freeze the dough?
Yes! Shape the rolls, freeze them on a tray, then transfer to a bag. Let them thaw and rise for 6-8 hours before baking.

How do I make sure the seeds stick properly?
Dampen the tops of the rolls with water or an egg wash before sprinkling the seeds.

Can I bake the rolls straight from the freezer?
Yes, just add an extra 5-10 minutes to the baking time.

These seeded bread rolls offer the perfect blend of convenience and taste. Their soft, fluffy texture is achieved even with lean dough. With the make-ahead and freeze options, you can enjoy freshly baked rolls at any time. The detailed steps for shaping, freezing, thawing, and baking ensure perfect results every time. Happy baking!
Pairing
These are my favorite soups to serve with these bread rolls:
If you tried these bread rolls or any other recipe on my website, please let me know in the comments below. I love hearing from you. Also, please leave a star rating whilst you're there!
You can also follow along on Pinterest, Facebook, and Instagram!
You can also find weekly meal plans and budget recipes on our sister site Savvy Bites.
Rosemary Seeded Bread Knots
Soft and fluffy seeded bread rolls! These incredible rolls are perfect for any occasion. Topped with seeds, the rolls are perfect for serving at Thanksgiving and Christmas or for dunking in soups and sauces. A make-ahead option ensures convenience, while an egg wash ensures the seeds stick beautifully.
Print
Pin
Rate
Ingredients
For the Dough:
3

cups

(

375

g

)

All-purpose or bread flour

2 ¼

teaspoons

(

2 ¼

teaspoons

)

Instant or active dry yeast

2

tablespoons

(

2

tablespoons

)

Sugar

1

cup

(

240

ml

)

Warm Water

110ºF (43°C)

1

teaspoon

(

1

teaspoon

)

Salt
For the Topping:
A mixture of seeds

such as sesame, poppy, sunflower

1

(

1

)

egg

beaten
Instructions
Making the Dough:
In a large bowl, combine flour, yeast, sugar, and salt.

Gradually add warm water, mixing until a soft dough forms.

Knead for 8-10 minutes until smooth and elastic.
First Proofing:
Place the dough in an oiled bowl, cover with a damp cloth.

Allow to rise for 1 hour or until doubled in size.
Shaping the Rolls:
Divide the dough into 12 equal parts, shaping them into balls.

Gently flatten each ball into a roll shape.
Applying Egg Wash and Seeds:
Brush the tops of the shaped rolls with the beaten egg.

Sprinkle with your chosen seeds.
Second Proofing:
Place the seeded rolls on a lined tray, cover with a damp cloth.

Allow to rise for another 30 minutes.
Baking:
Preheat the oven to 190°C.

Bake for 15-20 minutes or until golden brown.

Allow to cool on a wire rack.
Freezing (Optional):
Follow steps 1-4.

Place the shaped rolls on a baking tray and freeze until firm.

Transfer to a freezer bag and store for up to 3 months.
Thawing and Baking (If Frozen):
Thaw in the refrigerator overnight.

Allow to rise at room temperature for 6-8 hours.

Bake as per normal instructions.
Notes
For Shaping: To ensure uniformity, consider using a kitchen scale.
For Freezing: Freeze individually first on a baking tray to prevent sticking.
When Baking from Frozen: Add an extra 5-10 minutes of baking time.
Achieving Softness: Proper kneading and proofing times help create a soft texture despite the lean dough.
Nutrition
Calories:
131
kcal
|
Carbohydrates:
27
g
|
Protein:
4
g
|
Fat:
1
g
|
Saturated Fat:
0.2
g
|
Polyunsaturated Fat:
0.2
g
|
Monounsaturated Fat:
0.2
g
|
Trans Fat:
0.002
g
|
Cholesterol:
14
mg
|
Sodium:
169
mg
|
Potassium:
44
mg
|
Fiber:
1
g
|
Sugar:
3
g
|
Vitamin A:
20
IU
|
Vitamin C:
0.002
mg
|
Calcium:
8
mg
|
Iron:
2
mg