If you've ever tasted Garlic Naan, you know how incredibly delicious this Indian bread can be. Soft, fluffy, and brimming with a rich garlic flavor, it's no wonder it has become a favorite in Indian cuisine. This Garlic Naan bread recipe can be made right at home, without the need for a tandoor oven, using a simple cast-iron skillet. In around 90 minutes, you can recreate a taste sensation that rivals the best Indian restaurants. The top two features of this recipe are its amazing buttery taste and the ease of making it at home.
If you enjoy this Garlic Naan, check out my recipe for this super easy yeast-free naan bread recipe.
Jump to:
⭐️ Why You'll Love This Naan Recipe
Restaurant-style Taste: No need to dine out for authentic flavor.
Easy to Make: Perfect for beginners and experts alike.
Customizable: Add herbs or spices to suit your taste.
Versatile: Serve with curries, use in sandwiches, as a pizza base, or enjoy it plain.
Homemade Quality: Avoid preservatives found in store-bought versions.
🧾 Ingredients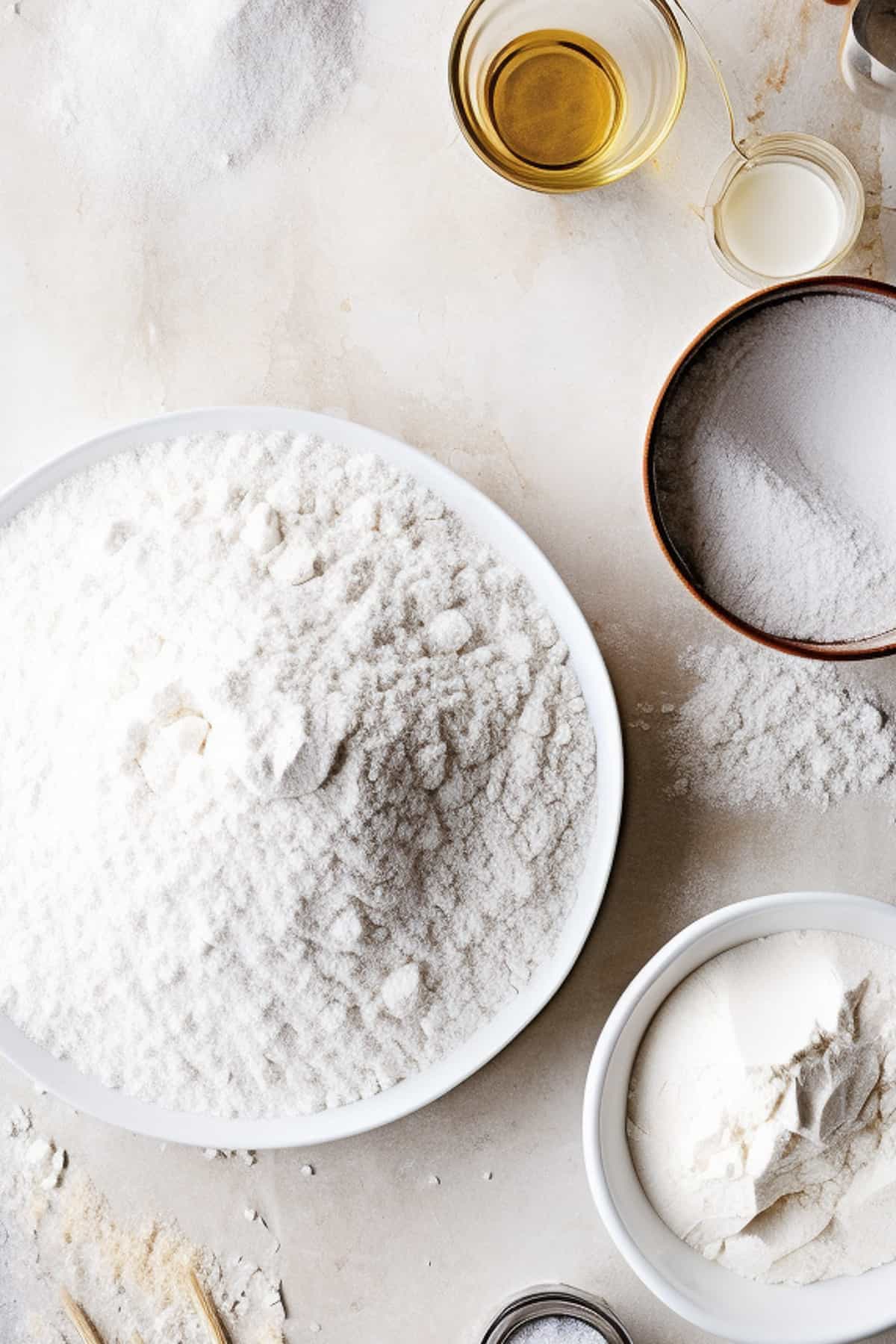 All-Purpose or Bread Flour: The foundation for a chewy, soft texture.
Yeast (Active Dry or Instant): Enables the dough to rise, adding fluffiness.
Garlic (Minced and Buttered): For that authentic garlic flavor punch.
Yogurt and Oil (or Ghee): For moistness, a fluffy texture and a rich, traditional taste.
Cilantro or Parsley: Fresh herbs that add a lovely color and aroma.
Salt, Sugar, and Warm Water: Balances the flavors and aids in yeast activation.
See recipe card for quantities.
📖 Substitutions & Variations
Vegan Option: Substitute regular yogurt with a plant-based variant and the butter with vegan alternatives.
Different Herbs: Try using parsley instead of cilantro.
Whole Wheat: Substitute all-purpose flour with whole wheat for a healthier version.
Gluten-Free: Use gluten-free flour with xanthan gum.
Different Flavors: Experiment with cheese, seeds, or other herbs.
👩🏻‍🍳 Step-by-Step Instructions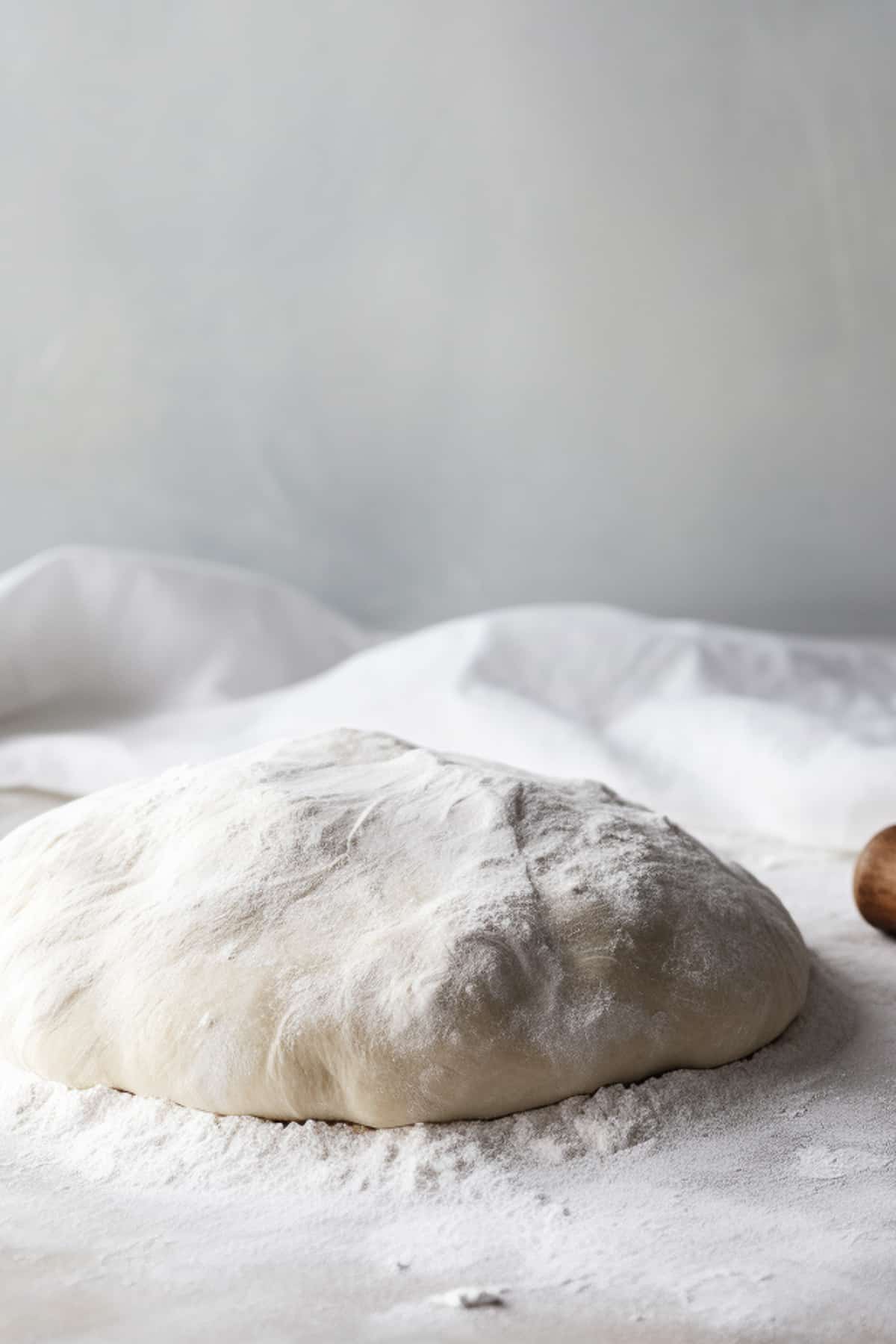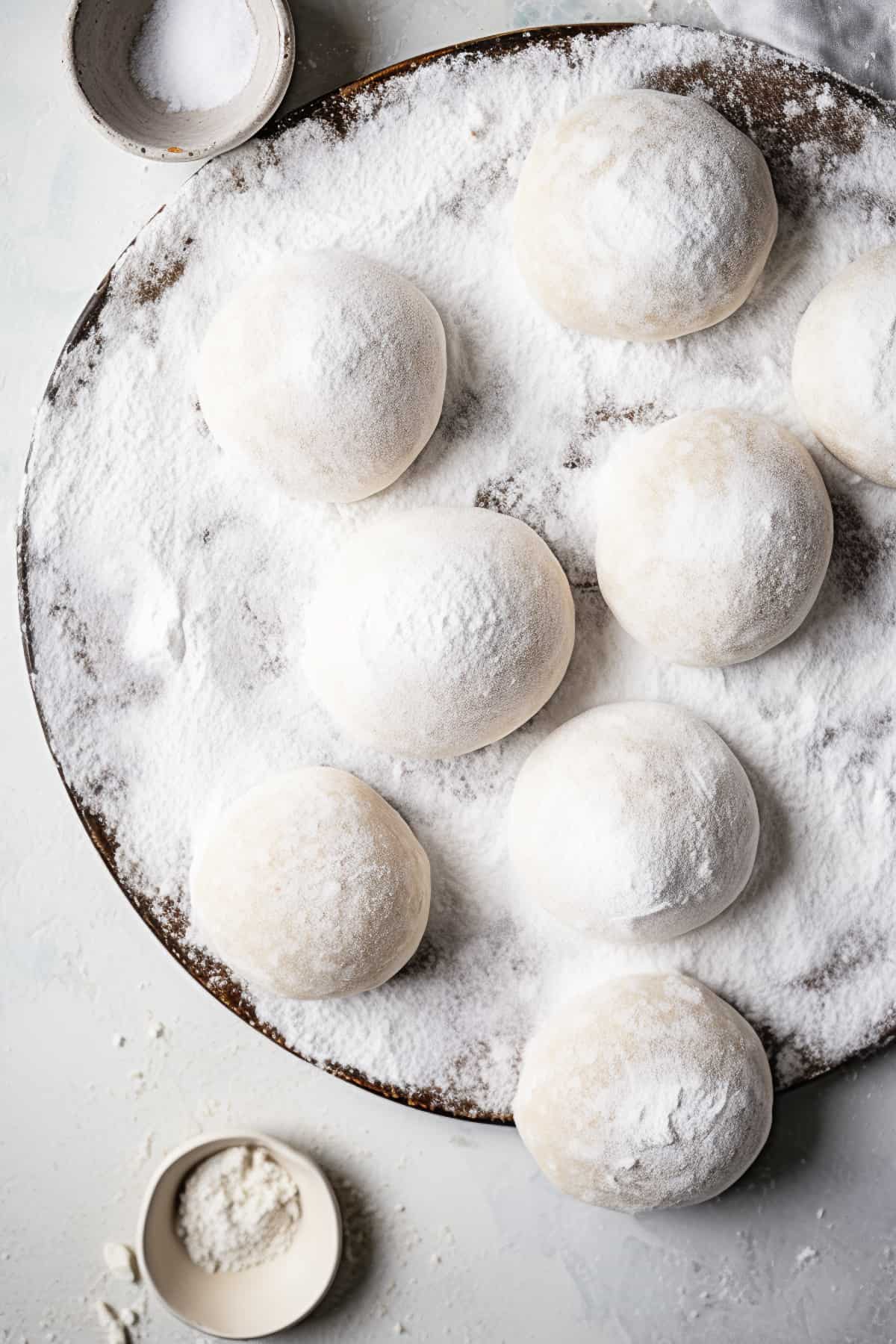 Activate the Yeast: Mix yeast with sugar and warm water, and let it froth.
Prepare the Dough: Combine flour, yeast mixture, yogurt, oil, garlic, and knead until smooth and elastic. The dough will spring back when lightly pressed with a finger. It also may feel slightly tacky but not sticky.
First Rise: Cover and let the dough rise in a warm place until doubled in size.
Divide and Shape the Naans: Divide into balls, roll into ovals. Just use a regular rolling pin and a lightly floured surface to roll your naan breads out.
Cook on Skillet: Cook on a hot greased skillet until bubbly and golden brown. The heat of the skillet makes the dough rise quickly and fills the bread with air resulting in very soft and fluffy bread. *Once there are large bubbles on the top of the breads it's time to flip them and cook the other side.
Final Touch: Brush with garlic butter, sprinkle salt, garnish with cilantro or parsley.
Tip: Use lukewarm milk instead of water for a richer taste.
🔪 Equipment
Skillet (Cast Iron Preferred): This is used for cooking the naan, achieving a beautiful golden brown color and slight char, replicating the traditional cooking method.
Rolling Pin: A rolling pin is needed to roll the dough into the classic oval shape of naan. It ensures that the naan is evenly thin, allowing it to puff up properly during cooking.
Mixing Bowls: Mixing bowls are required for activating the yeast, kneading, and resting the dough. Having a set of bowls in different sizes can make the process more organized and efficient.
🍯 Storage
Fridge

Store in an airtight container for 4 days.

Freezer

Wrap each naan individually, store in ziplock bags for 2 months.

Reheat

Skillet or microwave, adding a touch of butter if needed.
💡 Top Tips
Dough Consistency: Proper kneading of the dough is very important for texture. Ensure it's soft and stretchy and not too sticky.
Skillet Temperature: Make sure the skillet is hot enough but not smoking for the best texture.
Garlic Butter: Brush Generously, it adds that restaurant-style flavor.
❓FAQ
Can I use a regular frying pan instead of a cast-iron skillet?
Yes, any non-stick pan will work. A cast-iron skillet is recommended for an authentic taste.
Can I freeze the dough?
Yes, you can prepare the dough in advance and freeze it. Thaw it in the fridge before you use it.
How do I ensure the naans are soft?
Proper kneading, correct cooking temperature, and wrapping in a towel after cooking.
Garlic Naan can turn any meal into a gourmet cooking experience. This homemade Garlic Naan recipe is a delightful addition to your Indian meal or as a versatile bread to elevate any dish. It's perfect for serving with your Indian curries like this recipe recipe etc. or for dunking in soups like this roasted tomato soup.
Curries To Serve With Naan Bread
These are my favorite dishes to serve with [this recipe]:
If you tried this Recipe or any other recipe on my website, please let me know in the comments below. I love hearing from you. Also, please leave a star rating whilst you're there!
You can also follow along on Pinterest, Facebook, and Instagram!
You can also find weekly meal plans and budget recipes over on our sister site Savvy Bites.
The Best Easy Garlic Naan Bread
A classic Indian bread, Garlic Naan is the perfect side dish for any curry. Soft, buttery, and infused with garlic, this recipe offers an authentic taste with simple ingredients. Perfect for a family dinner or a special occasion.
Print
Pin
Rate
Ingredients
3

cups

(

375

g

)

all-purpose flour

1

(

1

)

package

0.25 oz active dry yeast or instant yeast

1

teaspoon

(

1

teaspoon

)

sugar

1

cup

(

240

ml

)

warm water

110°F

1

teaspoon

(

1

teaspoon

)

salt

4

tablespoons

(

4

tablespoons

)

plain yogurt

2

tablespoons

(

2

tablespoons

)

oil or ghee

3

tablespoons

(

3

tablespoons

)

minced garlic

2

tablespoons

(

2

tablespoons

)

melted butter

2

tablespoons

(

2

tablespoons

)

chopped cilantro or parsley
Instructions
Activate the Yeast:
In a bowl, combine yeast, sugar, and warm water. Let it sit for 10 minutes, until frothy.
Prepare the Dough:
In a large bowl, mix flour, salt, yogurt, and oil.

Add activated yeast mixture, and knead for 10 minutes until smooth.

Cover and let rise for 1 hour, or until doubled.
Shape the Naans:
Divide the dough into 8 equal balls.

Roll each ball into an oval shape, about 8 inches long.
Cook the Naans:
Heat a greased skillet over medium-high heat.

Cook each naan until bubbly and golden brown, about 1 minute per side.
Final Touch:
Mix garlic with melted butter.

Brush the garlic butter mixture over the naans.

Sprinkle with salt, and garnish with cilantro or parsley.
Notes
For Vegan Version: Substitute yogurt with coconut milk, butter with vegan alternatives.
For Richer Taste: Use lukewarm milk instead of water in the dough.
Gluten-Free Option: Replace all-purpose flour with gluten-free flour and add xanthan gum.
Storing and Reheating: Store in the fridge in an airtight container for up to 4 days, or freeze individually for up to 2 months. Reheat in a skillet or microwave, adding a touch of butter if needed.
Serving Suggestion: Serve with spicy Indian curries like Tikka Masala or Aloo Gobi.
Enjoy the warmth and comfort of homemade Garlic Naan with this easy-to-follow recipe. Its authentic taste and texture will surely win over your family and guests!
Nutrition
Calories:
248
kcal
|
Carbohydrates:
39
g
|
Protein:
6
g
|
Fat:
7
g
|
Saturated Fat:
2
g
|
Polyunsaturated Fat:
1
g
|
Monounsaturated Fat:
3
g
|
Trans Fat:
0.1
g
|
Cholesterol:
9
mg
|
Sodium:
320
mg
|
Potassium:
74
mg
|
Fiber:
1
g
|
Sugar:
1
g
|
Vitamin A:
97
IU
|
Vitamin C:
0.1
mg
|
Calcium:
22
mg
|
Iron:
2
mg