Rich, buttery and tender. This blood orange rosemary bundt cake is made with tangy buttermilk and drizzled with a sweet and tangy blood orange glaze, then scattered with chopped rosemary to make this a classic fit for a modern table.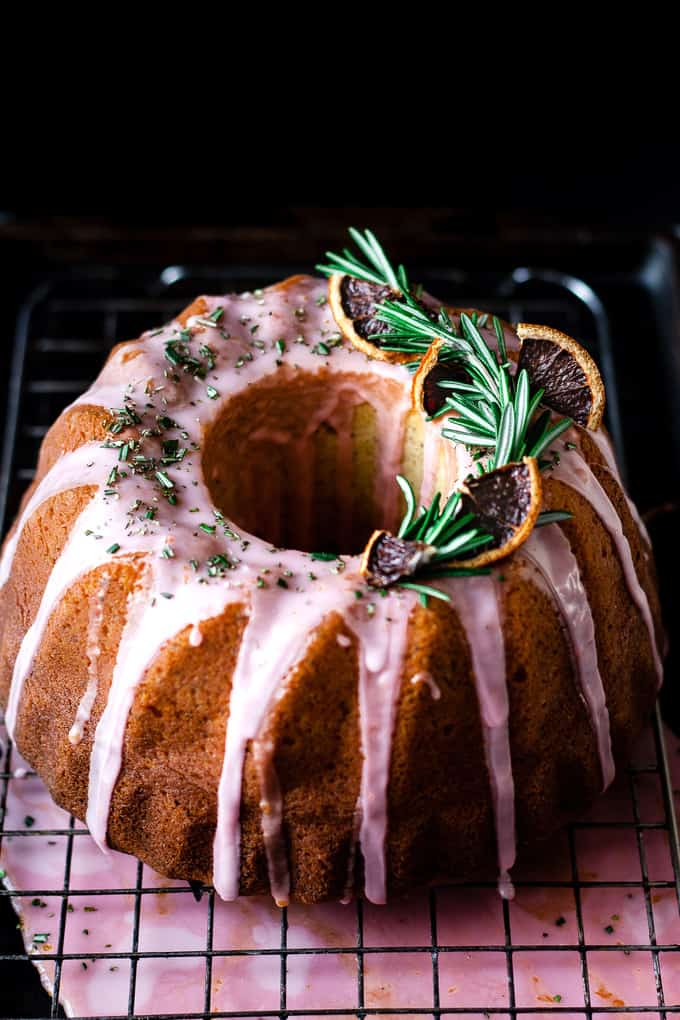 And on Fridays... we bake. If we're friends on Instagram (if we're not we should be!) then you'll know that it took me a while to track down blood oranges at my local grocery store this winter. But now that I finally have, it's almost impossible to not put blood oranges and blood orange juice in everything. Can someone be in danger of overdosing on vitamin C?
But let's just get straight to the cake. Every Friday on Salted Mint will be a baking day. My hope is that you'll be able to slow down over the weekend and spend some time baking. Enjoying the process of mixing flour and eggs and creating something for flavour and beauty. Rather than our often frantic mid-week dinner times.
Let's start this weekend with a gorgeous blood orange rosemary bundt cake.
Blood orange rosemary bundt cake step by step:
I've been a pastry chef for a long time and a chef for even longer. In my experience the best way to set yourself up for success in baking (all cooking, but especially baking ) is to read the recipe from beginning to end, before you start. Doing this you can make sure you've got all the ingredients, all the equipment, and that your cake pans or trays are prepped before you even start mixing.
Step 1- Butter and flour the pan. The very first thing to do for this recipe is to use some very soft butter to brush the inside of your bundt cake pan. Then flour the whole pan, tipping out any excess flour.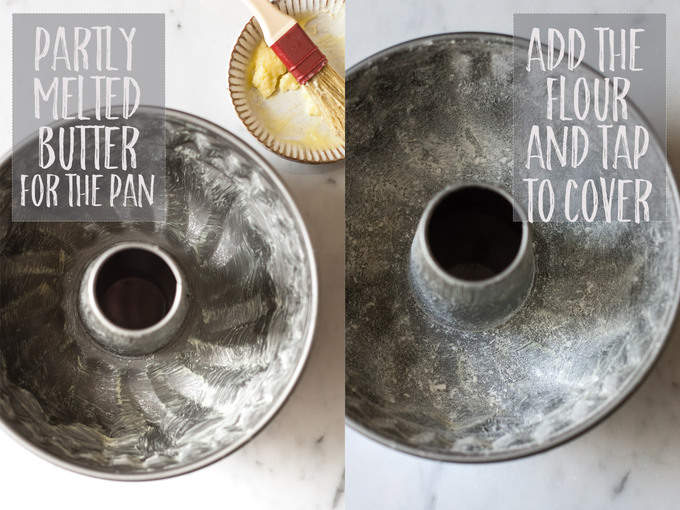 Step 2- Cream the flour and sugar. It was only last week I blew the motor on my Kitchenaid mixer (my own fault!) so I've been using an old fashioned style electric hand whisk. So this photo of the butter and sugar creamed, doesn't look so creamed. But I can't stress enough the importance of making do with what you've got. Not having a stand mixer should never keep anyone away from having cake!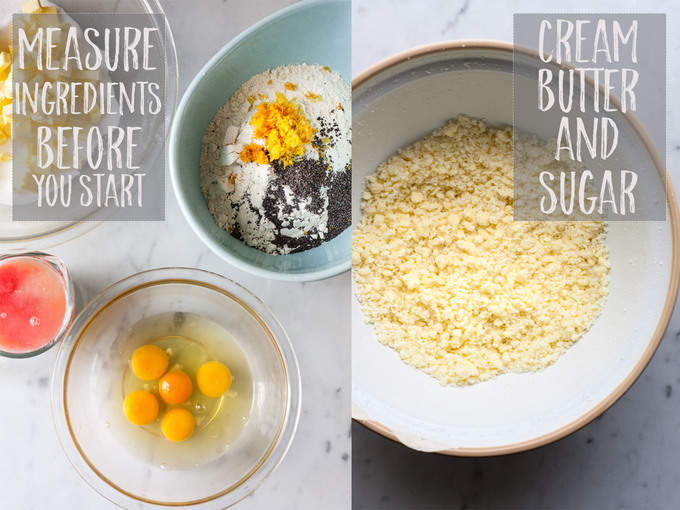 Step 3- Mix the ingredients. Add the eggs and mix. Add the buttermilk and flour in alternate additions beginning and ending with the flour. Pour your cake mix into your cake pan and bake. Make the glaze. That gorgeous bright pink glaze!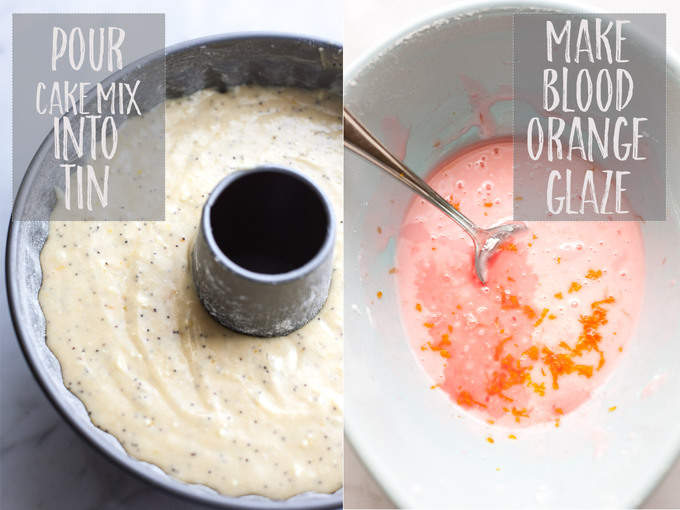 How to get a bundt cake out of the pan?
I was on the paranoid side about being able to get this bundt cake out of the pan without ruining the cake or the pan. I've read some horror stories! The absolute best way to make sure your cake comes out, is to butter your pan well. A thin coat of butter, but be sure you get it in all the grooves of the design, up the cone, and at the base of the pan. Those can all be problem spots for getting stuck. Once you've buttered, give a light dusting of flour as an extra insurance policy. If you're making a chocolate bundt cake you could use cocoa powder for this.
How long does a bundt cake take to cool?
Part of the trick of getting a cake out of the pan without any cracks or breaks is to let it cool properly before turning the pan over. As the cake cools, it starts to release itself from the tin. I gave this cake 30 minutes to cool in the pan and another 30 minutes to cool before I glazed it. You can see why I reserve baking for the weekends! But you're patience will be rewarded with a gorgeous cake that turns out with no effort and has amazing definition in it's design.
Whenever I bake I always prefer a homespun elegance to a formal style cake or French fancy. I also absolutely love the addition of savoury herbs to my baking. In the pear thyme and gin cake from last year it was such a hit. And oranges and rosemary are a classic combination in cooking, so why not baking. I get a lot of my baking inspiration from my friend Sarah and she's famous for her creative flavour pairings.
This cake would also be amazing with lemon and thyme or lime and coconut.
I can see that we'll have a lot of bundt cakes in our future!
Blood Orange Rosemary Bundt Cake
Rich, buttery and tender. This blood orange rosemary bundt cake is made with tangy buttermilk and drizzled with a sweet and tangy blood orange glaze, then scattered with chopped rosemary to make this a classic fit for a modern table.
Print
Pin
Rate
Ingredients
¾

cup

buttermilk

zest of 2 blood oranges

zest and juice of 2 lemons

3

cups

flour

1 ½

teaspoon

salt

½

teaspoon

baking soda

½

teaspoon

baking powder

2

Tablespoons

poppy seeds

1

cup

butter

,

softened

2

cups

sugar

5

large eggs
Blood Orange Glaze
1 ½

cups

icing sugar,

sifted

3-5

Tablespoons

blood orange juice

3

sprigs of rosemary

,

1 chopped, 2 whole
Instructions
Preheat the oven to 350f/ 180c. Butter and flour a 10 cup bundt pan. In a small bowl mix the buttermilk and lemon juice and set aside. In a medium bowl weight out all the dry ingredients, flour baking powder, baking soda and zest of the lemons and oranges and poppy seeds.

Cream the butter and sugar in the bowl of a stand mixer, or use an electric hand held mixer until light and fluffy. Add the eggs one at a time mixing well after each addition.

With the mixer on low alternate adding the buttermilk and flour mixture to the bowl, beginning and ending with the flour.

Pour the batter into the prepared bunt pan and bake for about 40-50 minutes, until a toothpick comes out almost clean.

Leave on a wire rack to cool in the pan for at least 30 minutes before flipping it over onto a wire rack to continue cooling. Mix the glaze and drizzle over the cake. Garnish with the chopped rosemary and the whole sprigs.
Notes- Optional: If you'd like to elevate this cake to something show stopping you can thinly slice some blood oranges and leave them in a very low oven overnight to dry out. Use about 1 orange to make 10 slices.
This cake makes about 18 slices.
Nutrition
Calories:
321
kcal
|
Carbohydrates:
49
g
|
Protein:
4
g
|
Fat:
12
g
|
Saturated Fat:
7
g
|
Cholesterol:
73
mg
|
Sodium:
343
mg
|
Potassium:
79
mg
|
Sugar:
32
g
|
Vitamin A:
405
IU
|
Vitamin C:
1.4
mg
|
Calcium:
44
mg
|
Iron:
1.3
mg