This pear thyme and gin cake is the answer to all your dessert, entertaining, brunching, and snacking queries. Loaded with juicy fall pears, herby thyme, and fragrant gin.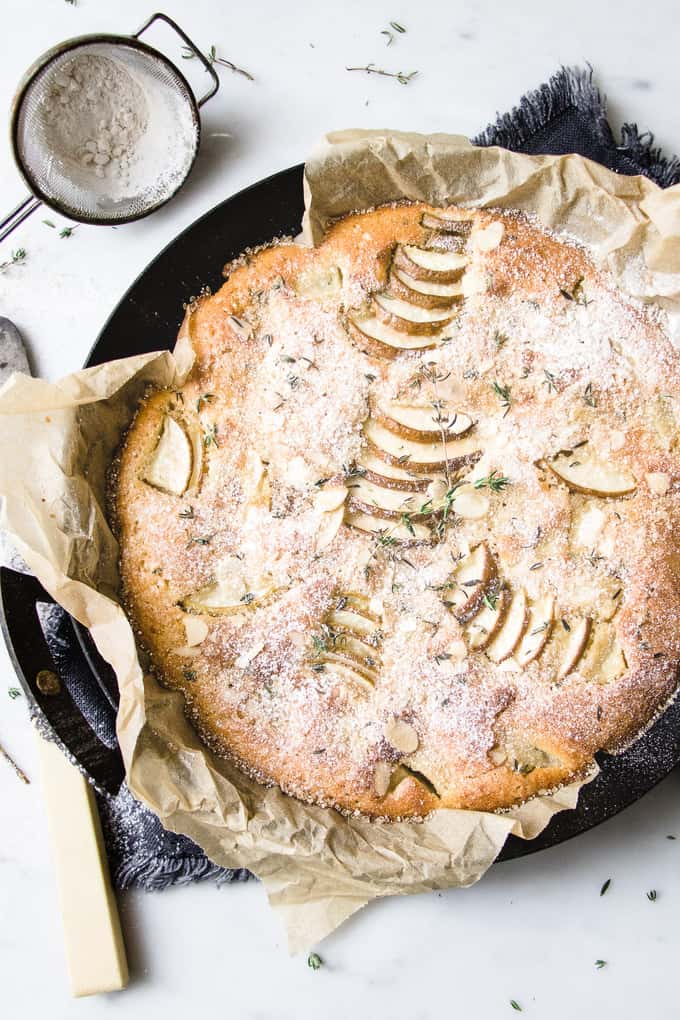 Okay. It's Tuesday, Christmas is less than 2 months away (does that scare you a little?) and you need some go-to recipes that are going to see you through the holidays with grace and style... and EASE. So here it is. The EASY you've been looking for. This cake comes together in about 15 minutes and bakes in about 45 minutes. PS. If you're gluten free, this cake is gorgeous if you replace the flour with a 50-50 mix of gluten free flour and almond meal (ground almonds).
So, let me start at the beginning. This cake is heavily inspired by Tieghan of HalfBaked Harvest. Hers started out as a post from the Cook Beautiful cookbook by Athena Calderone of Eye Swoon. And both of these ladies are absolute kitchen goddesses. It started life as a Cardamom Cognac Apple Cake. I had a few issues with that.
First issue. I don't have any cognac and I was never going to buy any just for a cake. But I did have gin. The gin I used is earl grey and lemon gin, but you can use regular gin or even just earl grey tea if you don't fancy using alcohol. I just really love the botanicals in gin. Juniper and earl grey and hints of black pepper. Those flavours lend themselves more the the earthy and mild taste of pears rather than the sweet and juicy taste of apples. ?? Issue number 2.
So pears it is.
And the thyme in this cake just brings everything together and elevates it from a snack or simple dessert to something worthy of brunch and entertaining. This blueberry cream cheese coffee cake is another great option for simple dessert recipes that really deliver on looks and flavor. If you don't use fresh herbs in your baking, it's time to get experimenting. Herbs are not just for savoury cooking, but lend so much depth to the sweeter side of the menu. Chocolate and rosemary, orange blossom and saffron... I could truly go on. But I'd rather create the recipes and show you, rather than tell you. So stay tuned.
My friend Sarah runs the Noisette Bakehouse in Leeds and she uses fresh herbs and savoury flavours in her recipes all the time. It's just such intelligent baking. The beauty of a recipe like this, is that it is just so simple. It's like modern bakehouse chic. It's perfect served at room temperature, but it truly turns into something magic when it's warmed up and the oils and fragrance start to release from the thyme.
But before I serve us all a slice of this cake, let's address the issue of healthy recipes shall we. I know many people come to SM to grab healthy quick recipes. And those are never gonna stop. But sometimes... especially at this time of year, there may be some recipes that are more indulgent than usual. Because here's the thing. For a while there, I thought sugar was the devil and that carbs were gonna kill me.
The thing is though, most of us are just happier and healthier when we eat a diet that consists of everything. A little cake and a lot of veggies... a little gin and a lot of water. But always in season. No matter what.
I've wrestled intensely with what I want Salted Mint to be and I tried very hard to make it fit into a category because I thought it should. But it wasn't right. In turn, you the reader, have suffered. I'm a believer in cooking it how you feel it. And that is truly how we will cook going forward.
This pear thyme and gin cake is truly an ode to the season. And indeed it will be your go-to all winter long. In fact we've decided to break with tradition this year and have this cake for dessert on Christmas day. It's that good.
Pear Thyme and Gin Cake
This pear thyme and gin cake is the answer to all your dessert, entertaining, brunching and snacking queries. Loaded with lush pears, thyme and fragrant gin
Print
Pin
Rate
Ingredients
4

Pears

6

sprigs Thyme

1

cup

flour (125g)

1

teaspoon

ground cardamom

½

teaspoon

ground cinnamon

¾

teaspoon

baking powder

¼

teaspoon

kosher salt

2

large eggs

,

at room temperature

¾

cup

caster or granulated sugar (170g)

3

Tablespoons

Earl Grey Gin

,

or any other gin

½

teaspoon

vanilla extract

⅓

cup

buttermilk (80g)

,

at room temperature

½

cup

unsalted butter (112g)

,

melted, plus more for greasing the pan

2

Tablespoons

Demerara sugar

confectioners sugar

,

for dusting
Instructions
Preheat the oven to 160C or 350F. Place a piece of parchment paper or greaseproof into an 8-or 9-inch cast iron pan and grease with butter.

In a bowl, whisk together the flour, cardamom, baking powder, and salt. In a separate large bowl, beat the eggs until foamy. Whisk in the sugar, gin, and vanilla extract. Pour in the buttermilk and whisk to combine.

Peel, halve, and core 3 of the pears, then cut them into ½-inch-thick cubes. Reserve the remaining pear (unpeeled, and cut into ¼-inch slices) for the top.

Add half of the flour mixture to the wet ingredients, stirring until just combined, then gently fold in half of the melted butter. Repeat with the remaining flour and butter. Gently fold in the cubed pears, reserving the slices. Add the leaves from 5 thyme leaves. Transfer the batter to the pan and arrange the pear slices in a circular pattern on top of the batter. Sprinkle with demerara sugar and the remaining thyme leaves. Bake until the cake turns a deep golden brown and a cake tester inserted into the centre comes out clean, about 55-65 minutes. Transfer the skillet to a cooling rack and let sit for 5 minutes. The cake may be served warm or at room temperature, directly from the skillet; whichever you choose, be sure to dust with confectioners sugar before serving.
Nutrition
Calories:
331
kcal
|
Carbohydrates:
48
g
|
Protein:
3
g
|
Fat:
13
g
|
Saturated Fat:
7
g
|
Cholesterol:
72
mg
|
Sodium:
202
mg
|
Potassium:
191
mg
|
Fiber:
3
g
|
Sugar:
30
g
|
Vitamin A:
490
IU
|
Vitamin C:
5
mg
|
Calcium:
51
mg
|
Iron:
1.3
mg