This easy French Onion Soup will be the best soup you make all winter. Sticky sweet onions, a splash of white wine, fresh herby thyme and rich hearty beef broth make this the perfect winter soup.
This is the easiest French onion soup recipe you'll ever make. Warning... this is not fast food or a 20-minute dinner. This is a soup to take some time over. But these sticky sweet onions and golden melty cheese are so worth waiting for. This is easy French onion soup is simple food, done with love and care and the results are sooo delicious.
---
Cosiest Easy French Onion Soup
Like this recipe? Pin it to your SOUP pinboard!
Follow Salted Mint on Pinterest
---
So, when it comes to French onion soup, you may have some questions. Like what kinds of onions should you use? How long do the onions take to caramelize? What mistakes should I avoid? And the most important question you probably have is... What kind of cheese should I use? And is the bread necessary?
That's a lot of questions, dear friend, and we will answer them all one at a time so that by the end of reading this, you will be the cozy soup expert in your inner circle.
So, let's start with...
What kinds of onions you should use for Easy French Onion Soup
You can use whatever onions you've got!!! I'll give you a quick rundown according to Serious Eats it goes like this...
Sweet White Onions- Exactly as the name suggests. Sweet, mellow and with a brightness to them.
Red Onions- Deep flavor with a slight bitterness and less moisture to them.
Yellow Onions- Sweet with a streak of acidity and bitterness.
Shallots- Sweet, with a young brightness.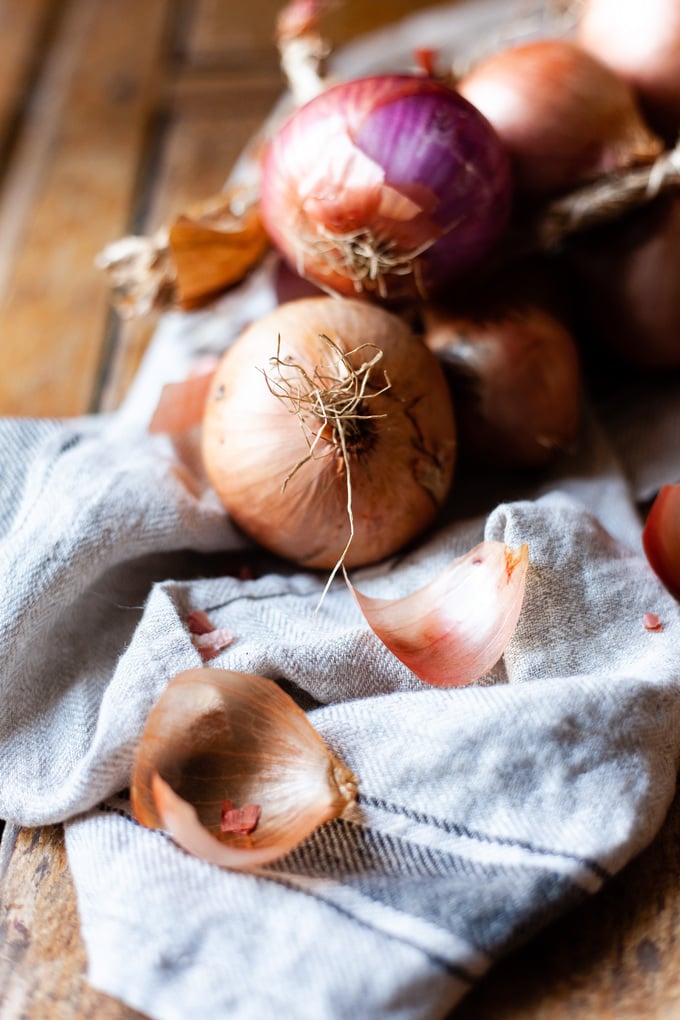 How long do the onions take to caramelize?
Well, that depends on how dark you want to go. I take my onions a very deep golden brown and it takes about 45 minutes to 1 hour. When adding your onions to the pan, it's important to use a mix of butter and oil. The butter helps with flavor and color and the oil allows the butter to get hotter than it would on its own.
You'll also want to use a shallow pan with a wide surface area. These onions need space and the larger surface area will allow the onions to caramelize and the moisture to evaporate. I use this pan and it works like a dream! In all honesty, you're probably betting on about an hour to caramelize these onions properly. Add fresh thyme leaves and some salt in the middle of browning for the perfect caramelized onions.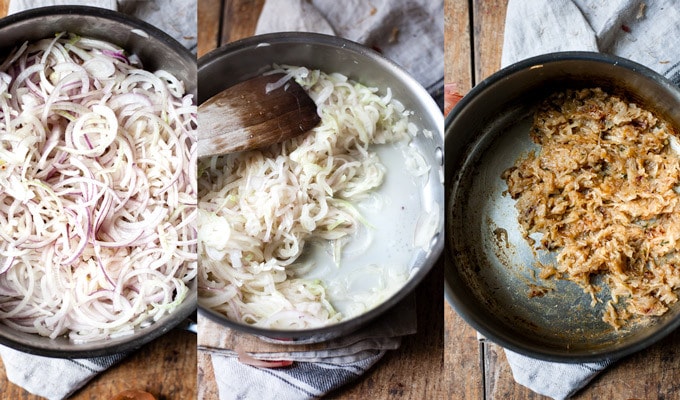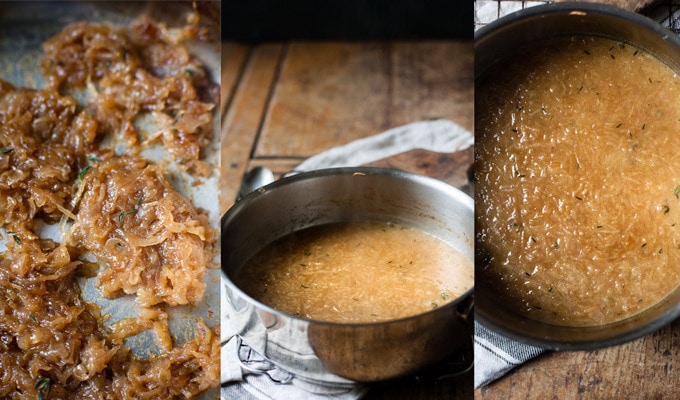 What mistakes should you avoid while making French onion soup?
The biggest mistake to avoid is rushing the caramelization process. It takes time to get those onions deep golden. This is a time when there is literally nothing you can do to speed up this process. It just takes time. Use it as an excuse to unplug and slow down and enjoy the process of cooking.
Using the wrong pot. As mentioned before, your choice of pot here matters. With most soups, you would use a tall sauce pot. But because our goal with this soup is to get those onions golden and to get rid of all the moisture from them, we need a wide shallow pan, so the onions caramelize and don't steam.
Skipping the bread. This French onion soup is easy. It doesn't have a lot of ingredients, so the ones it does have really need to be there and to be the best they can be. I used some homemade bread, but any good quality baguette or sourdough will work nicely.
What Cheese should be used for a French Onion Soup?
Traditionally it's Gruyere that's used in onion soup. But it's not always accessible in terms of availability or maybe financially. So Comte, Swiss and Emmenthal can work really well here too. Any kind of cheese that melts really well is what we're looking for. Yes. In a pinch, even some sharp cheddar will do.
Is the bread necessary?
Yes. It's what holds the cheese up and stops it sinking to the bottom of the soup! If you're following a paleo diet then you could skip the bread, but for me, it's a non-negotiable. BREAD = Necessary!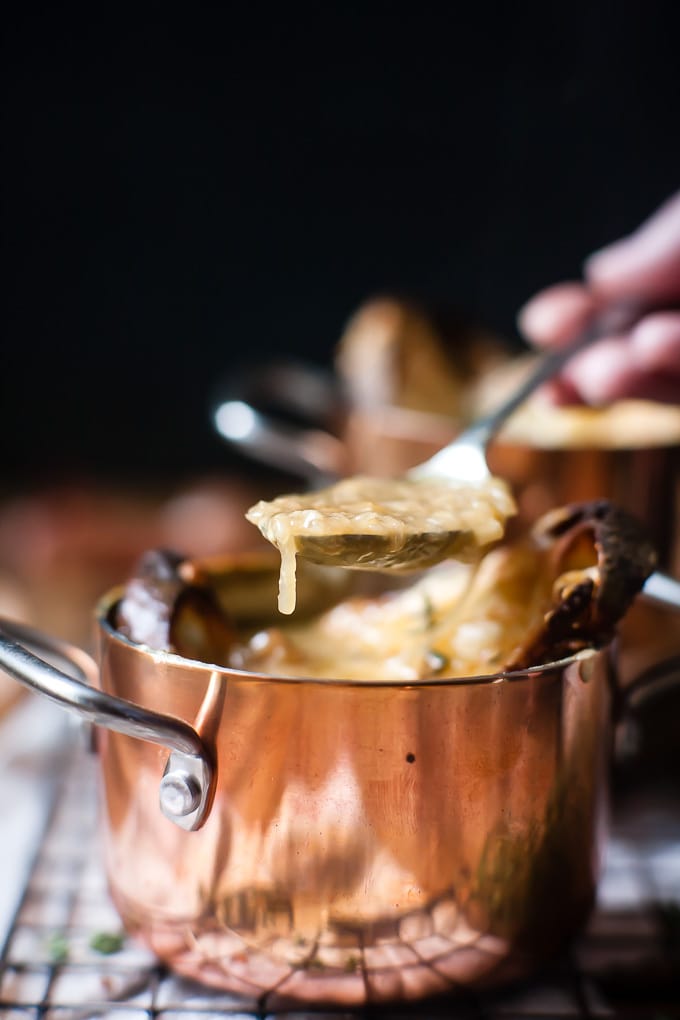 Try more of our favorite Cozy Winter Soups
Tools used to make this Cosy Easy French Onion Soup
Mandolin- For quickly slicing all the onions to the perfect thickness.
This pan- For perfect caramelization every time.
Oven Safe Bowls- For making sure that you get extra golden, melty cheese.
So, go forth and be cozy all winter with the cheesiest cosy French Onion Soup!
The Cosiest Easy French Onion Soup
This easy French Onion Soup will be the best soup you make all winter. Sticky sweet onions, a splash of white wine, fresh herby thyme and rich hearty beef broth make this the perfect winter soup.
Print
Pin
Rate
Ingredients
6

cups

of thinly sliced onions

2

tablespoons

butter

2

tablespoons

olive oil

6

sprigs fresh thyme

1

bay leaf

½

cup

white wine

4

cups

good quality beef broth

4

slices

baguette

toasted

1 ½

cups

grated Gruyere or similar cheese
Instructions
In a large skillet with high sides heat the butter and oil over a medium heat. Add the onions, and the thyme leaves and bay leaf. Cook the onions on low heat until the moisture starts to evaporate from the onions. Do not be tempted to rush this process. It takes time. Stir the onions every 10 minutes to avoid them catching on the bottom of the pan.

Once the onions are a deep caramel color, deglaze the pan with the white wine and bring to a boil to burn off the alcohol. Add the beef broth or chicken broth and bring back to a boil while the broiler pre-heats.

Once the broiler is hot, ladle the soup into the oven-safe bowls and top with the baguette slices and divide the cheese evenly among the 4 bowls. Place the bowls under the broiler until the cheese is melted, golden and bubbly.

Garnish with extra thyme leaves.
Notes
Some recipes may call for adding some baking soda to the onions. Do not do it. The onions turn a very unappetizing greenish yellow and turn to mush.
Don't add sugar to the onions to help the caramelizing process. It makes the onions far too sweet.
Nutrition
Calories:
540
kcal
|
Carbohydrates:
39
g
|
Protein:
24
g
|
Fat:
30
g
|
Saturated Fat:
14
g
|
Cholesterol:
69
mg
|
Sodium:
863
mg
|
Potassium:
936
mg
|
Fiber:
5
g
|
Sugar:
10
g
|
Vitamin A:
715
IU
|
Vitamin C:
20.1
mg
|
Calcium:
589
mg
|
Iron:
1.9
mg