The coziest creamy chicken and wild rice soup is only about 30 minutes away. This soup is like a warm hug/ fuzzy sweater in soup form. It's perfect for an easy weeknight.
I know this isn't a Valentine's style dinner, but sometimes there is no greater love or gesture of caring than making someone steaming hot, creamy, delicious, nutritious soup.
Maybe this soup is more of a thick creamy stew than a soup, especially if left overnight for the rice to soak up all that creamy broth. But it's so perfect for this polar vortex thing that everyone's got going on.
---
Creamy Chicken Wild Rice Soup
Like this recipe? Pin it to your Soup pinboard!
Follow Salted Mint on Pinterest
---
Watch how to make our creamy chicken wild rice soup (1 Min)
One of the first questions you might have is " can I make this in the slow cooker?"
Answer... why, yes. Yes, you can. I've included the instructions here, but I did make this one the stove top, just because it's really easy that way. And I've got a slow cooker soup coming next week that you're going to love!
So, what do you really need to know about this soup, besides how warming it looks? Well, let's go through some pointers...
How to make the coziest creamy chicken wild rice soup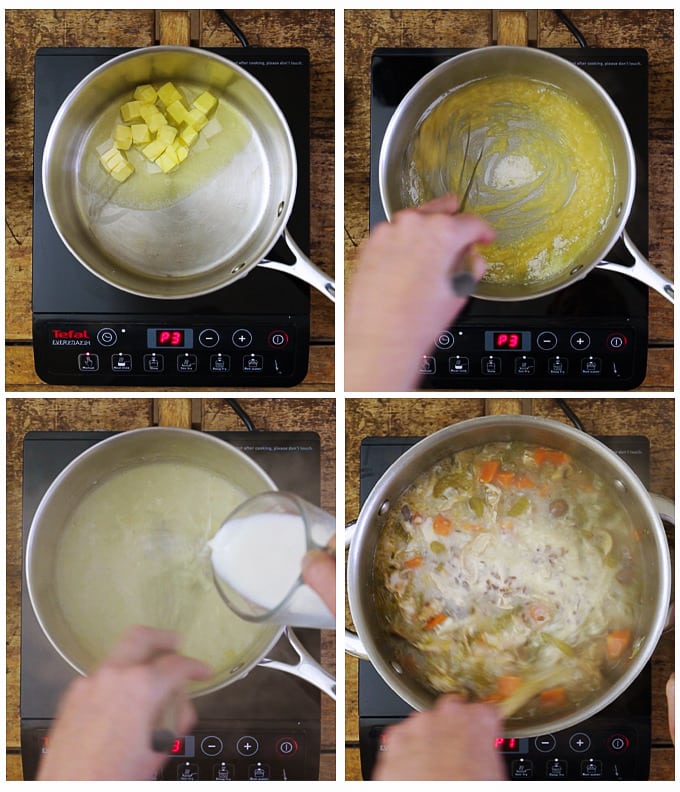 Start with the holy trinity of flavor... carrot, celery, and onion. Are the bay leaves necessary? Yes!!!
Skip the cream and make a roux sauce otherwise known as a white sauce or a bechamel. This thickens the soup to "warm blanket" level cozy and skips the calories of heavy cream.
Lemon. Don't forget to add a good squeeze of lemon to cut through the creaminess and bring balance to the whole soup. Trust me. You may not notice it is in there, but you'll definitely notice if it's missing. Acid is so important in cooking and seasoning food.
And that dill... also a total non-negotiable. The lemon and dill make the whole bowl of soup come alive and remind you that there is indeed warmth in the world, despite what the weather temperature tells you! You can use parsley if you're not crazy about dill, but it just adds an unexpected flavor twist. And I'm nothing if not unexpected in my cooking.
A couple of notes about this soup, though.
If you have leftovers, which you probably will, then you should know that this will be more of a rice dish the following day. For most of us, that's perfect. But please feel free to add some extra water or broth to bring this back to soup consistency.
You can use chicken breast or thighs for this soup, but please make sure it's skinless. The skin will add too much fat to the soup and make it a little on the greasy side.
Wild rice. Let's chat. You can get the black wild rice, but I didn't have any on hand. I had some red Camargue, which is lovely and nutty. Please invest in something like that or the black wild rice. White rice in this soup just doesn't bring the earthiness and nuttiness that's so imperative at this time of year. We'll leave the white rice for the warmer spring and fall days. The freezing nights and record snowfalls demand something a little richer and cozier.
More Cozy Soups On Salted Mint
Tools used to make this Creamy Chicken Wild Rice Soup
Creamy Chicken Wild Rice Soup
The coziest creamy chicken and wild rice soup is only about 30 minutes away. This soup is like a warm hug/ fuzzy sweater in soup form. It's perfect for an easy weeknight.
Print
Pin
Rate
Ingredients
1

tablespoon

olive oil

1

large yellow onion

diced

1 ½

cups

celery

chopped

1

large carrot

chopped (about 1 cup)

2

bay leaves

2

tablespoons

fresh thyme

2

cloves

garlic

grated

2

cups

chopped mushrooms

2

boneless skinless chicken breast

6

cups

chicken broth

1

cup

light cream

optional
For the Roux sauce
¼

cup

butter

¼

cup

flour

1

cup

milk
For serving
juice of 1 lemon

2

tablespoons

dill
Instructions
Heat the olive oil in a large soup pot over a medium heat. Add the onions, celery and carrot and soften in the oil until fragrant and the onion is translucent, about 5 minutes. Add the garlic, mushrooms, bay leaves, and thyme and continue to sweat for a further 3 minutes.

Add the wild rice and the chicken breast. Pour the chicken broth into the pan and ensure that the chicken breast is covered. Top up with water if necessary. Bring the pot to a boil and turn the heat down to a simmer and cook for about 20 minutes, until the rice and chicken are cooked.

Once cooked, remove the chicken from the pot and use two forks to shred the chicken. Add it back to the pan and add the cream if you're using it. Set aside while you make the roux sauce.

To make the roux sauce, melt the butter in a small sauce pan. Once it's melted, add the flour and whisk to combine. Let the flour cook out for about 2 minutes. Slowly pour the milk into the pan while whisking to avoid lumps. Once all the milk has been added, bring the sauce to a boil. As soon as it has boiled it can be removed from the heat and added to the soup. Mix well. Add a squeeze of lemon juice and serve with fresh dill.
Nutrition
Calories:
289
kcal
|
Carbohydrates:
27
g
|
Protein:
13
g
|
Fat:
14
g
|
Saturated Fat:
7
g
|
Cholesterol:
53
mg
|
Sodium:
774
mg
|
Potassium:
661
mg
|
Fiber:
3
g
|
Sugar:
4
g
|
Vitamin A:
1835
IU
|
Vitamin C:
17.7
mg
|
Calcium:
84
mg
|
Iron:
1.7
mg
THANKS SO MUCH FOR READING AND COOKING ALONG WITH ME! IF YOU MAKE THIS RECIPE OR HAVE A QUESTION, I'D LOVE IT IF YOU LEFT A COMMENT AND A RATING. YOU CAN ALSO FOLLOW ALONG ON PINTEREST, FACEBOOK AND INSTAGRAM TO SEE WHAT WE'RE EATING, PINNING AND A LITTLE BEHIND THE SCENES TOO!