This white sauce recipe is widely known as bechamel sauce. It is the perfect base for so many of your other favorite sauces. A basic white sauce is a French classic. This creamy sauce not only elevates your lasagna and pasta dishes but is also surprisingly easy to make in under 20 minutes.
Bechamel (or white sauce) is incredibly versatile and pairs great with sauces like this pomodoro sauce or this roasted red pepper sauce. The combination is perfect for use in this one-pan lasagna recipe.
Jump to:
⭐️ Why You'll Love This Recipe
Incredibly Versatile: Can be used in everything from lasagna and mac and cheese to creamy pasta.
Simple Ingredients: Made with pantry staples like milk, flour, and butter.
Smooth and Creamy: The final product is irresistibly rich and smooth.
🧾 Ingredients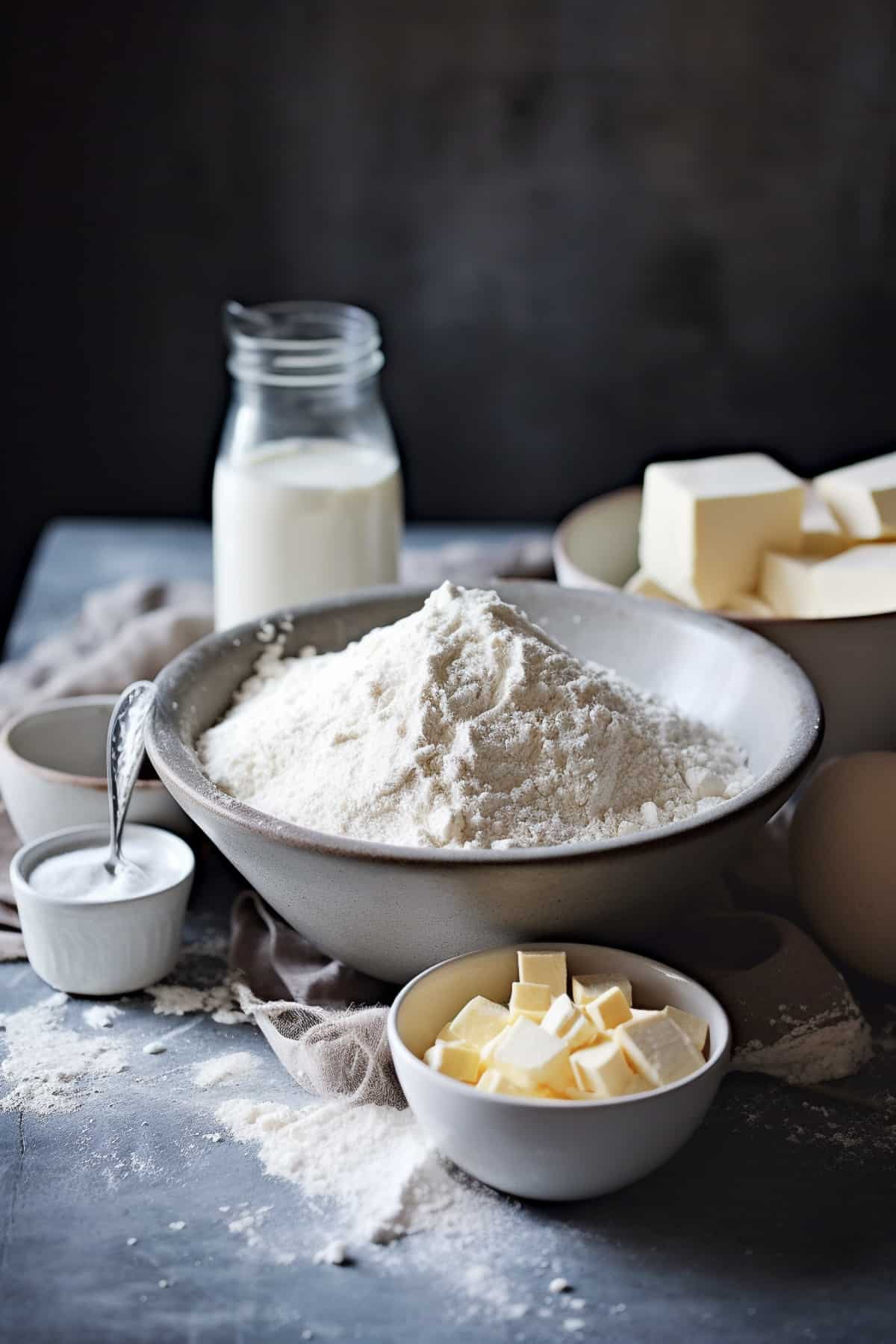 Milk: The base of the sauce, creating its creamy texture. Whole milk is recommended for a richer sauce.
Butter: Provides richness and helps form the roux. Always opt for unsalted.
Flour: Thickens the sauce. All-purpose flour works best.
Salt & White Pepper: Adds seasoning without altering the color. *I often use black pepper when using this sauce in lasagna because it won't make any difference to the appearance.
Nutmeg: A pinch adds a subtle, aromatic layer to the sauce.
See recipe card for quantities.
📖 Substitutions & Variations
Cheese Sauce: Add grated Parmigiano Reggiano to turn it into a Mornay sauce.
Mustard Bechamel: Incorporate a spoonful of mustard for a zesty kick.
White Onion Sauce - Add nutmeg and a Tablespoon on minced onion.
Mornay Sauce - Add ½ cup of gruyere, swiss or similar cheese.
Veloute - Leave out the milk and replace with vegetable or chicken stock.
Curry Sauce - Add curry powder to taste.
The importance of roux
Roux is key for thickening many sauces, allowing them to adhere to food. Made from fat and flour, the roux's color can vary depending on the dish or culinary tradition. In French cuisine, like for bechamel, a light roux is preferred. Southern cooking often employs a darker, nuttier roux. Four of the five classic "mother sauces" use roux for thickening, with hollandaise as the exception, using an egg and butter emulsion instead. Roux is crucial for creating a stable base in many recipes.
👩🏻‍🍳 Step By Step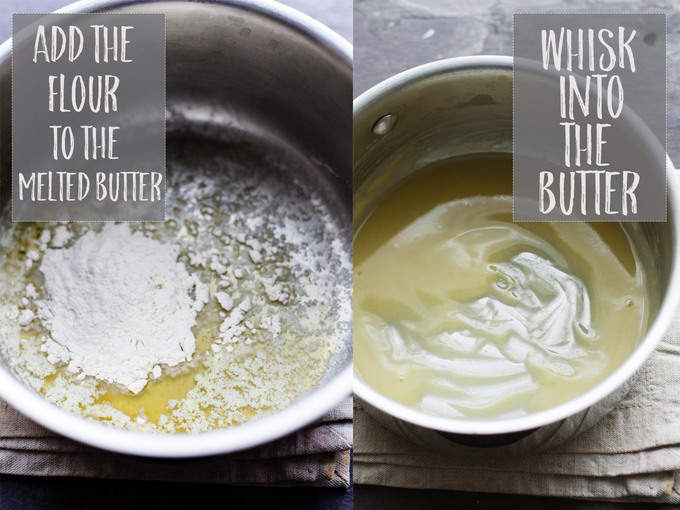 Create the Roux: Melt butter in the saucepan over medium heat. Stir in flour to form a light roux.

Special Tip: Avoid browning the flour to keep the sauce white.

Add Milk: Lower the heat and gradually add milk while whisking.

Special Tip: Warm your milk beforehand for smoother incorporation.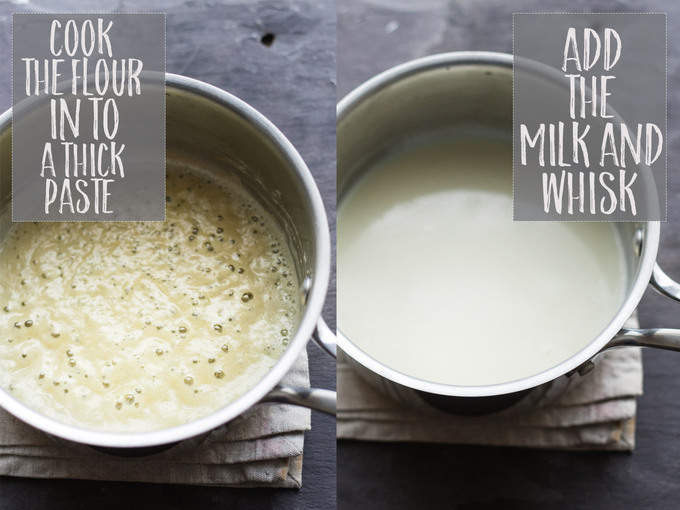 Stir and Simmer: Continue to stir until the sauce thickens.

Special Tip: Sauce is ready when it coats the back of a wooden spoon.

Season: Add salt, white pepper, and a pinch of nutmeg.

Special Tip: Add seasonings gradually and taste as you go.
Using Cornstarch for a Gluten-Free Bechamel
If you're aiming for a gluten-free bechamel or simply want to avoid using flour, cornstarch is an excellent alternative. This also works well if you're lactose intolerant and using lactose-free milk, which can be less forgiving with a flour-based roux.
To use cornstarch:
Adjust Quantities: Typically, you'll need half the amount of cornstarch as you would flour. For this recipe, that means 2 tablespoons of cornstarch.
Prepare a Slurry: Instead of making a roux, mix the cornstarch with a small amount of cold milk to form a smooth paste, known as a slurry.
Combine with Warm Milk: Add the slurry to the remaining warm milk, stirring continuously. This ensures a lump-free sauce.
Lower Fat Content: When using cornstarch, you'll only need butter for flavor, so you can cut the amount in half.
Quick Cooking: Cornstarch thickens quickly and at a lower temperature than flour, so keep an eye on your sauce to prevent it from becoming too thick.
Remember, while cornstarch offers a quick and gluten-free way to thicken your sauce, it may result in a slightly different texture and sheen compared to a traditional flour-based bechamel.
🍯 Storage
Fridge

Store in an airtight container for up to 5 days.

Freezer

Can be frozen for up to a month. *Sauce may become grainy when thawed. It is best to use when freshly made.

Reheat

Reheat on low heat, adding a splash of milk to regain smoothness.
💡 Top Tips
Gradual Addition of Milk:
Always add the milk gradually to your roux while continuously whisking. This ensures that the mixture blends smoothly, preventing any lumps from forming. Using warm milk can also aid in achieving a smooth consistency.
Low and Slow Cooking:
Keep the heat low to medium-low when cooking the sauce. Rushing the process with high heat can lead to a burnt or grainy sauce. A slow simmer helps the sauce reach its desired thickness while maintaining a creamy texture.
Season Properly:
Don't underestimate the power of seasoning. Simple ingredients like salt, white pepper, and a pinch of nutmeg can elevate the flavor profile of your bechamel sauce. Taste and adjust the seasoning before completing the cooking process to ensure a well-balanced sauce.
❓FAQ
Can you make a bechamel with cornflour/ Cornstarch for gluten-free?
Yes. You absolutely can. Your method would differ slightly, though. When you use cornstarch you will follow this particular order:
Melt butter
Add ¾ cup of milk to the pan.
Mix the remaining ¼ cup of milk with 1 Tablespoons of cornstarch.
Add the milk pan and bring to a boil while whisking continuously.
How do you get lumps out of white sauce (bechamel)?
If you get lumps in your bechamel the best way to get rid of them is to take the pan off the heat and whisk vigourously. It helps to avoid lumps to add your milk while the roux is off the heat and add it slowly while whisking continuously.

Why did my bechamel sauce turn out grainy?
If you get lumps in your bechamel the best way to get rid of them is to take the pan off the heat and whisk vigorously. It helps to avoid lumps to add your milk while the roux is off the heat and add it slowly while whisking continuously.
Can I use bechamel sauce as a soup base?
Yes, bechamel sauce can serve as a base for creamy soups like potato, mushroom, or clam chowder. Simply thin the sauce with more milk or broth and add your choice of ingredients.
Recipes to use basic white sauce
Looking for other recipes like this? Try these:
If you tried this Recipe or any other recipe on my website, please let me know in the comments below. I love hearing from you. Also, please leave a star rating whilst you're there!
You can also follow along on Pinterest, Facebook, and Instagram!
You can also find weekly meal plans and budget recipes over on our sister site Savvy Bites.
Basic White Sauce
Creamy white sauce is the perfect creamy base to so many other of your favourite sauces. A basic white sauce, known as a bechamel is a French classic. This is one of the most basic versions with only a few ingredients.
Print
Pin
Rate
Ingredients
2

cups

whole milk

4

tablespoons

unsalted butter

¼

cup

all-purpose flour

¼

teaspoon

salt

adjust to taste

⅛

teaspoon

white pepper

adjust to taste

A pinch of ground nutmeg

optional
Instructions
Prepare the Milk
In a small saucepan, gently warm the milk over low heat. Do not bring it to a boil.
Make the Roux
In a separate, medium-sized saucepan, melt the unsalted butter over medium heat.

Add the all-purpose flour to the melted butter, whisking constantly to form a smooth paste. This is your roux. Cook for 1-2 minutes, taking care not to let it brown.
Combine and Cook
Gradually add the warm milk to the roux, whisking continuously to prevent lumps from forming.

Continue to cook over medium-low heat, stirring often, until the sauce thickens to your desired consistency. This should take about 5-7 minutes.
Season the Sauce
Stir in the salt, white pepper, and optional nutmeg. Taste and adjust the seasoning as needed.
Notes
Substituting Milk: You can use 2% or skim milk for a lighter sauce, but the texture may be less creamy.
Gluten-Free Option: For a gluten-free bechamel, use gluten-free flour or cornstarch in place of all-purpose flour.
Storing: If you're making the sauce ahead of time, store it in an airtight container in the refrigerator for up to two days. Reheat over low heat, whisking well to restore the original texture.
Nutrition
Calories:
101
kcal
|
Carbohydrates:
6
g
|
Protein:
2
g
|
Fat:
8
g
|
Saturated Fat:
5
g
|
Polyunsaturated Fat:
0.3
g
|
Monounsaturated Fat:
2
g
|
Trans Fat:
0.2
g
|
Cholesterol:
22
mg
|
Sodium:
97
mg
|
Potassium:
97
mg
|
Fiber:
0.1
g
|
Sugar:
3
g
|
Vitamin A:
274
IU
|
Vitamin C:
0.01
mg
|
Calcium:
77
mg
|
Iron:
0.2
mg