Creamy white sauce is the prefect creamy base to so many other of your favourite sauces. A basic white sauce, known as a bechamel is a French classic. And this is one of the most very basic versions is only three ingredients.
I think that to be able to cook well doesn't need to require a lot of work. It simply requires a grasp of some of the very basic recipes that can then form building blocks in order to inform the rest of your cooking and recipe creation.
Bechamel is one of the 5 French mother sauces. You don't really need to know a lot about them. But suffice it to say that training in a traditional French cooking school means that the recipes for all 5 are pretty much written on my heart. While, I don't really use them any more, the one that I do keep coming back to is bechamel sauce. It's a staple of lasagna, mac and cheese and amazing baked potato dishes.
I was shocked when we first moved to the UK that they sold bechamel in jars at the grocery store. Mind Blown! I wasn't sure why people would buy it, when the have all the ingredients at home and it takes about 3 minutes. But, then I realised- maybe we all need a refresher in the fine art of making bechamel.
So here we go.
The importance of roux
Sauces need to be thickened so that they can coat and cling to food. There are a couple of ways that can happen. Sometimes it's a simple case of reducing a liquid until it achieves the desired consistency, like with this homemade arribbiata sauce. Other times a roux is used. It's basically fat, usually butter (but not always) and flour cooked together before adding the liquid.
The extent to which the roux is cooked can vary from recipe to recipe and culture to culture. In France it's usually kept quite light. In southern cooking the roux is often cooked to a dark brown to impart a really nutty flavour. But for the sake of bechamel we're keeping it light. Four out of the 5 mother sauces are thickened with a roux. The fifth one is hollandaise which is thickened with an egg yolk and melted butter emulsion. So, roux has a pretty significant part to play in building stable cooking foundations.
How to make a 3 Ingredient basic white sauce (bechamel)
Step 1 & 2 Getting Started with Bechamel
For this version we're only using 3 ingredients. Butter, flour and milk. This can form the building blocks for so many variations that, truly, if you know this recipe by heart, you can make almost anything.
Then melt the butter. You want the butter just warm and melted, so no high heat. We don't want any browned butter here. Just smooth yellow butter. You can also make this with margarine if you like.
Step 3 & 4 Cooking the Roux
Once you've got warm melted butter you can get the flour in the pan. It doesn't need to be sifted or added a little at a time. As you can see from the photo below, it's just been dumped in.
Whisk the flour into the butter and create a smooth creamy consistency. The flour/butter mixture should go glossy from the butter molecules coating the flour particles. But the texture should be like a thick cream, not a paste. The best tool to be using for this is a solid whisk, not a spoon or spatual.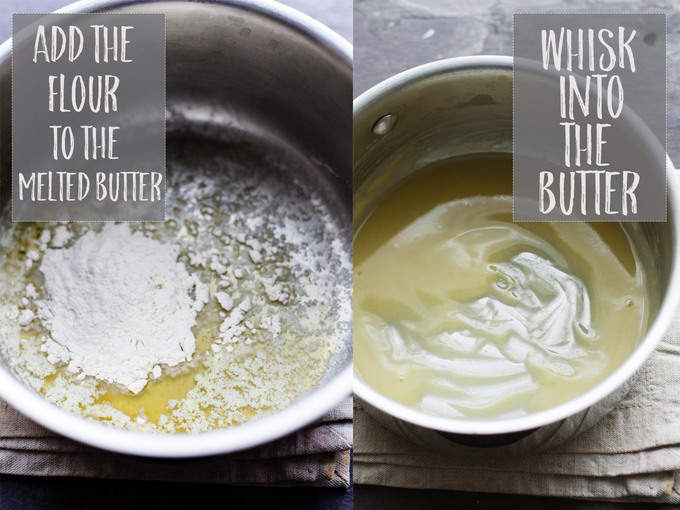 Step 5 & 6 Cooking the Roux and Making Sauce
This is the part where to magic happens. The bechamel turns from a sauce into something creamy and silky smooth. But first we get that pan back on the heat and cook out the pasty floury taste. When you put the pan back on the heat, you want the roux to start to bubble (like the photo) and cook out for about 3 minutes. Whisk the roux continuously at this stage so it doesn't catch on the bottom of the pan and burn.
Remove the pan from the heat and gently pour in the milk. For some reason when you add the milk while the pan is off the heat, there is less chance of ending up with lumps. When the milk is added, put the sauce pan back on the heat and stir until you end up with a lovely thick and creamy sauce. Be sure to season with salt and pepper.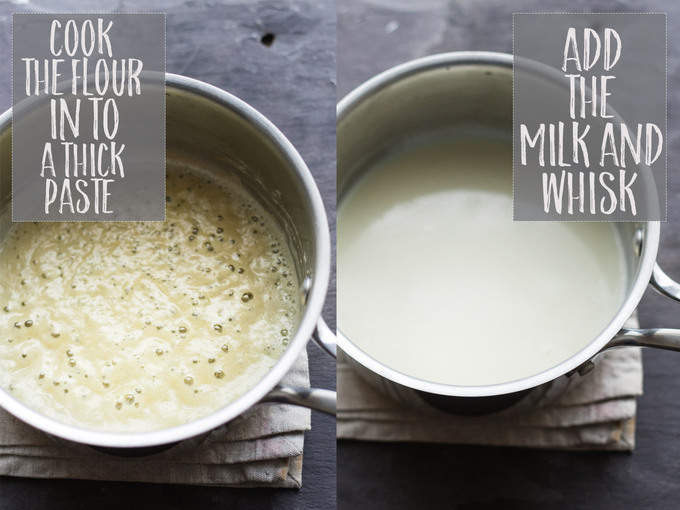 Some FAQ's about White Sauce (Bechamel)
Can you make bechamel with cornflour/ Cornstarch for gluten free?
Yes. You absolutely can. Your method would differ slightly, though. When you use cornstarch you will follow this particular order:
Melt butter
Add ¾ cup of milk to the pan.
Mix the remaining ¼ cup of milk with 1 Tablespoons of cornstarch.
Add the the milk pan and bring to a boil while whisking continuously.
How do you get lumps out of white sauce (bechamel)?
If you get lumps in your bechamel the best way to get rid of them is to take the pan off the heat and whisk vigourously. It helps to avoid lumps to add your milk while the roux is off the heat and add it slowly while whisking continuously.
Variations on a bechamel:
White Onion Sauce - Add nutmeg and a Tablespoon on minced onion.
Mornay Sauce - Add ½ cup of gruyere, swiss or similar cheese.
Veloute - Leave out the milk and replace with vegetable or chicken stock.
Curry Sauce - Add curry powder to taste.
Play around with other flavours like a fresh herb bechamel. Be bold and make this recipe your own.
How To Make Perfect 3 Ingredient Basic White Sauce (Bechamel)
Creamy white sauce is the prefect creamy base to so many other of your favourite sauces. A basic white sauce, known as a bechamel is a French classic. And this is one of the most very basic versions is only three ingredients.
Print
Pin
Rate
Ingredients
2

Tablespoons

butter

2

Tablespoons

flour

1

cup

milk
Instructions
Melt the butter in a small sauce pan over a medium heat. Add the flour and whisk to mix.

Cook the flour out for about 2-3 minutes to cook out the floury taste. Remove from the heat and slowly add the milk, whisking continuously. Return the pan to the heat and bring to a simmer while whisking. Simmer for about 2 minutes until the sauce is thick and creamy and silky smooth.
Nutrition
Calories:
165
kcal
|
Carbohydrates:
1.2
g
|
Fat:
34
g
|
Saturated Fat:
21
g