This Italian Turkey and Vegetable Noodle Soup is the perfect way to use up leftover turkey. It's fragrant with traditional Italian herbs, and made into a perfect meal with thin, delicate vermicelli noodles.
Hi! I hope everyone has had a fabulous Christmas and you've enjoyed time with your families. Hopefully your Christmas included lots of food and laughter. And maybe you've got some leftover turkey that you need to take care of! We sure do. It's a tradition in our house that we always order a very large turkey so that I've got lots leftover to make this turkey and vegetable noodle soup. As well as a creamy turkey pie that's comin' atcha tomorrow.
Now, this Italian turkey and vegetable noodle soup is super simple to make. It's light and fresh with lots of oregano, parsley and rosemary. Usually after all the potatoes and treats, most of us are looking for something a little on the lighter side.
Enter this soup. The whole basis of this soup is to keep it all simple so that you're in and out of the kitchen in record time. For that reason, this soup uses dried herbs and some crisper drawer staples like carrots and celery. And I'm pretty sure that you've always got noodles in your pantry, right? Because sometimes we make pasta 3 or 4 nights in a row whens we don't plan properly and when we kinda lose our food blog mojo. Please feel for my husband who smiles and nods and says "that's delicious" for the 4th evening in a row.
Okay. But why does this Italian turkey and vegetable noodle soup only use dried herbs and not fresh?
Well you see, dried herbs have a more pungent flavour than fresh herbs at a 2 to 1 ratio. So, for every tablespoon of fresh herb you only need ½ a tablespoon of dried herb. Another reason to make this soup with dried herbs is because they're much heartier than soft fresh green herbs. In a soup like this, when you use fresh herbs they tend to start to taste stewed and overcooked rather than remaining bright and fresh. So in most soups it's best to use dried. Especially if you're planning on freezing the soup your making. *For freezing this particular recipe checkout the notes on the recipe card for all the tips.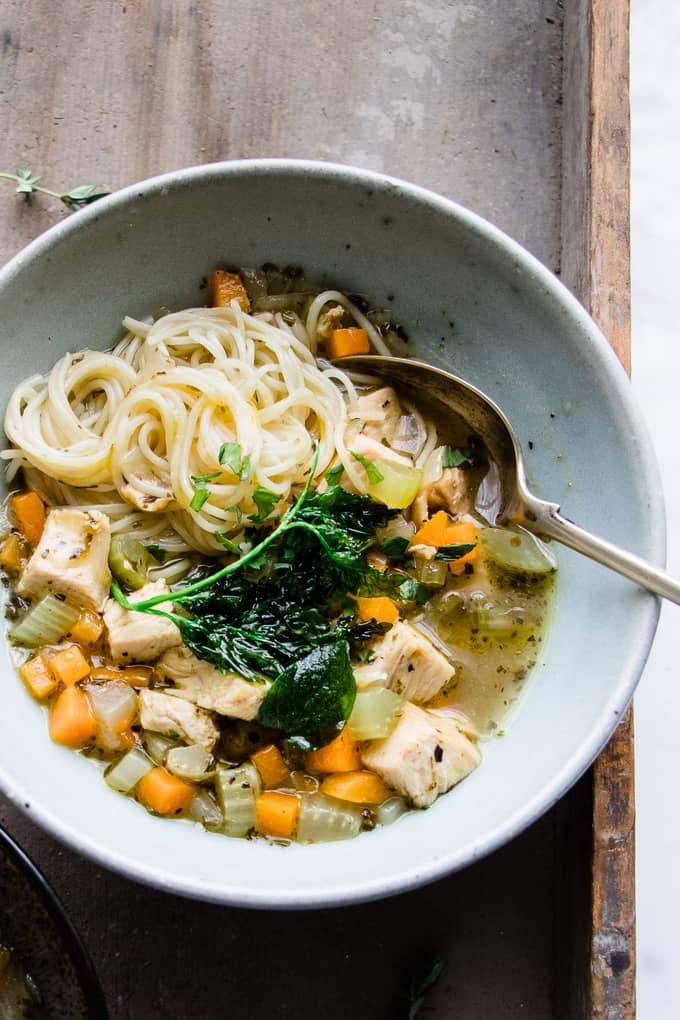 You also might be thinking that I've opted to cook the noodles in this soup, because it's just more efficient to do that. And maybe I really don't want to wash two pans for one soup! And you'd be right. On both counts. But it's also because I want that starch from the pasta to thicken my soup a little. Not thicken it like adding cornstarch or flour or even cream. But just to thicken it enough so that it gives the soup more body that it would otherwise have.
And that is how we do simple leftovers in our house! Hope you make the most of your leftovers. If you make this soup I'd love it if you let me know how it went and leave a rating on the recipe so other readers know it's a great recipe, too. Thanks!
Italian Turkey & Vegetable Noodle Soup
This Italian Turkey and Vegetable Noodle Soup is the perfect way to use up leftover turkey. It's fragrant with traditional Italian herbs, and made into a perfect meal with thin, delicate vermicelli noodles.
Print
Pin
Rate
Ingredients
2

tablespoon

Vegetable oil

1

white onion

chopped

3

celery

finely chopped

2

carrots

finely chopped

3

cups

chicken broth

3

marinated artichokes

optional

1

cup

2 nests vermicelli noodles

1 ½

cups

of diced cooked turkey

or chicken
Finish with good quality olive oil and crispy fried oregano and parsley leaves. (optional)
Instructions
Heat the oil in a medium sauce pan over a medium heat. Add the onions to the oil and season with sea salt. Let the onions sweat until they are soft and are starting to turn golden.

Add the carrots, celery and dried herbs. Mix well and let the vegetables soften slightly.

Pour the chicken broth into the pan and bring to the boil.

Place the vermicelli noodles into the pan and cook for about 4 minutes or until the noodles are cooked.

Add the cooked turkey and artichokes to the soup to warm through.

If you choose to make the crispy herbs, heat some vegetable oil in a small shallow pan. Once the oil is hot place the herbs in the pan taking care to protect your hands. The moisture in the herbs make the oil pop and spit. Leave in the oil for about 15 seconds and remove and drain on some paper towel.
Serve with some seeded bread knots.
Notes
If you plan on freezing this soup, don't add the pasta. Leave that out, until you have defrosted the soup and are ready to eat it.
Serve this soup with homemade seeded bread knots.
Nutrition
Calories:
497
kcal
|
Carbohydrates:
23
g
|
Protein:
67
g
|
Fat:
15
g
|
Saturated Fat:
6
g
|
Cholesterol:
157
mg
|
Sodium:
1417
mg
|
Potassium:
1106
mg
|
Fiber:
3
g
|
Sugar:
4
g
|
Vitamin A:
5610
IU
|
Vitamin C:
23.8
mg
|
Calcium:
98
mg
|
Iron:
2.9
mg