Okay my breakfast-for-any-meal-of-the-day-friends, I've got a hum dinger for ya, today. Spicy Turkish Style Baked Eggs (Shakshuka) are what you need to be eating right now. I'm popping in really quick today to deliver the goodness that is Spicy Turkish style baked eggs, or shakshuka. Or this could be your perfect weekend breakfast in bed. And this little breakfast of spicy eggs is so lovely in individual portions.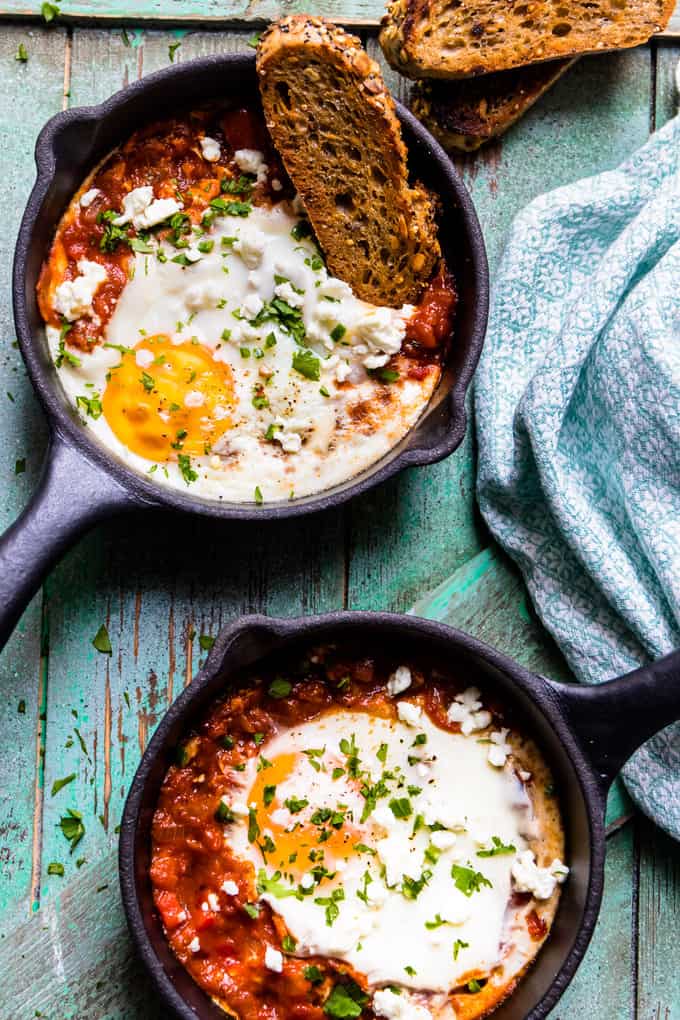 This dish, for me fits into the age old saying that "if you've got eggs, you've got dinner... errr... or breakfast." This spicy little one pot number is a 15 minute job guys. That's it. We aaaaallll got 15 minutes that we can spend making this spicy, fragrant, juicy with tomatoes and rich with egg yolks breakfast I mean dinner. Okay, so maybe I've been eating them for breakfast and dinner, with a few bites here and there for lunch.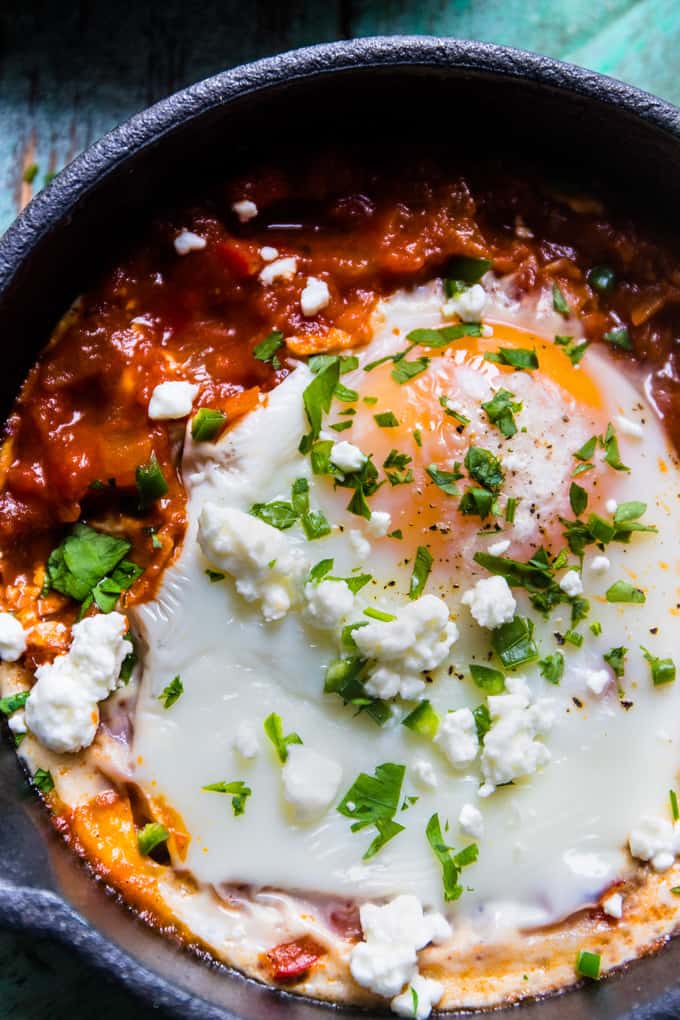 In this pan of flavour boldness we've got my all time favourite spice booster harissa paste. The brand that I use is a rose harissa paste. I also threw in some smoky paprika, just because. But other than the harissa, everything in these baked eggs will be things that you already have on hand.
But, to be sure, I skipped the mild and creamy yogurt and went for feta, so altogether more punch and flavour.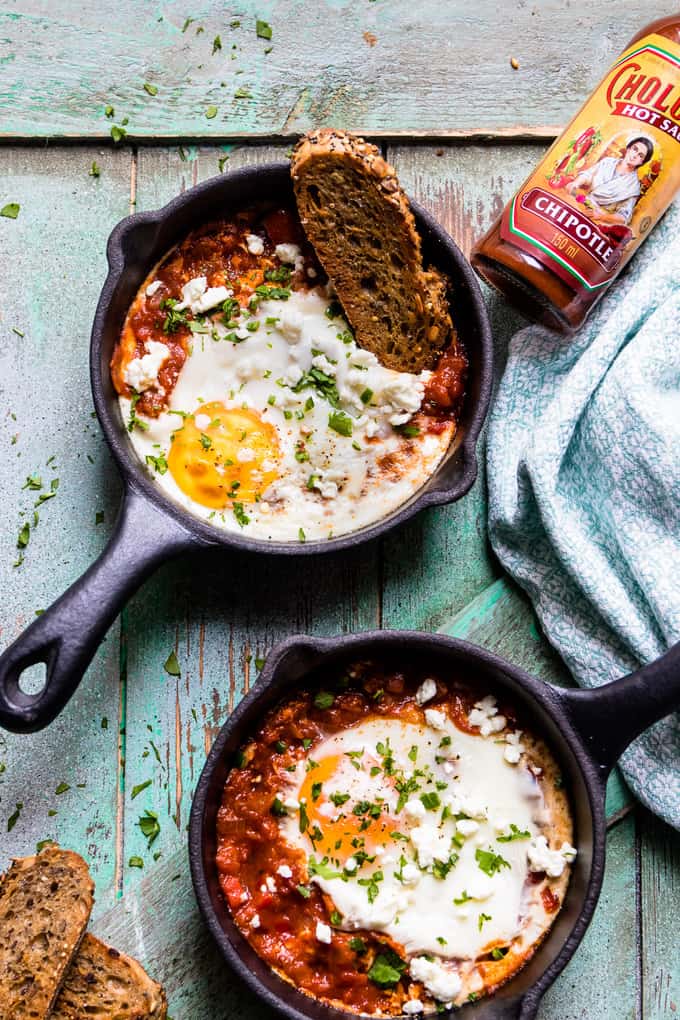 So, you guys, spicy Turkish style baked eggs with feta and the required hot sauce because hot sauce is lyfe right now. Make em for breakfast, or they're super nourishing for dinner with some grilled whole grain bread.
That's it... I'm out!
Turkish Style Baked Eggs
Spicy Turkish Style Baked Eggs (Shakshuka) | A super easy, spicy baked egg dish that's perfect for weeknight dinners.
Print
Pin
Rate
Ingredients
2

tablespoon

Harissa paste

¼

teaspoon

Chilli powder

½

teaspoon

smoked paprika

2

eggs

1

x red bell pepper

1

x 400g tomato

1

x onion

2

cloves

x garlic

as much feta as you can handle

handful of parsley
Instructions
Pre-heat oven to 200c

Heat 1Tbsp of olive oil in a medium sauce pan. Add the diced onion and garlic and let soften for about 3

minutes. If the onions start to colour that is absolutely fine.

Add the chilli powder and paprika along with the bell pepper and cook for a further minute.

Add the tomatoes into the pan and let simmer for about 5 minutes.

If you are making individual eggs, then separate the sauce between your ramekins. If you are doing a

large one, leave in your pan.

Crack the eggs onto the tomatoes and place in the oven for about 6 minutes, or until your eggs are cooked

to your liking.

Top with the parsley, lots of feta cheese and some hot sauce.
Nutrition
Calories:
110
kcal
|
Carbohydrates:
10
g
|
Protein:
7
g
|
Fat:
4
g
|
Saturated Fat:
1
g
|
Cholesterol:
163
mg
|
Sodium:
73
mg
|
Potassium:
266
mg
|
Fiber:
2
g
|
Sugar:
5
g
|
Vitamin A:
2445
IU
|
Vitamin C:
81
mg
|
Calcium:
43
mg
|
Iron:
1.2
mg