Roasted garlic is such a great building block to so many recipes. Knowing how to oven roast garlic perfectly will make sure that your recipes are the best they can be. Roasting the garlic is a sticky, sweet, pungent and golden addition to any of your recipes. From your mashed potatoes to Tuscan white bean dip and everything in between.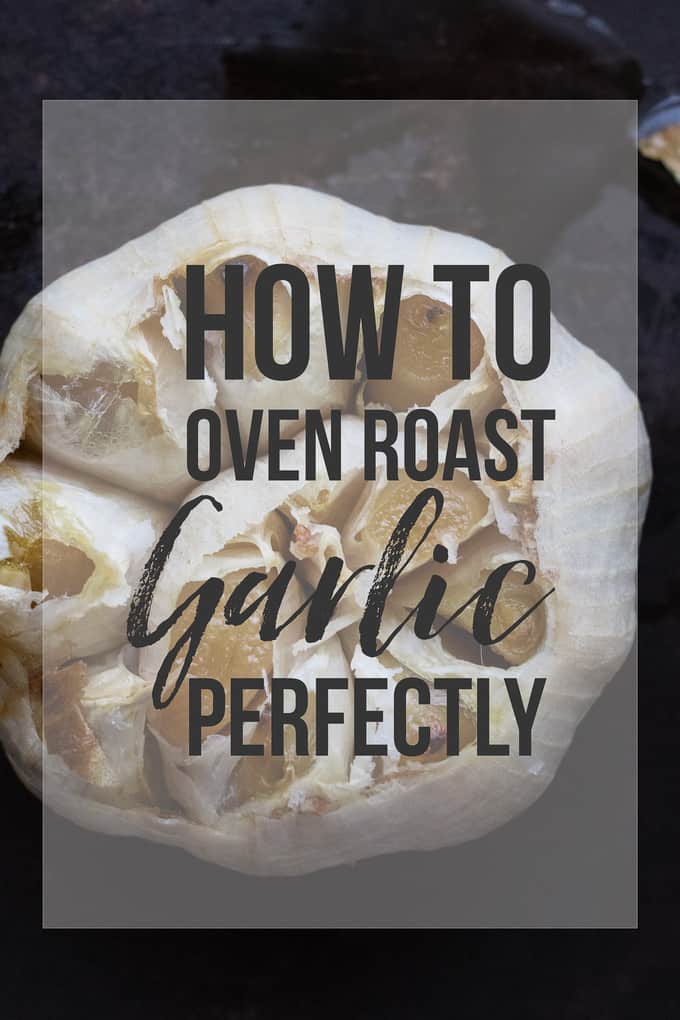 Do you ever wonder how your favourite restaurant gets those mashed potatoes just perfect? Or do you experiment with different recipes trying to figure out just why that one fettuccini Alfredo from that one place is so much more delicious than any other one you've tried before?
I tell you a secret. It comes down to the garlic. Because raw garlic can have an acrid taste, in professional kitchens we tend to roast the garlic. It turns from something that can kill off vampires and make you avoid the neighbours for a week, to something that is sweet and mellow in flavour. It turns a soft yielding texture and a gorgeous golden amber colour. And it's the perfect addition to most recipes that call for garlic.
How To Roast Garlic Perfectly Step By Step
I like to use a large bulb of garlic. As the cloves roast they can lose some volume and starting off with a large bulb ensures that I still have plenty of garlic left once roasted. Cut the top off to expose the tips of the cloves. *This is a perfect way to use bulbs of garlic that have been at the bottom of the onion bowl a little longer than you intended.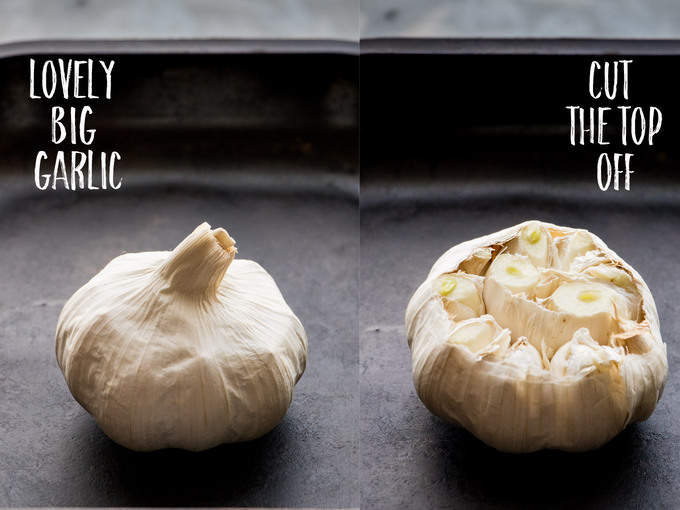 Lay your bulb on a piece of aluminum foil that's large enough to envelope the whole bulb. Drizzle the top of the bulb with vegetable oil. In this case there's no point using olive oil. Once you heat olive oil past a certain point, it loses all of it's health benefits anyway, so you might as well save your money and go with vegetable oil. Olive oil has a very low smoke point and you run the risk of smoking out the house if it gets too hot. Vegetable oil is how you want to do this. And salt. Always a pinch of salt. It helps to draw out the moisture from the garlic and to season as it cooks.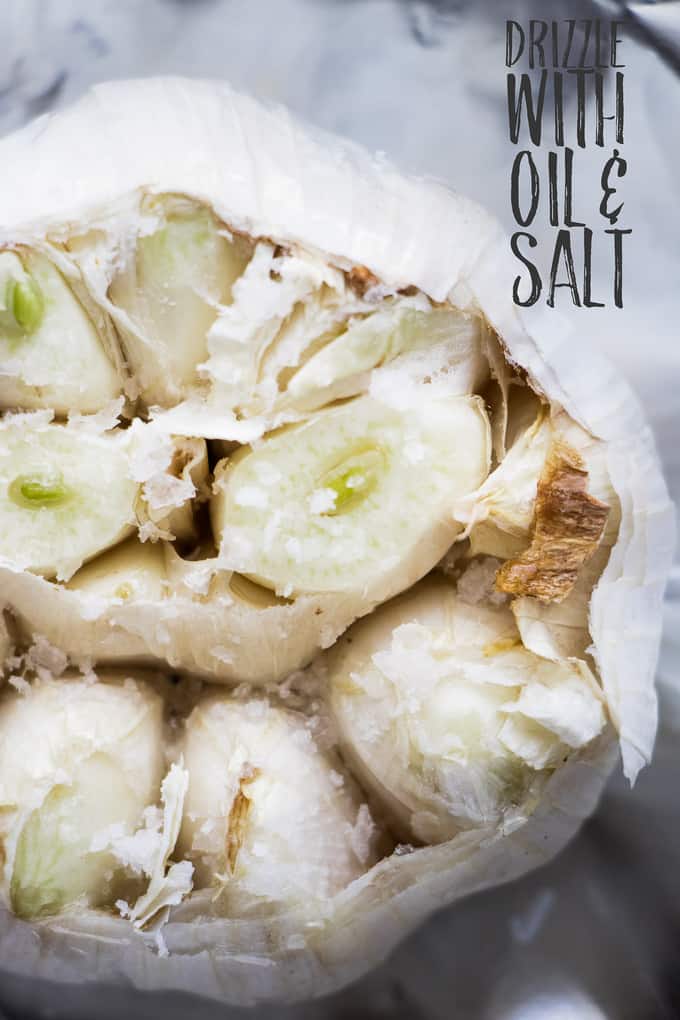 Wrap that lovely garlic in the foil and roast in your oven that's preheated to 340c. You want to do this a little lower temperature for a little longer. If you have your oven up too high, you'll end up with tiny, tough, bitter cloves. You won't want to add them to anything. What you're looking for is garlic like the one in the photo below. Soft, golden and sticky. When the garlic is roasted to this soft texture, the cloves just melt into the recipe.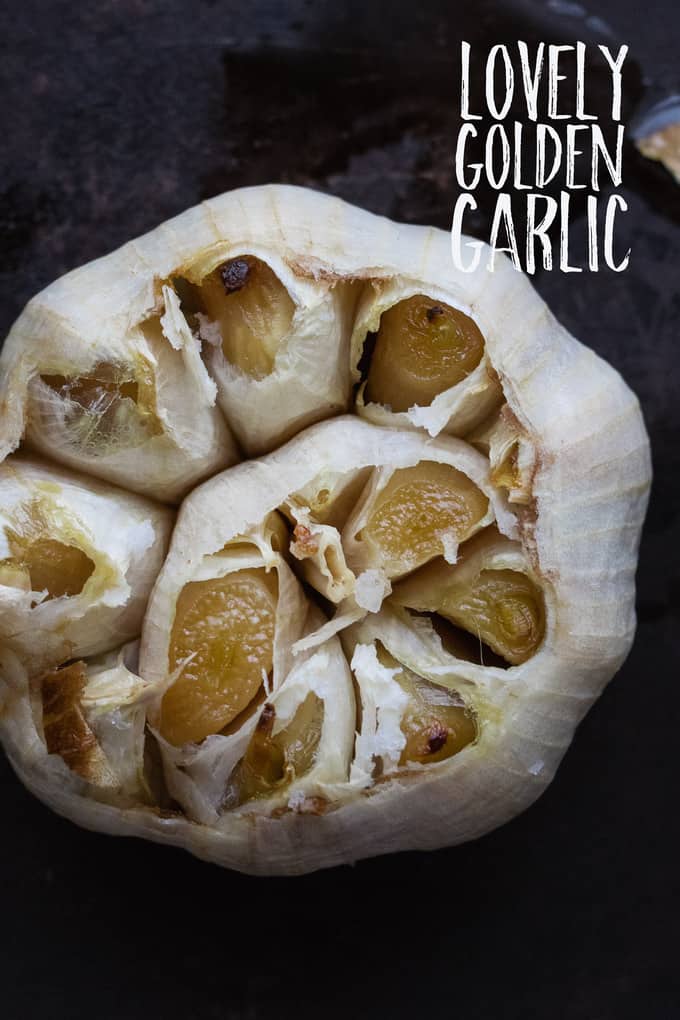 When garlic is perfectly roasted, the cloves can be picked out of the skin using a tooth pick or a paring knife. That ensures that you get most of the garlic out of that papery skin. You can absolutely squeeze the cloves out, but I find so much is left behind, that way. It's also much easier then to be able to count the cloves of garlic. So, rather than throwing it all into a recipe, you can decide that you want to use 4 cloves rather than the whole head. It also stores really well as whole cloves. But not for long. If you make some roasted garlic to add to your recipes throughout the week, save them in a glass jar or plastic container. Fill the jar with enough oil to just keep the garlic covered. You can use olive oil for this bit and save it to add to salad dressings for an extra punch of flavour.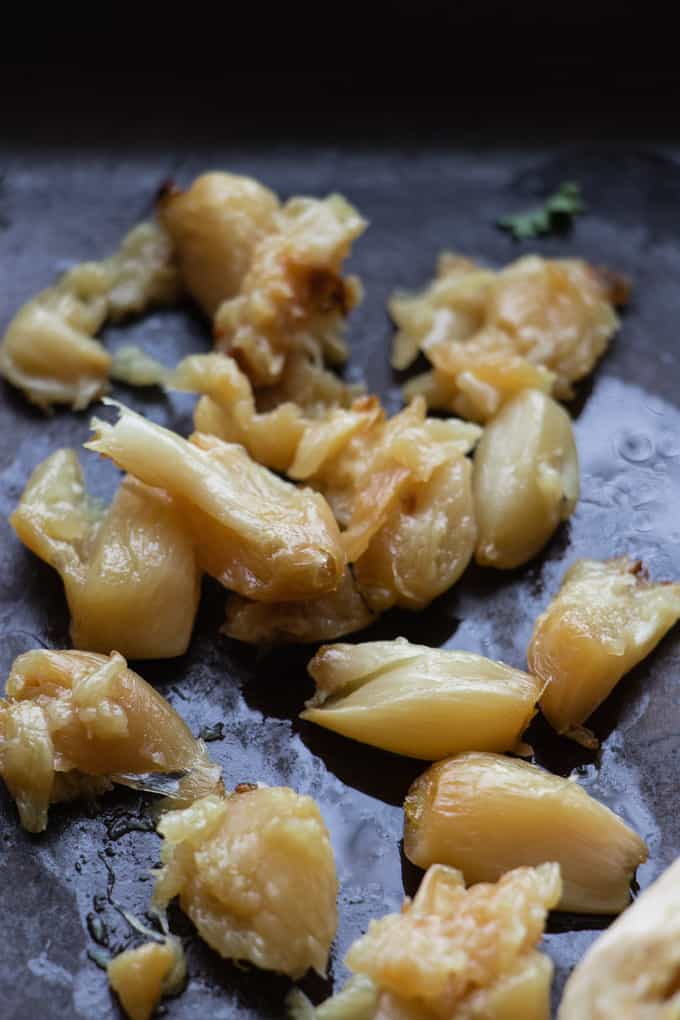 How To Oven Roast Garlic Perfectly
Roasted garlic is such a great building block to so many recipes. Knowing how to oven roast garlic perfectly will make sure that your recipes are the best they can be.
Print
Pin
Rate
Servings:
1
Head of garlic
Ingredients
1

large head of garlic

top cut off

1

Tablespoon

vegetable oil

½

teaspoon

sea salt
Instructions
Preheat the oven to 340f or 150c.

Cut the top off the head of garlic, leaving all the cloves together at the root.

Lay on a piece of foil large enough to loosely wrap the garlic.Sprinkle with the sea salt and wrap.

Roast in the oven for about 35 minutes, depending on how large the head of garlic is.

The garlic is roasted perfectly when a paring knife is inserted without resistance and the cloves are golden and sweet smelling.

Leave to cool for about 10 minutes. Use a tooth pick or a sharp paring knife to pop the cloves out of the skin. Use right away or store in a jar covered with oil for up to 4 days.
Nutrition
Calories:
125
kcal
|
Fat:
14
g
|
Saturated Fat:
11
g
|
Sodium:
1163
mg
|
Vitamin C:
0.9
mg