How much do you know about the different types of sugar? Do you know what turbinado sugar is? What's the best use of demerara and why should you buy caster sugar instead of granulated? There's a lot to know about the different types of sugar and how you can leverage them to elevate your cooking.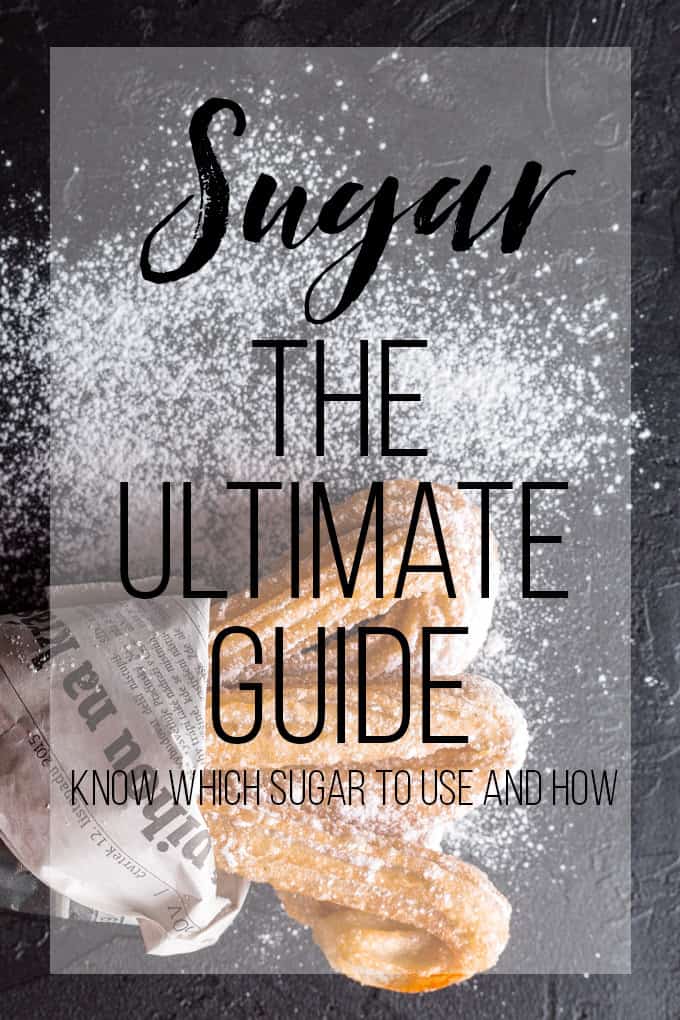 This guide will break down the 11 different types of sugar that are commonly used in cooking and baking, as well as, show examples of recipes that make the most of these sugars and use them in unique or exemplary ways.
What are the 11 Types of sugar:
Everyday White Sugars
Caster Sugar
This sugar is very similar to granulated sugar, but is much finer. The most common use is in everyday cooking and baking throughout Europe. Because it's fine crystals dissolve quickly and completely, it's the perfect sugar to use for meringues, syrups and cocktails. If you can't get hold of caster sugar, blending granulated sugar very finely in a high powered blender is a good substitute.
What to make with caster sugar: Meringues, marshmallows and French fancies.
Salted Caramel Pavlova- Salted Mint
Granulated Sugar
Is a highly refined white sugar. It's multi purpose and used in everything from coffee and tea, to baking and cooking. It comes from sugar beet and sugar cane. It's the most commonly used sugar throughout north America and it's usually what people are talking about when they talk about sugar. If you want to add a serious wow factor to your everyday baking you can toast your granulated sugar using this technique.
What to make with granulated sugar: Cakes, cookies, and muffins.
*To add a more complex flavour to granulated sugar you can try roasting it using this technique from pastry chef Stella Parks.
Confectioner's (icing) Sugar
Sometimes called 10x, is a type of white sugar that's been ground into a very fine powder. Due to it's fineness it needs a small amount of cornstarch added to prevent clumps forming. Icing sugar dissolves easily in liquid making it the perfect choice for glazes and icings.
What to make with icing sugar: Glaze style icing, decorating cookies and cakes.
Blood Orange Bundt Cake- Salted Mint
Brown Sugars
Demerara Sugar
Is a form of raw sugar that has been minimally refined. It's characterised by large crystals and an amber colour. Due to a mild molasses flavour demerara is often used as a topping for muffins and cakes when extra texture and a slight caramel taste are a welcome addition.
How to use demerara in baking: Topping for muffins and cakes
Healthy Ginger Bread Muffins- Pinch of Yum
Turbinado Sugar
Is another minimally refined sugar with large amber coloured crystals. It's most often used to sweeten hot drinks, but can also be used in baking. Can often be mistaken for demerara, but it is darker in colour. It's slight caramel flavour makes it ideal for using to caramelise crème brûlée.
How to use turninado in baking: Caramelising crème brûlée.
Passionfruit Crème Brûlée- Olive Magazine
Light Brown Sugar
Is refined white sugar that has some of the molasses added back in. This gives it a wet and sandy texture. It has a light caramelised flavour and is used in baked and savoury goods. Light brown and dark brown sugar can be used interchangeably.
Dark Brown Sugar
Is refined white sugar that has MORE of the molasses added back in than light brown sugar. It has a more intense caramelised flavour than light brown sugar and they can be used interchangeably.
Chef's Pro Tip: Place a slice of apple in the container along with the brown sugar to prevent the sugar from going hard.
Brown Sugar Pork Chops- Half Baked Harvest
Specialty Sugars
Muscovado
Sometime's referred to as Barbados sugar this is an unrefined cane sugar in which the molasses ISN'T removed. It comes in dark and light varieties and has a very damp and sandy texture. Muscovado has a very deep and complex flavour.
It can be used as a substitute for brown sugar, but it does have a much stronger flavour. It really goes well in any baked goods that have a bitter or acidic ingredient like coffee, and in sauces like bar-be-que that have very deep, rich and complex flavours.
How to use muscovado in baking: Use it with bitter flavours like coffee to tone down the bitterness and bring a deep complex flavour.
Coffee Cake with Cappuccino Buttercream- Olive Magazine
Pearl (nibbed) Sugar
Is a variety of white sugar that takes the shape and size of small hail stones. It is very heat resistant and is usually used in Scandinavian baking to decorate cinnamon buns and cakes.
Swedish Cinnamon Rolls- Cloudy Kitchen
Sanding Sugar
Is the shiny glass like sugar that is to garnish sugar cookies and cupcakes. It has large, heat resistant grains that add loads of texture and crunch. It can be found in a rainbow of colours.
Cane Sugar
Unlike granulated and caster sugar, which are made from sugar beet and sugar cane, this sugar is only made from cane. It's often referred to as raw sugar. You would use cane sugar much the same way you would use granulated or caster sugar. It does have a slightly larger grain and is usually on the pricier side of common sugars.
Are White and Brown Sugar Interchangeable?
As you can see, sugar is so much more than just the fine, granulated white stuff that we tend to think of. Although these sugars all add sweetness, they don't all behave the same way.
While you can substitute sugars in recipes, the end result will have varying degrees of success.
This article provides a fantastic visual explanation of how each sugar behaves differently in the same recipe.
Same recipe, different sugars.
Sugar Cane VS Sugar Beet
No real contest. Their crystalline structure is identical. Sugar beet is derived from the white beet, which grows prolifically in Northern Europe. It was harvested originally to relieve France's dependence on English colonies for certain commodities back in the 1700's. And it worked. 30% of the world's sugar is from sugar beet.
As for sugar cane, India and Brazil have taken over from South Asia as the leading producers.
There are a few subtle differences between the 2 in the way that the brown sugars behave. It's not really enough to notice in everyday cooking. But if you would like to know more about the differences then this article on Britannica is great!
The beauty of sugar is that it's cheap and plentiful, which makes experimenting fun and commitment-free. If you try any of these recipes let me know.
Thanks so much for being here! I'd love it if you left a rating and a comment letting me know how much you loved any of these recipes. Follow along on Instagram, Pinterest and Facebook for the latest!