Roast chicken dinner is a classic crowd pleaser. Crispy skin, juicy meat, and vegetables make for a quick and delicious weeknight dinner. This lemon herb roast chicken dinner includes orzo, cooked in the pan and broccoli. A complete one-pot roast chicken dinner for any night of the week.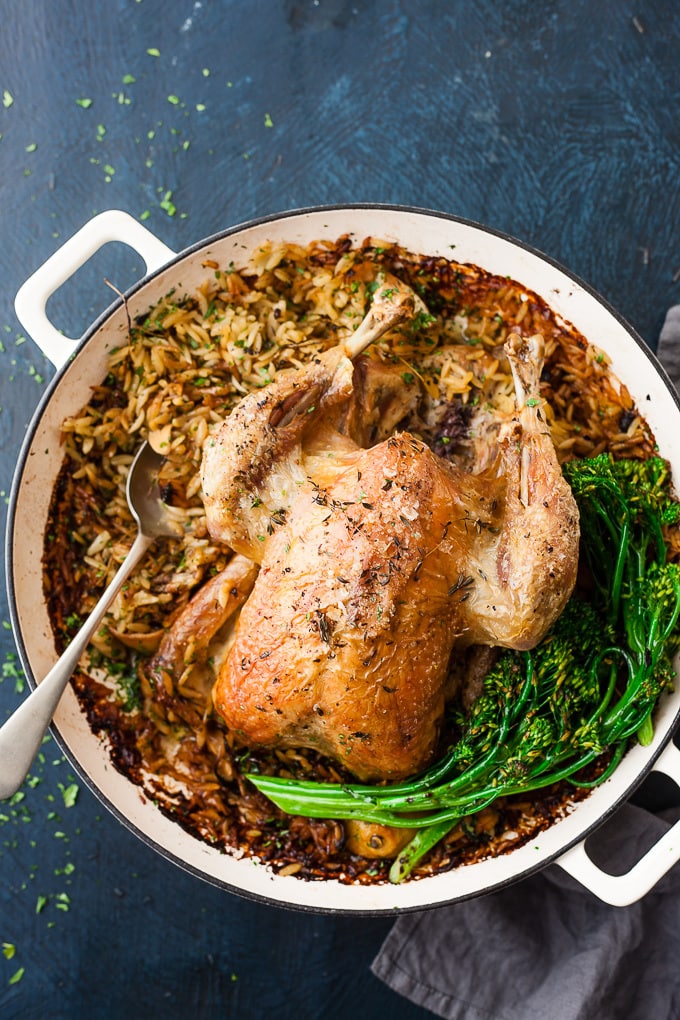 Happy Monday and happy simple roast chicken dinner day! I'm back with a simple and delicious one-pan chicken feast!
A roast chicken is something everyone should know how to make. They're easy enough for weeknights and impressive enough to be served while entertaining. Roast chicken is also the quintessential Sunday lunch meal. You'll probably find thousands of them on Sunday dinner tables throughout the country.
But, if you're unfamiliar with roasting a whole chicken, it can definitely be intimidating. Starting with something like this roast chicken that includes orzo, a small Italian pasta, and some tenderstem broccoli all cooked in one pan is the perfect place to start.
So, let's start with...
Roast Chicken Dinner Basics
How long does it take to bake a whole chicken?
There are a few things to take into consideration when deciding how long to cook your chicken. The first one is, how big is the chicken?
Roast chicken for 20 minutes per pound (500g) at about 375F plus 20 minutes at the end. But this assumes that you are roasting a completely thawed, room temperature chicken.
If you're tired of dry chicken, then I can't stress enough the importance of using an instant-read meat thermometer to check if your meat is cooked. For chicken, a temperature of 165f or 75c means that your chicken is cooked.
What goes well with a roast chicken?
Roast chicken is so versatile it can be served in a classic way with potatoes and veggies, or it can be dressed up with harissa and served with Moroccan rice.
This one is more of an Italian style with all the thyme, roasted lemon and orzo, but it could so easily be made with rice and Asian spices like star anise and Chinese 5 spice.
What vegetables roast well?
Broccoli
cauliflower
asparagus
mushrooms
butternut squash
zucchini
Mix olive oil and herbs and spices of your choice and drizzle over the vegetables and roast at 350f until tender.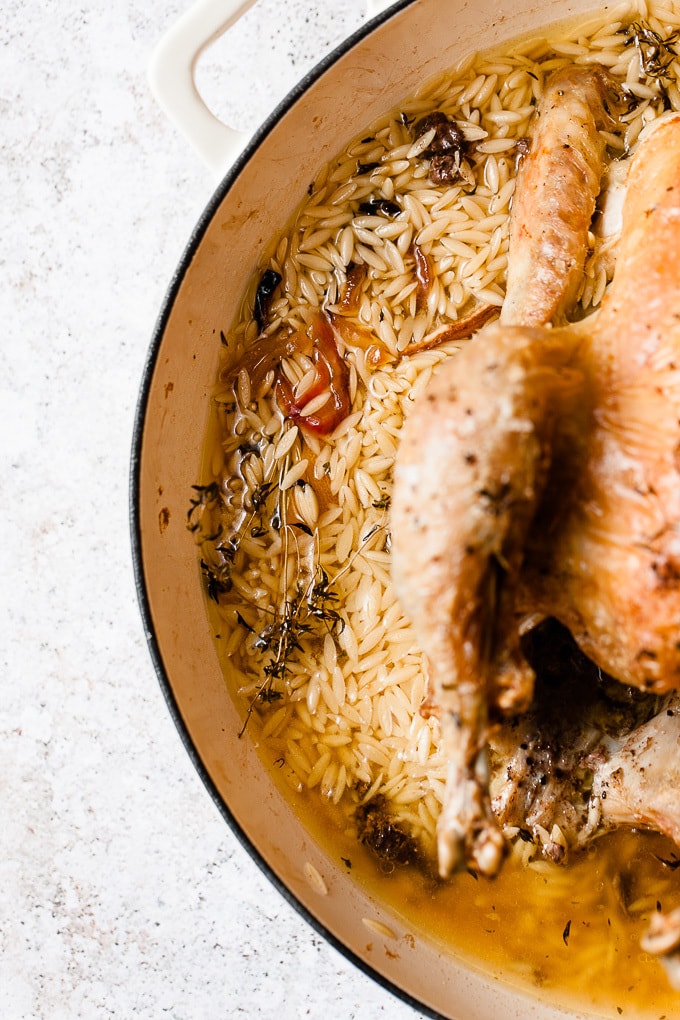 To make this roast chicken dinner with orzo, simply start with the basics.
red onion
thyme
lemon
garlic
chicken
orzo
chicken broth
broccoli
To decide how long to roast the chicken before adding the orzo, we need to work backward. The orzo needs about 30 minutes to cook in the oven. So, figure out how long to roast your chicken and in the last 30 minutes add the orzo, stock, and broccoli.
Roast the chicken, lemon, garlic, and onions in the oven for about 1 hour. Add the orzo, chicken broth and broccoli and cook for another 35-40 minutes.
So, have a great week. Enjoy simple roast chicken dinners and the last few weeks of summer!!!!
THANKS SO MUCH FOR READING AND COOKING ALONG WITH ME! IF YOU MAKE THIS RECIPE OR HAVE A QUESTION, I'D LOVE IT IF YOU LEFT A COMMENT AND A RATING. YOU CAN ALSO FOLLOW ALONG ON PINTEREST, FACEBOOK AND INSTAGRAM TO SEE WHAT WE'RE EATING, PINNING AND A LITTLE BEHIND THE SCENES TOO!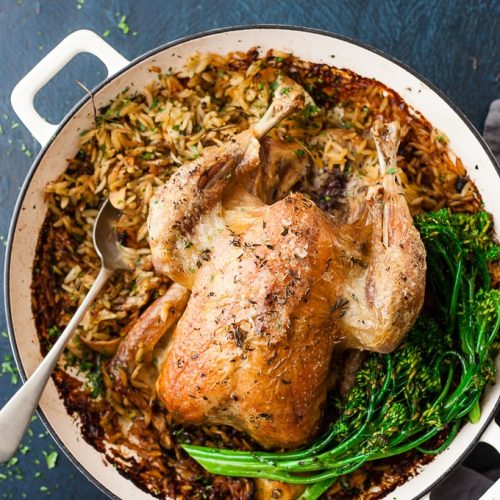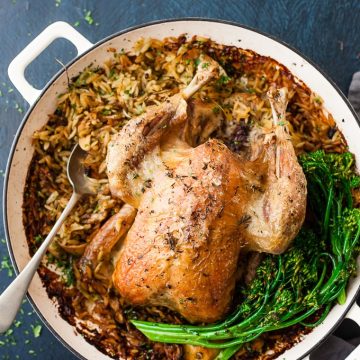 One-Pan Roast Chicken Dinner With Orzo and Vegetables
Roast chicken dinner is a classic crowd pleaser. Crispy skin, juicy meat, and vegetables make for a quick and delicious weeknight dinner.
Print
Pin
Rate
Ingredients
4

lb

(

1.81

kg

)

free range chicken

1

(

1

)

bunch thyme

2

(

2

)

medium lemon

cut into quarters

5

tablespoon

(

5

tablespoon

) extra virgin olive oil

4

cloves

(

4

cloves

)

garlic

1

cup

(

150

g

)

orzo pasta

1

cup

(

240

g

)

boiling chicken stock

1

tablespoon

(

1

tablespoon

)

chopped fresh parsley or oregano

1

bunch

broccoli rabe or tenderstem
Instructions
Preheat the oven to 375°F. Put the chicken into an ovenproof dish (I use a cast iron one) or a roasting tin about 12inched across. Slice the onions thinly, and the lemons into quarters and add them to the dish with the chicken, along with the garlic cloves. Drizzle 4 tablespoon oil, and scatter with the thyme sprigs and season with salt and pepper.

Roast in the oven for 50 minutes. Remove from the oven. Sprinkle the orzo around the chicken and pour the stock over the orzo. Place the tenderstem in the pan and put this back in the oven to cook for 30 minutes. Check during this time to make sure the orzo isn't drying – there should be enough stock, but top it up with a little boiling water if needed.

Once the 20 minutes are up the chicken should be cooked – use a thermometer or check that the juices run clear, with no trace of pink meat – and the orzo should be tender. The stock should also have been absorbed. Stir the fresh herbs into the orzo. Serve the chicken straight from the pan. A green salad or roasted red peppers are all you need on the side.
Nutrition
Calories:
874
kcal
|
Carbohydrates:
24
g
|
Protein:
61
g
|
Fat:
58
g
|
Saturated Fat:
14
g
|
Cholesterol:
227
mg
|
Sodium:
272
mg
|
Potassium:
726
mg
|
Fiber:
1
g
|
Sugar:
2
g
|
Vitamin A:
475
IU
|
Vitamin C:
25.7
mg
|
Calcium:
51
mg
|
Iron:
3.5
mg