This tiramisu cake is the classic pairing of rich chocolate frosting sandwiched between moist coffee infused sponge layered with the creamiest mascarpone frosting. Finish it off with simple chocolate curls and a dusting of cocoa powder to make this tiramisu the star of your next party.
Woweee. This cake! To say I'm in love with it is a bit of an understatement. I don't make traditional layer cakes often but when I do, they need to be all about charm and flavor. So, why do I say this one's perfect for a birthday?
Because it's my birthday tomorrow. And I can't remember the last time I had a cake. So, this year I made myself a cake and it's all about that grown-up coffee flavor. But it's also all about that simple rustic charm of an imperfectly frosted cake topped with a gentle dusting of cocoa powder and some simple chocolate shavings. Because imperfectly frosted cakes are my version of perfection.
We all know that what really matters with a cake is the flavor and texture more than anything. So, let's take a look at this one step by step and lemme give you all the little tips and tricks that get you from flour and sugar to moist, and creamy frosted tiramisu birthday cake.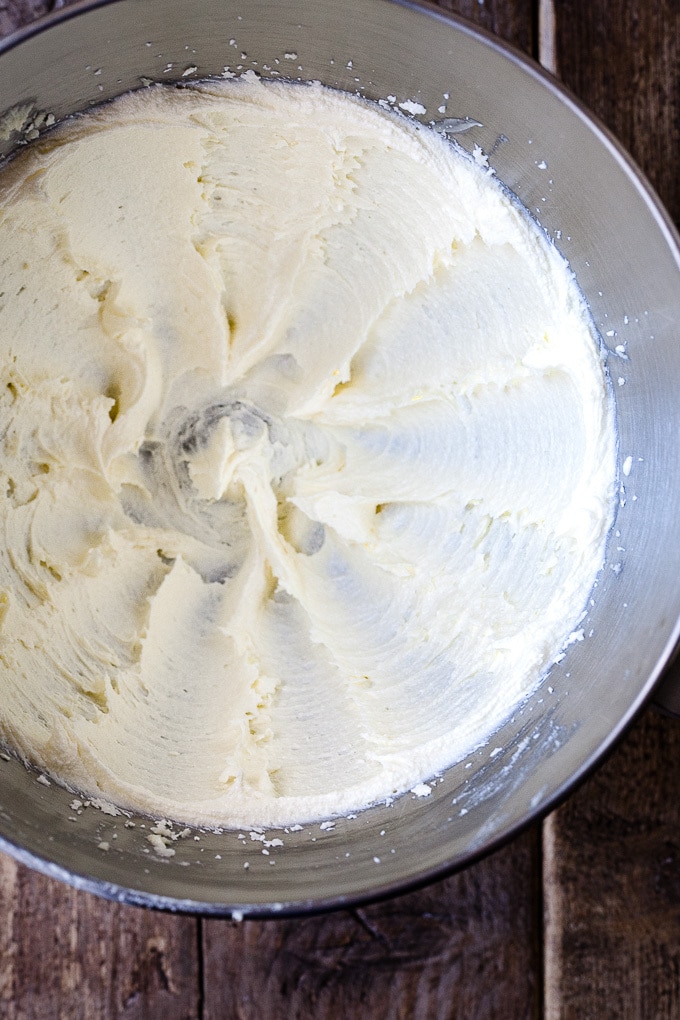 If you're not sure what's in a tiramisu cake let me fill you in. It's a vanilla scented coffee soaked sponge, layered with a creamy mascarpone filling all brought together with a rich chocolate frosting. You can soak the sponge with a coffee flavored liqueur as well. But, if you want to skip the alcohol just use some cooled coffee instead.
Top Baking Tips
Before we get into the how-to of this tiramisu cake, I just want to run through a couple of basic baking tips that will set you up for success before you even start.
Always read the recipe from beginning to end before you start to ensure that you have all the ingredients.
Make sure that all your ingredients are room temperature before you start. It just ensures that you'll get the best results. Your butter will get fluffy and soft. Your eggs will incorporate beautifully and room temperature milk won't seize up your cake batter. It also means that as soon as your cake goes in the oven it will start to rise and bake. If you start with cold ingredients, the oven has to warm up the cake batter before it can start to bake. That means you won't get the most rise.
Line and grease your cake pans before you start. As soon as you mix the wet and dry ingredients together the chemical reaction in the baking powder starts to work and you need to get it all in the oven as soon as you can, so fiddling around lining pans is a no-no!
Preheat your oven before you start to ensure it's up to temperature before you use it.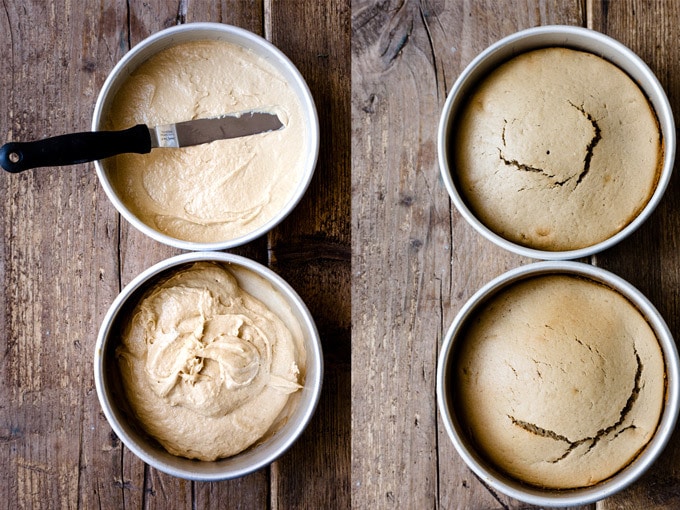 Tiramisu Cake Step By Step
Like most layer cakes, this one starts off by creaming the sugar and butter together, then adding the eggs and mixing in.
Alternate adding the flour and milk into the mixer and that's it.
Split the cake batter between two pans and spread them out so that the cakes are level. An offset spatula will be your most important tool when you bake a cake. I couldn't and wouldn't bake without mine.
Bake until a toothpick comes out with only a couple of crumbs. If you wait until the toothpick comes out clean, you'll end up with a dry cake. A couple of crumbs are a very good sign that you'll end up with a perfectly moist cake.
Tiramisu FAQ's
What kind of alcohol is in a tiramisu cake?
It's usually a marsala wine, but there are quite a few acceptable choices looking to add some extra flavor. For this particular version, I used Tia Maria which is a coffee flavored liqueur. But something like Frangelico is a great choice. Amaretto and rum are also delicious additions that can add a really lovely flavor.
Can I freeze tiramisu cake and if so, for how long?
Absolutely!!! This cake freezes like a dream. Because there's only 2 of us, I always end up freezing cake. I portion it all out first into pieces for two (don't worry, we share... mostly!), then I wrap in cling film and a layer of foil. It will last in the freezer almost indefinitely, but it will be it's best for up to 6 months.
To defrost it, remove it from the freezer and place either at room temperature or in the fridge, but leave it wrapped. That way, as the cake thaws and condensation forms, it will cling to the wrapping and not the cake. This method keeps your cake from going soggy.
Can you use cream cheese in place of mascarpone?
Of course, you can! Cream cheese and mascarpone are so similar in taste and texture that they are practically interchangeable in any recipe that calls for either one.
So, whatever the occasion... birthday, anniversary, Tuesday... whatever it is... this is the one cake I would suggest you make. Throw your heart and soul into all that espresso soaked sponge and chocolate frosting and you will be rewarded handsomely with gorgeous cake in your life!
Happy birthday to me!
THANKS SO MUCH FOR READING AND COOKING ALONG WITH ME! IF YOU MAKE THIS RECIPE OR HAVE A QUESTION, I'D LOVE IT IF YOU LEFT A COMMENT AND A RATING. YOU CAN ALSO FOLLOW ALONG ON PINTEREST, FACEBOOK AND INSTAGRAM TO SEE WHAT WE'RE EATING, PINNING AND A LITTLE BEHIND THE SCENES TOO!
Tiramisu Cake
This tiramisu cake is the classic pairing of rich chocolate frosting sandwiched between moist coffee infused sponge layered with the creamiest mascarpone frosting. Finish it off with simple chocolate curls and a dusting of cocoa powder to make this tiramisu the star of your next party.
Print
Pin
Rate
Ingredients
For the cake
1 ½

cups

(

187.5

g

)

cake flour

1 ½

teaspoon

(

1.5

teaspoon

)

baking powder

pinch

salt

½

cup

(

113.5

g

)

butter

softened to room temperature, cut into 1 inch cubes

½

cup

(

100

g

)

sugar

½

teaspoon

(

0.5

teaspoon

) vanilla extract

2

(

2

)

large eggs

room temperature

½

cup

(

122

g

)

whole milk

room temperature

3

tablespoon

(

3

tablespoon

) instant espresso powder

3

tablespoon

(

3

tablespoon

)

boiling water
For the Buttercream
¾

cup

(

150.2

g

)

+ 1 tablespoon sugar

¼

cup

(

62.5

g

)

water

4

(

4

)

large egg whites

room temperature

3

(

3

)

sticks butter

room temperature

¼

cup

(

43.75

g

)

chocolate

melted and cooled
For the Mascarpone Frosting Layer.
1

cup

(

225

g

)

mascarpone cheese

½

cup

(

60

g

) icing sugar
For serving
Instructions
Preheat the oven to 350f. Line and grease 2x6 inch round cake pans.

Sift together the flour baking powder and salt. Set aside. In a measuring cup dissolve the espresso powder in the boiling water and set aside to cool.

In a mixer fitted with the paddle, beat the butter until soft and creamy. About 2 minutes. Gradually add the sugar and continue to beat until pale and very fluffy. Scrape the sides to the bowl down once or twice while mixing, to ensure that the sugar is incorporated evenly. Then beat in the vanilla.

Beat the eggs in one at a time, scraping down after each addition, allowing each egg to be incorporated before continuing. Add the flour mixture in 4 additions alternately with the milk. Begin and end with the flour mixture, and beat briefly until smooth on medium-low speed after each addition. Gently mix the cooled espresso into the cake batter.

Divide the batter evenly between the two pans and smooth the tops with a spatula. Place the cakes in the middle of the oven and bake for about 20 minutes, until a toothpick shows a few moist crumbs. The cake will be pale golden around the edges and the top and will have started to pull away from the sides of the pan.

Leave to cool in the pan for 5 minutes. Then turn out onto a wire rack. Peel off the parchment paper and leave until fully cooled. About 1 hour.
For the buttercream
In a small sauce pan measure the water and sugar. Stir to wet all the sugar and place on a medium heat to dissolve the sugar. Once dissolved, turn down to a gentle simmer. You want to be able to bring the sugar water up to a boil very quickly.

Meanwhile in a grease free metal bowl place the egg whites and whip on medium low until frothy. Turn the mixer up to medium high and when soft peaks form add the tablespoon of sugar. Whip until shiny stiff peaks form.

Return the sugar water to a rapid boil and cook until the temperature measures 248-250f on a thermometer.

Turn the mixer down to low and in a slow steady stream, pour in the sugar syrup. This is the meringue part of the buttercream. Turn the mixer back up to high and whip until the meringue is cooled. This may take as long as 10 minutes.

Once the meringue has cooled, turn the mixer down to medium and add the butter a tablespoon at a time, until it's all incorporated into the mix. Then add the melted chocolate until mixed in.
For the mascarpone frosting
Place the mascarpone in a medium bowl and using an electric mixer soften the cheese. Add the icing sugar and mix in.
To assemble the cake
Slice the two cake in half horizontally through the centre so you have 4 laters. Brush the sponge with some liquor of your choice, or use coffee. Spread a layer of chocolate frosting on the cake and place another sponge on top. Brush with liquor and fill this layer with the mascarpone frosting. Make the next layer and fill this with chocolate frosting. Once all the layers have been built up, frost the outside of the cake and decorate with chocolate shavings and a dusting of cocoa powder.
Notes
The buttercream can be used as soon as you make it, but it can also be frozen. If freezing the buttercream place in a plastic or glass tub and freeze for up to 1 month.
To defrost, let the buttercream sit a room temperature for at least 6 hours before whipping again to use as directed. If the meringue mixture is too warm when you start to add the butter, it will start to melt and separate. If this happens, stop adding butter and continue to whip until cooler, then try to add the remaining butter.
Once you start to add the butter to the meringue, it may start to look split and curdled, just keep slowly adding the butter and whipping. It will come together. It's very common for it to look split at the beginning.
Nutrition
Calories:
305
kcal
|
Carbohydrates:
35
g
|
Protein:
5
g
|
Fat:
16
g
|
Saturated Fat:
9
g
|
Cholesterol:
57
mg
|
Sodium:
97
mg
|
Potassium:
148
mg
|
Sugar:
24
g
|
Vitamin A:
475
IU
|
Calcium:
65
mg
|
Iron:
0.4
mg