Okay sprout haters. Gather 'round. Let's talk sprouts and bacon business. More particularily, this bacon and brussel sprout salad with citrus vinaigrette. It's delicate shaved sprouts, warm and crispy bacon and bright citrus vinaigrette with toasted almonds.
There's so much you need to know about this salad. We're changing up the way you traditionally eat sprouts. But I'm still keeping the classic bacon brussel sprout combo, because I'm not a complete charlatan! Sometimes we just can't mess with the classics... or can we?
We've obviously had to seriously jazz up these brussel sprouts because, let's face it... no one is a fan of sprouts. Sorry sprouts. They show at the table on the holidays feeling a little under dressed and left out. So, I'm about to get you to actually like sprouts. Yep. You're actually gonna love them.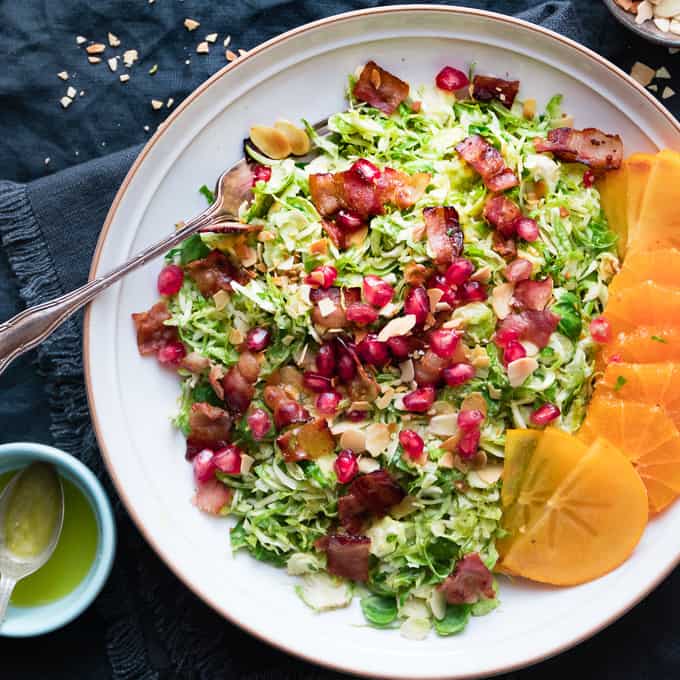 With Thanksgiving and Christmas in the pipeline, you're gonna be seeing a lot of sad and soggy sprouts at your dinner tables. But what if your sprout dish could get a make over and be elegant and crunchy and delicate (at the same time???) and be a feature of dinner in it's own right, rather than just a dish that you make because you always make sprouts.
Now, I'm not usually one for kitchen gadgets. In fact in my cheffing career I've learned to live without gadgets at all. Kitchens have notoriously tight budgets! But one gadget that I really wouldn't couldn't live without is a mandolin. Yes they are death traps for fingerprints. Yes you need to be very very very careful when you shave these sprouts down the blade of the mandolin... especially when you've lost the finger guard and are doing this brussel shaving business free hand. I don't recommend it.
But that's it. I've just told you about the hardest part of making this bacon and brussel sprout salad. Other than that, it's whisking dressing and cooking bacon. Yep. We got that.
5 Reasons to make Bacon and Brussel Sprout Salad your new holiday fave:
It's super healthy- brussel sprouts, pomegranate, mandarins and persimmons
It can be made hours before and kept in the fridge
It is stunning as left overs
Crunchy Brussel Sprouts
It's a modern way to serve traditional sides
Warm sprout salad. Salty, savoury bacon, juicy and bright pomegranate and toasted almonds. Modern classics for all winter long.
Bacon and Brussel Sprout Salad with Citrus Vinaigrette
Bacon and Brussel Sprout Salad with Citrus Vinaigrette. Delicate shaved sprouts, warm and crispy bacon and bright citrus vinaigrette with toasted almonds.
Print
Pin
Rate
Ingredients
500

g

1 lb brussel sprouts

¼

cup

pomegranate arils

4

rashers bacon

1

mandarin

,

cut into slices

1

persimmon

,

sharon fruit

4

tablespoon

toasted almonds
Instructions
In a non stick skillet over medium heat cook the bacon.

Using a mandolin shave the sprouts and set aside.

Once the bacon is cooked gently toss the shaved sprouts in the pan for a minute to warm slightly.

Place all the the salad ingredients in a bowls and toss.

Whisk all the vinaigrette ingredients in a small bowl and toss through the salad just before serving.
Nutrition
Calories:
344
kcal
|
Carbohydrates:
18
g
|
Protein:
9
g
|
Fat:
28
g
|
Saturated Fat:
5
g
|
Cholesterol:
14
mg
|
Sodium:
761
mg
|
Potassium:
656
mg
|
Fiber:
6
g
|
Sugar:
6
g
|
Vitamin A:
1090
IU
|
Vitamin C:
113.2
mg
|
Calcium:
84
mg
|
Iron:
2.3
mg