It's official. You can dump your delivery boy. These crispy easy vegetable spring rolls can be made with very little effort and they don't even compare to any that you can get in a restaurant or from a takeout place. These are the real deal. Crispy, pastry that shatters when you bite into it, veggie filling, spiked with Chinese 5 spice, all dipped in an easy sweet and sour style sauce.
Making your own spring rolls (also called egg rolls) couldn't be easier, these days. With Asian markets and Amazon available to all of us, it's pretty easy to get your hands on some spring roll wrappers like these ones. BUT... if you do live somewhere where Amazon doesn't deliver and you don't have a specialty or Asian market fear not. You can still get takeout style food at home on your own terms.
You can use filo pastry to make these spring rolls, if you can't get spring roll wrappers. While not exactly the same thing, they're close enough that it's totally worth making your own. Because when you make your own anything, it's always better than a store bought something. And it's fun. Let's not forget to put some fun back in cooking and making dinner.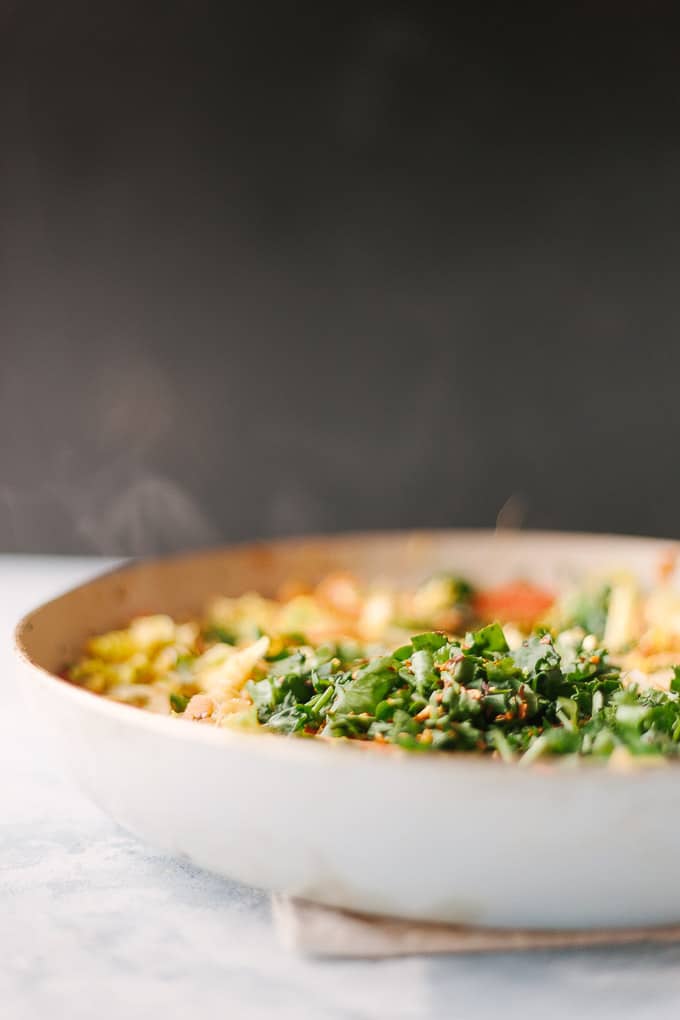 And the rolling is where the fun really starts. Because let's get real... everyone's first attempt at rolling a spring roll is going to look tragic. Mine looked like a car crash. Needless to say, that was my first one cooked as my "tester roll". That way I could get rid of the evidence. Besides, It's not what they look like, it's how they taste. No one is going to be mad at you for making a Chinese takeaway dinner at home. Made with love and effort and way more healthy, it won't matter what it looks like. Throw some chopped peanuts on it, drizzle with dipping sauce and serve with some crunchy veggies and everyone will think that your the dinner hero!
Easy Vegetable Spring Rolls Step by Step
Step 1.
Open a couple of bags of mixed stir fry veggies. You can pick these up in your produce aisle of your grocery store. All fresh crunchy veggies prep'd and chopped to spring roll size perfection. Toss that into a skillet with some sesame oil. Add some chopped ginger and some Chinese 5 Spice. Sweat it all down and let it cool. If you love it, add tons of cilantro. I love it and added a whole large bunch and it was perfect.
Step 2.
Lay a square of pastry out in front of you in a diamond shape. Brush the whole edge with some egg wash.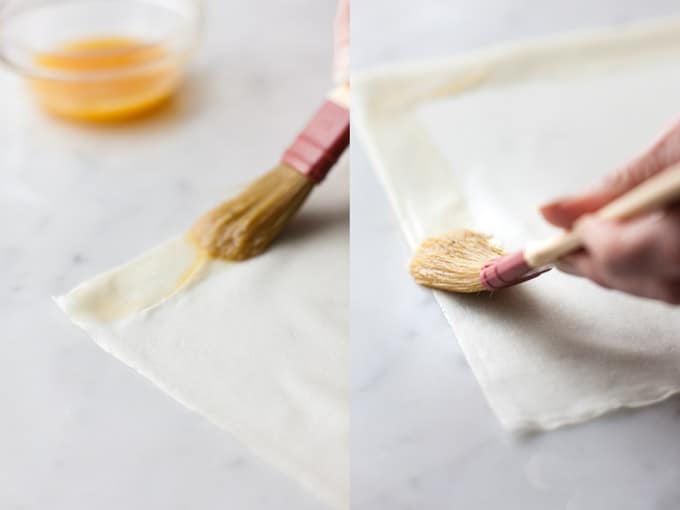 Step 3.
Lay out a spoonful of veggies in the pastry, about ⅓ of the way from the tip closest to you, and gently form it into a cigar shape. Awesome! See how easy this is????!!!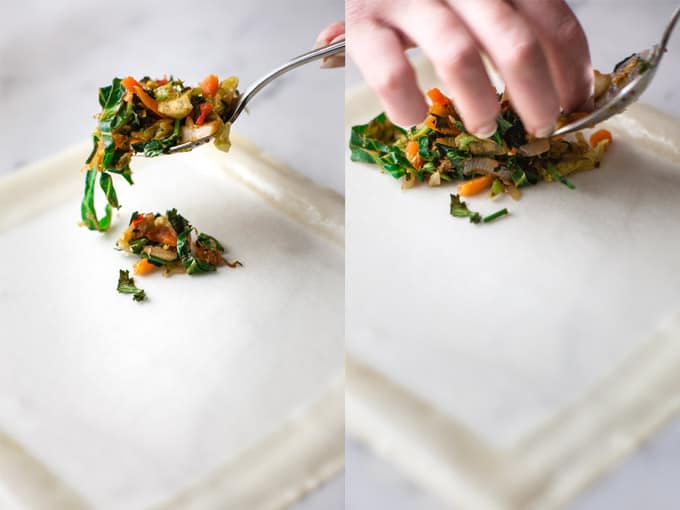 Now fold that first corner over the veggies, making sure that the pastry is pretty snug over those veggies. Roll once and then fold the sides of the pastry in to overlap in the middle. The pastry should now look like an envelope. Roll the rest of the way to form a long cigar shaped roll.
The first one may look a little wonky, but by veggie spring roll number 4 you'll be a pro. It's worth taking your time to make sure that those rolls are pretty tightly wrapped.
Chef's Pro Tip: Spring roll pastry and filo pastry dry out really quickly, so make sure to wrap them in a damp tea towel or some damp kitchen roll to make sure they don't dry out while your perfecting the art of the spring roll!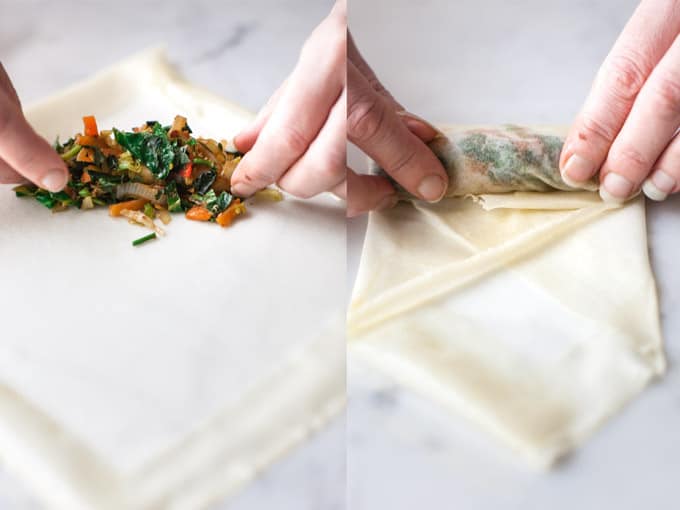 Okay. Now maybe this is where I get a little controversial.... I fried these. There. I said it. I fried them. Because sometimes you just gotta go all the way, ya know?!
You can totally bake these. Afterall, if you are wanting to break up with take out, it may be because it's costing your waistline more than your wallet. But it's up to you. I figure with these being veggie, being served with brown rice and not loaded with salt and msg and other takeout nasties, that maybe a little deep fried action is gonna be okay.
But, whatever you decide, just please decide to make these. You can even get super cute and serve these in some little takeout boxes for that super takeout feel. Whatever. Just make 'em. You'll forget you ever ordered takeout!
Thanks so much for being here! I'd love it if you left a rating and a comment letting me know how much you loved any of these recipes. Follow along on Instagram, Pinterest and Facebook for the latest!
Easy Vegetable Spring Rolls with Simple Dipping Sauce
A simple Asian spiced vegetable filling wrapped in crispy spring roll pastry with homemade dipping sauce.
Print
Pin
Rate
Servings:
12
Spring Rolls
Ingredients
For the Spring Rolls
2

Tablespoons

(

2

Tablespoons

) sesame oil

1

(

1

)

thumb size piece of ginger

minced

2

cloves

(

2

cloves

)

garlic

minced

2

(

2

)

small bags mixed stir fry vegetables

½

cup

(

8

g

)

chopped cilantro

1

Tablespoon

(

1

Tablespoon

)

Chinese 5 Spice

1

teaspoon

(

1

teaspoon

) chilli flakes

12

(

12

)

spring roll wrappers

or use phyllo

1

(

1

)

egg

beaten (for sealing the pastry)
For the Dip
1

Tablespoon

(

1

Tablespoon

)

sweet soy sauce

Kecap Manis

1

Tablespoon

(

1

Tablespoon

)

soy sauce

1

Tablespoon

(

1

Tablespoon

)

Sriracha

1

Tablespoon

(

1

Tablespoon

)

water

optional
To Serve
Brown rice or noddles

Chopped peanuts

chopped cilantro
Instructions
In a non stick frying pan heat the sesame oil over a medium heat. Once the oil is hot add the ginger and garlic. Sweat for 2 minutes and add the stir fry veggies and the Chinese 5 Spice. Heat until the veggies are soft and cooked through.

Once the veggies are cooked through leave to cool slightly.

Work with the spring roll wrappers one at a time. Leave the remaining wrappers in some damp paper towel as they dry out very quickly. Use this method when working with phyllo dough as well.

Lay the wrapper out in front of you in a diamond shape. About 3 inches from the corner of the wrapper, place 2-3 tablespoons of the cooled filling. Brush the edge of the wrapper with beaten egg wash. Fold the corner over the filling keeping the wrapper tight.

Fold in the sides of the wrapper, so that it now looks like an envelope. Brush the top corner with the egg wash and roll all the way up making a tight spring roll.
To bake the spring rolls: Pre heat the oven to 350f or 170c. Brush the egg rolls with some olive oil and bake in the oven for about 20 minutes. Until the pastry wrappers are golden and crispy and the filling is hot.
To fry the spring rolls: Fill a deep sauce pan ½ full with oil. Heat the oil to 190c. See notes.
Fry the rolls until they are deep golden and the filling is hot.

Serve them with rice or noodles.

To Make the dipping sauce, place all the ingredients in a bowl and whisk
Notes
Note 1: When working with spring roll wrappers or phyllo dough it's incredibly important to keep them covered with damp paper towel and work quickly so the pastry doesn't dry out.
Note 2: The temperature of 190c or 375f sound hot for frying, but this high temperature gives the spring rolls those blisters that are so attractive and add so much extra texture.
Nutrition
Calories:
91
kcal
|
Carbohydrates:
13
g
|
Protein:
2
g
|
Fat:
3
g
|
Cholesterol:
15
mg
|
Sodium:
256
mg
|
Potassium:
38
mg
|
Sugar:
1
g
|
Vitamin A:
115
IU
|
Vitamin C:
1.2
mg
|
Calcium:
16
mg
|
Iron:
1
mg