These fig & honey overnight oats are the perfect get up and go breakfast. They're creamy and sweet with a hint of salt and earthy sweet fig notes. High in calcium and protein they make the perfect breakfast.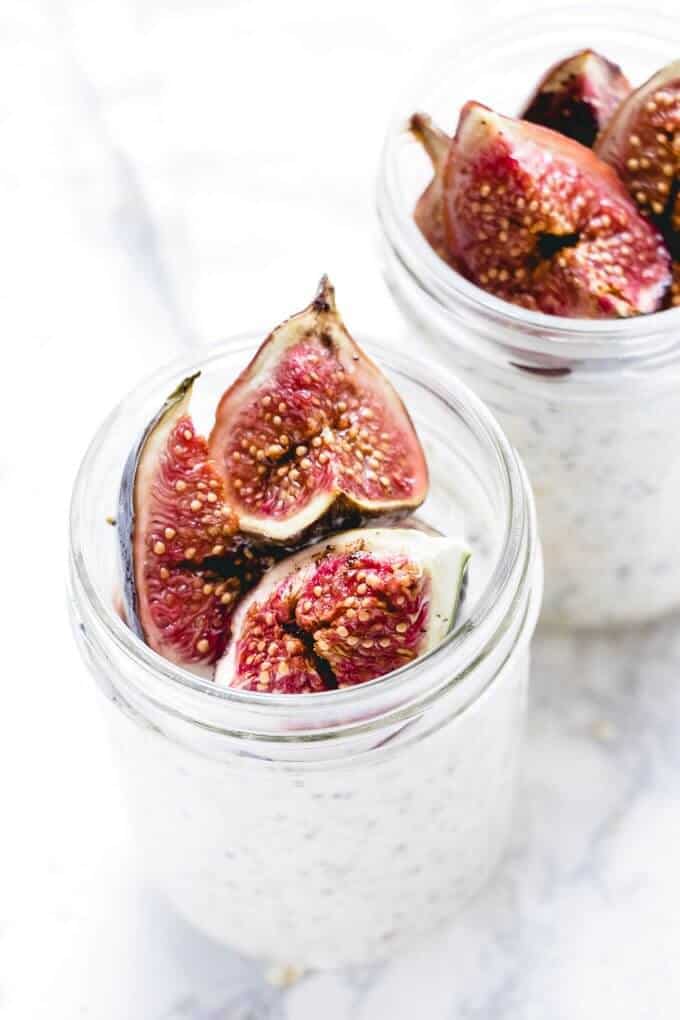 I've long been in love with overnight oats. For someone like me who almost always used to skip breakfast they are the perfect solution. Made the night before and popped into a small jam or mason jar, they are the perfect grab n' go. They are also so much healthier than any store bought breakfast that money can buy. PS no excuse to skip breakfast any more... overnight oats take less than 2 minutes to prep. Mr T made them last night for the first time and it took him 1 minute and 48 seconds. I actually timed it so that I could safely say they will take anyone less than 2 minutes to make.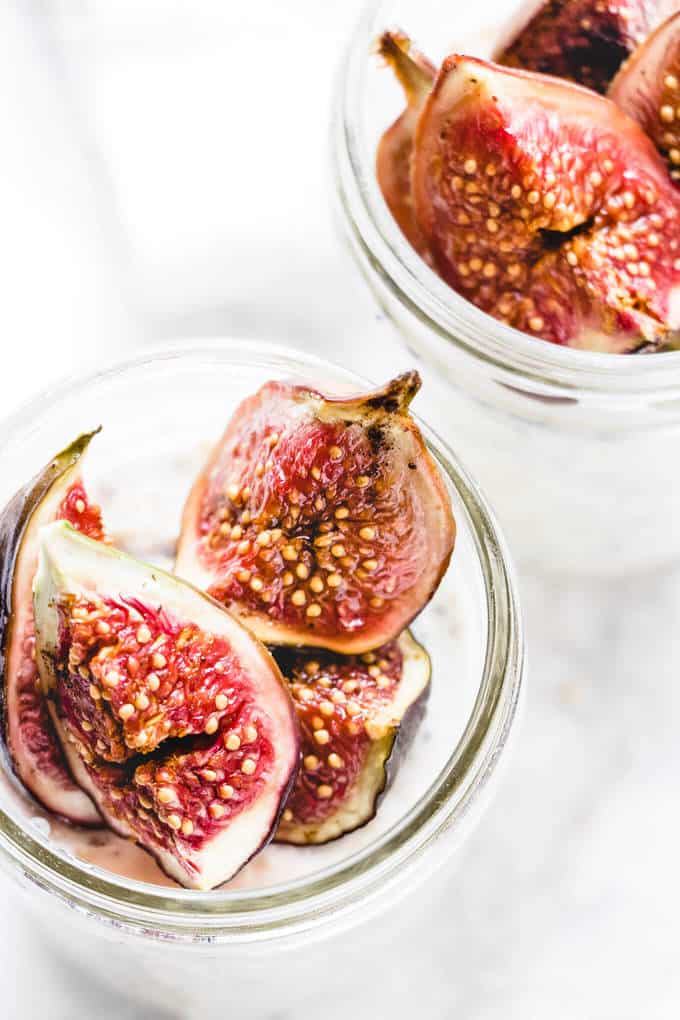 But before we go into the health benefits of overnight oats, let's get into the nitty gritty of making overnight oats. They are super simple and only require 2 ingredients for the most basic set up. Those two ingredients are oats and something wet... ie. yogurt, almond milk, coconut milk or even regular milk. But here's the deal.
When you use those 2 ingredients only, you will be getting a superior breakfast than any croissant or store bought muffin that you can buy, but you won't be getting the best overnight oats that you can make. In order for that to happen, you need to jazz it up a bit. So below I've listed the add-on's that will make your overnight oats all that they can be.
For the perfect fig & honey overnight oats
oats
salt (just a sprinkle)
fig & honey yogurt (or your favourite low fat flavoured yogurt)
chia seeds (these add extra nutrition and help to thicken your oats)
these honey baked figs or other seasonal fruit for topping (not a necessity, but a really lovely addition)
a drizzle of honey or maple syrup (a must if your are skipping the fruit business)
In this situation your oats are also important. I used to use instant oats but have recently switched to rolled oats because I like the texture better. If you're interested in knowing the difference between rolled, instant and steel cut oats, this resource is a great read.
If you prefer an overnight oat, and even a cooked oat with more texture, go with rolled oats. They don't take much longer than instant oats to cook and they truly make a difference when it comes to chowing down. Texture in your food actually make you feel more satisfied after eating. ↩︎ That's today's fun fact, kids! Texture in your food and your fig & honey overnight oats is a MUST for maximum eating satisfaction!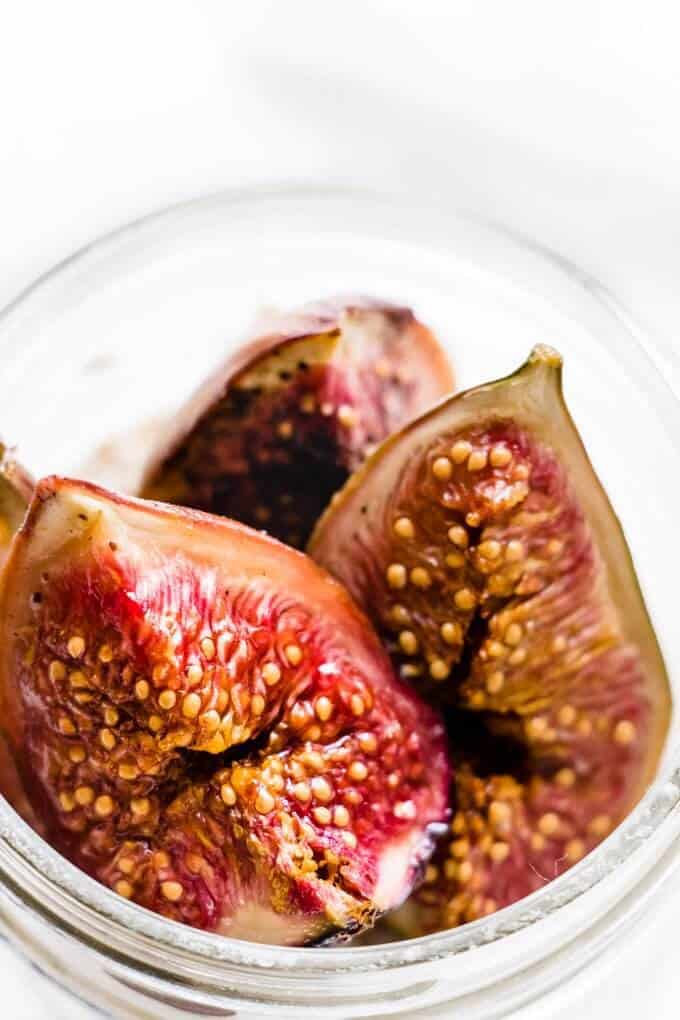 Everyone's favorite breakfast dish can be prepared in a moment's time with just a few ingredients and minimum effort.
Okay, so now let's chat real quick about the health benefits of these fig & honey oats... or any overnight oats for that matter. Firstly, oats are a great source of protein. It's true that they are not a complete proetein meaning that they do lack some amino acids, but they are a leaps and bounds ahead of other rice and wheat cereals.
Oats are also a great source of fibre, which we're all told we need to get more of. And then we've got the calcium and protein from the yogurt. So truly overnight oats should have you feeling satisfied until snack time, or elevenses. I'd say lunch, but we're all too interested in food to wait until lunch to eat again right?!
Fig and Honey Overnight Oats
These fig & honey overnight oats are the perfect get up and go breakfast. They're creamy and sweet with a hint of salt and earthy sweet fig notes.
Print
Pin
Rate
Ingredients
¼

cup

rolled oats

½

cup

fig and honey yogurt

,

or your favourite flavour

pinch

of sea salt

1

teaspoon

chia seeds

,

optional; see notes

¼

cup

water

,

see notes

Vanilla & Honey Baked Figs
Instructions
Directions
In a small jam or mason jar, place the oats, chia seeds and the pinch of salt.

Add the yogurt and mix well.

If your mixture is too thick the water a little at a time until the desired consistency is reached.
Notes
Notes: The chia seeds are not necessary, but help to thicken the oats and create a more set oat pot. Add the water a little at a time, if you feel the mixture is too thick. Keeping on mind the mixture will thicken overnight.
Nutrition
Calories:
173
kcal
|
Carbohydrates:
24
g
|
Protein:
9
g
|
Fat:
4
g
|
Saturated Fat:
1
g
|
Cholesterol:
7
mg
|
Sodium:
90
mg
|
Potassium:
359
mg
|
Fiber:
3
g
|
Sugar:
8
g
|
Vitamin A:
65
IU
|
Vitamin C:
1
mg
|
Calcium:
260
mg
|
Iron:
1.2
mg