This classic arrabbiata sauce is a 30 minute Italian sauce that's perfect for any tomato based pasta dish. It's a fuss free vegan dinner ready in minutes. Satisfyingly spicy from dried chilli flakes balanced with a hint of sweetness from basil and balsamic vinegar.
Okay. Today we're entering the minefield that is Italian tomato sauces. I say minefield because there are about a bajillion different types, from a bajillion different areas of Italy and in each of those bajillions, there's a zillion different versions of each. So, here's the deal. I researched. A lot. About exactly what an arrabbiata was, what some common variations were and what were completely no-go versions.
But here we are. With our very own store cupboard version of a classic arrabbiata sauce. The name refers to the "angry" heat from the chilli peppers, but of course it's up to you how angry you want your sauce. I like mine mildly annoyed, bordering on the mad. Some people love there's positively furious. But in this I'm going for a moderate heat that keeps my lips just tingling and my tummy warm. I'm not into tongue numbing heat. Although if that's your thing, let me know how it goes!
How do you make classic arrabbiata sauce?
Firstly, you decide how hot your going for. Like I said, I'm a spicy not hot kinda girl. So use dried chilli flakes from your spice cupboard here. If you happen to have a fresh chilli kickin' around in the bottom of your veg drawer now's the time to get it used.
Unlike a lot of tomato based sauces like a ragu, this is a quick cooking sauce. So, perfect for those crazy nights when you've got no time, or no inclination to stand at the stove for more than 20 minutes. This is a toss it all in and simmer kinda sauce.
Classic Arrabbiata Step By Step
Step 1- Infuse the chilli oil
Because this sauce has it's foundations in the heat, it's really important to get that infused into the whole sauce right from the beginning. Here's the deal with seasonings. When they are put in at the beginning of the cooking process a dish tastes well balanced. There's a depth of flavour that seasoning at the end of cooking, just can't produce. When you season at the end the flavours don't have a chance to marry to other flavours and settle in. So start with the chillies for this sauce so that you get a well balanced heat that seems like it's perfectly matched for this sauce. If you add the chillies at the end, you will likely have an inferno of chilli that doesn't help to push the tomatoes forward.
Once you've got an oil that is infused with a warm heat and has started to colour from the chillies, add the onions and garlic. Let them sweat and take on the heat and the colour from the chillies.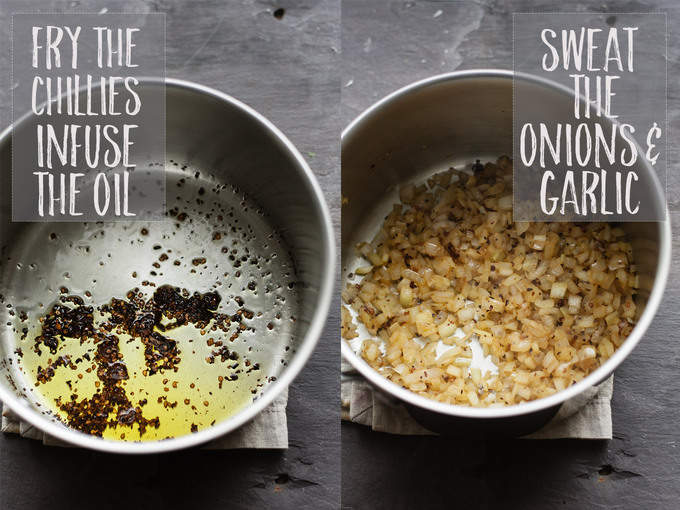 Step 2- Garlic & Tomato Paste
But, this is a classic Italian based tomato sauce, so please add all the extra garlic you like. This sauce will love you for it! As the garlic and onion sweat down in this spicy oil, they will mellow out and the sugars will come to the surface and temper some of that heat from the chillies. Bear in mind this is still a quick sauce, so this only takes about 5 minutes.
Add the tomato paste and give it a good mix with those onions. We're not afraid of a little colour on those onions and a little bit of a toasty smell from that tomato paste. The part to be aware of here is that tomato paste is relatively high in natural sugars which can burn easily. So keep it moving.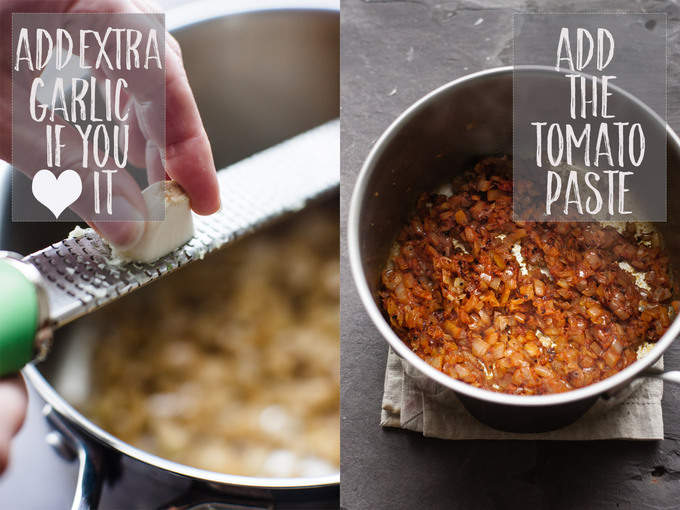 Step 3- Add Everything & Reduce
This is the part where you get to toss in the rest of the ingredients and leave it all alone for about 20 minutes. When you add the stock, tomatoes and balsamic vinegar, you will be alarmed. You will think that you've added too much liquid and that you should just turn it into soup. Don't freak out. Go with me on this one. I know what I'm doing here. I am a professional, after all.
But genuinely, it does look like something hasn't been measured correctly. Have no fear, it's supposed to be soupy. We reduce it all down for about 15 minutes on a medium high heat, so we end up with something almost the consistency of a salsa. We want it chunky, but with little pools of saucy tomato juice floating on the surface.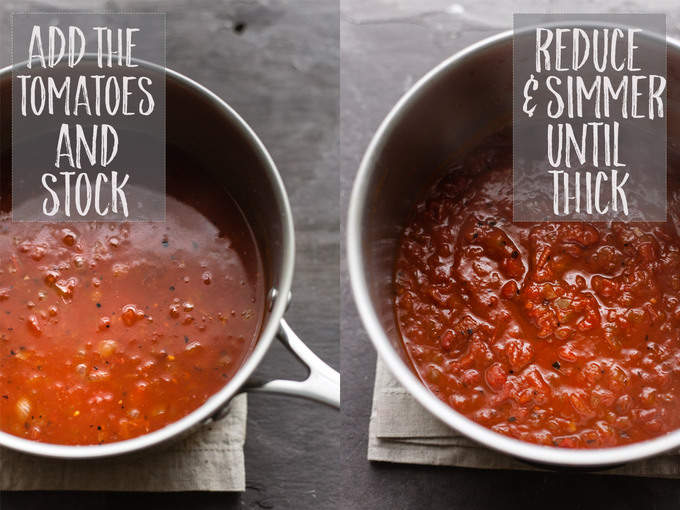 Step 4- Finishing the Sauce
This is the part where we've made up our own rules. Most of the versions of arrabbiata that I found either call for no herbs to be added... at all... or they called for flat leaf parsley. I think parsley is often used, like in the case of arrabbiata as a herbaceous, almost grassy punch to stand up to the heat of the chillies and the thickness of the sauce. But, I prefer the sweetness of basil in this situation. It gives the sauce a lift rather than a wallop.
And I couldn't stop tinkering there. This modern classic has a splash of vodka added to it. After the reduction of the sauce and off the heat. In this case I don't want that bite of alcohol being cooked out. The crispness of the vodka is barely detectable on it's own, but rather it lends a helping hand to the basil and the chilli and pushes them both forward into the limelight. It really isn't much considering the yield of the recipe, but it's enough to make you know it's there.
If you refuse to put the alcohol in, you will still be tempted to layer this sauce in your lasagna, smother it into your noodles and even dollop it on warm crusty bread. The vodka is not a make or break, merely a flavour enhancer.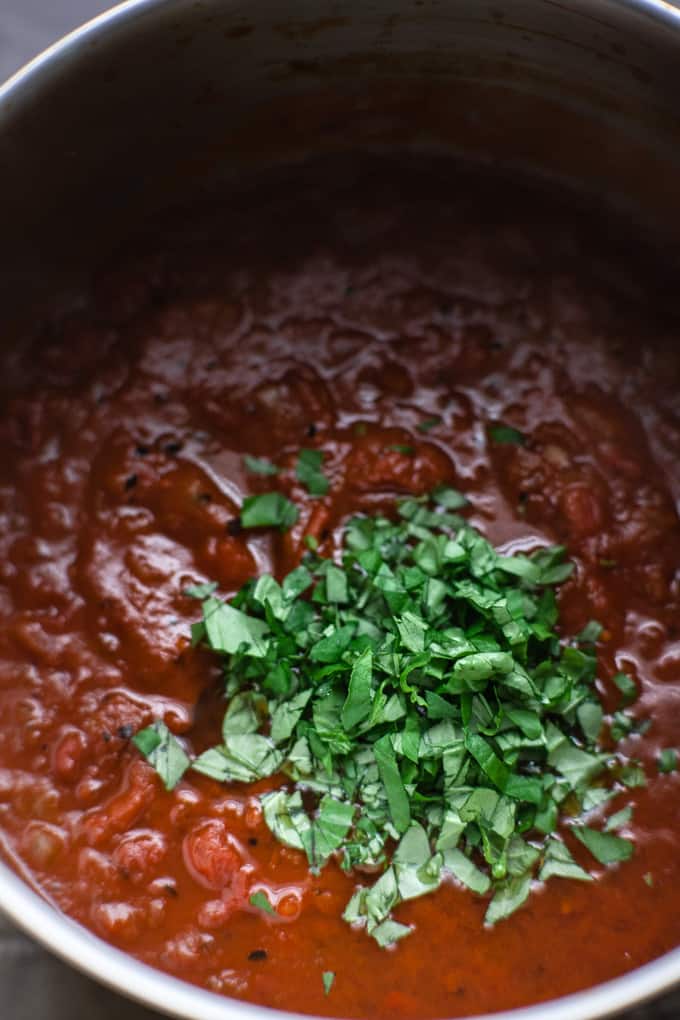 What is classic Arrabbiata used for?
A classic arrabbiata is used and can be used anywhere you would use a pasta sauce. It's most common use is in penne l'Arribbiata. Personally I find such an incarnation a little on the boring side. It adds so much as a layering in your lasagnas and in a pasta bake, it would be divine. Being a vegan sauce it's so versatile.
And there is truly no judgement if you want to grab a spoon and eat it from the pan. I've been there and it's delicious!
Homemade Store Cupboard Classic Arrabbiata Sauce
This classic arrabbiata sauce is a 30 minute Italian sauce that's perfect for any tomato based pasta dish. It's a fuss free dinner ready in minutes. Satisfyingly spicy from dried chilli flakes balanced with a hint of sweetness from basil and balsamic vinegar.
Print
Pin
Rate
Instructions
Heat the olive oil in a medium size pan over a medium high heat. Add the dried chillies and the chilli flakes to flavour the oil. Let fry for about 2-3 minutes. Add the onion and garlic to the pan and let fry gently for another 5 minutes. It's okay if they colour slightly that is perfectly fine. Golden onions are always welcome.

Add the tomato paste to the pan and mix well. Let the paste cook into the onions and garlic for about 5 minutes, stirring occasionally. Add the crushed tomatoes, balsamic vinegar and the stock. Let this come to a simmer and reduce for about 15 minutes, until it's thick.

Remove from the heat and finish with the basil leaves and vodka if using.
Nutrition
Calories:
112
kcal
|
Carbohydrates:
4
g
|
Fat:
10
g
|
Saturated Fat:
1
g
|
Sodium:
543
mg
|
Potassium:
90
mg
|
Sugar:
2
g
|
Vitamin A:
585
IU
|
Vitamin C:
2.2
mg
|
Calcium:
6
mg
|
Iron:
0.4
mg