This easy, healthy and quick salmon in parchment is the perfect healthy recipe. Moist, lemon-y and full of fresh herb flavor.
This recipe is in partnership with Thermapen ♥
This parchment paper method of cooking fish (especially salmon) is a classic French and Italian method usually referred to as "en papillote". It sounds a little fancy, but don't worry. It's completely easy and means that there's pretty much no clean up at all.
And being that it's January and our desire for fresh food has reached peak healthy, we're getting up close and personal with some classics from the Med.
---
Easy Lemon Salmon In Parchment
Like this recipe? Pin it to your Dinner pinboard!
Follow Salted Mint on Pinterest
---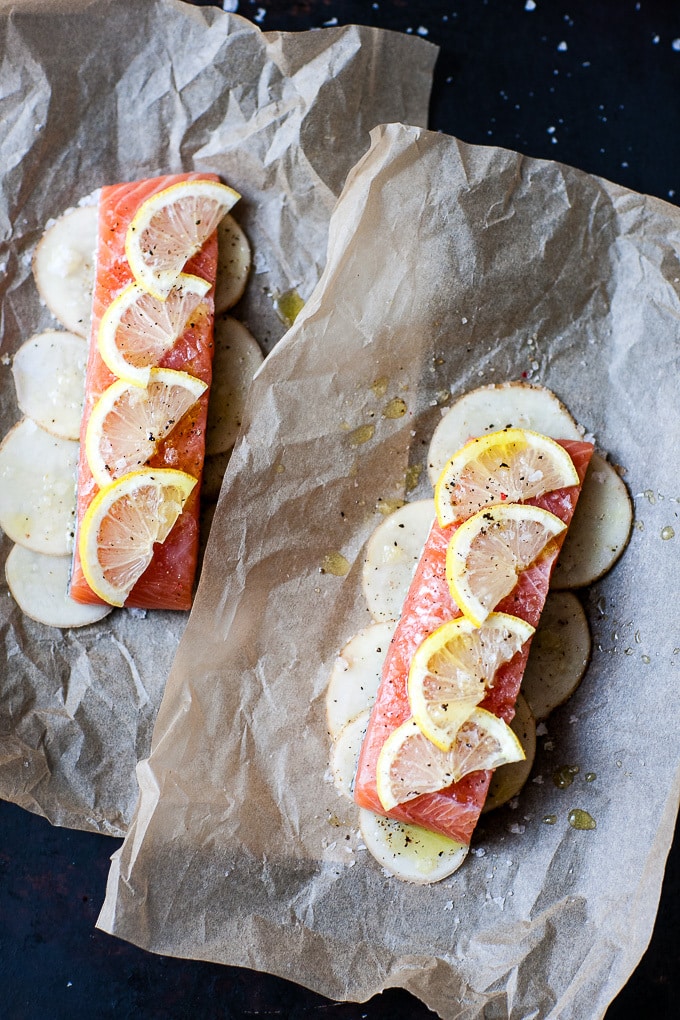 Okay. So, what do you really need to know about cooking this salmon so that it's still moist and flaky even though you don't have to do anything once it's in the oven?
The perfect temperature to cook salmon to is 62.8ºC or 145ºF. That's where your Thermapen Professional thermometer comes in. It only takes 3 seconds to let you know when you're good to go. (When cooking fish, especially salmon, every second counts to make sure it's perfect.)
How exactly do you cook salmon in parchment paper? Put your rack in the middle of the oven and be sure to pre-heat to 200ºC or 400ºF. That way as soon as you put the salmon in the oven it starts to cook.
Do you need oil or any fats to cook this salmon? No. BUT... a drizzle of olive oil goes a long way for flavour and making sure that those potatoes get crispy edges. So, it's up to you. If you're really avoiding fats, then you can skip it, but if you're just looking for a light, fresh dinner then drizzle away!
How to make Easy Lemon Salmon In Parchment (Step By Step)
Lay the potatoes in a single layer so that they are peeking out from the edges of the salmon.
Place the seasoned salmon on top, drizzle with olive oil and top with fresh dill.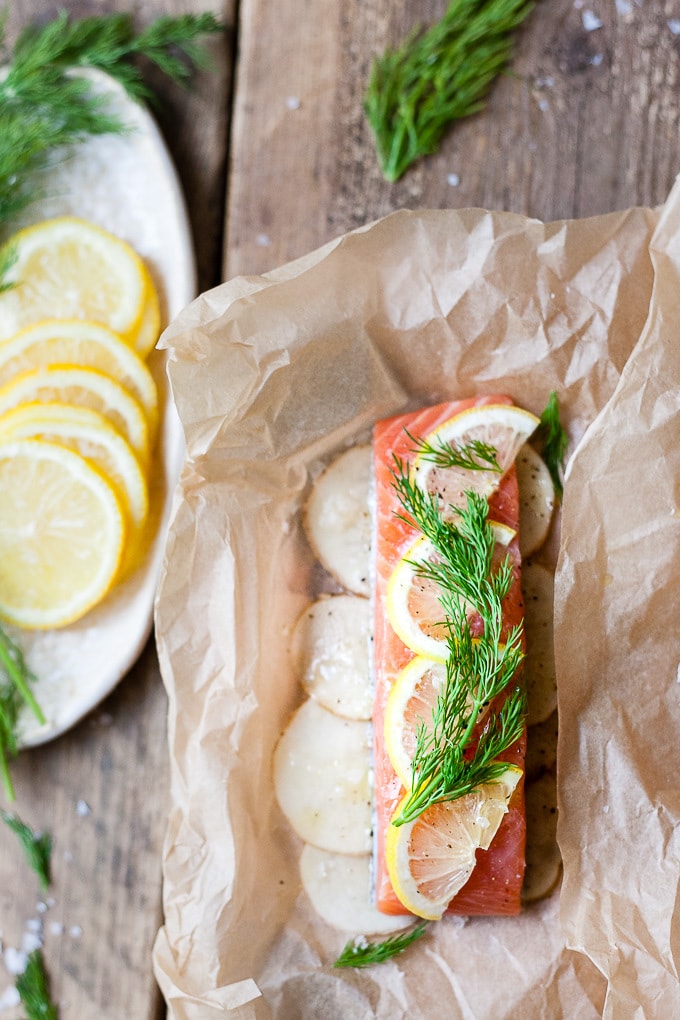 Wrap the salmon into parcels being sure to tuck the paper under at each end.
Bake on a tray at 200ºC until your salmon reaches 62.8ºC. It took about 15 minutes. I've said it a few times and I'll say it over and over... for dinners like this salmon because they're so simple, it's soooo important to make sure that you're not overcooking it.
That's why Thermapen is my kitchen BFF. It's my favourite for the reasons I've mentioned above (fast, accurate) but also because they've taken into account us lefties! I can use my left hand to hold it and don't have to try turning my head upside down to read it! Perfect for when I'm balancing hot salmon parcels that CAN NOT be overcooked!
Good design takes everyone into account. ♡ Thanks Thermapen!
More Salmon and Seafood Recipes
Tools used to make this Recipe Name
Easy Lemon Salmon In Parchment
This easy, healthy and quick salmon in parchment is the perfect healthy recipe. Moist, lemon-y and full of fresh herb flavour.
Print
Pin
Rate
Ingredients
4 6

ounce

175-200g salmon fillets, skin on

2

small potatoes thinly sliced

use a mandolin if you have one

1

tablespoon

olive oil

1

lemon

thinly sliced

1

bunch basil

salt

pepper
Instructions
Preheat oven to 200ºC or 400ºF.

Use a mandolin to thinly slice the potatoes. Lay them on a piece of parchment paper and drizzle with olive oil and sprinkle with salt and pepper.

Lay the salmon on top of the potatoes and season with salt and pepper and a few chilli flakes. Lay the thinly sliced lemon and a sprig of dill over the salmon. Wrap in the parchment paper and bake in the oven for about 15-20 minutes or until the salmon reaches 145ºF or 62.8ºC.

Remove from the oven and use the Thermapen Professional thermometer to check that the temperature has reaches 62.8ºC. Add some fresh basil and dill. Serve straight from the parchment packet.
Nutrition
Calories:
168
kcal
|
Carbohydrates:
9
g
|
Protein:
15
g
|
Fat:
8
g
|
Saturated Fat:
1
g
|
Cholesterol:
38
mg
|
Sodium:
34
mg
|
Potassium:
542
mg
|
Fiber:
1
g
|
Vitamin A:
30
IU
|
Vitamin C:
21.7
mg
|
Calcium:
20
mg
|
Iron:
1
mg
THANKS SO MUCH FOR READING AND COOKING ALONG WITH ME! IF YOU MAKE THIS RECIPE OR HAVE A QUESTION, I'D LOVE IT IF YOU LEFT A COMMENT AND A RATING. YOU CAN ALSO FOLLOW ALONG ON PINTEREST, FACEBOOK AND INSTAGRAM TO SEE WHAT WE'RE EATING, PINNING AND A LITTLE BEHIND THE SCENES TOO!