This soy sesame and maple glazed salmon is the perfect 20-minute dinner. Crispy skinned salmon pan seared in sesame oil with a sesame soy sauce with a kiss of maple sweetness. Serve it on a bed of zucchini noodles for the perfect low-carb dinner.
There's just something about a pan seared and maple glazed salmon that makes me feel like I'm doing really amazing things for my body, but also like I'm doing really delicious things for my soul.
It's no secret that salmon is the key to getting omega-3s. But it's also an amazing source of lean protein. You probably already knew that. So, let's just get right into what kind of salmon you should be buying and how exactly you should cook this maple glazed salmon to make sure you keep it nice and moist and flakey.
How to Cook Maple Glazed Salmon and keep it from drying out.
Salmon is a dream to cook at home. It's a quick healthy dinner that's perfect for any weeknight. But there are some things you need to know about making sure that your salmon is as crispy skinned and flakey as it can be.
Make sure that you pat the fish dry with a paper towel.
Use a good non-stick frying pan. They are worth their weight in gold when it comes to cooking fish.
Don't get your pan too hot to start with. ← This may go against everything that you've ever heard about cooking fish. But I swear, it will change your life. Start with the pan on a medium heat, then add your oil let that warm up, then add your salmon.
Cook the salmon skin side down. If you put the flesh in direct contact with the pan, the fish will dry out.
Why not start with a really hot pan?
Because if the pan is too hot, the fish starts to curl immediately and quite violently! If the pan is only medium hot, the fish has a chance to start to cook before the heat starts to shrink it. Once the proteins start to firm up from the cooking process, they won't curl. Another little trick in addition to the medium hot pan is to use a fish spatula and gently hold the fish down for the first few seconds of cooking to make sure that the entire surface of the fish is in contact with the pan.
How do you know when salmon is cooked?
The best way to tell if salmon is cooked is to look for visual cues. The flesh will start to turn a much paler pink from the skin upwards towards the top of the flesh.
Salmon flesh firms up when it's cooked, so you could gently touch the fish and see if it's firm.
A top tip that we did in every restaurant I've ever cooked in, is that we remove the fish from the pan about 1 minute before it's cooked. We let it rest for a few minutes to let the residual heat cook the salmon the rest of the way. Perfect fish every time!
The last way is to use a thermometer. You'll insert the thermometer in the thickest part of the salmon and if the temperature is 125a-135f. This is medium-well. Many places with exceptional seafood will serve salmon at medium-rare.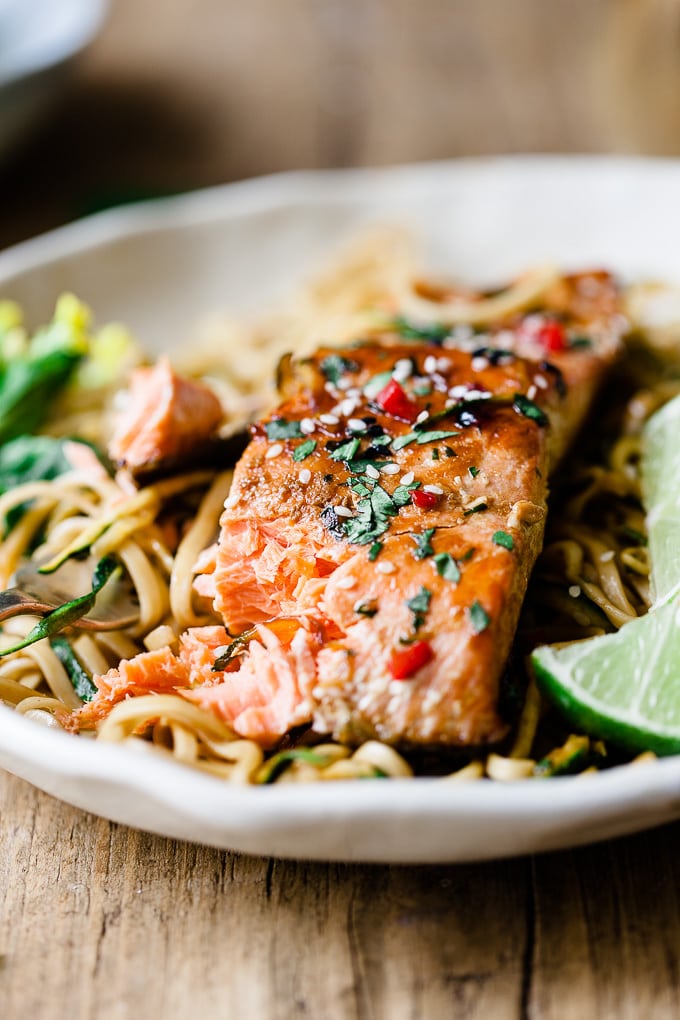 Should you buy farmed or wild salmon?
I think this question is deeply personal. My initial reaction is "wild, always". But, I'm fortunate to have grown up mostly on the west coast of Canada. There were summers where the river would literally be jumping with salmon there were so many. So, easy for me to say.
Now that I live in the UK and wild salmon is usually imported from Alaska (what I buy), it's often prohibitively expensive for people. And the farmed salmon from Scotland is very high quality and responsibly farmed.
My money will always be spent on wild, just because I like it better. Flavor, texture, color, and nutritional value, it always comes up a winner. But this article can help you decide which is right for you.
And that's it. That's all I got today!
Go, buy salmon, bathe it in soy maple galze and twirl those zucchini noodles around your fork and all will be well with the world!
THANKS SO MUCH FOR READING AND COOKING ALONG WITH ME! IF YOU MAKE THIS RECIPE OR HAVE A QUESTION, I'D LOVE IT IF YOU LEFT A COMMENT AND A RATING. YOU CAN ALSO FOLLOW ALONG ON PINTEREST, FACEBOOK AND INSTAGRAM TO SEE WHAT WE'RE EATING, PINNING AND A LITTLE BEHIND THE SCENES TOO!
Soy Maple Glazed Salmon
This soy sesame and maple glazed salmon is the perfect 20-minute dinner. Crispy skinned salmon pan seared in sesame oil with a sesame soy sauce with a kiss of maple sweetness. Serve it on a bed of zucchini noodles for the perfect low carb dinner.
Print
Pin
Rate
Ingredients
2

salmon fillets

2

tablespoon

sesame oil

2

tablespoon

soy sauce

3

tablespoon

maple syrup

1

clove

garlic

minced

juice and zest of a lime

2

zucchini

spiralised

¼

pound

of cooked egg noodles

optional

2

tablespoon

chopped cilantro
Instructions
In a nonstick skillet over a medium heat add the sesame oil. Let the pan heat up slightly. Place the salmon in the warm pan skin side down. Gently press a spatula down on the salmon while the skin forms a contact with the pan.

In a small bowl, whisk together the soy sauce, maple syrup, ginger and garlic. Once the salmon is

half way done, add the glaze and bring it to a gentle boil. Using a spoon, baste the salmon with the glaze, until the fish is cooked. About 5 more minutes.

When the salmon is cooked remove it to a small plate and cover with foil and leave to rest for 10 minutes. Toss the noodles in the pan to soften and toss with the remaining sauce.

Divide the noodles onto 2 plates and lay the salmon over top. Sprinkle with sesame seeds and cilantro.
Nutrition
Calories:
710
kcal
|
Carbohydrates:
68
g
|
Protein:
46
g
|
Fat:
27
g
|
Saturated Fat:
4
g
|
Cholesterol:
141
mg
|
Sodium:
1111
mg
|
Potassium:
1588
mg
|
Fiber:
3
g
|
Sugar:
24
g
|
Vitamin A:
520
IU
|
Vitamin C:
35.6
mg
|
Calcium:
104
mg
|
Iron:
3.6
mg