These easy Greek roast potatoes are filled with tangy lemon, fragrant oregano and a hint of roasted garlic. It's all topped off with some herb and olive oil marinated feta. These are THE perfect side dish for any BBQ or potluck you've got coming up this summer.
Whenever I think about Greek food, I think about summer. Not so much because Greece has the most stunning summery weather, but because I used to work summers at a Greek restaurant and the smells of lemon, oregano and roasted garlic are what I remember the most.
Because that's what food is, right?! Every dish is a culmination of memories brought back to life with each bite. So, every time I have Greek roast potatoes, no matter where I am, I'm brought back to Canadian summers in a little fishing village filled with familiar faces and tourists alike. Food's funny like that.
But let's actually talk about these Greek roast potatoes, shall we? They are so simple to make and are a dream to eat cold from the fridge the next day. I know not a lot of food is like that, but imagine that these potatoes are also a mean double for a potato salad when you're in a pinch!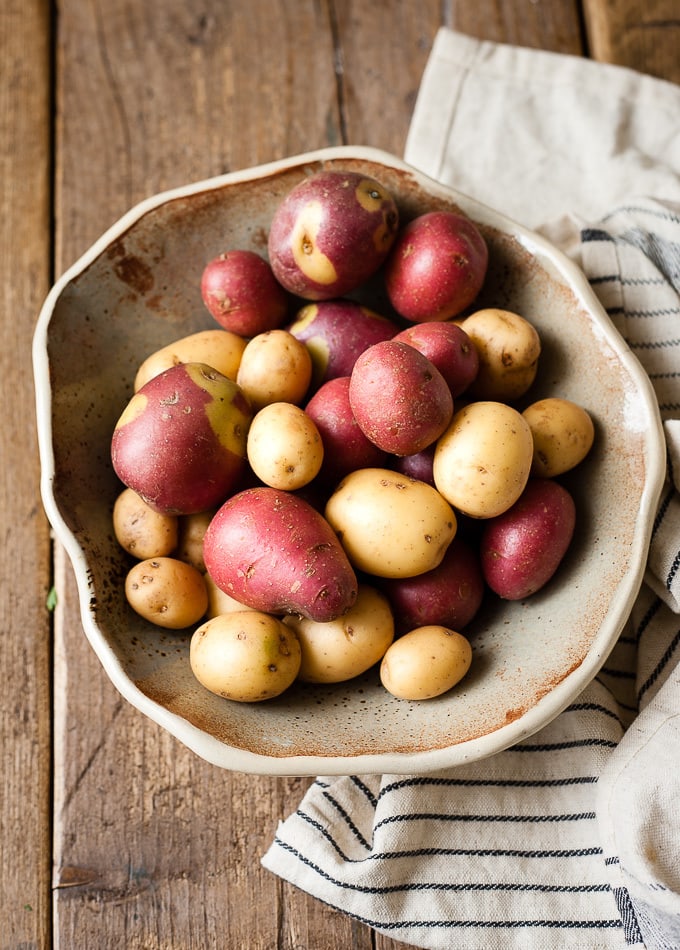 How do you make Greek roast potatoes?
Great question! Greek roast potatoes are characterised by their lemony and herby flavour. You'll want to quarter your potatoes if you're using something large like a russet. If you're using a smaller new potato style then just cut them in half.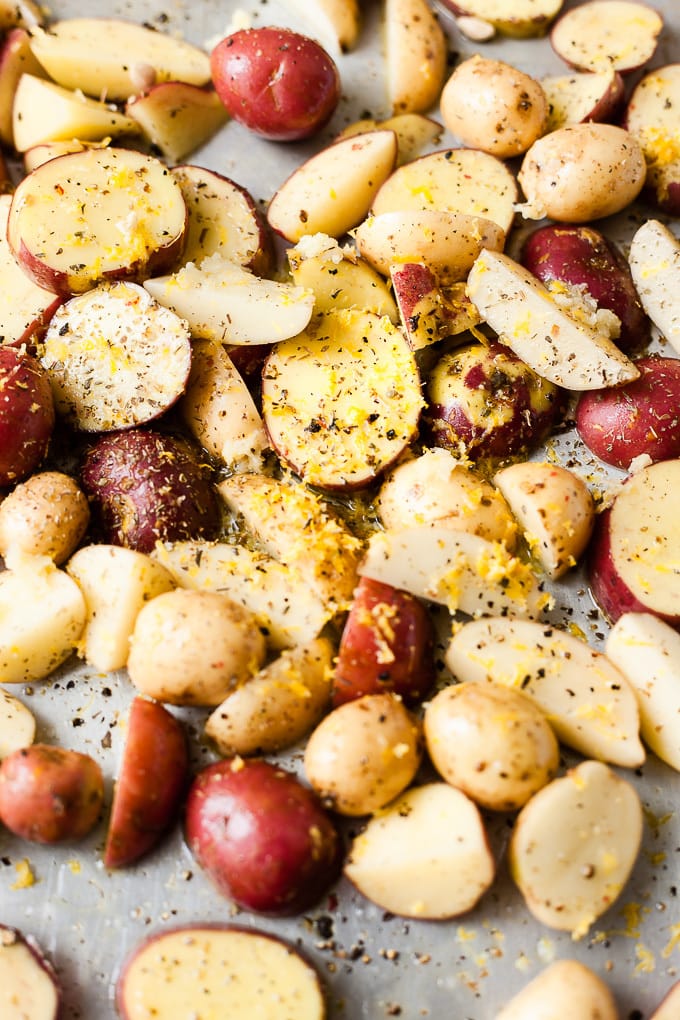 Why do you need to cut the potatoes & what kind of potatoes should be used?
Because you want all those lovely edges from the cut sides to go golden and crispy while the rest of the potato stays soft and fluffy. As for what kind of potatoes?
I've never met a potato that couldn't be roasted! Everything is fair game when it comes to roasting. For this dish, I've used a combination of russet potatoes, new potatoes and some red potatoes. really just because I wanted to add some different colours to the dish. But you can use whatever you've got in your pantry, store cupboard or what the grocery store has.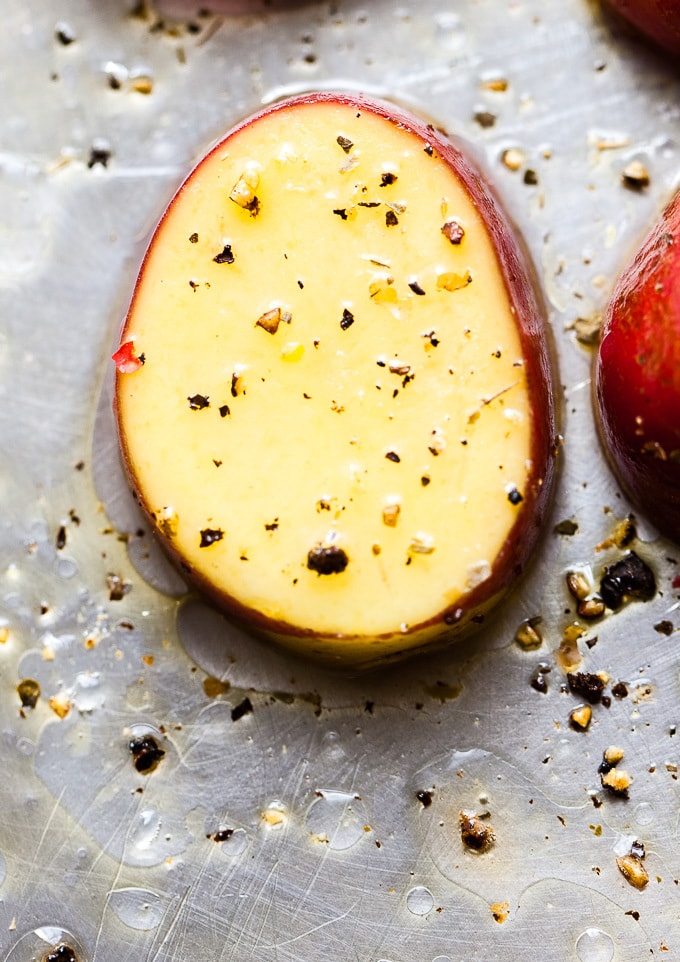 Should you use lemon juice, preserved lemon or toss a lemon into the roasting pan with the potatoes?
All of those options are completely legit. However, I tend to steer clear of preserved lemon. We have a love-hate relationship. I love the idea of them, but often find them a little too acrid for my taste. So, I use lemon juice, lemon zest AND I toss a half lemon into the roasting pan. Once the potatoes are cooked, the lemon has also been roasted, so it's soft and just starting to turn golden around the edges. I use tongs to squeeze the juice out of the wedges and onto my potatoes making sure they get a fresh hit of zingy lemon goodness.
And what about seasoning?
Okay. One of the most important parts! This is where you can really make these potatoes your own... or just go with what I've done here. I used a combination of dried oregano, garlic cloves that roast with the potatoes and some fresh thyme and fresh oregano.
Why the use of dried and fresh oregano? There is a method to the madness. When you're using dried herbs you want to add them at the beginning of the cooking process. When you're using fresh they get added at the end. Also, dried and fresh herbs can taste really different from each other and help to build a more complex flavour.
When you add the dried oregano, give it a little rub between your hands to activate the oils and release extra flavour.
What about the feta?
I just used regular plain feta. Nothing fancy. Cut it into cubes and toss it with some olive oil (good quality, here) and some more fresh herbs. Let that all mingle together while you're potatoes roast and use it as a dressing (cheese, olive oil and all) for your potatoes when they're hot out of the oven.
And that is how you do amazing Greek roast potatoes. All your BBQ and potluck invites won't know what hit them!
Thanks so much for being here! I'd love it if you left a rating and a comment letting me know how much you loved any of these recipes and be sure to tag me on Instagram if you've made this Creamy Tomato Pasta. Follow along on Instagram, Pinterest and Facebook for the latest!
Greek Roast Potatoes With Lemon And Feta
These easy Greek roast potatoes are filled with tangy lemon, fragrant oregano and a hint of roasted garlic. It's all topped off with some herb and olive oil marinated feta. These are THE perfect side dish for any BBQ or potluck you've got coming up this summer.
Print
Pin
Rate
Ingredients
2

pounds

assorted potatoes

5

Tablespoons

olive oil

divided

2

lemons

1 whole cut into slices, one zested and juiced *See Notes

3

cloves

garlic

1

Tablespoon

dried oregano

½

cup

chopped fresh herbs

Greek basil, oregano, parsley & thyme *See Notes

¼

cup

chopped feta
Instructions
Preheat the oven to 200c or 390f.

Cut the larger potatoes into wedges and some slices to give lots of different edges and texture. In a small bowl mix the olive oil, lemon zest and juice from ONE lemon and the oregano. Toss this lemon olive oil mixture with the potatoes. Season generously with sea salt and pepper.

Cut the second lemon in half and toss with the potatoes. Don't squeeze the juice. Let the lemon roast with the potatoes before squeezing.

Roast in the oven with the garlic until the potatoes are tender on the inside and golden and crispy on the outside. This should take about 30 minutes and the potatoes will smell fragrant with lemon and herbs.

Meanwhile, chop the fresh herbs and mix with another 2 tablespoons of olive oil. Add the chopped feta to the herbed olive oil and let marinate until the potatoes are cooked.

Once the potatoes are done, place them on a serving plate or bowl and drizzle with the fresh herb olive oil and the feta cheese. Add extra fresh herbs if desired.
Notes
Cook's Notes- Only use one lemon for the juice and zest for the potatoes. The other lemon gets cut in half and roasted with the potatoes before it gets squeezed. The juices from the lemon and oils from the zest go sweet and a little sticky. This gives the potatoes a bright fresh lemon flavour, and an added depth due to the sweetness.
Cook's Notes- For the herbs, you can either use all the herbs listed, or you can use a combination, but to get this humble potato dish to really shine, I advise you to use at least 2 of the herbs I've listed.
Nutrition
Calories:
333
kcal
|
Carbohydrates:
35
g
|
Protein:
8
g
|
Fat:
19
g
|
Saturated Fat:
3
g
|
Cholesterol:
8
mg
|
Sodium:
129
mg
|
Potassium:
1035
mg
|
Fiber:
7
g
|
Sugar:
1
g
|
Vitamin A:
60
IU
|
Vitamin C:
55.2
mg
|
Calcium:
152
mg
|
Iron:
8.3
mg