This Greek Salmon, is an easy oven-baked recipe brimming with Mediterranean ingredients. In just 20 minutes, you'll have a dish that is full of vibrant flavors and offers a wholesome dinner option. The recipe is a fusion of fresh and fragrant ingredients that celebrate the heart of Greek cuisine. Not just about incredible flavor; salmon is a powerhouse of nutrition, providing a rich source of omega-3 fatty acids, protein, and essential vitamins.
If you love this salmon recipe you need to try this maple glazed salmon or these easy salmon parcels.
Jump to:
⭐️ Why You'll Love This Greek Salmon Recipe
Quick and Easy: Just a 15-minute bake time, leaving you space to prepare delicious side dishes.
Mediterranean Flavors: The tantalizing combination of fresh dill, garlic, and zesty lemon juice promises an unforgettable taste journey.
Health Powerhouse: Salmon is a treasure trove of omega-3 fatty acids, protein, B vitamins, and essential minerals like potassium and selenium.
🧾 Ingredients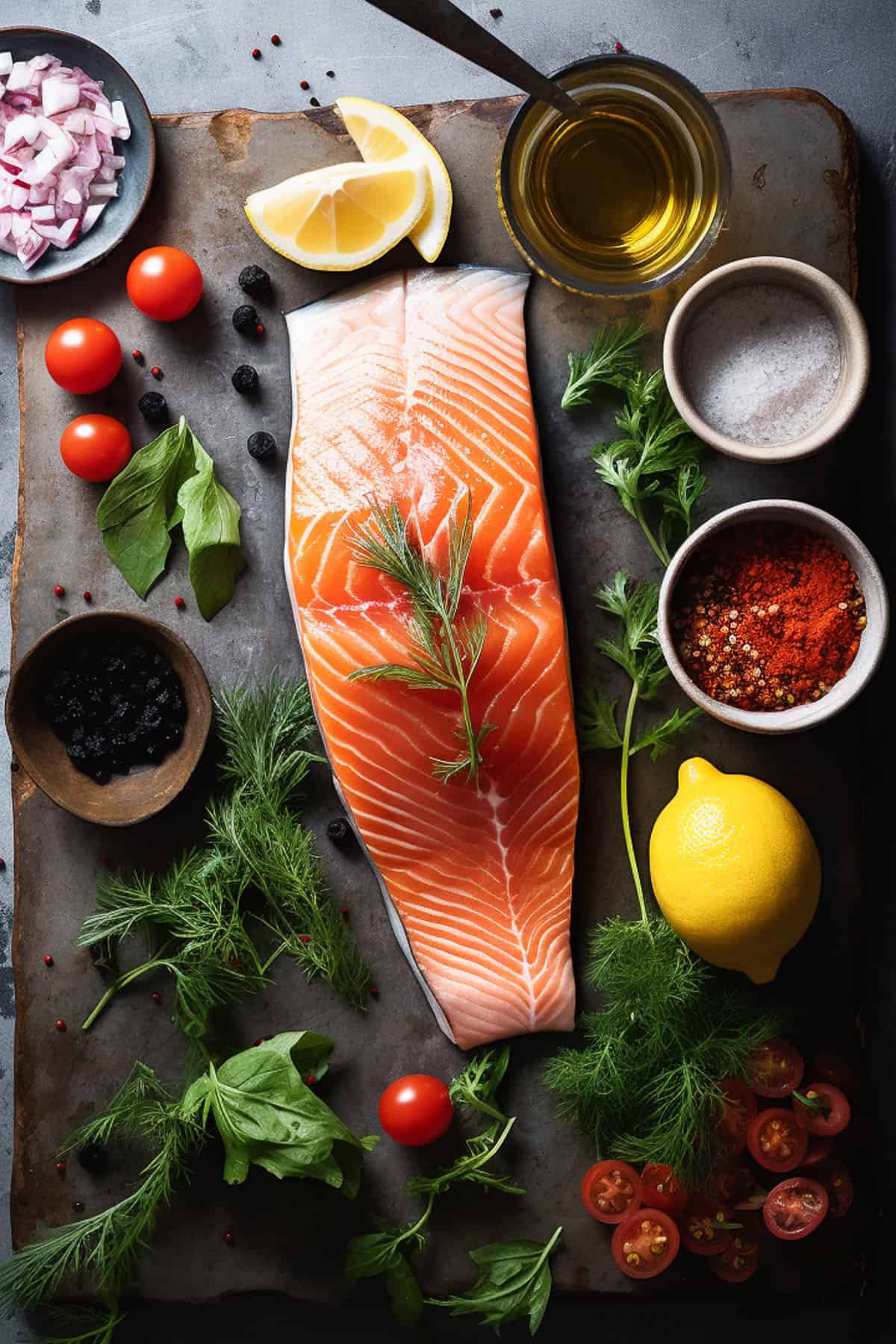 Salmon: The star of our dish. Its rich texture and flavor make it a perfect candidate for our Mediterranean marinade.
Olive Oil: Adds moisture and helps the salmon bake to perfection while enhancing the dish's authentic flavor.
Lemon Juice: Brings a tangy freshness and highlights the salmon's natural flavors.
Fresh Dill: Adds a herbal aroma that's synonymous with Greek dishes.
Dried Oregano: Infuses the salmon with a rustic taste. Alternatively, Italian seasoning can be used.
Garlic: Provides a zesty kick and pairs beautifully with the salmon.
Salt and Pepper: Simple seasonings that elevate the overall taste.
See recipe card for quantities.
📖 Substitutions & Variations
Grilled Version: For those summer BBQs, grill the salmon for an outdoorsy smoky flavor.
Air Fryer Enthusiasts: Cook the salmon in a single layer at 400F for about 10 minutes.
👩🏻‍🍳 Baked Salmon in 4 Easy Steps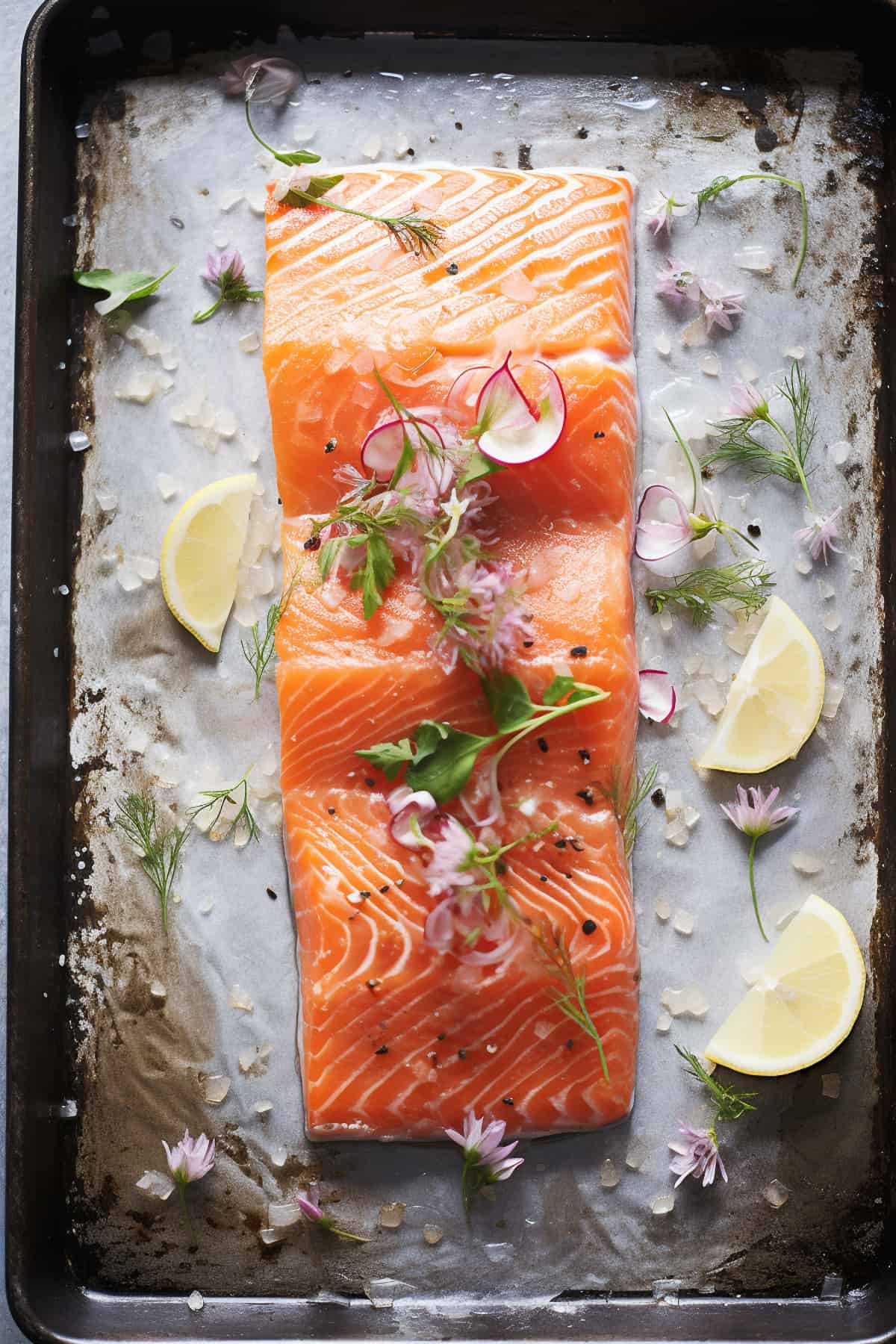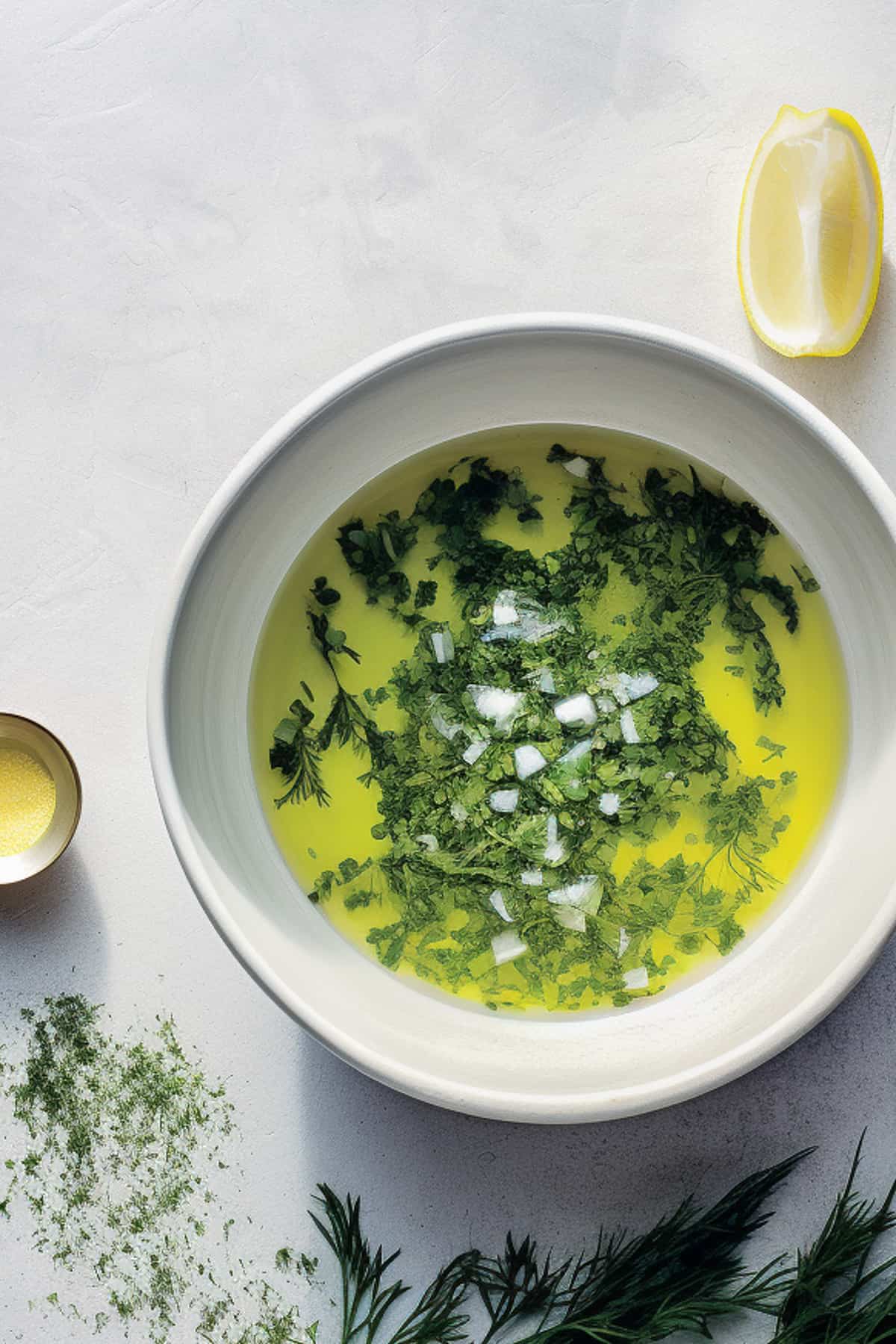 Oven Settings: Preheat your oven to 400 degrees.
Salmon Preparation: Dry the salmon fillets and place them skin-side down on a baking pan.
Marinade Time: In a bowl, mix olive oil, lemon juice, dill, oregano, garlic, salt, and pepper. Brush or pour this over the salmon.
Let's Bake: Bake your salmon for 15 minutes, and then let it rest for 5 minutes before serving. Special Tip: For an added zing, serve with a splash of lemon juice.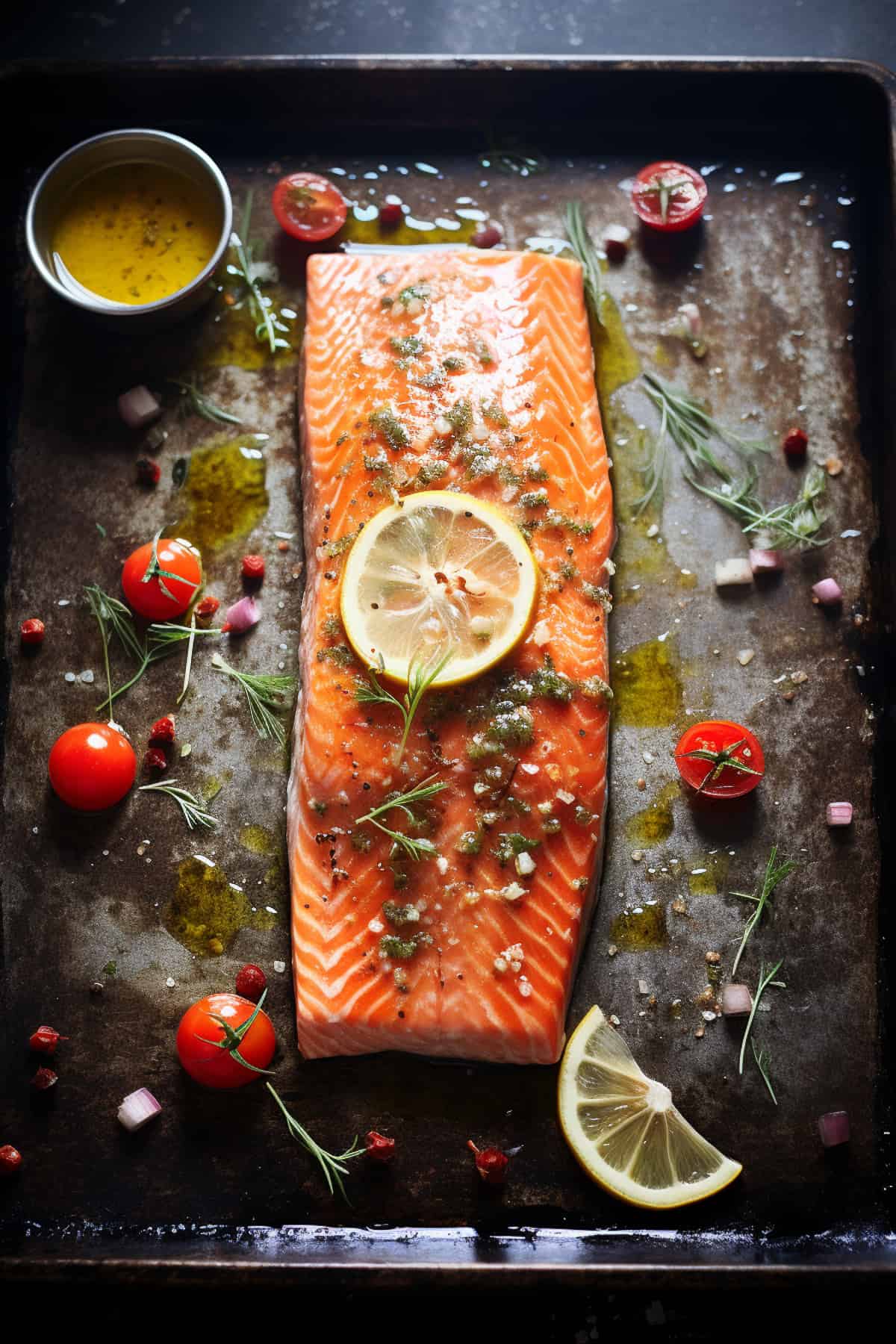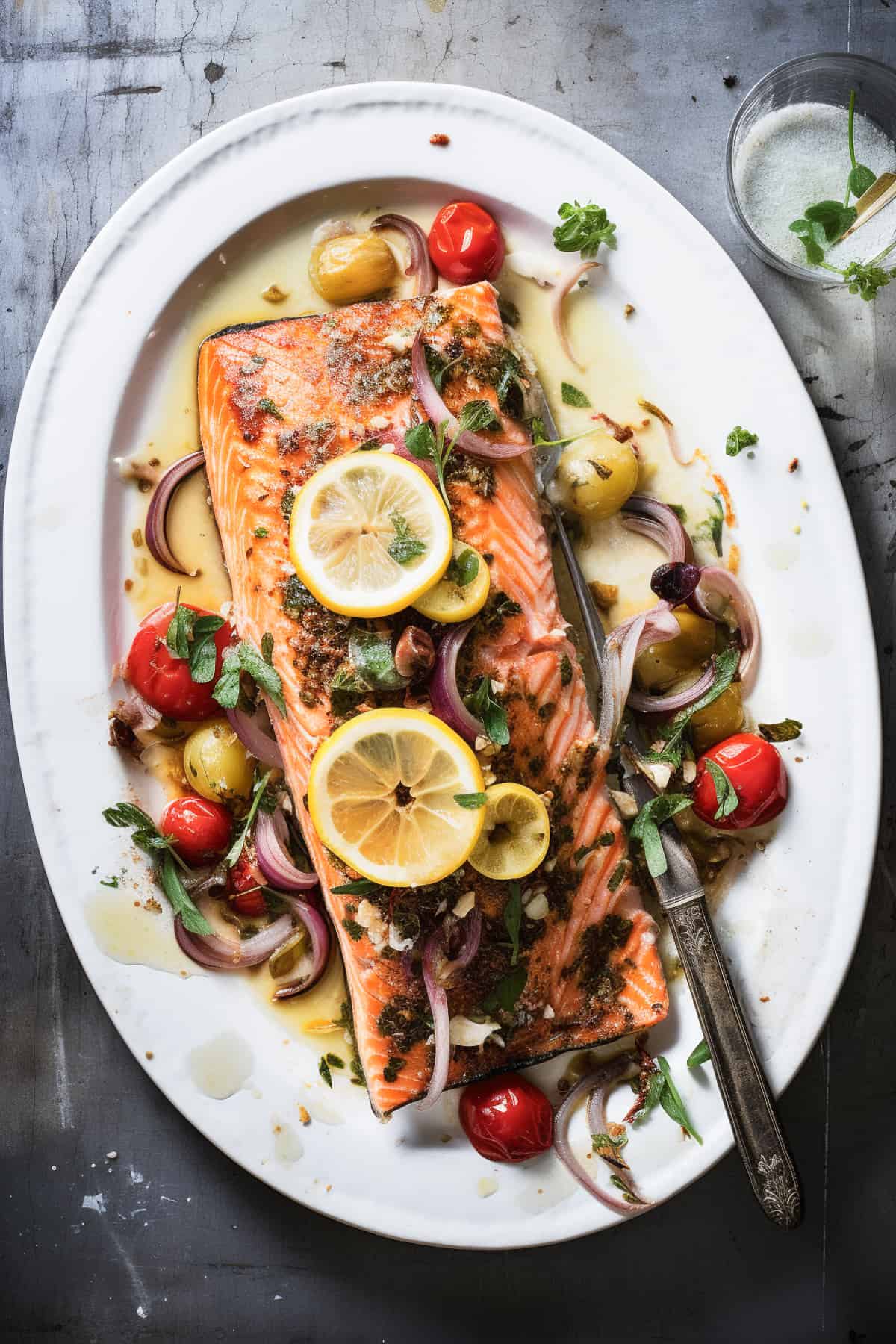 🌡 How to Determine Perfectly Cooked Salmon:
Color: Raw salmon is translucent and reddish-pink, while cooked salmon is opaque and pale pink.
Texture: Press the salmon gently with a fork. If it begins to flake, it's done or almost there.
Temperature: Use an instant-read thermometer.

Medium Rare: 125°F (52°C) - slightly translucent center.
Medium: 135°F (57°C) - mostly opaque with a moist center.
Well-Done: 145°F (63°C) - completely opaque and flaky.

Cooking Time: In a 400°F (204°C) oven, it's about 4-6 minutes per half-inch thickness. If pan-searing, roughly 3-4 minutes per side.
Opaque Juices: White juices oozing out indicates it's moving towards well-done.
🍯 Storage
Fridge: Store in an airtight container for up to 3-4 days.
Reheat: Use a skillet, microwave, oven, or even an air fryer to bring it back to temperature.
💡 Top Tips
Let salmon rest post-cooking for a few minutes.
Better to slightly undercook than overcook; you can always heat it a bit more.
Stay attentive; salmon cooks quickly!
Patting the salmon dry ensures crispy skin.
❓FAQ
What type of salmon should I buy?
Opt for fresh or frozen fillets, but ensure they're from a sustainable source.
How do I know when the salmon is perfectly cooked?
The salmon should flake easily with a fork when it's done.
Can I make this ahead of time?
Absolutely! Just store it in the fridge and reheat when needed.
Can I use frozen salmon?
Absolutely! Ensure you thoroughly thaw it before cooking.
Greek Salmon brings together simple ingredients in an elegant manner, making it perfect for both weeknights and special occasions. Whether you're a novice cook or a seasoned chef, this recipe promises perfection in every bite.
More Greek Recipes
Looking for other recipes like this? Try these:
If you tried this Recipe or any other recipe on my website, please let me know in the comments below. I love hearing from you. Also, please leave a star rating whilst you're there!
You can also follow along on Pinterest, Facebook, and Instagram!
You can also find weekly meal plans and budget recipes over on our sister site Savvy Bites.
Greek Sheet Pan Baked Salmon
This Greek salmon is the perfect Mediterranean recipe to bring to your table. With aromatic herbs, rich olive oil, and a zesty hint of lemon, and the sweetness of roasted tomatoes, this dish is a harmonious blend of flavors and a testament to the simplicity and elegance of Greek cuisine.
Print
Pin
Rate
Ingredients
4

(

4

)

salmon fillets

,

approximately 6 oz. each

3

tablespoons

(

3

tablespoons

) olive oil

Juice of 1 lemon

2

cloves

(

2

cloves

)

garlic

,

minced

1

tablespoon

(

1

tablespoon

)

fresh dill

,

chopped

1

teaspoon

(

1

teaspoon

) dried oregano,

or Italian seasoning

1

cup

(

150

g

)

cherry tomatoes

Salt and pepper to taste

Lemon slices, feta cheese and Kalamata olives for garnishing
Instructions
Preparation of Salmon and Tomatoes
Preheat your oven to 400°F (204°C).

Pat the salmon fillets dry using paper towels and place them skin-side down on a baking pan lined with parchment paper.

Scatter the cherry tomatoes around the salmon fillets on the pan.
Preparing the Marinade
In a small mixing bowl, combine the olive oil, lemon juice, minced garlic, chopped dill, dried oregano, salt, and pepper. Mix until all ingredients are well blended.

Brush or generously pour the marinade over the salmon fillets, ensuring they are well-coated. Drizzle any remaining marinade over the cherry tomatoes.
Baking the Salmon and Tomatoes
Transfer the baking pan into the preheated oven and bake the salmon and tomatoes for approximately 12-15 minutes. The salmon should easily flake with a fork, and the tomatoes should be slightly charred.
Serving
Remove from the oven and allow the salmon to rest for 5 minutes.

Serve the salmon fillets on plates, garnished with roasted cherry tomatoes, lemon slices, and Kalamata olives. Sprinkle with some feta.
Notes
Salmon Doneness: The ideal internal temperature for medium-rare salmon is around 125°F (52°C). For medium, 135°F (57°C), and for well-done, 145°F (63°C). An instant-read thermometer can be useful for checking doneness.
Variation: Consider sprinkling crumbled feta cheese on top before serving for an added touch of Greek authenticity.
Sides: Pair this dish with a side of Greek salad, rice pilaf, or roasted Mediterranean vegetables.
Storage: Store leftovers in an airtight container in the refrigerator for up to 3 days. Reheat gently to avoid overcooking the salmon.
Nutrition
Calories:
345
kcal
|
Carbohydrates:
2
g
|
Protein:
34
g
|
Fat:
21
g
|
Saturated Fat:
3
g
|
Polyunsaturated Fat:
5
g
|
Monounsaturated Fat:
11
g
|
Cholesterol:
94
mg
|
Sodium:
80
mg
|
Potassium:
927
mg
|
Fiber:
1
g
|
Sugar:
1
g
|
Vitamin A:
267
IU
|
Vitamin C:
9
mg
|
Calcium:
36
mg
|
Iron:
2
mg