This pan-seared steak with mushrooms in a creamy sauce is the ultimate steak recipe. It's an easy dinner that's perfect for any occasion. Golden seared beef, snuggled into a creamy white wine mushroom pan sauce tossed with some aggressive amounts of garlic, rosemary and thyme.
This recipe is sponsored by Thermapen ♥
---
Okay. With Christmas coming up you're gonna need some 'easy and quick but looks super fancy" dinners in your back pocket for entertaining family and friends. Well, let me introduce you to our new favourite steak dinner. Let me give you the details of this fancy but not fancy dinner.
There are essentially 2 steps:
Sear steak
Make sauce
This is essentially a 20-minute recipe that will make everyone think that you went to cooking school when they weren't looking.
---
Pan-Seared Steak And Mushrooms
Like this recipe? Pin it to your Dinner pinboard!
Follow SaltedMint on Pinterest
---
But I know you may be a little intimidated to sear a steak. So, here- take my hand. We'll walk through it step by step and you'll see how easy it really is. The first thing you should do is to make sure you pick up a thermometer. I use my Thermapen to make sure that I get the perfect cook every. single. time. I've worked in a lot of professional kitchens over the years and it's the only thermometer that we've ever used in every kitchen. They're instant-read so, no waiting for 4 minutes to see if your steak is cooked perfectly. They also happen to have a light-up display making them super easy to read.
And because it's Christmas and Thermapen wants you to nail not just this steak, but everything you cook all season year long they've given me a code for you to get 20% off your purchase! How awesome is that?! Use discount code SaltedMint-20 to get the deal!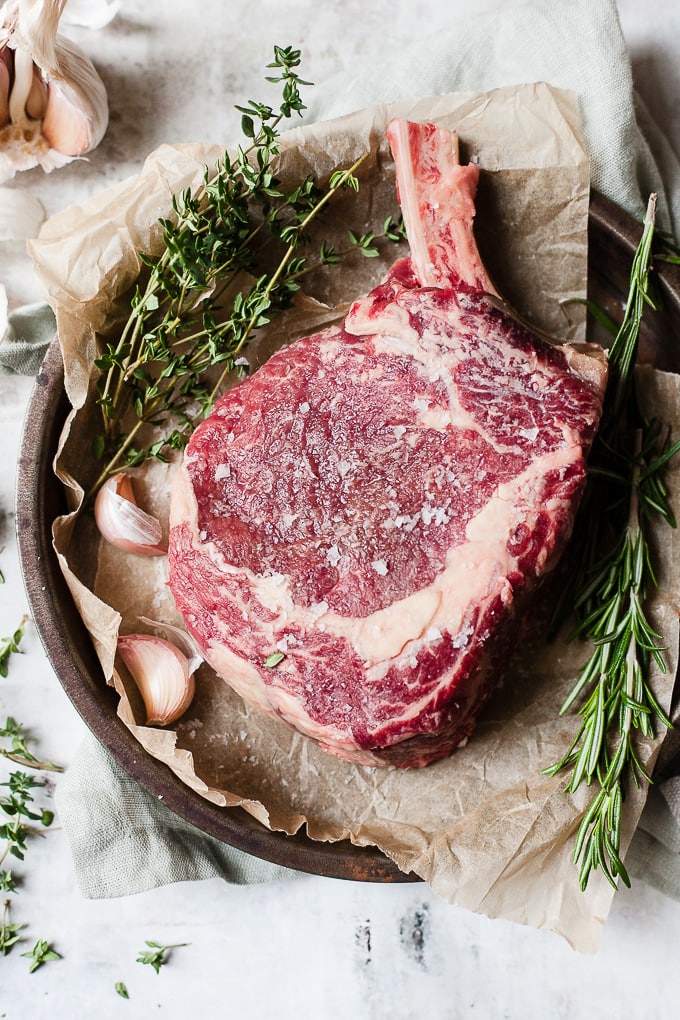 So, let's just jump right in and get you searing and cooking like a pro in no time.
How to Cook Steak and Mushrooms
Preheat your pan. This is where it really counts. You want your pan to be super hot... smoking almost. I use a cast iron pan so that it gets as hot as possible, but a regular frying pan will work too. You'll want to make sure that you're extraction fan is on for this one. It may get a little smokey.
Season the steaks or the cote de boeuf with salt. I don't use any pepper here, but rather add some to the sauce instead. Rub olive oil into the steaks as well. This just makes sure that you have oil under the whole steak to form even contact with the pan rather than just adding oil to the pan, where you may have some spots where the oil pools and somewhere you don't get any oil at all.
Once the pan is hot add a tablespoon of oil to the pan and swirl it around. Place the steak in the pan and press gently to make sure that the entire surface is in contact with the pan. Leave to sear for about 3 minutes. You want a very deep golden colour.
Turn the steak over and sear the other side. If you've got a very thick steak you can finish it in the oven. Use your Thermapen to check the temperature of the steak.
Once the steak is done leave it to rest on a baking tray or a plate for about 15 minutes. This ensures that your steak stays juicy.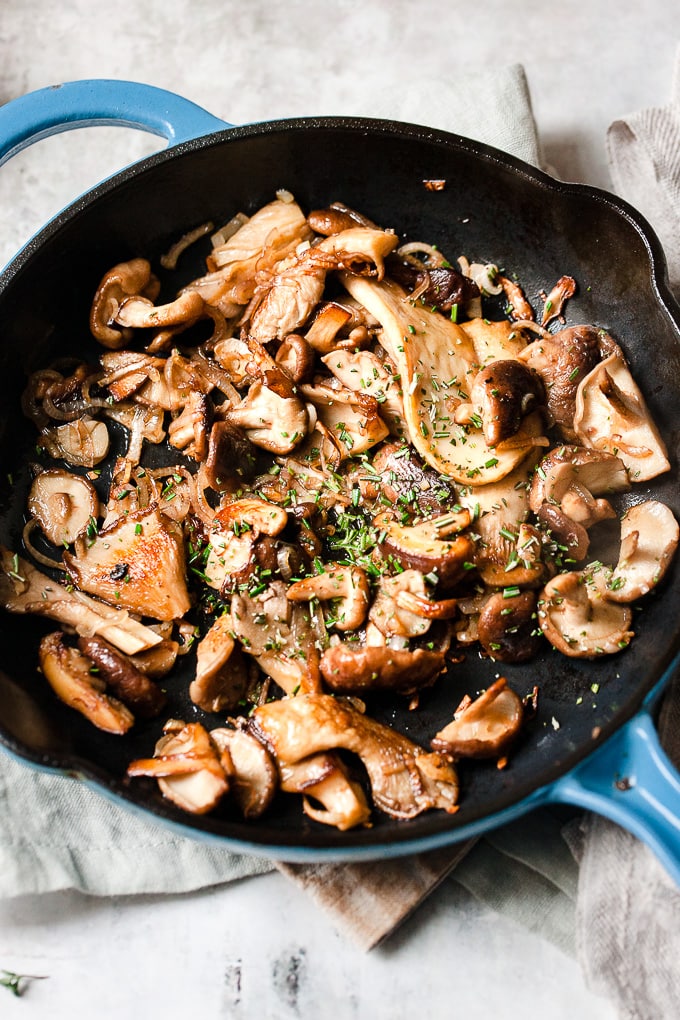 How can you tell when your steak is done?
Use a meat thermometer (like a Thermapen!)
52°C internal temperature for RARE
56°C internal temperature for MEDIUM RARE
60°C internal temperature for MEDIUM
71°C internal temperature for WELL DONE
How to make a mushroom sauce
While your steaks are resting, add a knob of butter to the pan over medium-high heat. Add in the mushrooms and shallots and splash of wine to the pan and let it reduce by ⅓. Add-in the shallots, garlic and mushrooms. Let them cook undisturbed until golden (about 5 minutes). Stir them and let them cook another 5 minutes. Then spoon everything out into a bowl. Add in a splash of white wine and let it reduce by ⅓. Pour in the cream and mustard and whisk well. Add the mushrooms back to the pan. Adjust the seasoning and add the steak back to the pan.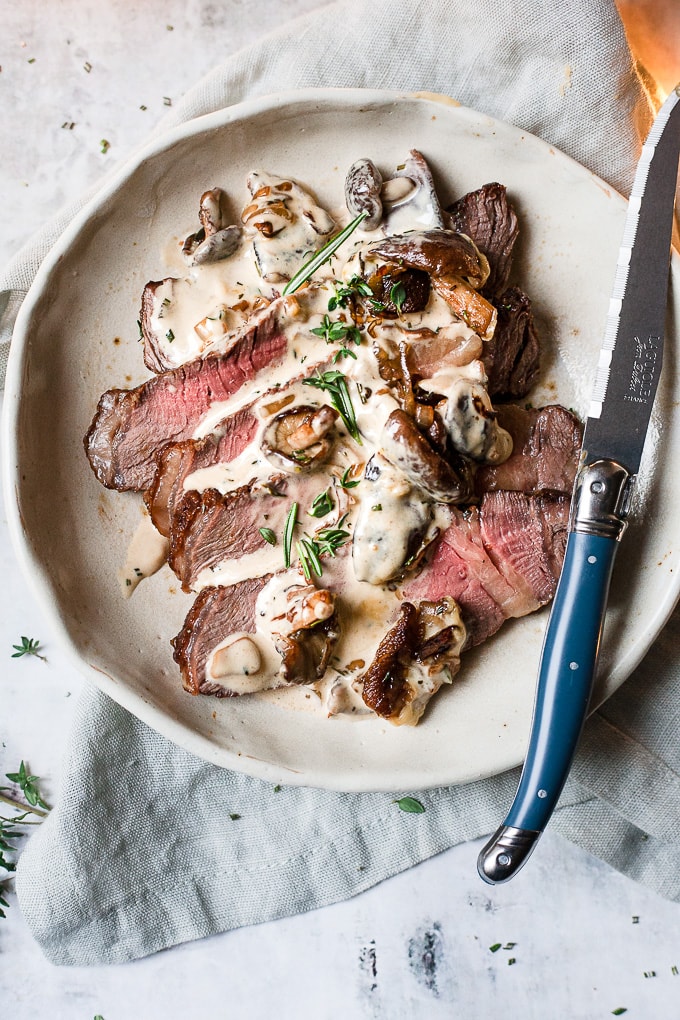 How to serve pan-seared steak and mushrooms
My favourite way to serve this is simply sliced with a good spoonful of mushroom cream sauce over top. To keep it low carb serve it with this brussel sprout salad, or make it a little more indulgent serve it with these potatoes gratin.
Everything about this meal feels elegant and fancy, but in reality, it's the easiest and quickest dinner to make. Perfect for a Christmas Eve or Christmas Day dinner, especially if you're only in a small group. It'll be on my table this year.
And remember to grab your Thermapen using the discount code SaltedMint-20 for 20% off!
Pan-Seared Steak and Mushrooms
Pan-seared steak and mushrooms are an easy date night dinner that everyone loves.
Print
Pin
Rate
Ingredients
1

large Cote De Beouf

600g

2

tablespoons

(

2

tablespoons

) olive oil

2

cloves

(

2

cloves

)

garlic

300

g

(

300

g

)

wild mushrooms

1

(

1

)

shallot

finely sliced

175

g

(

175

g

)

white wine

2

tablespoons

(

2

tablespoons

)

Dijon mustard

300

ml

(

300

ml

)

whipping

heavy cream

1

(

1

)

spring rosemary

finely chopped

1

(

1

)

sprig thyme

leaves picked
Instructions
In a large non-stick or cast iron pan heat the olive oil over high heat until shimmering. Pat the beef dry and season with sea salt. Place the beef in the hot pan and sear undisturbed on each side for about 6 minutes or until the internal temperature reaches your desired temperature according to the temperature guide above.

Set the beef aside to rest and cover with foil to keep hot.

While the beef is resting, make the sauce in the same pan as you seared the steak. Place the pan over medium heat and add the shallots, mushrooms and garlic and sauté until the shallots are soft and the mushrooms are golden. Remove them from the pan into a small bowl.

Add the white wine, rosemary and time and reduce the wine by half. Pour in the cream and mustard and whisk well. Bring the sauce to a simmer and add the mushrooms back into the sauce. Place the beef and any of the juices on the plate into the pan and serve.
Nutrition
Calories:
1018
kcal
|
Carbohydrates:
21
g
|
Protein:
32
g
|
Fat:
86
g
|
Saturated Fat:
44
g
|
Polyunsaturated Fat:
5
g
|
Monounsaturated Fat:
32
g
|
Cholesterol:
239
mg
|
Sodium:
285
mg
|
Potassium:
1044
mg
|
Fiber:
5
g
|
Sugar:
10
g
|
Vitamin A:
2270
IU
|
Vitamin C:
4
mg
|
Calcium:
140
mg
|
Iron:
4
mg
THANKS SO MUCH FOR READING AND COOKING ALONG WITH ME! IF YOU MAKE THIS RECIPE OR HAVE A QUESTION, I'D LOVE IT IF YOU LEFT A COMMENT AND A RATING. YOU CAN ALSO FOLLOW ALONG ON PINTEREST, FACEBOOK AND INSTAGRAM TO SEE WHAT WE'RE EATING, PINNING AND A LITTLE BEHIND THE SCENES TOO!