Potatoes au gratin is a simple potato side dish that takes only a few ingredients to make and is completely show stopping. Infused cream, and a little milk to lighten it up, mixed with some nutmeg and bay leaves to elevate these potatoes to royal status.
Potatoes gratin is a classic French dish made of very thinly sliced potatoes, infused cream and sometimes cheese. It's also one of the first side dishes I learned to make at cookery school. It's a true French classic. And it's perfect for making as a Christmas side dish. It can sometime look a little intimidating, but it's truly not. It's just baked potatoes and cream.
You probably have a few questions about making potatoes au gratin.
1. Does a classic potatoes au gratin require cheese?
Nope. In a classic potatoes au gratin or any gratin for that matter, cheese is an optional extra and not part of the whole deal. But, if you did want to add cheese, then some of the best options are cheeses that melt really well. Cheeses like fontina, gouda, asiago and taleggio are all really awesome choices.
2. So what exactly does au gratin mean?
It's a classic French culinary term that just means something topped with a browned crust. So, in modern cooking we get lots of variations on gratins. Some of the most popular are cauliflower, potatoes (obviously) and sweet potato and butternut squashes are all becoming really popular right now. The term references something baked in a shallow dish often using breadcrumbs, eggs, cream/milk, cheese and butter. So, as you can see au gratin has a pretty loose definition.
For this version, I chose to skip the cheese. I love it, but Mr. T hates it. And I'm not about to eat a bowl of creamy, cheesy potatoes to myself. As awesome as that sounds, it's not a way I want to go.
3. Are potatoes au gratin a dish that I can make ahead for when I entertain or for the holidays?
You bet! Any au gratin dish is a super smart way to get ahead of prep for any special occasion like Christmas or Thanksgiving. If you follow the steps in the recipe below, right up to the point where you put the dish in the oven. At that point you would cover the dish with foil and leave in the fridge overnight and bake the following day. That way you can focus on the bigger jobs, like spending more time with your family.
Step By Step Potatoes Au Gratin Photos
Slice the potatoes thinly on a mandolin. They are very much worth the investment when you think.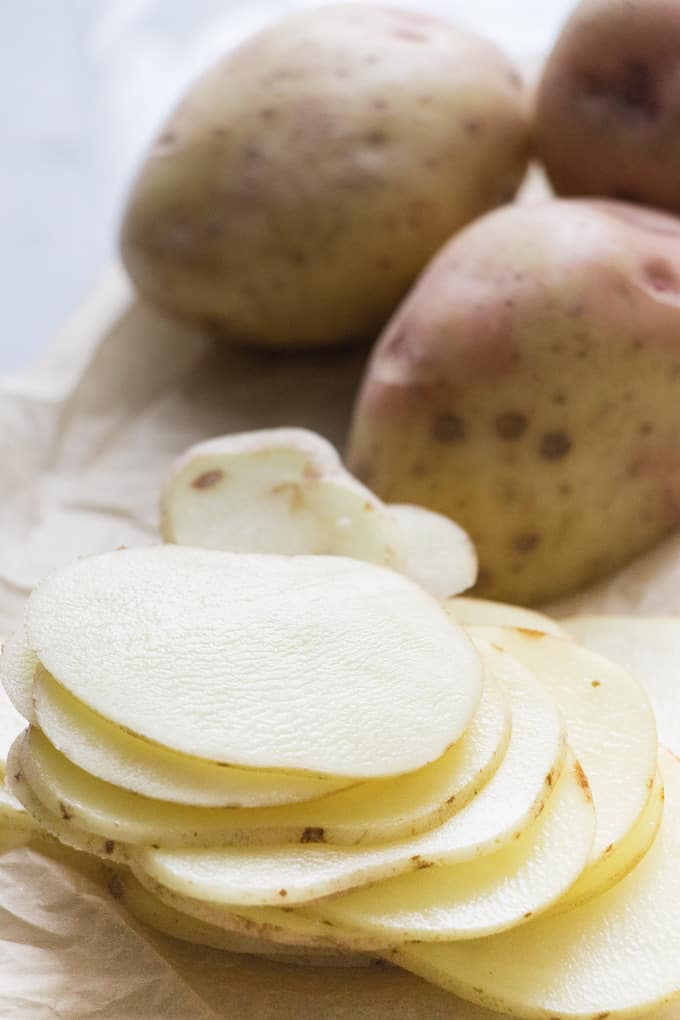 Infuse your cream and milk mixture with bay leaves, some garlic cloves and a generous pinch of nutmeg.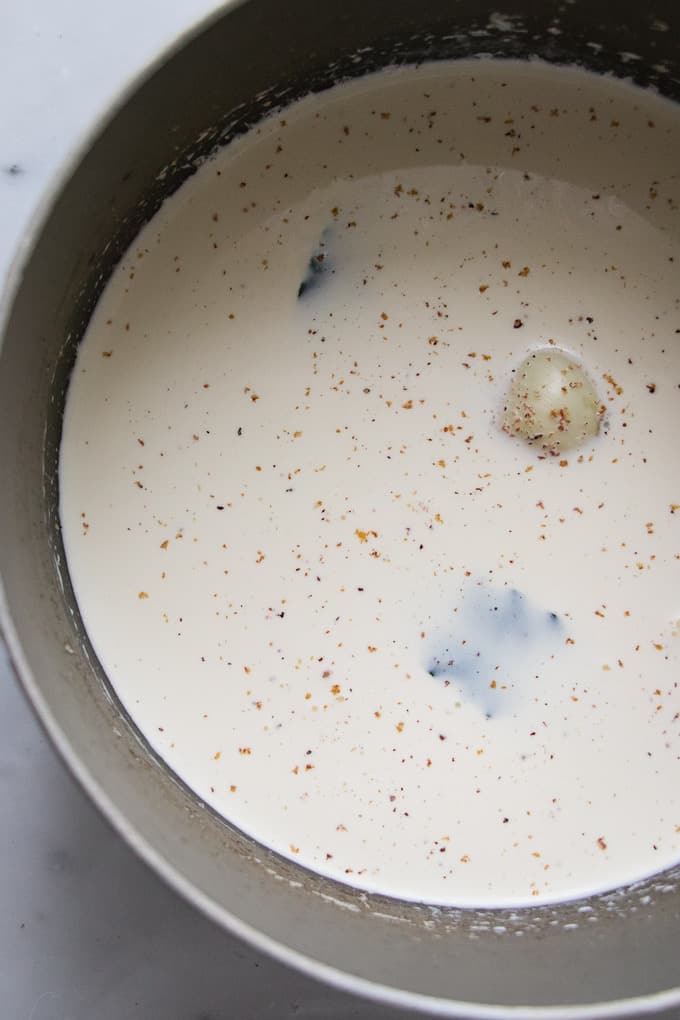 Cook the potatoes in the cream and milk mixture on the stove top. This will speed up the whole process and have your potatoes au gratin ready in half the time as the original oven only method.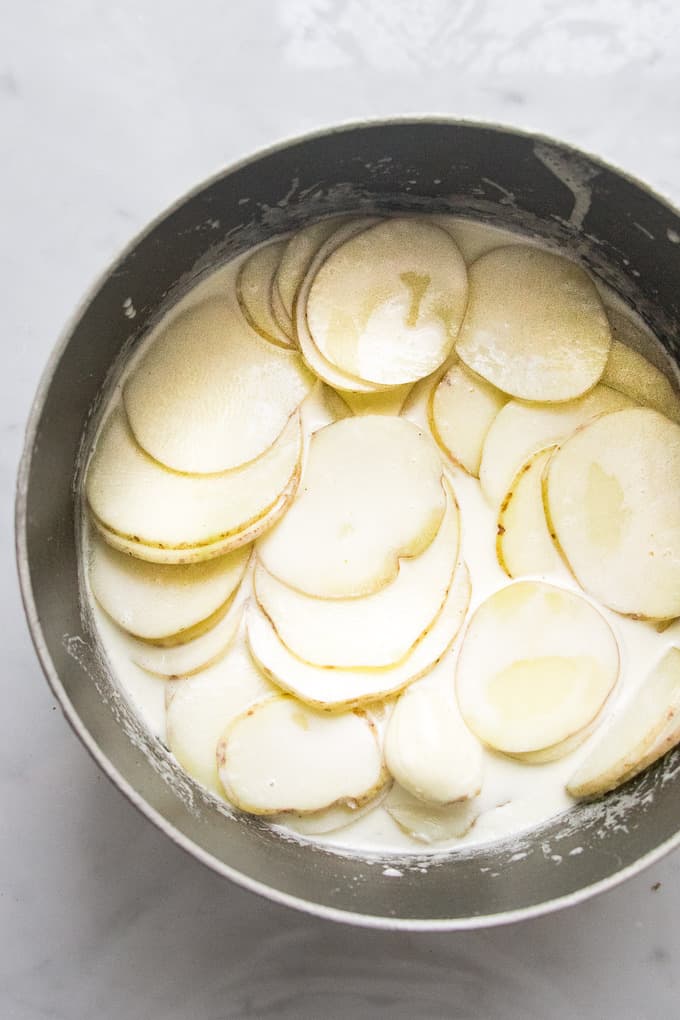 Layer up your potatoes in a well buttered oven proof dish. If you were making this ahead of time, this is the point you would cover your dish with foil and leave in the fridge overnight until ready to bake.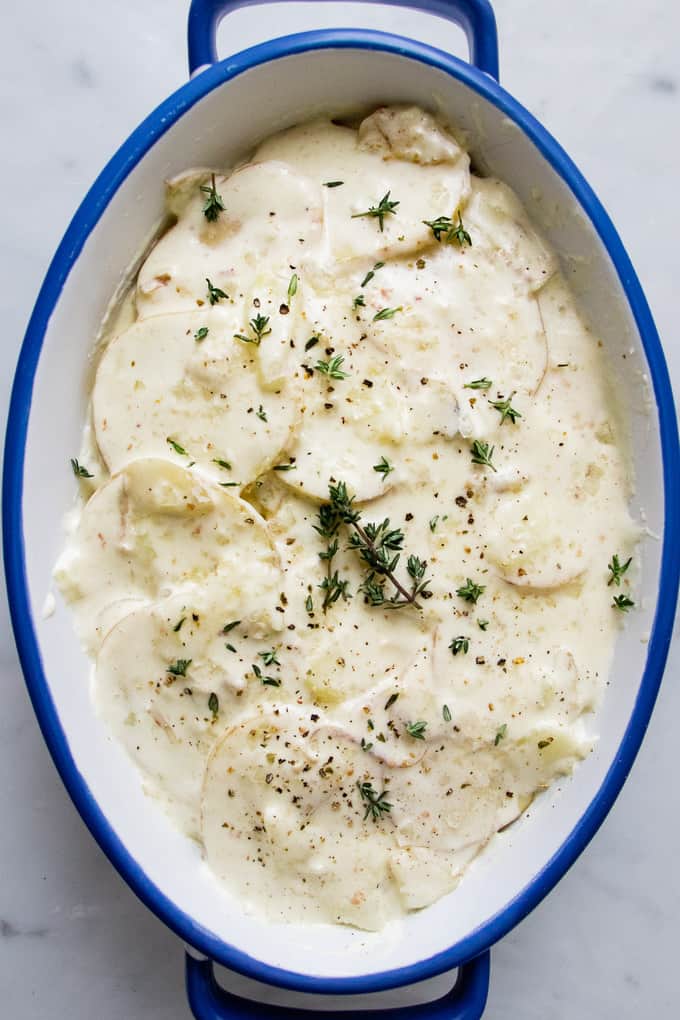 Add a generous amount of fresh pepper and some thyme sprigs before baking the potatoes. Bake uncovered to get that gorgeous golden and bubbly topping.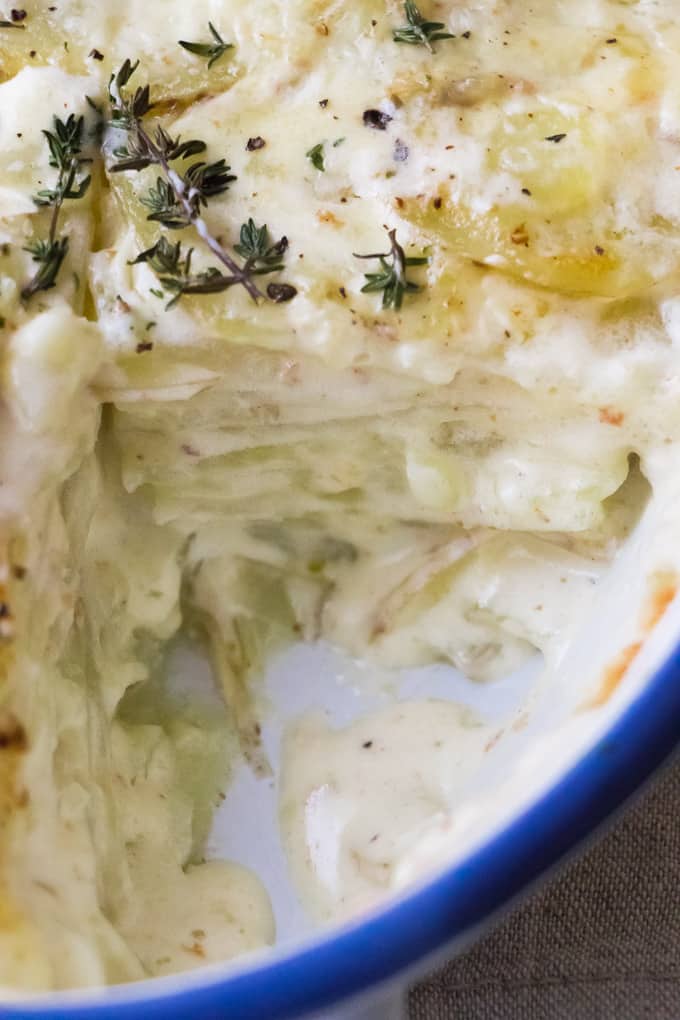 Easy Classic Potatoes Au Gratin
Potatoes au gratin is a simple potato side dish that takes only a few ingredients to make and is completely show stopping. Infused cream makes this special.
Print
Pin
Rate
Ingredients
4

Large russet or Yukon gold potatoes

2

cups

heavy cream

1

cup

milk

1

clove

garlic

2

bay leaves

½

teaspoon

grated nutmeg

3

sprigs thyme

Salt & Pepper
Instructions
Preheat the oven to 350ºF or 180ºC. Thinly slice the potatoes on a mandolin or using a sharp knife.

Place the cream and milk into a large deep sauce pan along with the garlic, nutmeg and bay leaves.

Add the thinly sliced potatoes to the pan and cook on a simmer over medium heat for about 15 minutes, or until the potatoes are tender.

Using a slotted spoon, remove the potatoes from the pan and discard the garlic clove and the bay leaves.

Layer the potatoes in a well buttered oven safe dish. Pour the infused cream/milk over the potatoes.

Bake uncovered in the preheated oven for about 15 minutes.

To make sure the potatoes are cooked, insert a paring knife the ensure that the potatoes are tender all the way through and the top is golden and bubbling.
Notes
If making this dish ahead of time, follow the instructions up to and including step 4 and cover with a double layer of foil and leave in the fridge until ready to bake. It's best made no more than 1 day before.
Nutrition
Calories:
413
kcal
|
Carbohydrates:
30
g
|
Protein:
6
g
|
Fat:
30
g
|
Saturated Fat:
19
g
|
Cholesterol:
112
mg
|
Sodium:
54
mg
|
Potassium:
705
mg
|
Fiber:
1
g
|
Sugar:
3
g
|
Vitamin A:
1255
IU
|
Vitamin C:
9.5
mg
|
Calcium:
118
mg
|
Iron:
1.3
mg