Step up your holiday side dishes with our potatoes au gratin with gruyere. This crowd-pleaser is a delicious alternative to the usual mashed potatoes, offering a blend of creamy, cheesy layers that's easy to prepare and a guaranteed hit at your festive gatherings!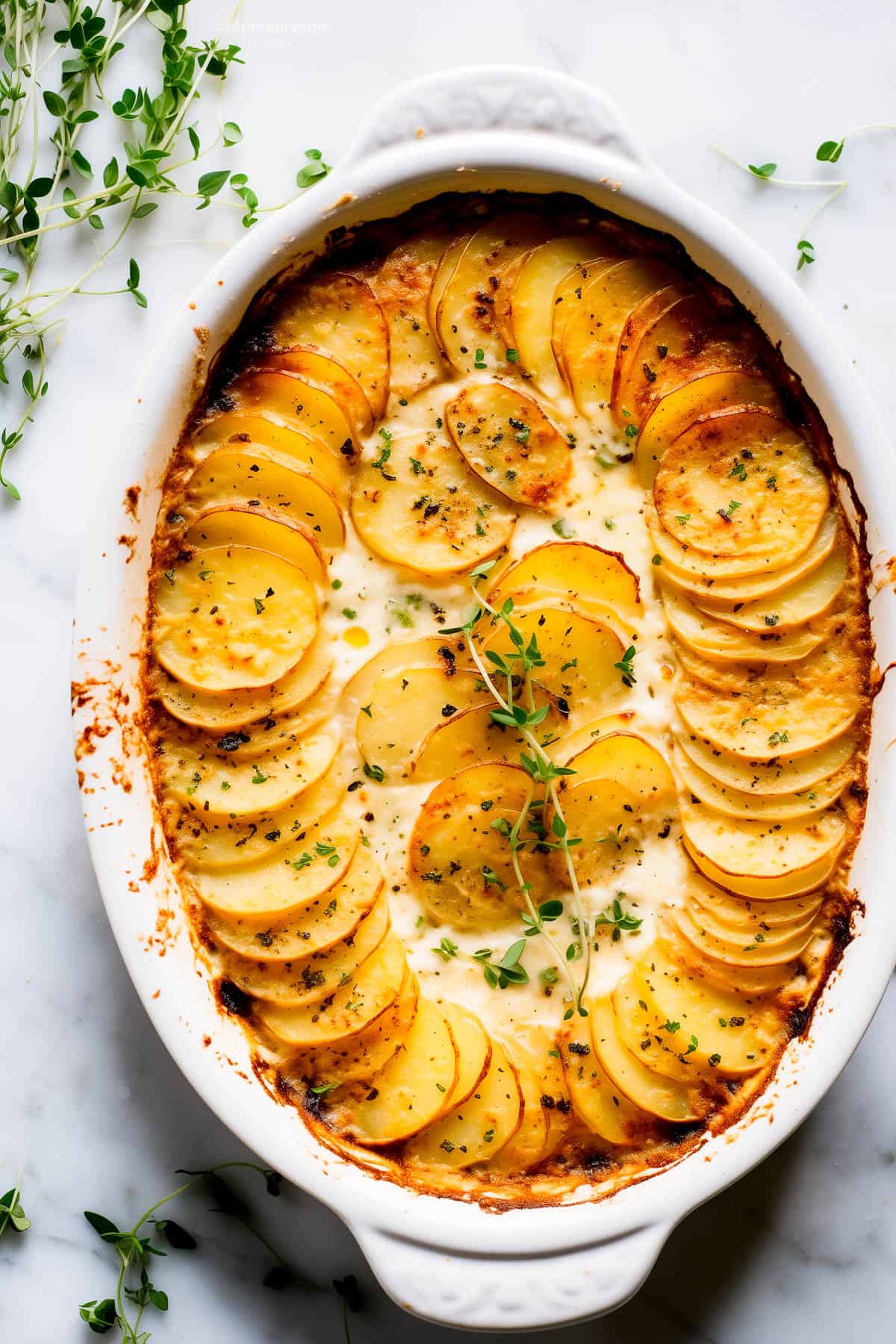 This potato side dish is absolute winter comfort food and pairs beautifully with this roast leg of lamb, or pair them with my maple glazed carrots. It also pairs perfectly with this one pot roast chicken. And don't forget the roasted broccoli and cauliflower, a healthy side dish packed with flavor.
Jump to:
⭐️ Ultimate potatoes au gratin with gruyere: why this recipe is a must-try!
Gruyere cheese: The melt factor that elevates your dish.
Garlic-infused cream: Easy steps for a rich, garlicky flavor.
Perfect for making ahead: Prep early for stress-free cooking later.
Thyme & nutmeg: Simple spices to transform your gratin.
🧾 Ingredient notes and substitutions
Here I provide an overview of the key ingredients and what you may want/ need to use as a substitute for dietary requirements, accessibility or preference. As always, the exact quantities can be found in the recipe card below.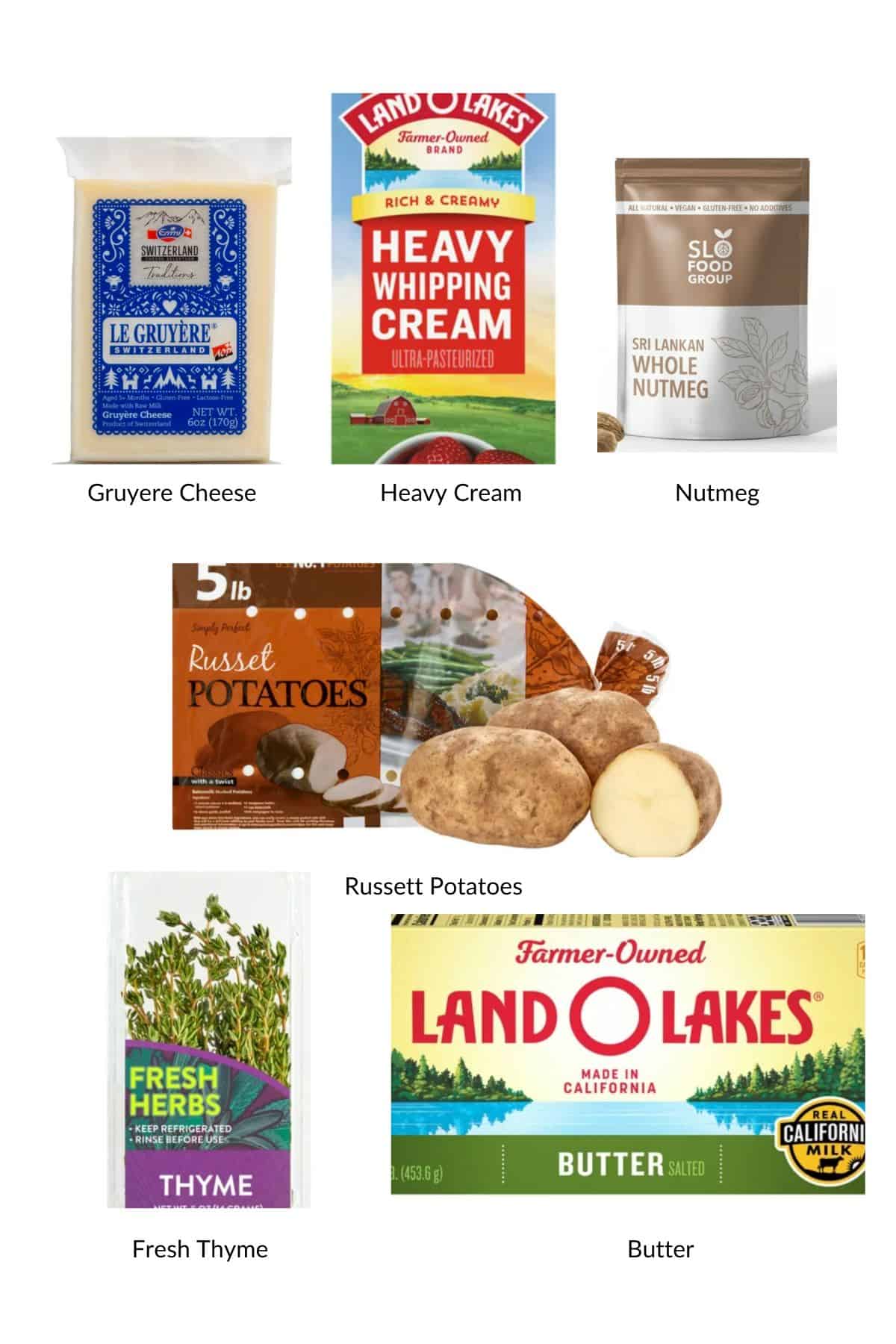 Yukon Gold or Russet Potatoes: Yukon Golds offer creaminess and a rich flavor, while Russets provide a fluffier texture and help thicken the sauce. The choice depends on your preferred texture. *I always use russets; peeling the potatoes is unnecessary. Just give them a good scrub before slicing.
Heavy Cream & Whole Milk: The combination of cream and milk creates a rich, smooth base for the gratin. The cream adds luxurious richness, while the milk lightens the mixture slightly.
Butter: Used for greasing the baking dish, it prevents sticking and adds a subtle buttery flavor to the bottom layer of potatoes.
Gruyere and Parmesan Cheese: Gruyere for its smooth melt and nutty taste, and Parmesan for a salty, sharp kick. Quality matters, as cheese is central to the dish's flavor.
Garlic, Fresh Thyme, and Nutmeg: Garlic infuses the cream with depth, thyme adds an earthy aroma, and a pinch of nutmeg brings warmth. These elevate the gratin's flavor profile.
Salt and Pepper: Essential for seasoning each layer of the gratin, they enhance the natural flavors of the potatoes and cheese.
See recipe card for quantities.
👩🏻‍🍳 Creamy gratin potatoes in 4 simple steps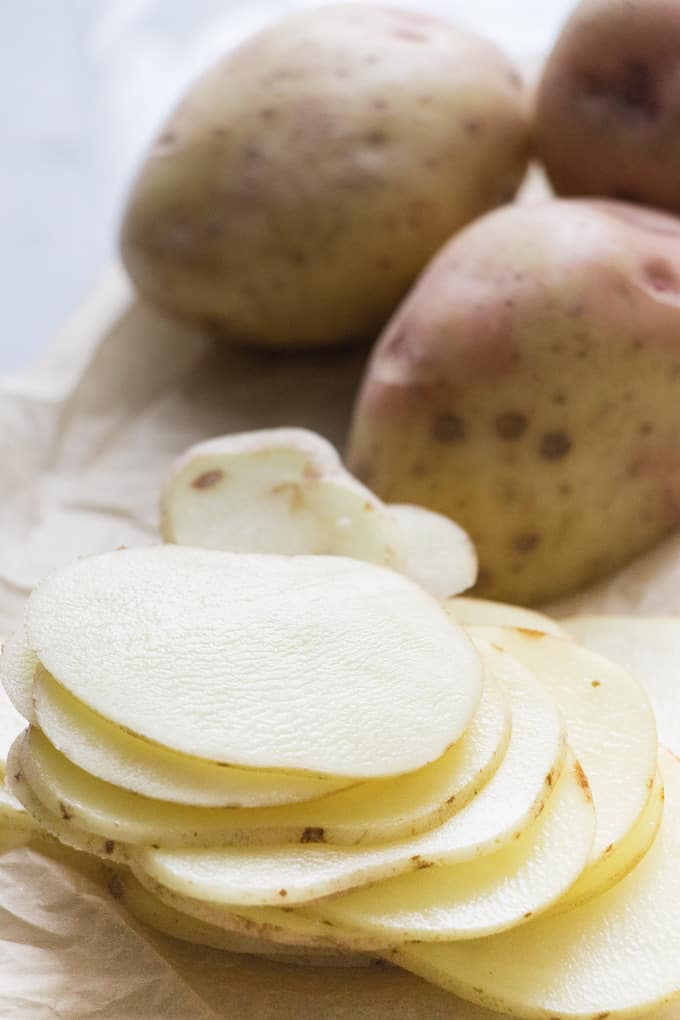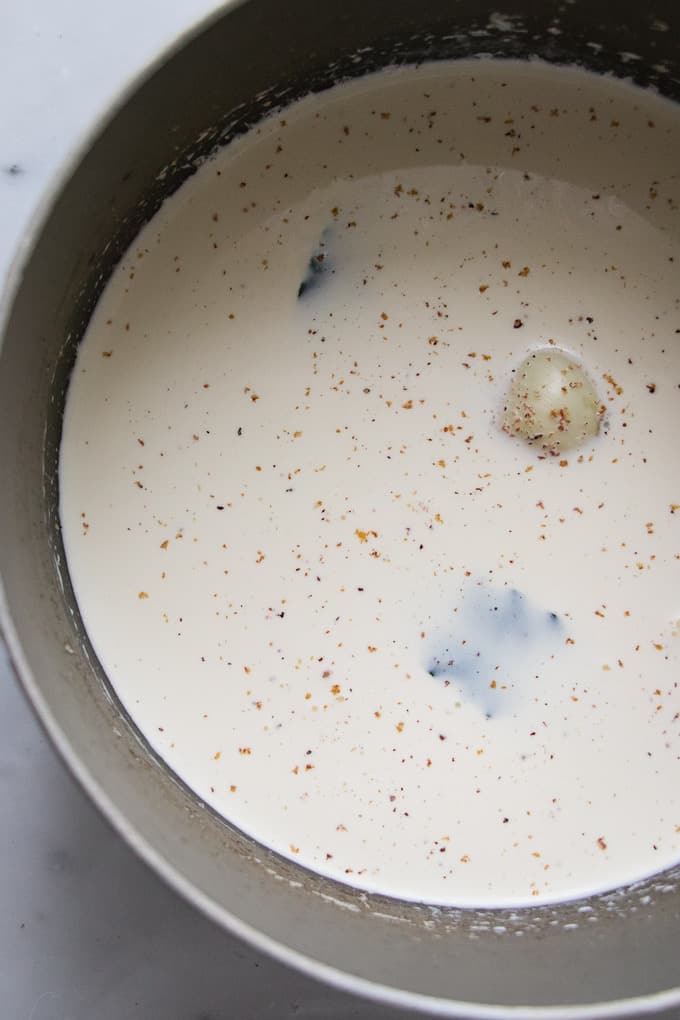 Preparing the Potatoes
The best potatoes: Choose firm Yukon Gold or Russet potatoes for their texture and flavor.
Slicing: Use a mandoline or sharp knife to slice potatoes uniformly, about ⅛ inch thick.
Arranging: Begin by layering the potato slices at the bottom of your buttered baking dish, overlapping them slightly for a solid base.
Infusing the cream (An optional step but worth it!)
Garlic infusion: Gently simmer the cream with 3 cloves of fresh peeled garlic for about 5 minutes. This adds a subtle, aromatic depth that beautifully complements the potatoes and cheese. *Discard the garlic cloves before using the cream.
Nutmeg and thyme: Stir in a pinch of freshly grated nutmeg and chopped fresh thyme leaves into the cream. These spices bring a warm, earthy note that pairs perfectly with the creamy texture.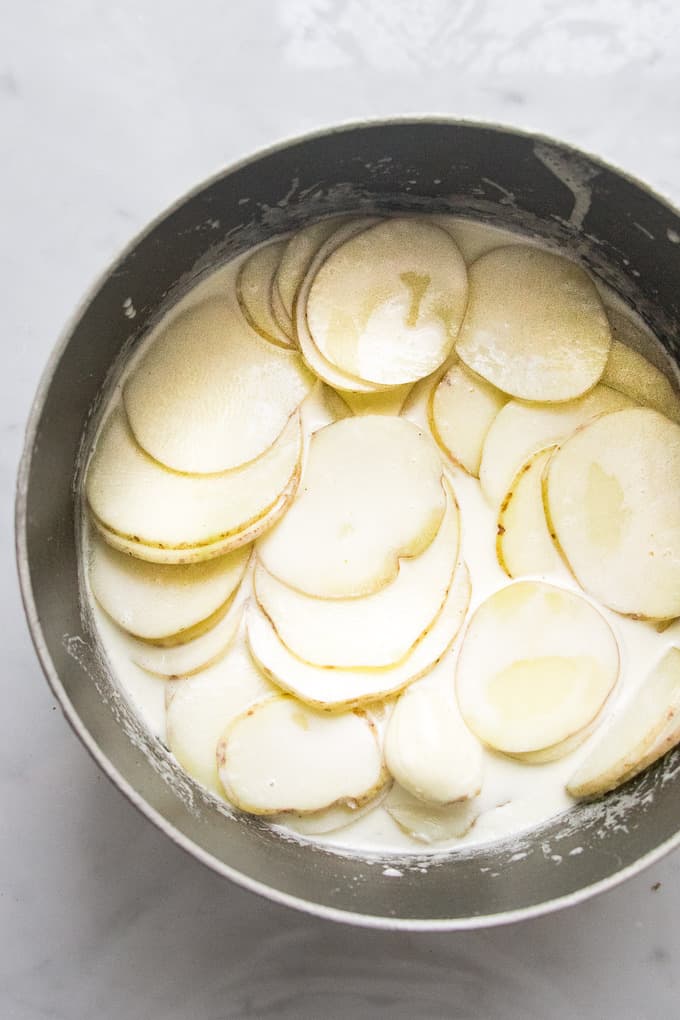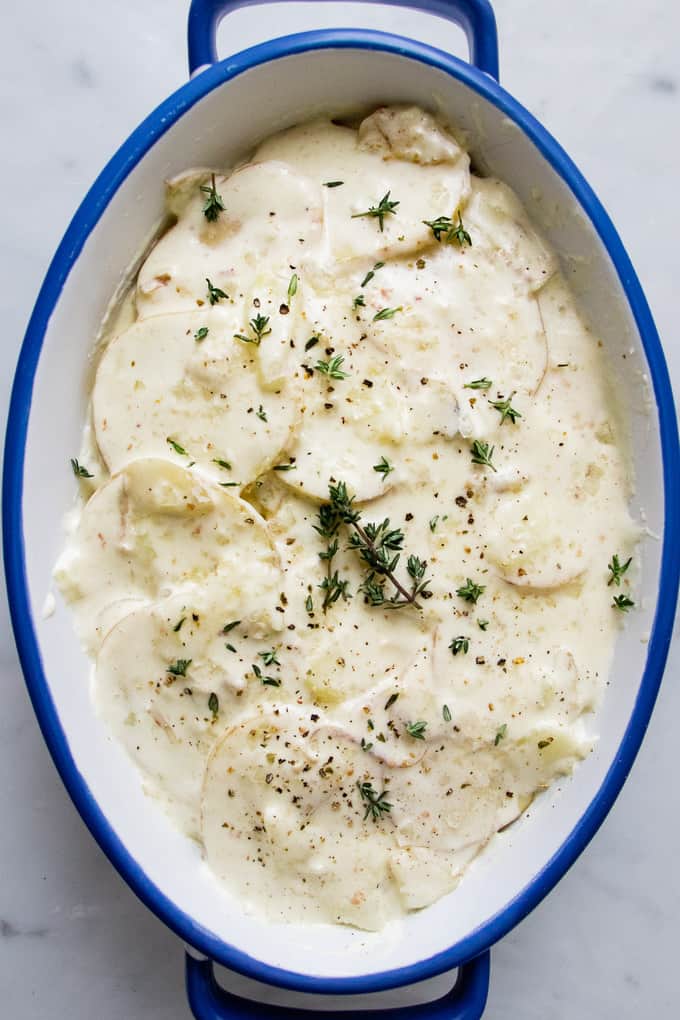 Layering Techniques for Optimal Flavor
First cheese layer: Sprinkle a layer of shredded Gruyere cheese over the potatoes.
Adding cream: Gently pour about ⅓ of the garlic-infused cream mixture over the cheese.
Repeat: Continue layering potatoes, Gruyere, and cream mixture, seasoning each potato layer with salt and pepper.
Baking to Perfection
Preheat oven: Preheat your oven to 375°F (190°C) for even cooking.
Covering: Cover the dish with aluminum foil to prevent burning the top layer.
Baking time: Bake for around 40 minutes covered, then remove the foil and bake for another 20-30 minutes.
Checking doneness: The gratin is ready when the top is golden brown, and the potatoes are tender when pierced with a fork.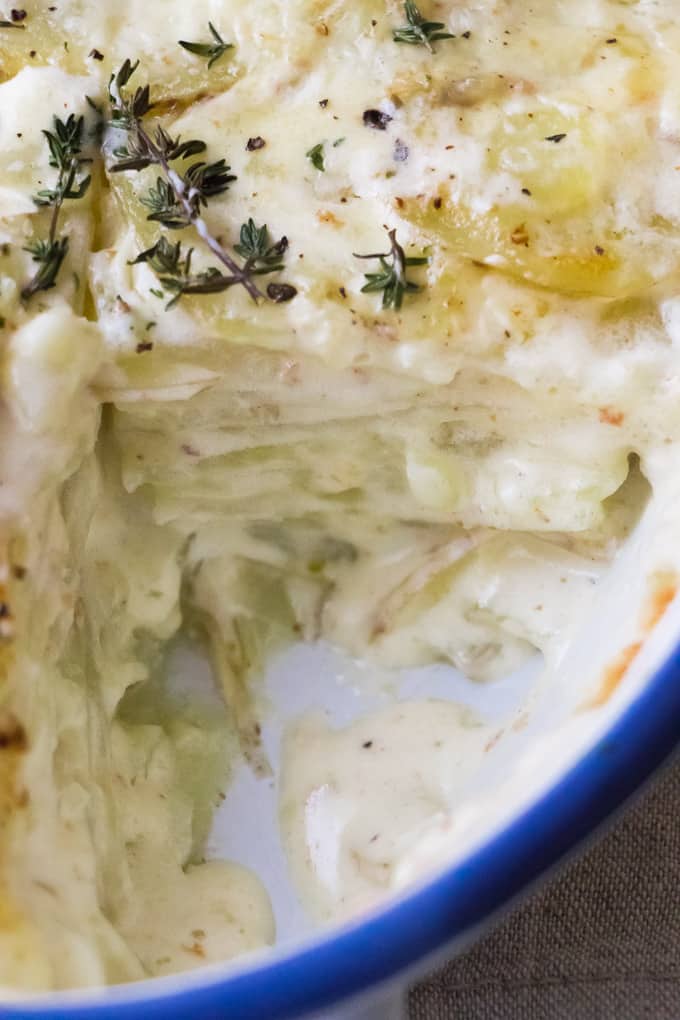 Can I make gratin potatoes ahead of time?
Absolutely! Here are some tips to follow when making these gruyere potatoes ahead of time!
Cover well: Keep the assembled dish well covered in the fridge to prevent discoloration of the potatoes.
No extra liquid needed: Even if the potatoes soak up the liquid and the dish appears dry, refrain from adding more.
Liquid absorption: The potatoes absorb the cream and milk, ensuring they will cook perfectly during baking.
Baking later: When ready to bake, let the dish come to near room temperature before putting it in the oven, and follow the baking directions.
🍯 Storing and reheating leftovers
Storage: Cool to room temperature, then refrigerate in an airtight container for up to 3-4 days.
Oven Reheating: Warm in a preheated 350°F oven, covered with foil, for 15-20 minutes.
Microwave Option: Reheat individual portions covered, checking periodically to avoid overheating.
💡 Chef's Guide: Pro Tips for Recipe Success
Drawing from a decade in Michelin-starred kitchens and Cordon Bleu training, I'm sharing simple yet impactful tips for recipe success.
Butter Generously: Don't skimp on buttering your dish. It prevents sticking and adds a rich flavor to the crust.
Layering Technique: Layer potatoes slightly overlapping for structural integrity and optimal cheese distribution in every bite.
Rest Before Serving: Let the gratin rest for about 10 minutes after baking. This settles the layers and makes serving cleaner and easier.
Season Each Layer: Lightly season each potato layer with salt and pepper to build depth of flavor throughout the dish.
Check Doneness Correctly: Test potato doneness not just by color but by piercing with a knife – it should glide through easily.
❓Recipe FAQ's
What are the best potatoes to use for au gratin?
The best potatoes for au gratin are ones that hold their shape and have a medium starch content, such as Yukon Gold or Russet potatoes. Yukon Gold potatoes have a naturally buttery flavor and creamy texture, while Russets provide a classic, fluffy texture. Avoid waxy potatoes like red or fingerling. They don't absorb the cream as well.
Should you rinse the starch off the potatoes before making this recipe?
Nope. No need to rinse them. Not rinsing the potatoes means retaining more of the natural starch. This starch can help thicken the cream sauce as it bakes, creating a nice structure when you cut into the gratin.
Why are my au gratin potatoes watery?
There might be a few reasons for watery potatoes.
Too Much Liquid: Using excessive cream and milk can result in a watery dish.
Potato Type: High water content potatoes (like red or new) instead of starchy types (like Russet or Yukon Gold) can make the gratin watery.
Insufficient Cooking Time: Not baking long enough prevents the liquid from being absorbed, leading to a runny consistency.
What is the difference between au gratin and scalloped potatoes?
Cheese Usage: The primary difference lies in the use of cheese. Au gratin potatoes typically include cheese layered with the potatoes, whereas scalloped potatoes usually do not.
Creaminess: Scalloped potatoes are usually creamier with a focus on the cream sauce, while au gratin is more about achieving a balance between the cream and cheese flavors.
Why did the cream curdle in my gratin potatoes?
High Heat: Curdling often occurs when the cream is heated too rapidly or at too high a temperature. Gentle, slow heating is key.
Old Cream: Using cream that is close to or past its expiration date increases the risk of curdling.
Cold Cream Added to Hot Potatoes: Pouring cold cream over hot potatoes can shock the cream and cause it to curdle. Room temperature cream is recommended.
More side dish recipes
These are my favorite dishes to serve with [this recipe]:
Main recipes for serving with gratin potatoes
Looking for other recipes like this? Try these:
If you tried these potatoes au gratin with gruyere or any other recipe on my website, please let me know in the comments below. I love hearing from you. Also, please leave a star rating while you're there!
You can also follow along on Pinterest, Facebook, and Instagram!
You can also find weekly meal plans and budget recipes over on our sister site Savvy Bites.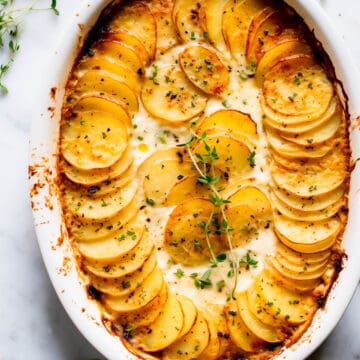 Easy Classic Potatoes Au Gratin
Indulge in the ultimate comfort dish with this Creamy Potatoes Au Gratin recipe. Perfectly layered slices of tender potatoes are enveloped in a rich, garlic-infused cream sauce, topped with a generous amount of Gruyere cheese, and baked to golden perfection. Adding fresh thyme and a hint of nutmeg adds a depth of flavor that makes this classic side dish irresistible.
Print
Pin
Rate
Ingredients
2 ½

pounds

Yukon Gold or Russet potatoes

,

thinly sliced *See notes

2

cups

heavy cream

1

cup

whole milk

3

cloves

garlic

,

minced

1 ½

cups

grated Gruyere cheese

½

cup

grated Parmesan cheese

2

tablespoons

fresh thyme leaves

,

finely chopped

¼

teaspoon

freshly grated nutmeg

Salt and freshly ground black pepper

,

to taste

Butter

,

for greasing the baking dish
Instructions
Preheat and Prepare:
Preheat your oven to 375°F (190°C). Butter a 9x13-inch baking dish.
Potato Layering:
Arrange a layer of potato slices at the bottom of the greased dish, slightly overlapping each slice.

Season with salt and pepper.
Creating the Cream Mixture:
Combine the heavy cream, milk, minced garlic, and nutmeg in a medium saucepan. Warm the mixture over medium heat until it's hot but not boiling.

Remove from heat and stir in half of the thyme.
Adding Cheese:
Sprinkle a third of the Gruyere and Parmesan over the potatoes in the dish.

Pour a third of the hot cream mixture over the cheese.
Repeat Layers:
Repeat the layers twice, ending with the cream mixture and a generous layer of cheese on top.
Baking the Dish:
Cover the dish with aluminum foil and bake for 40 minutes.

Remove the foil and continue baking for another 20-30 minutes, or until the top is golden and bubbly, and the potatoes are tender.
Finishing Touches:
Sprinkle the remaining thyme over the baked gratin.

Allow the dish to rest for 10 minutes before serving.
Notes
For the best texture, slice the potatoes uniformly.
You can use Yukon gold or russet potatoes. Yukon gold has a more buttery flavour and texture, but russets have that classic fluffy texture.
The final rest time allows the cream to set for perfect serving slices.
If making a day before, cover tightly with foil before storing in the fridge. Place some cling film directly on top of the potatoes to stop them from discoloring. *The potatoes will soak up some of the cream overnight. There's no need to add any more. The potatoes will cook perfectly.
Nutrition
Calories:
465
kcal
|
Carbohydrates:
30
g
|
Protein:
15
g
|
Fat:
32
g
|
Saturated Fat:
20
g
|
Polyunsaturated Fat:
2
g
|
Monounsaturated Fat:
9
g
|
Cholesterol:
104
mg
|
Sodium:
321
mg
|
Potassium:
740
mg
|
Fiber:
2
g
|
Sugar:
4
g
|
Vitamin A:
1297
IU
|
Vitamin C:
12
mg
|
Calcium:
410
mg
|
Iron:
2
mg