Hello and welcome to lazy girl cooking 101. Not only did I get an A+ in this class, I'm the new teacher! Blender sauces, we ❤︎ you! A lot. Especially when you take the form of chimichurri sauce!
But first, can we just take a second to admire that magical South American green sauce we call chimichurri? That green is everything to me right now. And we're making this from scratch!
Let me just cut to the chase. I'm never really sure if posts that are about component items are a good idea. Like does a sauce really deserve it's own post? I think about these things a lot. And I think about you guys and what you'll think is helpful or just a super tasty great idea to make for dinner tonight. (*hint: this sauce)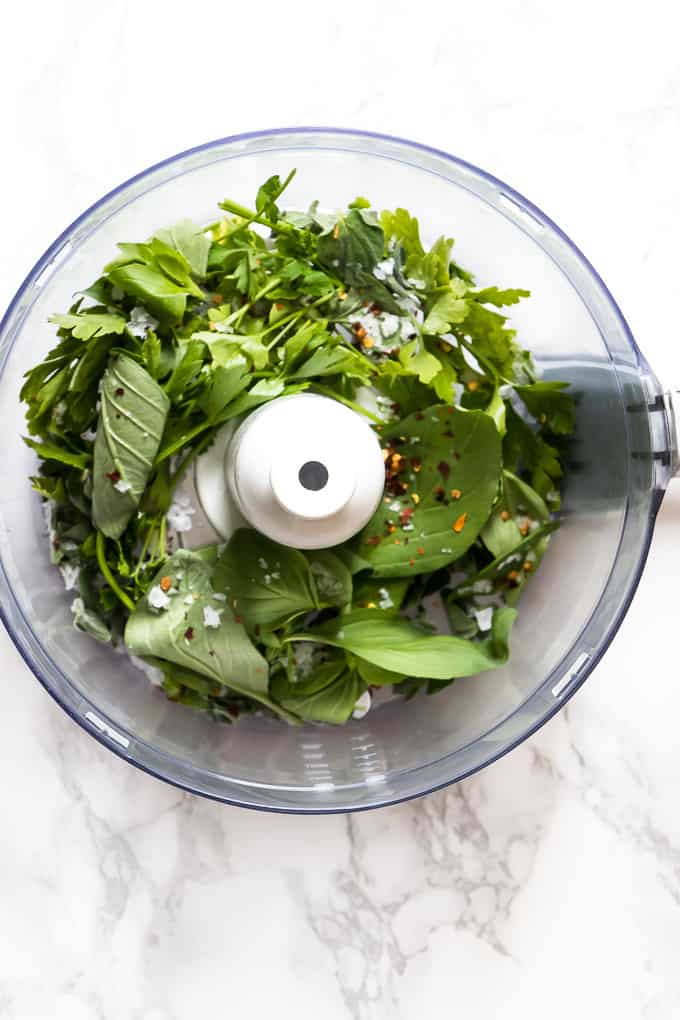 So, with that in mind, I decided that component posts would indeed be a good idea so that they could live on this site independently and they are completely accessible through the index and through the search option. Because sometimes you can base a whole dinner just on what kind of sauce you'd like to have.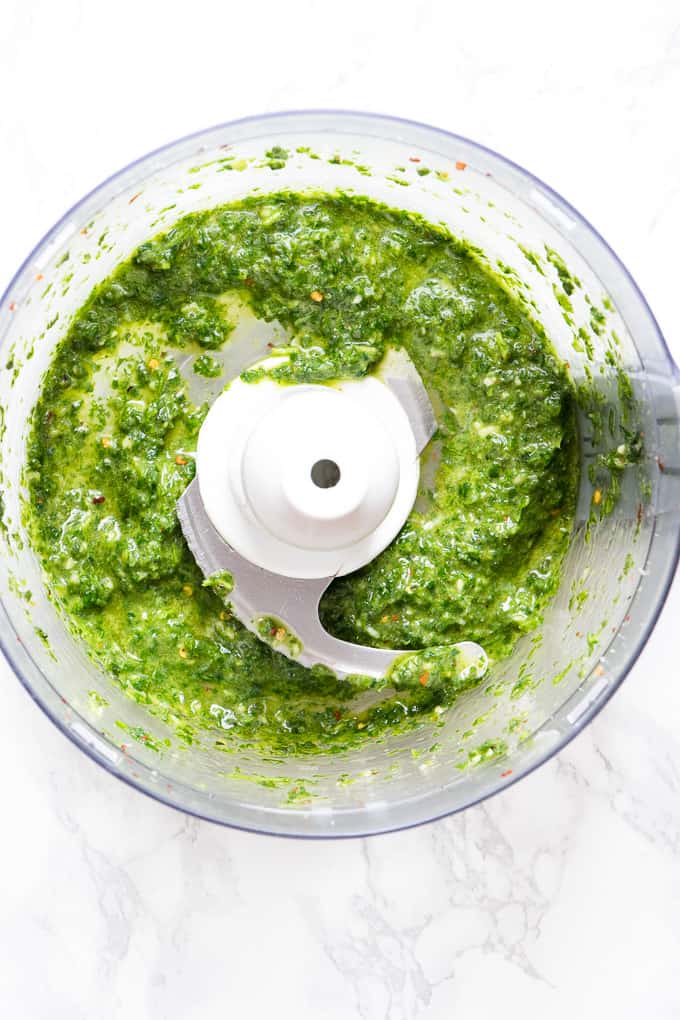 And If I had my way I'd be making this from scratch chimichurri sauce just about everyday for all of eternity. For a minute, before you make it you think you can't really see the point to it, but then you start to pull those herbs apart and smell all those herb-y smells. That mildly spicy oregano, the green and tangy smell of the parsley, that peppery smell of the basil and you can completely see the point of making this simple blender green sauce.
You add all your herbs, you add some chilli flakes, a glut of olive oil and blend. You taste and it is indeed delicious. But then… then you add that all important vinegar and some seriously strange magic happens and this sauce seems to brighten right before you. Your chimichurri sauce goes from being a humble back up singer to being the star of it's own show. It turns into the kind of sauce that makes you use bread and veggies as a vehicle to get that sauce from the bowl to your face STAT. Yeah. I love this sauce.
This recipe is my version of a wikipedia post I read about this sauce. I just read about what was typical and made my own version from there. But here's the confession… when I read that it's usually got vinegar in it, my food snob totally got the better of me. I used champagne vinegar! Please don't judge me. I'm capable of some serious food snobbery sometimes… and other times I manage to smack that snob back into place. But today… the champagne won!
This recipe is one of those super versatile recipes that morphs over time and by the time you're making it for the 4th-5th-6th time it's completely different from the original. Those kinds of recipes are my faves! If you make this recipe I'd love for you to leave a comment below and let me know how to you made it. What kinds of adjustments you made and if you did splurge for the champagne vinegar or if you were able to keep your inner snob in line and just used regular.
Chimichurri sauce
Bright and fresh herb sauce that requires no effort. A sprinkle of chilli and a splash of champagne vinegar make this sauce perfect for beef and chicken.
Print
Pin
Rate
Ingredients
1

cup

packed parsley

((about 1 bunch))

¼

cup

packed oregano

((¼ bunch))

handful of basil leaves

1

bunch cilantro

3

tablespoon

olive oil

1

clove

garlic

1

tablespoon

champagne vinegar

½

red jalapeno

salt

pepper
Instructions
For the sauce:

Place all the ingredients for the sauce in a blender and blend until a chunky sauce forms. It the sauce is a bit thick for your liking you can thin it out with some water.
Nutrition
Calories:
72
kcal
|
Carbohydrates:
2
g
|
Fat:
7
g
|
Saturated Fat:
1
g
|
Sodium:
6
mg
|
Potassium:
80
mg
|
Fiber:
1
g
|
Vitamin A:
910
IU
|
Vitamin C:
15.1
mg
|
Calcium:
46
mg
|
Iron:
1.4
mg