Pan seared asian tuna noodle bowls kinda hit all of our easy dinner requirements. It's tuna... hello high protein... and noodles... just... yes... and we've got all the savoury, bright and fresh flavours that happen when we bring together the trifecta of fish sauce, ginger and lime juice.
Ok. Ok. Please don't be nervous by the level of cooked-ness on this tuna. It's cooked... but not...
Consider it a soft intro to sushi. The kind of sushi that you just can't get enough of. All you gotta do is get out your trusty grill pan and heat it up so it's super hot. Glaze that tuna with some toasted sesame oil, salt and pepper and grill it for a few minutes each side. It could not be easier. PS. I also grilled the bok choi in the exact same way. If your grill pan is big enough you can get them in at the same time. ??
And yep. Your tuna needs to be fresh... scratch that... all your food needs to be fresh... always... but tuna especially so. It can go a little funky if it's a couple days old. So pay attention when your buying. The tuna fillets need to be bright pink/red and to smell like the ocean. You could also crust them with some sesame seeds (white and black) and that would also be delicious, but I opted to sprinkle my seeds after the fact. No reason... just 'cause.
So, here's the total beauty of this dish; it can be served with the noodles and the tuna still warm from the pan- or it can be served cold (a la desk lunch style) right from the fridge. No... hold that... if you're gonna eat it chilled, let it sit out for about 10 minutes to come up in temp. Fridge cold food = not the best... unless it's watermelon... then go cold. But everything else probably definitely needs a little time at room temp.
Okay. Now we can talk about that fish sauce. It's the baseline of flavour for so many asian dishes. But, we've all got this thing that happens in our minds when we think about fish sauce. "Does it smell/taste as bad as I remember?" "Should I smell it to see???"
Let me help you out... yes... it's as bad as you remember from every other time you've used it. And no... you should not smell it just to see. Trust me here. I've done the leg work for you. Just don't do it.
But we truly do need that fish sauce. It's the foundation for the sesame oil and the lime and ginger. You could use only soy... that would be fine... but it won't have the depth of flavour that you really need to complement that tuna.
Not that you've been calculating, but this dinner/lunch/any time bowl comes together in about 15 minutes. Probably even quicker, but I'm rounding up to give us all a fighting chance against the dinner bell. Now before you go and check the cupboards for fish sauce and run to the grocery store for tuna, I just wanna say thanks for being here. And for reading these recipes and maybe even making these recipes. It is appreciated more than you could ever know.
Okay now you can go and make these pan seared asian tuna noodle bowls.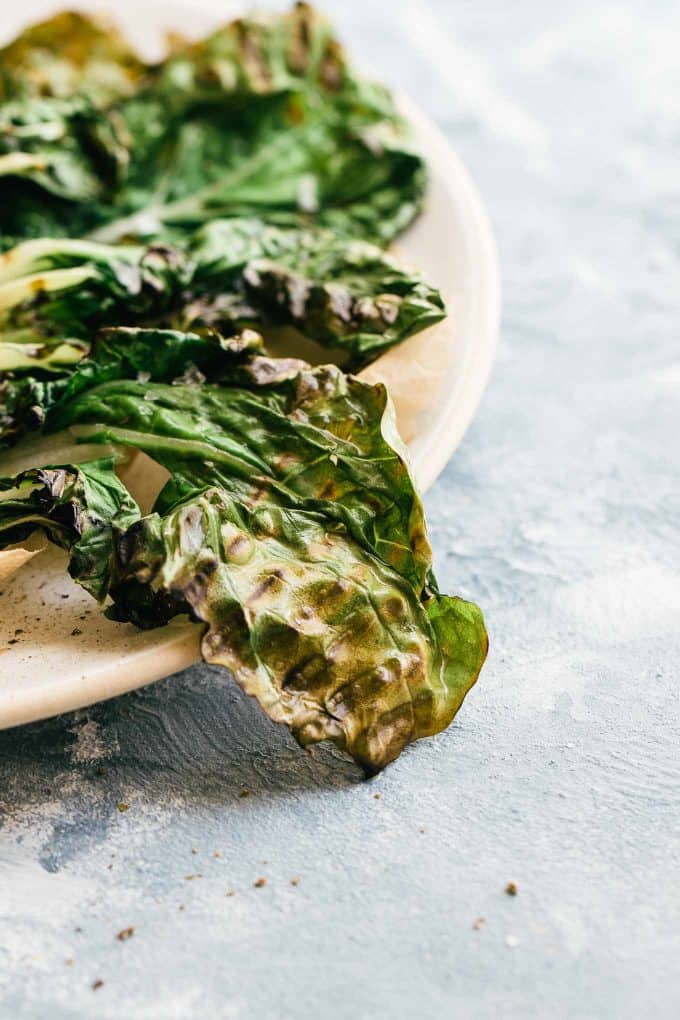 Pan Seared Asian Tuna Noodle Bowls
Pan seared asian tuna noodle bowls got all the bright & fresh flavours that happen when we bring together the trifecta of fish sauce, ginger and lime juice.
Print
Pin
Rate
Ingredients
200

g

rice noodles

2

fresh tuna fillets

150g each

3

baby bok choi

cut in half

1

sliced red chilli

3

tablespoon

chopped cilantro/coriander
To Serve
1

avocado sliced

2

tablespoon

black and white sesame seeds

lime wedges
Instructions
Soak the rice noodles in boiling water for about 5 minutes, or until soft and rinse.

Let drain fully in a strainer in the sink.

Cut the bok choi in half and drizzle with sesame oil.

Heat the grill pan over a high heat and coat the tuna with toasted sesame oil and season with salt and pepper.

Place the tuna and the bok choi into the pan and grill for about 3 minutes per side. A little longer if you'd like your tuna more well done.

To make the sauce whisk all the ingredients together.

Place the noodles in a bowl and toss with a drizzle of sesame oil and a light sprinkle of sea salt.

Slice the tuna into strips and lay over the noodles with the bok choi on the side.

Drizzle the sauce on top and sprinkle the the cilantro and sesame seeds.

Serve with lime wedges and avocado slices.
Nutrition
Calories:
971
kcal
|
Carbohydrates:
116
g
|
Protein:
66
g
|
Fat:
30
g
|
Saturated Fat:
5
g
|
Cholesterol:
64
mg
|
Sodium:
2782
mg
|
Potassium:
3812
mg
|
Fiber:
15
g
|
Sugar:
16
g
|
Vitamin A:
60265
IU
|
Vitamin C:
599.4
mg
|
Calcium:
1442
mg
|
Iron:
14.5
mg