Grilled Halloumi, a non-melting cheese that will steal the show at your next BBQ. With its savory, slightly salty flavor, this Cypriot delicacy takes just about 10 minutes to make from start to finish. It has an irresistible crispy crust and a gooey, melt-in-your-mouth center.
This grilled halloumi cheese is perfect for serving on this broccoli salad, or for topping off this roasted tomato soup.
Jump to:
What is halloumi made of?
Halloumi is a semi-hard cheese made from a blend of goat's and sheep's milk. Curds are formed with rennet, drained, and pressed into blocks. These blocks are boiled to create a high-melting, rubbery texture, and then seasoned with salt or mint before packaging. This makes it great for grilling.
⭐️ Why You'll Love Grilled Halloumi Cheese
Quick & Easy: With a prep time of 5 minutes and a cook time of 6 minutes, this recipe fits perfectly into any busy schedule.
Versatile Dining: Make it the star of a vegetarian main course, or serve it as a unique appetizer or side dish.
Unforgettable Flavor: The combination of the cheese's natural saltiness and savory herbs creates a culinary experience you won't soon forget.
🧾 Key Ingredients
Halloumi Cheese: The essential element, its high melting point ensures it retains its shape under high heat.
Olive Oil: Provides lubrication and enhances flavor. Extra-virgin is best for a fuller taste.
Optional Herbs (Oregano and Thyme): These bring depth to the grilled halloumi, making each bite an experience.
See recipe card for quantities.
📖 Substitutions & Variations
1. Herb-Infused Halloumi

Marinate the halloumi slices in a mixture of olive oil, minced garlic, and fresh herbs like rosemary or thyme for an hour before grilling. This will infuse the cheese with additional flavors.

2. Spicy Halloumi

Before grilling, coat the halloumi slices in a spicy marinade made from olive oil, paprika, and a dash of cayenne pepper. This will give the cheese a spicy kick that complements its natural saltiness.

3. Lemon-Zested Halloumi

Add a fresh twist by zesting a lemon over the halloumi slices before you place them on the grill. The lemon zest will brighten up the flavor and add a citrusy note.
👩🏻‍🍳 Step By Step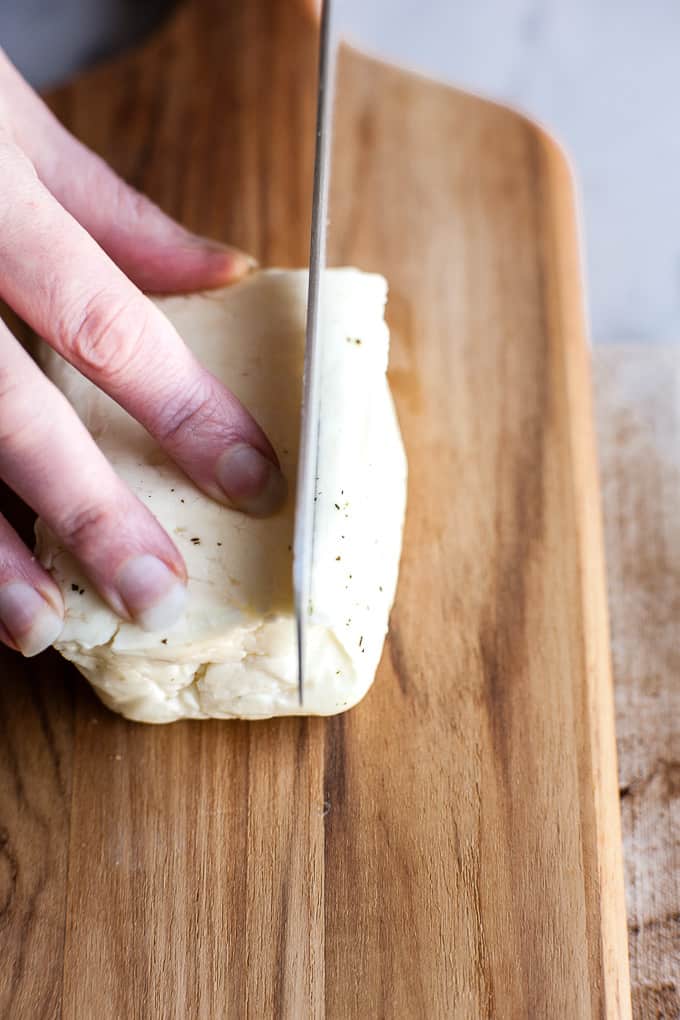 Prepare the Halloumi: Slice the cheese into ½-inch-thick planks.

Tip: Use a sharp knife for cleaner cuts, ensuring each slice is consistent for even cooking.

Oil 'em Up: Drizzle olive oil evenly over each slice.

Tip: Brush olive oil for a more uniform distribution.

Heat Up the Grill: Preheat your grill or grill pan until it's hot.

Tip: To test, drop a little water; if it sizzles and evaporates, it's ready.

Grill Time: Place the halloumi slices on the grill, cooking for about 2-3 minutes each side or until you see grill marks.

Tip: Don't flip the cheese too early to ensure perfect grill marks.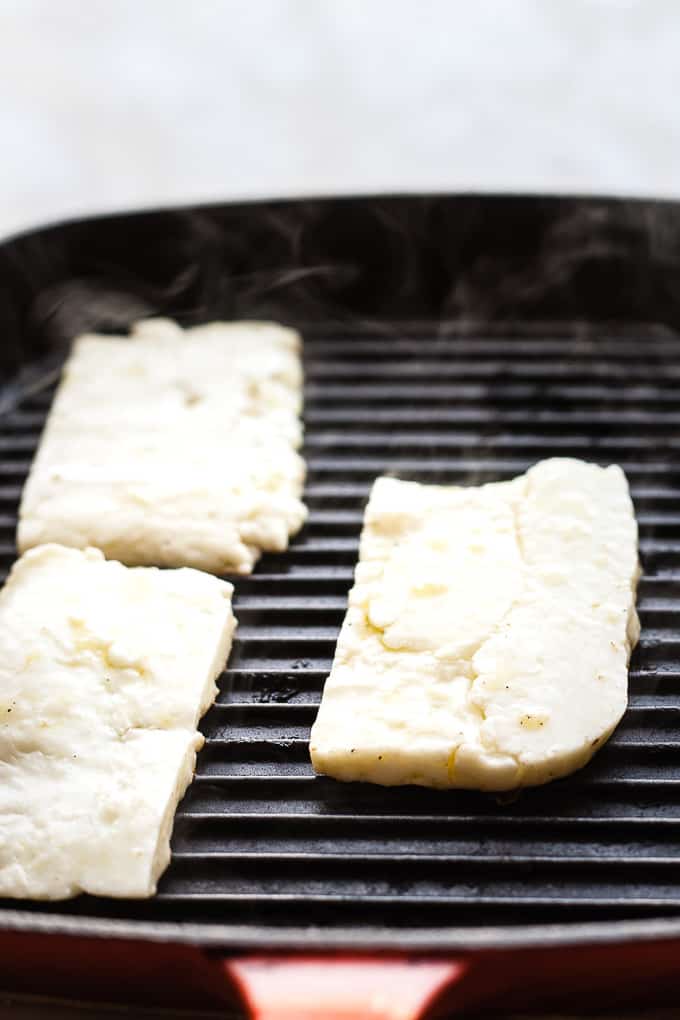 🍯 How to Store Leftover Grilled Halloumi
Fridge

Store leftover grilled halloumi in an airtight container for up to 5 days.

Freezer

Not recommended as it can change the texture.

Reheat

Reheat in a microwave at 50% power or in a warm oven.
💡 Top Tips
1. Pat Dry Before Grilling

Before you begin grilling, pat the halloumi slices dry with a paper towel. This helps remove any excess moisture that could inhibit the cheese from achieving a crispy, golden-brown surface. Extra moisture can also cause the cheese to stick to the grill or produce steam, which may prevent those coveted grill marks from forming.

2. Moderate Seasoning

Halloumi is naturally salty, so you'll want to be cautious when adding additional seasonings like salt or salty marinades. However, you can add flavor with herbs, spices, or even a dash of lemon juice without making it overly salty. Test a small piece first to see if it needs extra seasoning before grilling the whole batch.

3. Opt for a Non-Stick Surface or Grill Mat

Halloumi has a tendency to stick, especially on grills that are not well-seasoned or not adequately preheated. To make flipping easier and to avoid tearing the cheese, consider using a non-stick grill mat or a well-seasoned grill grate. Make sure your grilling surface is hot and ready to go before adding the cheese, as this also minimizes sticking.
❓FAQ
How do I know when the halloumi is cooked?
Halloumi is ready when it has a golden-brown crust on both sides. It usually takes about 2-3 minutes per side on a hot grill. Unlike other cheeses, it will hold its shape and not melt, making it easier to grill to perfection.
Can I Eat Halloumi Without Cooking It?
Yes, but grilling enhances its flavors.
Can I use halloumi as a meat substitute?
Yes, halloumi's hearty texture makes it a great meat substitute in dishes like burgers, kebabs, and salads. Its high protein content also makes it a satisfying choice for vegetarians and meat-eaters alike.
The Best Ways To Use Grilled Halloumi
Looking for other recipes like this? Try these:
If you tried this Recipe or any other recipe on my website, please let me know in the comments below. I love hearing from you. Also, please leave a star rating whilst you're there!
You can also follow along on Pinterest, Facebook, and Instagram!
You can also find weekly meal plans and budget recipes over on our sister site Savvy Bites.
How to Make Grilled Halloumi
Grilled Halloumi cheese is perfect for adding to salads and to add extra protein to vegetarian dishes. It's mozzarella texture and high melting point mean that it retains a gorgeous, firm toothsome texture once grilled, with the smokey flavour from a grill pan.
Print
Pin
Rate
Instructions
Heat a grill pan over a high heat. Slice the halloumi into ½ inch thick slices.

Drizzle with the olive oil and salt and pepper.

Place the slices onto the grill pan and grill for 3 minutes before turning over and grilling for a further 3 minutes.

Place the grilled halloumi on a plate and drizzle with a splash more olive oil and top with some lemon zest if desired.
Nutrition
Calories:
41
kcal
|
Fat:
4
g
|
Sodium:
389
mg